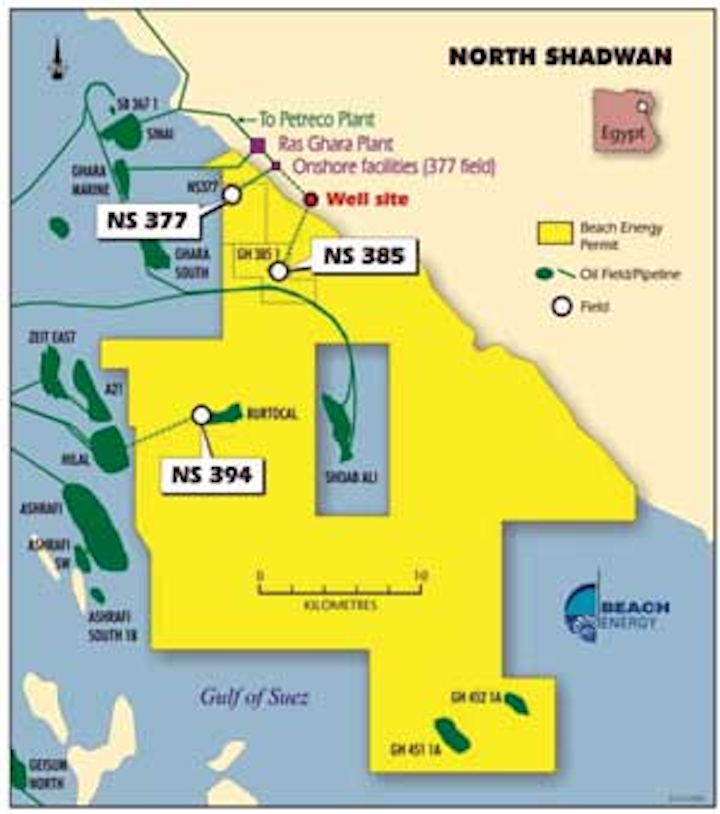 Petrobras' dominance of deepwater capex is set to accelerate, reaching 26% of the global total in 2016, according to a report by Infield Systems. Much of the operator's spending will be directed at its presalt fields in the Santos basin. Others set to increase their share of overall deepwater expenditure include Anadarko, Hess, Noble Energy, and Tullow Oil, the report claims.
However, the largest deepwater project under way is the ExxonMobil/Chevron joint development of Jansz (Greater Gorgon) in 1,300 m (4,265 ft) of water off Western Australia, targeting total reserves of around 2,800 MMboe. Start-up here is scheduled for 2014. And the largest portion of overall deepwater capex (39%) between now and 2016 will likely be directed at pipelines, the authors suggest. Infield forecasts that Gazprom's South Stream pipeline, in 2,200 m (7,218 ft) of water in the Black Sea, will incur the greatest expenditure, while West Africa will attract the greatest share of overall subsea investment.
Another new 2012-16 market forecast by Douglas-Westwood predicts spending of over $335 billion on offshore operations and maintenance. Author Jenny Harbour expects annual growth of 8% in the sector, driven by higher oil prices and buoyant offshore development, but also soaring costs of equipment and services. Production services could grow by 7.4% as operators of mature offshore fields struggle to contain decreasing downhole pressure and rising water cuts.
North America
Suncor Energy has contracted Subsea 7 to supply and install nine 300-m (984-ft) replacement risers this summer offshore Newfoundland. These will be connected to theTerra Nova FPSO. The $100-million SURF scope extends to connection of associated flowlines and jumpers.
South America
Petrobras has discovered more oil in presalt carbonate reservoirs in the Santos basin off Brazil. The latest well was drilled northeast of the Lula field in 2,131 m (6,691 ft) of water, delivering 26° API oil from a well depth of 4,960 m (16,273 ft), according to wireline testing. Following completion of drilling, Petrobras planned an extended well test (EWT).
In the same province, in the Iracema area, another ultra-deepwater EWT is under way on block BM-S-11 using the FPSOBW Cidade de Sao Vicente. The six-month program is designed to gather technical data on reservoir behavior and oil flow through the subsea lines. The data will be used for development of the final production system in the Cernambi Sul area, with the 150,000 b/d FPSO Cidade de Mangaritiba MV24 – a converted VLCC – due to be deployed here by end-2014. MODEC, Mitsui, and Marubeni are jointly converting the vessel which will be chartered to Petrobras and its partners for 20 years.
•••
OGX has lifted its interest in shallow water blocks BM-C-37 and BM-C-38 in the Campos basin to 70%, and will become operator. It plans to drill six exploration and appraisal wells on the blocks. The other partner is Maersk Oil.
•••
BPZ Energy expects to install its new CX-15 platform in the next few months on the Corvina field off Peru. A workover campaign to implement a gas cap reinjection program at Corvina has paid off, halting steep production declines from some of the wells. New equipment is also in place at the Albacora platform for reinjection of gas and water.
•••
Falkland Oil & Gas Ltd. (FOGL) expects to receive the semisubLeiv Eiriksson in June after the rig has completed wells for Borders & Southern on the Darwin and Stebbing prospects, south of the Falkland Islands. The rig is due to drill the Loligo exploration well for FOGL. By then, FOGL hopes to confirm the identity of a new farm-in partner for its various Falkland offshore licenses.
Middle East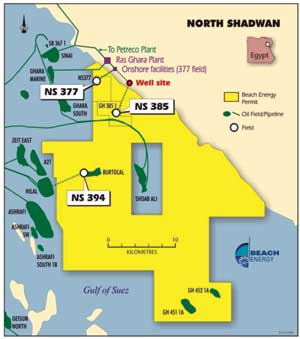 BP plans to ramp up oil production from the North Shadwan concession offshore Egypt.
BP has brought onstream the shallow water NS377 oilfield in Egypt's North Shadwan concession in the Gulf of Suez. Production is tied into Petrobel's Ras Ghara oil facility. According to Australian partner Beach Petroleum, further development is planned of the nearby NS385 and NS394 fields which could lift output from North Shadwan to 12,000 b/d during 2014.
•••
McDermott has an EPCI contract from Al-Khafji Joint Operations (KJO) for work on the Hout field offshore Saudia Arabia. This involves fabrication and installation of a tripod jacket, deck and flare tower, and a 42-km (26-mi), 24-in. (61-cm) subsea pipeline. McDermott's brownfield division in Jebel Ali, UAE, is performing modification on existing platforms on Hout, where average water depth is 31 m (102 ft).
West Africa
African Petroleum Corp. has been awarded an exploration permit off Cote d'Ivoire covering block CI-509. The company will operate with a 90% interest, in partnership with state-owned Petroci. They plan to target deepwater Upper Cretaceous submarine fans thought to have similar potential to the Jubilee and Jupiter fields off neighboring Ghana and Sierra Leone. Off Liberia, African Petroleum has contracted the Ocean Rig semiEirik Raude to drill two wells on blocks 8 and 9. The program could start before year-end.
•••
Tullow Oil has had further appraisal success on the Enyenra light oil discovery in Ghana's Deepwater Tano block. The drillshipOcean Olympia drilled the Enyenra-4 well in 1,878 m (6,161 ft) of water to define the field's southern extent. The well intersected 32 m (105 ft) of net oil pay, which appears to be in static communication with oil seen in the previous wells. Tullow planned to continue appraisal through monitoring of pressure gauges in the wells, in order to determine the level of connectivity and potential oil in place.
•••
Testing of Afren's shallow water Okoro East oil find off southeast Nigeria has confirmed good-quality, 38-40° crude. Pressure data confirms pre-drill estimates of 157 MMbbl in place. Afren plans to drill two production wells on Okoro East this year using spare slots on the main Okoro field platform. Up to eight producers could be needed under a full, possibly standalone development.
•••
Bowleven says it favors a hub and spoke development for its Etinde permit discoveries offshore Cameroon. The hub processing facilities would be based onshore with the production wells (spokes) offshore. Bolweven says this arrangement would allow phased development across different blocks of the permit, facilitating early liquids production, and allowing more "spokes" to be added as further discoveries come through.
•••
BP has agreed to farm into Serica Energy's license 0047 offshore Namibia, comprising four blocks/part-blocks in the deepwater central Luderitz basin. BP will finance a 4,150-sq km (1,620-sq mi) 3D seismic survey whichPolarcus seismic vessel was due to start last month. BP has the option to increase its interest by meeting the full cost of drilling and testing an exploratory well to the Barremian level prior to the end of the license's four-year exploration period. BP is also a partner in Chariot Oil & Gas' northern block 1811A, where the semisub Maersk Deliverer was due to spud a first exploration well last month on the Tapir prospect.
Europe
Cairn Energy plans to acquire 1,500 sq km (579 sq mi) of 3D seismic data on its exploration acreage in the Gulf of Valencia, eastern Spain. The company was awarded two permits here in January 2011 covering five blocks, in water depths ranging from 50 m to over 1,000 m (164-3,281 ft). Commercial terms are attractive, Cairn says, with the Spanish government keen to promote exploration in frontier areas.
•••
Midia Resources, owned by Canadian company Sterling Resources, has farmed into 40% of the Melrose-operated Muridava (Ex-27) concession in the Romanian sector of the Black Sea. Melrose says it made sense to share the cost risk of seismic acquisition and a planned multi-well campaign over the next three years.
East Africa
BG Group/Ophir Energy have notched their fourth successive deepwater gas discovery offshore Tanzania, and their largest to date. The Jodari-1 well in block I, drilled by theDeep Sea Metro 1 drillship, encountered gas in Miocene and Lower Tertiary intervals. Early analysis suggests reserves in the range 2.5-4.4 tcf. The drillship has since resumed work on the Mzia-1 well, targeting 4.6 tcf in the Upper Cretaceous. The aim of the program is to prove sufficient resources for a two-train LNG development.
•••
Eni says its latest gas find in Mozambique's offshore Area 4 has increased its resource base by 10 tcf, with potential reserves of 40 tcf in the concession. The Mamba North East 1 well was drilled in the eastern part of Area 4 in 1,848 m (6,063 ft) of water, 50 km (31 mi) off the Capo Delgado coast, encountering 240 m (787 ft) of gas pay in multiple Oligocene and Eocene sands. It also proved reservoir continuity and pressure communication with the Mamba South and North finds, 12-15 km (7.4-9.3 mi) distant. Eni plans to drill at least four more wells to assess upside in the Mamba Complex.
Anadarko too achieved strong results from its latest appraisal effort in Offshore Area 1, with the Barquentine-2 well flowing 90-100 MMcf/d during a DST performed by the drillshipDeepwater Millennium. The company said flow characteristics were "exceptional" and suggest a low density of wells may be needed for the development. The company plans further DSTs on Barquentine, Lagosta, and Camarao.
Indian sub-continent
ONGC has approved development of the offshore C-23, C-26, and B-12-1 gas/condensate fields via facilities including three new wellhead platforms, eight wells, and conversion of the drilling rigSagar Pragatito a mobile offshore production unit. The company aims for start-up prior to the 2014 monsoon season.
•••
Santos has proven more gas in the Sangu area offshore Bangladesh. The Seadrill jackupOffshore Resolute penetrated a new gas reservoir while drilling the Sangu-11 well, which delivered 20 m (65.6 ft) of good quality pay. The well will be tied into the Sangu facilities to provide supplies to the Chittagong area.
Asia/Pacific
The jackupEnsco-53 is due to start exploration drilling this month in the Gulf of Thailand for Salamander Energy, on the B8/38 license. Salamander has also contracted the newbuild Atwood Mako jackup for development work in the Greater Bualang Area, following the rig's delivery this September from Singapore. It could drill 16 wells from the Bravo wellhead platform on the main Bualang field, and exploratory wells on the G4/50 license.
•••
Premier Oil has sanction from Indonesia's government for a brownfield development on its Anoa production complex in Natuna Sea block A. The Anoa Phase 4 project will entail upgrading of the compression facilities to increase production capacity, in order to develop 200 bcf of gas. Work should be completed in 2013. A recent well on the Anoa field flowed gas from the Lama formation. The reserves will likely be produced through the Anoa facilities.
Australia
First gas has entered the processing train of Pluto's LNG project off Western Australia, and LNG production should by now be under way. The gas comes from the Greater Plutonio offshore fields which hold an estimated 5.5 tcf of proved plus possible dry gas and 680 bcf of contingent resources. Initial development is via a platform in 85 m (279 ft) of water, linked to five subsea wells on the Pluto field. Produced gas heads through a 180-km (112-mi) subsea trunkline to the onshore LNG complex situated in between the North West Shelf project and Dampier Port on the Burrup peninsula. The single processing train is designed to deliver 4.3 MM metric tons/yr (4.7 MM tons/yr) of LNG.
New Zealand
New Zealand Oil & Gas (NZOG) has conditionally agreed to farm into 15% of the Kaheru exploration permit 52181 off New Zealand's south Taranaki coast. NZOG has agreed to pay $3 million for AGL Upstream Gas' stake, provided that the partners commit to drill a well before the May 18, 2013, deadline. However, operator ROC Oil is thought to be unwilling to drill. The permit is east of NZOG's producing Kupe field – the Kaheru prospect is in 25 m (82 ft) of water, 8 km (4.9 mi) from shore, and could hold either 45 MMbbl of oil or 200 bcf of gas and 7.5 MMbbl of condensate.
More Offshore Issue Articles
Offshore Articles Archives
View Oil and Gas Articles on PennEnergy.com