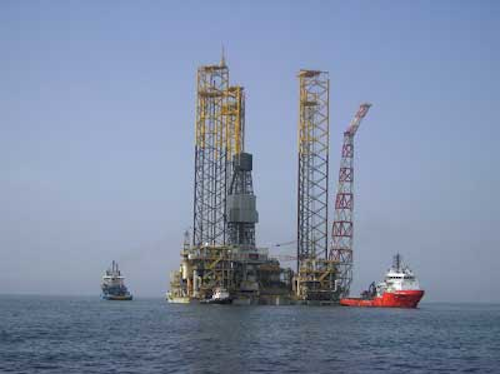 The eastern Mediterranean is emerging as a rival to Russia and Azerbaijan as a future source of gas for Europe. This follows Noble Energy's giant discoveries last year in the Levantine basin at Leviathan in the Israeli sector and at Aphrodite, the first-ever deepwater well off southern Cyprus to the north.
Drilling to date suggests combined resources from these fields of 22 tcf, more than double the recoverable estimate for the Tamar field development, where much of the gas is contracted to Israeli utilities. The Greek Cypriot government is already reviewing options for an LNG scheme for Aphrodite and has invited bids for a new licensing round, with awards due by year-end.
As ever in this region, however, tensions could de-rail the best-laid plans. The Turkish Cypriot administration in the north objected to the proposals for Aphrodite, and has since awarded Turkish state-owned company TPAO production-sharing contracts for licenses onshore and off the north coast. This could lead to the company drilling close to the area licensed off the south coast under Greek control.
Lebanon, too, expects to stage its first offshore licensing round shortly, capitalizing on Noble's successes off neighboring Israel. But the Lebanese government also claims that one-third of Leviathan extends into its waters and may contest any proposed development. To the south, BG Group reportedly is looking to sell its share of the shallow water Gaza Marine gas discovery off the Gaza Strip following Israel's continued blocking of the development over concerns of revenue reaching Hamas.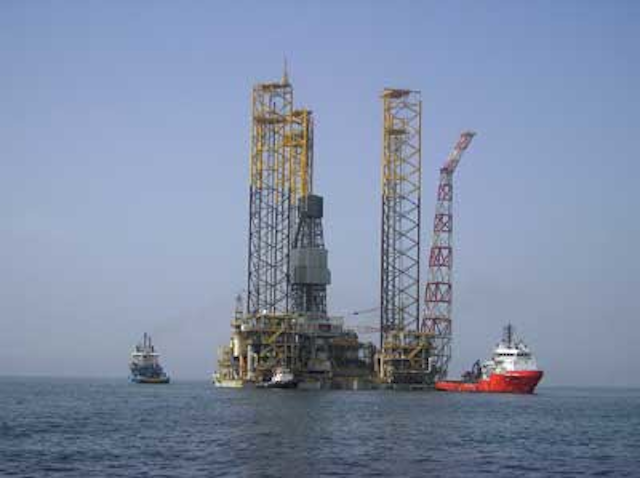 Ships pulling away from BP's Shah Deniz Alpha platform. More activity is likely once Shah Deniz Phase II gets under way.
Unrest continues in parts of North Africa after the events of the "Arab Spring," which is impacting offshore E&P. Japan's AOC Holdings has warned that it may have to delay start-up of production from Egypt's offshore Northwest October block in the Gulf of Suez, due to the country's political instability. Off Libya to the west, there has been no rush to resume deepwater exploratory drilling following the revolution, although crude production has re-started at the shallow-water, Mabruk Oil-operated Al Jurf platform. Eni too managed to reactivate critical supplies of gas to Italy via Libya's subsea Greenstream trunkline. Farther west, Dragon Oil and New Zealand Oil & Gas have farmed into licenses offshore Tunisia and are driving new phases of exploration.
Last November, Shell signed a farm-in and joint operating agreement with TPAO for three permits offshore Turkey's Anatolya region. The initial program calls for 2D and 3D seismic acquisition, to be wholly financed by Shell, followed by an optional well in the second exploration phase. TPAO is also inviting farm-ins to 16 blocks in the easternmost Mediterranean Sea off southern Turkey in the Iskinderun Gulf, where the Middle Miocene carbonate play is still immature, and in the Mersin Bay, another underexplored area where there are indications of an active hydrocarbon system.
In the Caspian Sea to the east, Total reported a potentially major gas discovery last year in 500 m (1,640 ft) of water in the Absheron block off Azerbaijan. The Absheron X-2 well initially encountered more than 500 ft (152 m) of net pay on the structure's northern flank, with potential for several trillion cubic feet of gas and associated condensates. The location is 25 km (15 mi) northeast of the BP-operated Shah Deniz gas/condensate field, which is under preparation for a second development phase. BP plans to export the gas to Europe via a new 1,300-km (808-mi) pipeline onshore/offshore: discussions continue with the Nabucco, IGI Poseidon, and Trans-Adriatic Pipeline consortia. Additionally, BP is progressing work on the $6-billion Chirag Oil Project for the Azer-Chirag-Gunashli field, which involves installing a new offshore facility between the Deepwater Gunashli and Chirag platforms to recover an additional 360 MMbbl of oil.
Later this year, Keppel FELS is due to deliver a new KFELS Super B class jackup to Saudi Aramco for deployment offshore Saudi Arabia. Aramco reportedly views frontier shallow water and deepwater drilling as key to its goal of finding major new reserves over the next few decades.
Offshore Oman, Circle Oil is looking for farm-in partners to its block 52. It claims to have identified nine prospects in the Outer Sawquirah area with potential resources of over 7 Bbbl of oil, in water depths ranging from 724-956 m (2,375-3,136 ft). At the shallow-water Bukha gas/condensate field, new operator DNO plans to drill a third well this year from the Bukaha platform with a view to doubling production to 20 MMcf/d.
In the Emirates to the northwest, DNO took on other interests last year formerly operated by RAK Petroleum. It plans to drill an appraisal well this year on the RAK B oil field, 54 km (33 mi) offshore Ras Al Khaimah, followed by an unmanned platform development. It is also looking to upgrade four platforms and re-enter up to five wells as part of a program to reactivate the shut-in Saleh field. Another operator offshore Sharjah, Dana Gas, aims to bring on stream the Zora gas field this year via a wellhead platform and lateral wells.
Finally, Iran expects to bring on line a further five phases of the South Pars gas/condensate development in the Persian Gulf over the next five years.

More Offshore Issue Articles
Offshore Articles Archives
View Oil and Gas Articles on PennEnergy.com