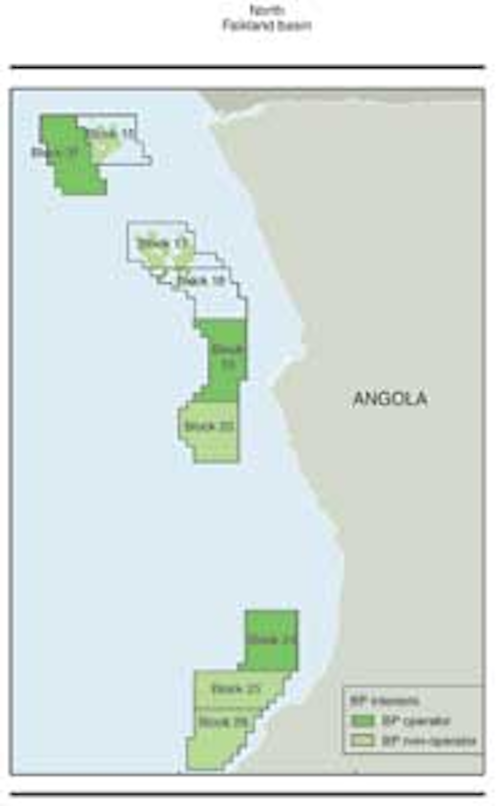 The jackupEndeavour has undergone modifications at Keppel FELS Shipyard in Singapore in readiness for a drilling campaign offshore Alaska. The winterized rig will feature two BOPs respectively rated at 10,000 and 15,000 psi (689/1,034 bar), allowing it to drill high pressure horizons in the Cook Inlet for operator Buccaneer Energy.
South America
PDVSA will join Eni and Repsol in development of the shallow-water Perla gas field in the Gulf of Venezuela, thought to hold reserves of over 16 tcf. All five wells drilled since the discovery in 2009 will be put into production via offshore platforms and subsea pipelines to shore for connection to Venzuela's gas distribution network. Eni expects to deliver 300 MMcf/d under the $1.5-billion first phase, rising to 1.2 bcf/d during the next two phases.
Another newly sanctioned project is the 110-km (68-mi), 36-in. (91-cm) gas export pipeline in the Gulf of Paria off Sucre state, northeast Venezuela. Saipem's lay vesselCastoro 7 will install much of the line this year, connecting the Dragon gas platform with the CIGMA complex close to Guiria.
•••
Kosmos Energy has signed two PSCs offshore Suriname with state-owned Staatsolie Maatschappij Suriname. These apply to blocks 42 and 45, in water depths ranging from 650-8,500 ft (198-2,591 m), with both previously undrilled. Initially Kosmos plans to acquire 3D seismic, but drilling could start in 2014. The main focus will be an extension of the Upper Cretaceous stratigraphic play system proven off northwest Africa.
•••
Petrobras has submitted a declaration of commerciality for the Guara area in the deepwater presalt Santos basin to Brazil's petroleum agency ANP. This was due to be followed by a development plan report in February. The Guara field, in block BM-S-9, will be renamed "Sapinhoa." According to Petrobras, it holds 2.1 Bboe.
In the Espirito Santo basin, the company has discovered light oil and gas in the Tambuata prospect. The well was drilled 7 km (4.3 mi) from the FPSOCidade de Vitoria, on the eastern side of the Golfinho field, in 1,520 m (4,987 ft) of water. Petrobras planned to deepen the well to test further formations.
•••
COSCO (Dalian) Shipyard is converting the tankerSunrise Jewel into an FPSO for service on Petrobras' Cernambi-Sul field. It will have capabilities for liquids handling, gas processing and compression, and crude storage capacity of 1.6 MMbbl.
Another Asian contractor, Jurong Shipyard, has started building an offshore construction facility on an 82.5-ha (228-acre) site in Espirito Santo state. Estaleiro Jurong Aracruz, which should be completed by end-2014, will include a 120 x 380-m (393 x 1,246-ft) drydock and a 1-km (0.6-mi) berthing quay, and will be designed to build drilling rigs, drillships and platforms, and to perform integration of FPSOs and topside modules fabrication.
•••
Diamond Offshore's semisubOcean Guardian has finished its long exploration and appraisal campaign in the North Falkland basin. Its final well, for Rockhopper Exploration in license PL004b tested oil and gas from multiple targets in the Beverley, Casper, and Casper South accumulations as well as the proven Sea Lion structure.
West Africa
Mauritania's government has awarded Total a 90% operating interest in ultra-deepwater offshore block C9. The 10,000-sq km (3,861-sq mi) concession is 140 km (87 mi) off the country's western coast, in water depths ranging from 2,500-3,000 m (8,200-9,840 ft). Total plans seismic acquisition over the acreage, which it views as a continuation of the abrupt margin containing last year's Zaedeus discovery off French Guiana.
•••
African Petroleum Corp. (APC) spudded its second well off Liberia last month, using the semisubMaersk Deliverer. The target is a Turonian prospect in block LB-09 with potential for 500-1,200 MMbbl of recoverable oil. APC also has gained operatorship of block CLO-513 off Cote d'Ivoire, where it plans to explore deepwater Upper Cretaceous submarine fan structures thought to be analogous with the Mercury discovery off Sierra Leone.
Also in Cote d'Ivoire, Australian company Rialto Energy has government approval to develop the shallow-water Gazelle oil and gas field in block CI-202. Rialto plans to install a production platform in 40 m (131 ft) of water, which could also serve as a future hub for satellite tiebacks, with output sent through bundled pipelines to the shore.
•••
Shell and Eni have acquired rights to a field offshore Nigeria's coast that reportedly could hold 9 Bbbl of oil. Shell and Malabu Oil and Gas had been in dispute over the acreage, which is close to Total's Akpo field. Eni plans to operate the deepwater drilling and production.
•••
Sonangol has signed PSCs for various ultra-deepwater blocks in the Kwanza basin under Angola's presalt bid round. These are operated by companies including BP, Cobalt International, Eni, Statoil, and Total. Last month PGS started acquiring over 26,000 sq km (10,038 sq mi) of Geostreamer 3D seismic data across five of the concessions, blocks 24, 25, 38, 39, and 40. Cobalt plans to drill the first well on its block 20 in 2013.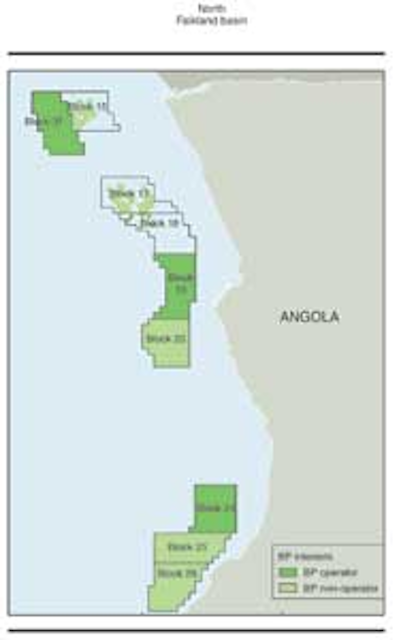 BP's newly awarded blocks off Angola.
Eni has committed to a 12-year lease of the decommissioned FPSOXikomba to work on its first development project in block 15/06. The Paenal yard in Angola will perform fabrication and integration work on the vessel after it has completed a program of upgrades in Singapore.
North Africa/ Mediterranean Sea
Morocco's government has awarded Kosmos Energy a one-year reconnaissance contract for the Tarhazoute offshore block in the Agadir basin. The location is in between the company's existing Essaouira and Foum Assaka blocks. Commitments include reprocessing 2D seismic, after which the contract can be converted to a petroleum agreement.
•••
New Zealand Oil & Gas has farmed into 40% of the Cosmos concession in the Gulf of Hammamet off Tunisia, operated by Storm Ventures International. The permit includes the Cosmos South oil discovery, which could go forward for development in mid-2012. The current plan calls for three wells, a small platform, and an FPSO producing initially at 15-20,000 b/d.
•••
Noble has extended the deepwater Levant basin gas play to the waters offshore Cyprus. The company's first exploration well in the region, Cyprus A-1, drilled in 5,540 ft (1,688 m) of water in block 12, intersected 310 ft (94 m) of net gas pay in various Miocene sand intervals. Initial analysis suggests reserves in the range 5-8 tcf, although Noble says further appraisal drilling is needed.
Offshore neighboring Israel has proven more gas with its Leviathan #3 appraisal well in the Amit license, with reservoir thickness exceeding expectations. Another rig was due to re-enter the suspended Leviathan #1 well to test a deep oil concept. And on the Alon A offshore license, Noble has been drilling the Tanin exploration prospect targeting a gas interval analogous to that encountered at the Tamar field.
Russia/Black Sea
The shareholders of Shtokman Development AG have postponed a final investment decision on the Shtokman gas/condensate development in the Barents Sea until end-March. The board agrees that more time is needed, given the scale and complexity of the project.
However, Turkey's Foreign Affairs Ministry has granted permits for construction of the proposed South Stream pipeline in the southern part of the Black Sea to take Russian gas to southeast Europe. Operator Gazprom hopes to complete the project in 2015.
On the Sea of Okhotsk off northeast Russia, Rosneft has been awarded five blocks estimated to contain potentially large recoverable resources of oil and gas.
Caspian Sea/Persian Gulf
Khazar Oil Co. has discovered a potential gas giant in the Iranian sector of the Caspian Sea. The well was drilled in 700 m (2,296 ft) of water, and may have unlocked over 50 tcf of resources, according to Iran's Petroleum Ministry.
In the Persian Gulf, Iran has held talks with neighbor Kuwait over appointing a joint operator to develop and produce the Arash field which overlaps Iranian/Kuwaiti waters. Elsewhere, two new tripod platforms have been delivered for installation on the South Pars gas/condensate field Phase 17 and 18 developments, both of which are due onstream this summer.
East Africa
BG has spudded the first of three deepwater wells planned this year off Tanzania, using the drillshipOdfjell Metro. The vessel was scheduled to drill the tophole section of the Mzia-1 well in 1,500 m (4,921 ft) water depth in block 1, before relocating to drill Jodari-1 in the same concession. Partner Ophir Energy says Jodari has stacked targets in the Tertiary and Cretaceous which could hold 2.2 tcf of gas.
India
ONGC has started the integrated development of the three B-127 marginal fields east of Mumbai High with further development of the B-55 field. The company estimates in-place hydrocarbons at the B-127 cluster at 24.6 MMtoe. B-55 started producing gas in 1999 and currently delivers 37 MMcf/d, but ONGC sees further potential in the Heera, Mahim, and Mukta formations.
Asia/Pacific
Thailand's PTTEP has contracted Indian fabricator Larsen & Toubro (L&T) to construct and deliver three wellhead platforms and associated sea lines for the Zawtika gas field development off Myanmar. Gas will feed through to a new onshore export line. The contract value to L&T is $200 million.
•••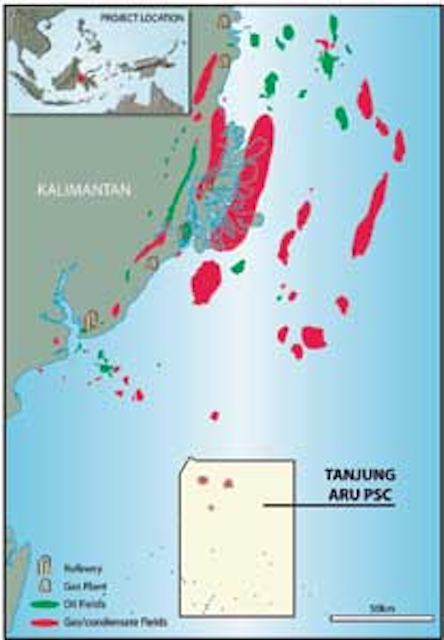 The Tanjung Aru block in the Kutei basin holds various prospects and two discoveries.
A consortium led by Kris Energy has signed a PSC for the Tanjung Aru block in the Kutei basin off Kalimantan, Indonesia. Water depths range from 20-1,000 m (65-3,281 ft). Neon says this is a little explored area, but the partners have identified petroleum plays in shallow water and deepwater. The block contains two gas finds drilled by Amerada Hess in 2002.
•••
The first wellhead platform has been installed for Petronas Carigali's Berantai project offshore Malaysia. Development drilling is under way and the FPSOBerantai should sail to the field location around end-March.
Toward year-end, Petrofac expects gas lift facilities to start operating on its Cendor field in block PM304 off peninsular Malaysia.
•••
Northern Offshore has clinched a four-well program offshore Vietnam valued at $72 million for the drillshipEnergy Searcher. The vessel was due to start work for Vietgazprom after completing a contract for CNOOC.
Australia/New Zealand
MEO Australia has terminated a joint development agreement with Air Products concerning the proposed Tassie Shoal methanol project offshore northern Australia. MEO hoped to monetize shallow-water offshore gas accumulations in the Timor Sea with high carbon dioxide (CO2) gas content, but the business model was not successful. It now plans to restructure the Tassie Shoal gas processing projects to facilitate separate ownership of the two proposed methanol plants and one LNG plant.
•••
Chevron has discovered gas with the Vos-1 well in the WA-439-P permit, 186 mi from Exmouth, Western Australia. The well, drilled in 4,869 ft (1,484 m) of water, encountered 453 ft (138 m) of net gas pay.
•••
Woodside Energy has contracted FMC Technologies for subsea production systems for the Greater Western Flank (GWF) Phase 1 development off Western Australia. These will be used on the Goodwyn GH and Tidepole fields in 230-425 ft (70-130 m), the next major phase of the North West Shelf project.
Also off the west coast, Hess has contracted Wood Group Kenny for the subsea, umbilical and flowlines front-end engineering design for the deepwater Equus gas development. The project takes in various gas and condensate fields in the northern Carnarvon basin, 300 km (186 mi) west of Karratha, in water depths up to 1,200 m (3,937 ft).
More Offshore Issue Articles
Offshore Articles Archives
View Oil and Gas Articles on PennEnergy.com