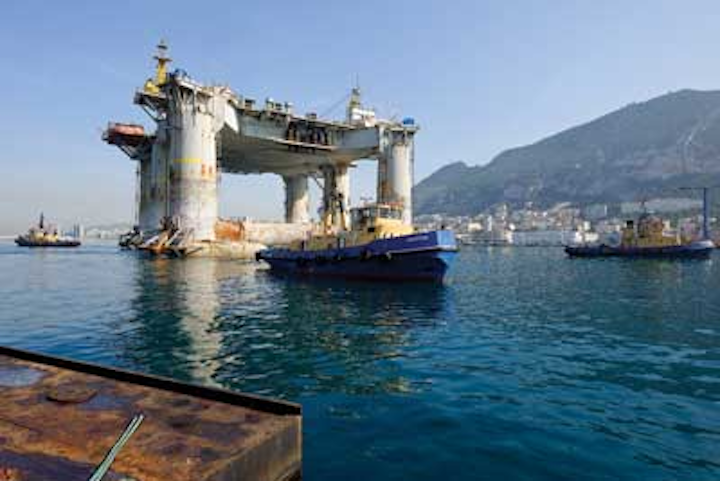 Jeremy Beckman • London
Pemex has discovered light oil in the Trion structure in the deepwater Gulf of Mexico. The well was drilled 177 km (110 mi) offshore Tamaulipas in 2,500 m (8,202 ft) of water. The thickness of the reservoir, in the Perdido fold belt province, is estimated at 320 m (1,050 ft), with potential reserves of 350 MMboe.
Around 30 km (18.6 mi) offshore Tampico, Petrofac has won an integrated production service contract from Pemex to develop the Arenque contract area. The Arenque oil field has in-place oil of 1.2 Bbbl, but production at present of only 5,000 b/d. Under the 30-year contract, Petrofac aims to improve the 11% recovery factor and lift production by means of secondary recovery techniques and horizontal wells.
•••
CGX is hoping to re-drill the Jaguar prospect offshore Guyana following termination of the Jaguar-1 well for safety reasons. The jackupAtwood Beacon spudded the high-pressure/high-temperature well in February on the Georgetown petroleum prospecting license, and encountered light oil in two late Cretaceous turbidite sands above the main target. CGX is seeking a commitment from the partners, led by operator Repsol, to re-drill using a new well design. The company has further plans to drill a commitment well on the offshore Corentye block.
•••
Petrobras has opened up a new ultra-deepwater play in the Sergipe-Alagoas basin offshore Brazil. Following a gas discovery on the Barra accumulation, logging of another well 35 km (21.7 mi) to the southwest confirmed oil and gas in the Moita Bonita structure. The location is in the BM-SEAL-10 block in 2,775 m (9,104 ft) of water, 85 km (53 mi) from the city of Aracaju. Petrobras plans further studies in the area ahead of submitting an appraisal plan to ANP. In the Santos basin presalt region, the company's fourth well in the Transfer of Rights area proved a southerly extension of the oil reservoirs in the Franco structure.
•••
Petrobras has signed agreements with Brazilian contractors to charter and operate nine new drilling vessels. These will be built at the Enseada Paraguaçu shipyard in Maragogipe, Bahia state, and at the Rio Grande 2 shipyard, Rio Grande do Sul state. Four will be operated by Odebrecht and five by Etesco. Deliveries are due to start in 2016. The rigs, chartered for 15 years, will be equipped to operate in water depths to 3,000 m (9,842 ft), and will mainly drill presalt wells in the Santos basin.
Statoil has contracted RDS for front-end engineering design for a fixed drilling rig for its Peregrino Phase 2 development off Brazil, which it operates in partnership with Sinochem Group. The producing Peregrino field is thought to hold 300-600 MMboe recoverable.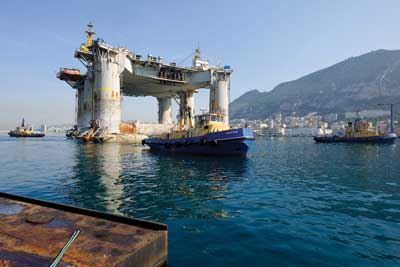 The Gibdock yard in Gibraltar has completed repairs to the semisubmersible accommodation platformEtesco Millennium, owned by Nazca Floatel. The 22,604-ton rig, originally built by Marathon LeToruneau in 1976, underwent extensive blasting and cleaning, and steel rectification works on the cross braces on the rig columns. It is one of the largest offshore structures ever handled by the yard.
North/West Africa
Serica Energy and its partners San Leon Offshore and Longreach Oil and Gas Ventures have negotiated two farm-ins to their licenses off Morocco. Cairn Energy is set to take a 50% operating interest in the Foum Draa offshore area, and will pay the first $60 million toward drilling of a first commitment well. Reprocessing of 3D seismic has revealed several prospects in the deepwater region.
Another UK-base company, Genel Energy, has agreed to take a 60% stake in the Sidi Moussa license, and will pay up to $50 million of a first deepwater commitment well, probably to spud during 2014. Both agreements are pending ratification from the Moroccan authorities.
•••
African Petroleum may use one of its three slots for the semisubEirik Raude to drill the Alhamdullilah prospect offshore Gambia, either late this year or early in 2013. The rig was booked initially for deepwater drilling on the company's acreage offshore Liberia. Alhamdullilah is a four-way dip closed structure extending over 24 sq km (9.2 sq mi), with five mapped reservoirs and prospective resources of 500 MMbbl.
•••
Ghana's government has signed a memorandum of understanding (MOU) with Eni and Vitol to develop gas in the Offshore Cape Three Points block in the Tano basin. The MOU sets out principles for development of discoveries and commercializing gas in the contract area, focusing mainly on Ghana's domestic needs.
•••
The Fortuna East-1 step-out well in block R off Equatorial Guinea has encountered gas in the eastern lobe of the Fortuna complex. According to operator Ophir Energy, the well delivered 40 m (131 ft) of net pay in the primary target Late Miocene sands, and further pay in the underlying mid-Miocene Viscata prospect. This was the fourth gas find on the block, with gross reserves to date estimated at 426 bcf recoverable – the semisubEirik Raude was due next to test the western lobe of the Fortuna complex and the Felix exploration target.
Northern Russia
The final joint has been welded in the second Nord Stream gas trunkline through the Baltic Sea. The operation at Portovaya Bay connected the offshore section of the line to the onshore section and to infrastructure on the coast near Vyborg. Following pre-commissioning, first deliveries of Russian gas to Europe should start shortly. The twin Nord Stream pipelines extend 1,224 km (760 mi) from Vyborg to the German coast, and will have annual throughput of 55 bcm (1.9 tcf).
•••
Rosneft and ExxonMobil have commissioned Vostochniy Offshore Structures Construction Yard (VOSTCO) to perform a study for a drilling platform in the Kara Sea. This would be used in the East Prinovezemelsky license blocks 1, 2, and 3 where water depths range from 20-200 m (65-650 ft). The study will take into account extreme ice, wind, wave and temperature conditions, but will also assess the feasibility of a gravity-based structure that could extend the drilling season several months. Drilling equipment would be placed on the seafloor to drill, and later refloated and transferred to other drilling locations.
Black Sea
A consortium headed by ExxonMobil has won E&P rights for the deepwater Sythian oil and gas field offshore Ukraine. The four companies, including Shell, OMV Petrom, and Ukrainian state-owned company Nadra, will devise solutions for the 16,698-sq km (6,447-sq mi) field, said to share geological features to adjacent Romanian waters containing the recent Neptune gas discovery. Reports suggest the quartet will invest $400 million during the initial exploration phase.
•••
Total has signed an exploration contract for the Khan Asparuh license offshore Bulgaria, in partnership with OMV and Repsol. The 14,220-sq km (5,490-sq mi) block is 80 km (49.7 mi) offshore in water depths of 100-2,000 m (328-6,561 ft), and is said to contain numerous oil and gas prospects.
Middle East
Noble Energy is expected to shut in and abandon its deepwater Leviathan 2 gas appraisal well offshore Israel following consultations with the country's Department of Energy and Water. Noble contracted theEnsco 5006 for the operation, which is expected to take two months to complete, at a cost of around $46 million. Despite the setback, the Leviathan partners have received bids from various international E&P companies wishing to participate in the development.
•••
DNO International has restored production at the West Bukha field offshore Oman. The field had been shut in for five months following a pipeline blockage. Repair work included cutting and replacing a 4.3-km (2.7-mi) section of the 12-in. (30.5-cm) offshore line connecting West Bukha and its two wells to export facilities at the nearby Bukha field. Output resumed at 10,000 b/d of oil and 25 MMcf/d of gas, and should rise following completion of two further development wells.
East Africa
Analysts Wood Mackenzie estimate that 100 tcf of gas has been discovered to date in the Rovuma basin offshore Tanzania and Mozambique, with a further 95 tcf potentially waiting to be found. Theoretically, the volumes could justify up to 16 LNG trains, but various issues need to be addressed before the gas can be brought to market, the analysts warn. These include infrastructure, financing, and license unitization discussions.
Ophir Energy, a partner to BG Group offshore Tanzania, was expected to resume drilling last month on the Jordari discovery, with a view to confirming sufficient reserves for the country's first LNG hub development.
PTTEP has acquired Cove Energy, following a bidding contest with Shell, giving it an 8.5% interest in the Anadarko-operated Rovuma Area 1 off Mozambique, where planning is under way for a subsea to shore LNG scheme.
India
Reliance Industries is preparing to drill a fifth exploratory well next year on the D3 license offshore eastern India, according to partner Hardy Oil and Gas. There have been four gas discoveries to date on the D3 block in the Krishna Godavari basin. The partners are evaluating the eastern part of the block, with processing under way on new 3D seismic data, and there are plans to test deeper play types in the central area.
Asia/Pacific
Total is taking a 40% interest in a production-sharing contract for the M-11 block offshore Myanmar, operated by PTTEP. This covers 5,373 sq km (2,074 sq mi) in the Martaban basin, in water depths of 200-2,300 m (656-7,545 ft). Terms call for an exploratory well to be drilled by 3Q 2013.
In the Sulu Sea, Total is farming into 75% of offshore block SC56, held by Kuala Lumpur-based Mitra Energy. Here water depths go to 3,000 m (9,842 ft). Mitra will initially remain as operator for the new exploration phase, which involves reprocessing seismic and acquiring 500 sq km (193 sq mi) of new data. Total will assume the lead role during drilling.
•••
Swiber Offshore Construction has contracted Technip to supply 12 flexible flowlines for Brunei Shell's Champion field development, 40 km (25 mi) offshore Brunei. The phased Champion Waterflood Project is designed to increase oil recovery from the field, in 45 m (148 ft) water depth.
•••
Pearl Oil has contracted theEnsco 85 for a multi-well campaign on the B2/48 concession in the Gulf of Thailand. Drilling should start in the current quarter, according to partner MEO Australia, with over 20 prospects identified from 3D seismic in the southern Raymond graben within multiple potential plays.
Australasia
PTTEP has been fined A$510,000 ($537,412) by the Darwin Magistrates Court following the Montara blowout in the Timor Sea in 2009. All 69 personnel on the affected rig were safely evacuated, and relief well operations to stop the leak succeeded. Subsequent independent scientific studies have shown that no oil reached either the Indonesian or Australian coastlines. Development of Montara continues, with first oil expected by year-end. The field is 250 km (155 mi) offshore northwest Australia, in a permit acquired from Coogee Resources in February 2009.
•••
Chevron has agreed to swap its 16.7% and 20% stakes in the East Browse and West Browse titles off northwest Australia with Shell's 33.3% interest in the Clio-Acme titles. Additionally, Shell will pay Chevron $450 million cash.
Kuwait Foreign Petroleum Exploration Co (KUFPEC) has 30% of the WA-481-P permit in the Perth basin, offshore Western Australia. Murphy is the operator, with Samsung also a partner. There is a minimum six-year work program, taking in geological and geophysical studies through seismic acquisition and drilling.
•••
Hibiscus Petroleum has agreed to farm into 50.1% of 4D Oil's VIC/P57 permit offshore southeast Victoria, and has pledged to invest $28.3 million, to be directed mainly at appraisal of the West Seahorse oil discovery, 14 km offshore and in 35 m of water.