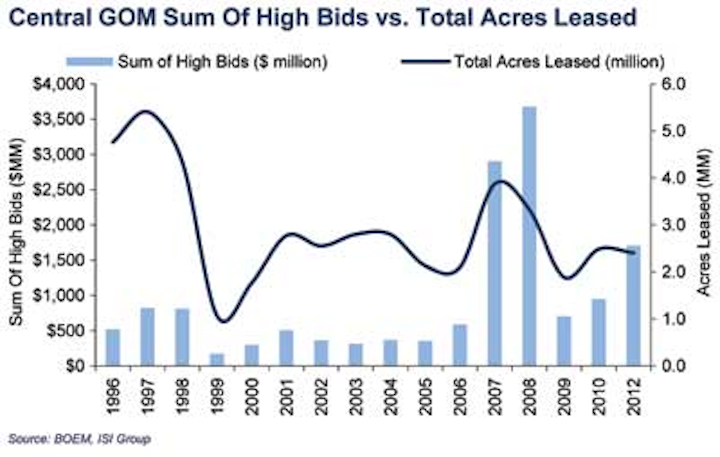 Bruce Beaubouef • Houston
Interest in the Gulf of Mexico remains high in the post-Macondo era, as evidenced by the results of the latest Central Gulf of Mexico Lease Sale. Held in New Orleans on June 20, Central Gulf of Mexico Lease Sale 216/222 was the first offshore lease sale in the Central Gulf of Mexico since theDeepwater Horizon incident.
The acreage included 7,434 tracts located three to more than 230 miles off the coast, on the US outer continental shelf offshore Louisiana, Mississippi, and Alabama, in water depths ranging from 10 to more than 11,200 ft (3 to 3,400 m).
According to the ISI Group, an investment research firm, the results confirmed a positive outlook on the potential growth of the deepwater Gulf. There was a solid increase in bid activity since the last Central GoM sale in 2010, and some of the highest average bids ever for deepwater and ultra-deepwater acreage in the region.
The lease sale drew $1.7 billion in high bids out of a total of $2.6 billion for all bids. Fifty-six operators submitted 593 bids on 454 tracts covering 2.4 million acres of the 39 million total acres offered. According to ISI, this sale generated 80-100% more in proceeds compared to the last Central GoM lease sale in 2010 (before the Macondo incident) and was the third-highest ever, behind only sales in 2007 and 2008.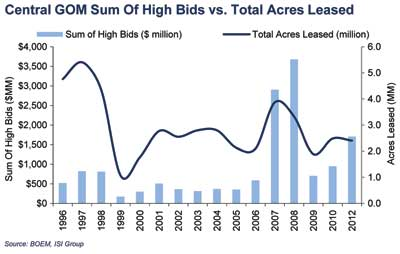 Industry observers and Obama administration officials heralded the strong auction as a sign of a Gulf of Mexico renaissance more than two years after the oil spill that halted most deepwater drilling and slowed exploration in shallower depths. "This is a record-breaking oil and gas lease sale in the Gulf of Mexico," Interior Secretary Ken Salazar was quoted to say in the Houston Chronicle. "The Gulf is back. There is great robustness in oil and gas activity currently under way in the Gulf, as well as interest in additional exploration."
The sale was driven by pent-up demand for the acreage, recent big discoveries in the Gulf, and strong oil prices earlier this year. It suggests that oil and gas companies are now confident about their ability to comply with new safety mandates imposed since the Macondo oil spill.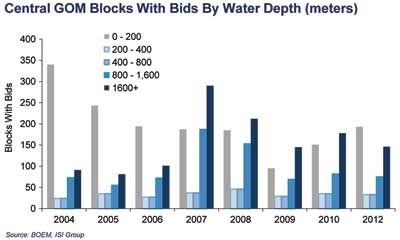 But, ISI also notes that despite impressive bid totals, there were fewer participants in this year's Central GoM sale. The number was 30-35% below the number of participants from 2004 to 2010, highlighting the increased cost and regulatory environment in the post-Macondo GoM.
The highest bid on a tract was $157,111,000 by Statoil Gulf of Mexico LLC for Mississippi Canyon block 718. That bid was reportedly a new high-water mark for a single lease. Although there was at least one larger bid in the 1970s, when offshore auctions were limited to industry-nominated tracts, Statoil's offering is the largest high bid since the federal government began area-wide lease sales in 1983.
Shell submitted the highest total amount in bonus bids, $406,594,560 on 24 tracts. The Bureau of Ocean Energy Management (BOEM) said that both sales included escalating rental rates to encourage faster exploration and development of leases, as well as shorter lease terms for shallower water, in order to encourage timely development.
BOEM has also increased its minimum bid requirement in deepwater to $100 per acre, up from $37.50 in previous Central lease sales, to "encourage faster exploration and development." The agency says that "rigorous historical analysis showed that leases that received high bids of less than $100 per acre have experienced virtually no exploration and development activities."
The number of blocks in less than 200 m (656 ft) of water receiving bids was 193. A total of 146 bids were received for water depths exceeding 1,600 m (5,250 ft) and 75 bids were for blocks in 800 m to 1,600 m (2,625 ft to 5,250 ft). The tract with the deepest water that attracted a bid was at 3,062 m (10,046 ft).
While many observers focused on the sale's deepwater and ultra-deepwater offerings, interest in the shallow water acreage was also strong. ISI pointed out that while the sum of the bids for shallow water acreage was not as notable as deepwater, the number of bids received was the highest since 2006, and is likely a positive indicator of future growth for oil-related activity on the shelf. The firm noted that the bid activity from this lease sale would seem to support further increases in jackup activity, especially considering the smaller number of rigs operating in the region relative to prior periods.
The top companies based on the number of high bids were Shell Offshore Inc. with 24 high bids; Statoil Gulf of Mexico LLC with 26 high bids; BP Exploration & Production Inc., 43; Chevron USA Inc., 29; Exxon Mobil Corp., 22; Apache Deepwater LLC, 29; LLOG Exploration Offshore LLC, 8; Stone Energy Offshore LLC, 26; Noble Energy Inc., 6; and ConocoPhillips Co., 24 high bids.
The top 10 single highest bids were:
Statoil Gulf of Mexico LLC, $157,111,000, Mississippi Canyon 718
BP Exploration & Production Inc., $110,364,812, Keathley Canyon 745
Shell Offshore Inc., $66,061,315, Mississippi Canyon 768
Shell Offshore Inc., $61,461,315, Garden Banks 962
Statoil Gulf of Mexico LLC, $61,400,007, Keathley Canyon 384
Shell Offshore Inc., $60,061,315, Atwater Valley 244
Chevron USA Inc., $57,821,221, Mississippi Canyon 607
Chevron USA Inc., $51,231,129, Mississippi Canyon 162
Shell Offshore Inc., $46,061,315, Mississippi Canyon 943
Shell Offshore Inc., $45,060,315, Atwater Valley 159.
Each high bid on a tract will now go through a strict evaluation process within BOEM to ensure that the public receives fair market value before a lease is awarded. This is the final Gulf Lease Sale scheduled in the currentOuter Continental Shelf Oil and Gas Leasing Program: 2007-2012. BOEM says it expects to finalize the list of tract winners in about three months.
More Offshore Issue Articles
Offshore Articles Archives
View Oil and Gas Articles on PennEnergy.com