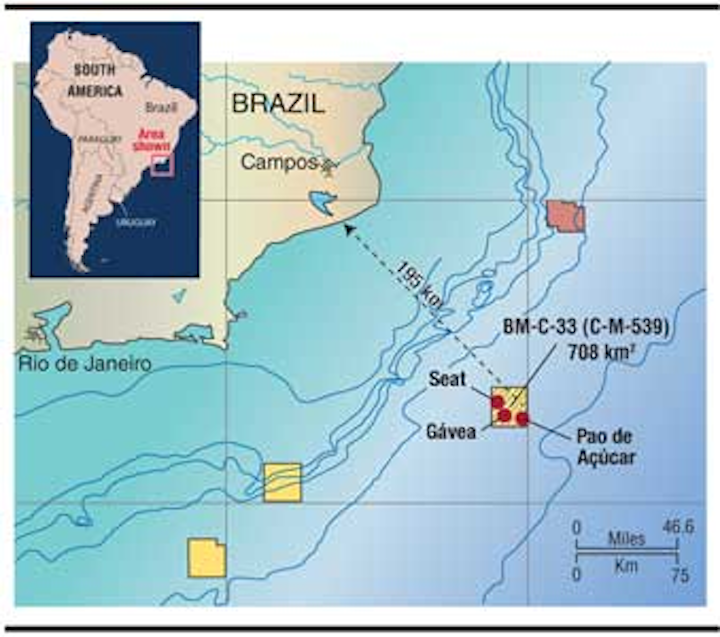 Jeremy Beckman • London
Pemex has commissioned McDermott International to build a new drilling platform for the Ayatsil field in the Bay of Campeche offshore Mexico. The Ayatsil-B's eight-leg jacket and deck, weighing 11,650 metric tons (12,842 tons), will be installed in 115 m (377 ft) of water, with completion scheduled for summer 2013.
•••
Spanish operator Repsol has reportedly cut short its exploration campaign offshore Cuba following a disappointing outcome to the first of the three planned wells. The Saipem semisubScarabeo 9 was due to P&A the well, which was spudded in January in 1,700 m (5,577 ft) water depth. The rig was due to transfer to Petronas for a second well in Cuban waters.
•••
Shell has contracted a drillship for its next two wells off French Guiana. The first will be an appraisal of last year's Zaedyus-1 oil discovery, but testing deeper objectives. A wildcat will follow. According to partner Tullow Oil, the consortium has also sanctioned two large 3D seismic surveys either side of the Cingulata fan system containing Zaedyus and other turbidite prospects.
•••
Weatherford has commissioned Conductor Installation Services (CIS) to assist exploration drilling in the Caribbean Sea off Colombia for Equion Energy. According to CIS, this is the first concerted drilling program in the sector since Colombia's National Hydrocarbons Agency launched its Caribbean bid round in 2007. CIS was due to install two 30-in. (76-cm) driven conductors for the shallow-water Mapale-1 and Mapale-2 wells.
In the same region, Exmar has contracted Wison Offshore & Marine to engineer, build and install a floating LNG liquefaction, regasification, and storage unit. This is due to start operating for Rubiales Energy off northern Colombian in late 2014. The FLRSU will be a non-propelled barge, to be built in Nantong, China, capable of converting over 69 MMcf/d of gas from the onshore La Creciente field into LNG for offloading to a moored storage unit or shuttle tanker.
•••
Repsol Sinopec Brasil's discoveries in the Santos basin.
Repsol Sinopec Brasil and partners Statoil and Petrobras are working on an appraisal program for deepwater block BM-C-33 off Brazil. It contains the recent Seat, Gavea, and Pao de Acucar discoveries, now estimated to hold combined resources of 700 MMbbl of light oil and 3 tcf of gas. The plan will be submitted to Brazil's National Agency of Petroleum, Natural Gas, and Biofuels.
West Africa
Afren's latest exploration well in the area of the Ebok field off Nigeria has found oil in Tertiary sands. The jackupTransocean Adriatic IX drilled the well in the shallow-water Ebok North Fault block, targeting a separate structure north of the main Ebok field. Early analysis suggested in-place oil of over 100 MMbbl. A full-scale development could result, after drilling of new production wells from the Ebok West Fault block wellhead platform.
•••
VAALCO has contracted McDermott for design engineering and procurement management for the Etame platform offshore Gabon, and design engineering for the potential Southeast Etame/North Tchibala (SEENT) platform. Both will be in the Etame Marin block and will produce oil and gas.
•••
Chariot Oil & Gas has secured the drillshipOcean Rig Poseidon for its second exploration well off Namibia, following a dry hole earlier this year on the Tapir South structure. The vessel will drill the Kabeljou well on the Nimrod prospect in southern block 2714A in the Orange basin, 77 km (48 mi) offshore in 360 m (1,181 ft) water depth, with drilling expected to take two months.
Baltic Sea
The Nord Stream consortium is examining the feasibility of installing two additional gas export trunklines in the Baltic Sea. As with the existing twin Nord Stream lines, these would take supplies from gas fields onshore northern Russia to European markets where demand for imports continues to grow. The study criteria include routes, environment, financing, and the potential for extending the life of the facilities to at least 50 years.
Black Sea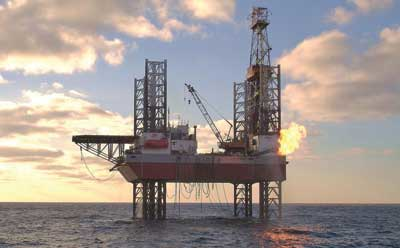 GSP Prometeu is currently on workover duty for OMV Petrom in the Black Sea.
Midia Resources, a subsidiary of Calgary-based Sterling Resources, has contracted the jackupGSP Jupiter for two exploration wells in the Romanian sector, starting mid-September. These will be on the Ioana and Eugenia prospects in the Midia and Pelican blocks, in respective water depths of 93 m and 55 m (305 ft and 180 ft). Drilling should start after the rig has mobilized from its current program for TPAO offshore Turkey. Sister rig GSP Prometeu is performing light workover operations this summer in the same sector for OMV Petrom.
Mediterranean Sea
AGR has started preparations for a Cooper Energy-operated well in the Gulf of Hammamet, offshore Tunisia. The company is scouting a jackup for the well, and could extend its services for a wider managed drilling campaign in the Mediterranean.
•••
BP has lifted force majeure on its exploration production sharing agreement with Libya's National Oil Corp. (NOC). The contract was ratified in 2007, with a commitment that included drilling five wells offshore Libya. BP acquired 3D seismic over offshore blocks in the Sirte basin but had to suspend well preparations following last year's hostilities. The company says it now looks forward to working with NOC to safely implement the drilling program.
•••
GeoGlobal Resources expects to drill two wells offshore Israel this year after securing extensions for its planned programs from the Israel Petroleum Commissioner. These will be back-to-back wells on the Sara and Myra licenses.
Middle East
DNO International says surveys of a damaged pipeline in block 8 offshore Oman suggest there is no mechanical damage. The pipeline linking the West Bukha and Bukha fields incurred a blockage during routine pigging. If it proves necessary to replace a section of the line, it would likely remain out of service until late summer.
•••
Iran claims a major oil discovery in the southern part of the Caspian Sea. A semisub operated by Khazar Exploration and Production Co. drilled the well, intersecting a 24-30 m (79-98 ft) thick oil layer. Early estimates suggested 8-10 Bbbl in place.
East Africa
Operators have amassed three more potentially giant discoveries in the Rovuma basin/Rovuma delta play. Off Tanzania, BG Group/Ophir Energy notched a fifth successive deepwater gas find, and is testing a new play fairway in the deeper Cretaceous section. Mzia-1 in block 1 intersected two gas-bearing columns in stacked reservoir intervals holding potential resources of 3.5 tcf, with potential upside in an untested shallower potential reservoir interval. The location is 45 km (28 mi) offshore and 45 km (28 mi) from the median line with Mozambique, in a water depth of 1,639 m (5,377 ft).
Anadarko says its Golfinho discovery, 20 mi (32 km) northwest of its Prosperidade complex of gas fields in Area 1 off Mozambique, could hold 7-20 tcf recoverable. Gas was encountered in two Oligocene fan systems geologically distinct from the Prosperidade accumulations. The latest find is closer to land, (10 km/6.2 mi offshore), in 3,370 ft (1,027 m) of water. After completing the well, the drillshipBedford Dolphin was due to drill the Atum-1 prospect for the consortium.
Eni's run continues with Coral 1 in offshore Area 4, estimated to contain 7-10 tcf, pushing total Area 4 reserves to a potential 47-52 tcf. Coral 1 encountered 75 m (246 ft) of gas pay in Eocene sand, 26 km (16 mi) southeast of the Mamba South 1 discovery. Eni plans at least five more wells to delimit Area 4's resources.
•••
Wessex Exploration has completed reprocessing of 2D seismic acquired by TGS-Nopec in 2006 over the Juan de Nova Est permit in the northern Morondava basin of the Mozambique Channel, northwest of Madagascar. Once reinterpretation has been completed, the company expects to acquire new seismic ahead of a first well in 2013.
India
ONGC has committed to development of the Mumbai High South field western periphery area, as part of the Phase III redevelopment project. The company will install one 12-slot unmanned platform, drill 10 wells, and lay fluid export, gas-lift and water injection lines. The new facilities should initially slow the field's production decline, later increasing output to 173,000 b/d of oil. Phase II, nearing completion, is designed to improve oil recovery to over 34% by March 2030.
Asia/Pacific
CNOOC says its latest discovery in the Bohai offshore region has found the thickest oil layers (170 m/558 ft) encountered in recent years in Bohai clastic rocks. Luda (LD) 21-2 was drilled in 20 m (65 ft) of water in south Liaodong Bay, its southern part being adjacent to the LD 27-2 oilfield.
Elsewhere in Bohai Bay, the company has signed a PSC with Australia's ROC Oil for block 09/05, covering 355 sq km (137 sq mi), 50 km (31 mi) southeast of Tianjin. The concession is 15 km (9.3 mi) north of ROC's producing Zhao Dong field, with similar geological characteristics.
•••
Offshore Malaysia, BC Petroleum (BPC) has secured $162 million of finance for the pre-development phase of the Balai Cluster RSC. Work on the phase started early this year, and includes construction of four wellhead platforms, finalizing a contract for a drilling rig, and procuring an oil tanker for conversion to an early production vessel. The pre-development work should be completed by February 2013. Shareholders in BPC are ROC Oil, Petronas, and Dialog Group.
Petronas is teaming with Talisman Energy in a new PSC covering further development of the mature Kinabalu oilfields offshore Sabah. Shell currently operates the Kinabalu Main, Kinabalu East, and Kinabalu Far East fields, although its tenure expires in late December. The new partnership plans to invest more than $1 billion to improve recovery from the fields.
In the southeast Malay basin, Petronas has awarded Petrofac Facilities Management Asia-Pacific a $220-million contract to refurbish the Bekok-C platform. This is the offshore gas processing and compression hub for gas from the Guntong, Tiong, and Belok fields in block Pm9. Petrofac expects to complete the overhaul next summer.
•••
Also off Malaysia, Petronas has contracted the Technip-Daewoo consortium to engineer, construct, and install the country's first floating LNG facility, with capacity to produce 1.2 MM ton/yr of LNG. The 300-m (984-ft) long, 60-m (197-ft) wide vessel will be built at the Daewoo shipyard in Okpo, South Korea.
Italy's RINA Group is providing services for a planned LNG floating storage and regasificiation unit (FSRU) off southern Sumatra, Indonesia. PGAS Solution has commissioned RINA to provide front-end design engineering assistance during negotiations with shipyards, and project management during construction. The FSRU will be installed in a water depth of 20 m (65 ft) at Labuhan Maringgai Kampung, with capacity to store 170,000 cu m (6 MMcf) of LNG. It is scheduled to enter service in mid-2014.
•••
Eni has been awarded the East Sepinggan block under Indonesia's 1st International Bid Round 2012. The location is offshore East Kalimantan in the Kutei basin, 170 km (105 mi) southeast of the Bontang LNG processing complex. Several giant discoveries in the area are already in production. The work program calls for a full 3D seismic survey and a well, all within the next three years.
•••
The Philippines Department of Energy has extended by one year BHP Billiton's permit for exploration Sub-Phase 4 in the SC55 concession. BHP requested the extension to secure an ultra-deepwater rig with specialized well control equipment for safe drilling on the Cinco prospect. A commitment well is due to be drilled by early August 2013, followed by a second well in the subsequent Sub-Phase 5.
•••
Lam Son Joint Operating Co., co-operated by PetroVietnam and Petronas, has commissioned fabricator Vietnam PTSC M&C to provide facilities for a new project offshore Vietnam. The scope includes construction of the Thang Long and Dong Do wellhead platforms, a 15-km (9.3-mi) infield pipeline, and 87-ton pipeline end manifolds and pipeline end termination. First oil from the project is slated for October 2013.
Earlier this year the same fabricator delivered the jacket and topsides for the Cuu Long JOC's new Su Su Trang platform in block 15.1 in the Nam Con basin. The platform and associated infield pipeline were due to be installed this month.
More Offshore Issue Articles
Offshore Articles Archives
View Oil and Gas Articles on PennEnergy.com