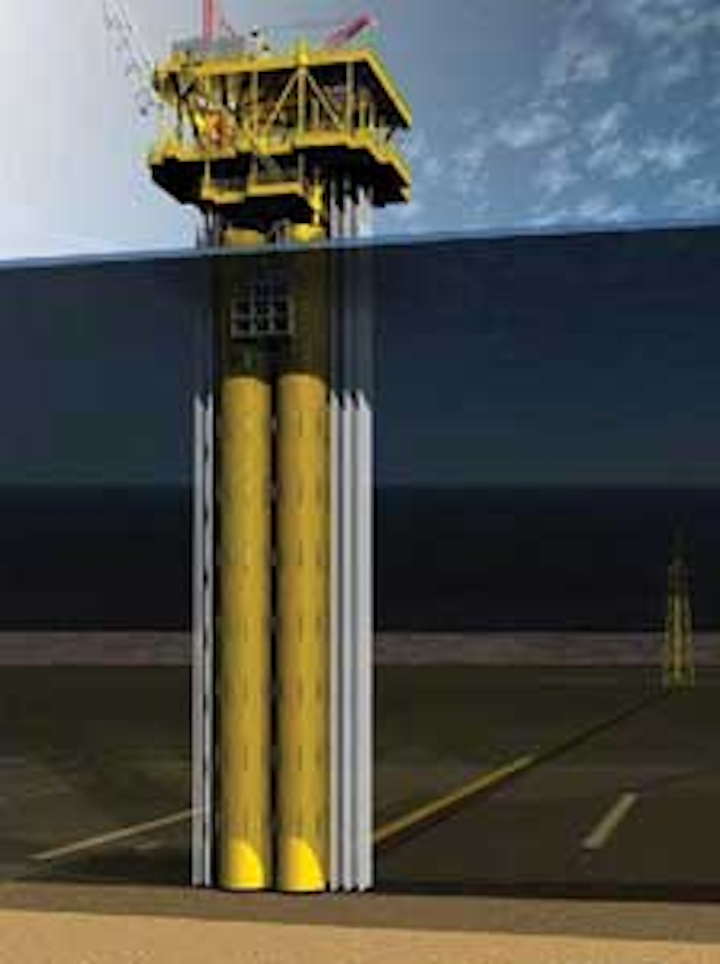 Gene Kliewer
Technology Editor, Subsea & Seismic
Pacific waters offshore western Latin America take second place to the booming developments off the east side, but that does not mean operators are dormant. Peru has oil production with a novel development plan, and Colombia has a big floating gas project in the works.
Peru
Perhaps the biggest news related to offshore exploration and production in the Pacific Ocean off South America is BPZ Energy's work offshore Peru.
BPZ says fabrication of its CX-15 platform for the Corvina field continues at the shipyard in China. Final hull tube assembly is under way, with good progress made on production pressure vessels and the topside decks.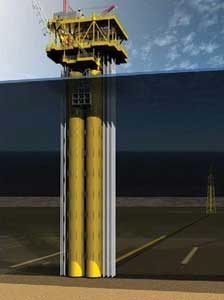 Rendering illustrates the completed buoyant-tower installation for BPZ at Covina field offshore Peru.
Sail-away to Peru on a transport vessel should come late this month, followed by installation by the end of September. Development drilling should start late this year once permits are issued.
The revised total cost of the platform is $77 million. This exceeds the original estimate due to revisions for production facility design which required installation of additional equipment, and costs associated with the use of company-owned marine equipment.
CX-15 is a buoyant tower with 12,200 b/d of oil production capacity; gas compression capacity of 12.8 MMcf/d; and produced water handling and injection capacity of 3,500 b/d. The tower will comprise four cylindrical cells and will be connected to the seabed by a single suction pile integral to the hull structure. It will have 24 drilling slots, some of which will be used for gas and water re-injection wells.
GMC and Horton Wison Deepwater did the front-end engineering and design work for the buoyant tower, while Audubon Engineering handled engineering and design for the production equipment.
According to the joint venture, the buoyant tower concept draws on proven cell spar technology, and the design provides multiple benefits for fields where other concepts would be problematic, requiring high capital costs and expensive crane barges for installation.
The buoyant tower can operate in water depths up to 700 ft (213 m) and can be relocated, allowing small marginal plays to be produced cost-effectively. The design allows for hydrocarbon storage if needed, can eliminate any need for separate shallow-water drilling units. These factors combine to provide a high level of flexibility for the operator.
The new platform will be about 1 mi (1.6 km) from the existing CX-11 Corvina platform. The two platforms will connect via subsea pipelines.
Wison Offshore & Marine is building the platform in Nantong, China, with GMC providing project management. The tower and decks with the production equipment will be transported from Nantong to Corvina on a semisubmersible heavy-lift vessel. Following upending, fixed and variable ballast will be pumped into the hull to provide stability.
The Corvina field's gas cap reinjection program, implemented during 1Q 2012, has shown positive results, according to BPZ. As a result, production has been relatively stable over the past four months.
BPZ continues to explore its offshore block Z-1. The revised cost of the seismic program for 2012 is estimated at $35 million, due to higher costs related to vessel standby, community affairs, marine support, and an extra boat.
BPZ sold 49% of its 100% interest in the Z-1 license to Pacific Rubiales Energy for $150 million. Pacific Rubiales has committed to carry $185 million of BPZ's share of capital and exploratory expenditures. Thereafter, each partner's share will reflect its participating interest.
Elsewhere offshore Peru, Gold Oil has signed a letter of intent with BGP Geoexplorer PTE Ltd. for a 3D seismic survey over Gold's offshore block Z-34. The survey is to cover 500 sq km (193 sq mi), according to Gold. This initial survey comprises the first phase of 3D seismic over the license and a further 1,100 sq km (425 sq mi) will be required to evaluate the northern area of this block.
TheBGP Pioneer is expected into the area for work to begin early this month. The Peruvian Ministry of Energy and Mines has approved the environmental permit covering this first portion of the block Z-34 survey.
Looking further ahead, Peru will offer as many as 30 exploration contracts for bidding in the second half of 2012, covering both offshore and Amazon areas.
Colombia
Pacific Stratus Energy (PSE) Colombia has contracted Exmar to build, operate, and maintain a floating liquefaction regasification and storage unit (FLRSU) for the Colombian Caribbean coast.
Exmar says this will be the world's first such unit, with a storage capacity of 14,000 cu m (494,405 cu ft) of LNG. It will also be able to accommodate alongside a 140,000 cu m (4.9 MMcf) LNG floating storage unit.
PSE, a subsidiary of Canadian company Pacific Rubiales Energy, will supply gas via a planned new 88-km (54.6-mi), 18-in. (45.7-cm) pipeline from its onshore La Creciente gas field to the Caribbean coast. This will have an initial design transportation capacity of 100 MMcf/d.
Reliance Exploration and Production (REP) and Ecopetrol are farming into Borojo North block 42 and Borojo South block 43 offshore Colombia. Subject to government approval, Ecopetrol will acquire a 20% stake in the blocks while REP will retain 80% and operatorship.
The two deepwater blocks cover approximately 8,000 sq km (3,089 sq mi) in water depths ranging from 60 m to 1,500 m (197 ft to 4,921 ft). REP has acquired and processed 3,000 line km (1,864 mi) over the area. The company is scheduled to begin multi-beam bathymetry studies covering both blocks.
Chevron is the largest natural gas producer in the country. The company operates the offshore Chuchupa field in the Guajira basin, the largest non-associated natural gas field in the country.
More Offshore Issue Articles
Offshore Articles Archives
View Oil and Gas Articles on PennEnergy.com