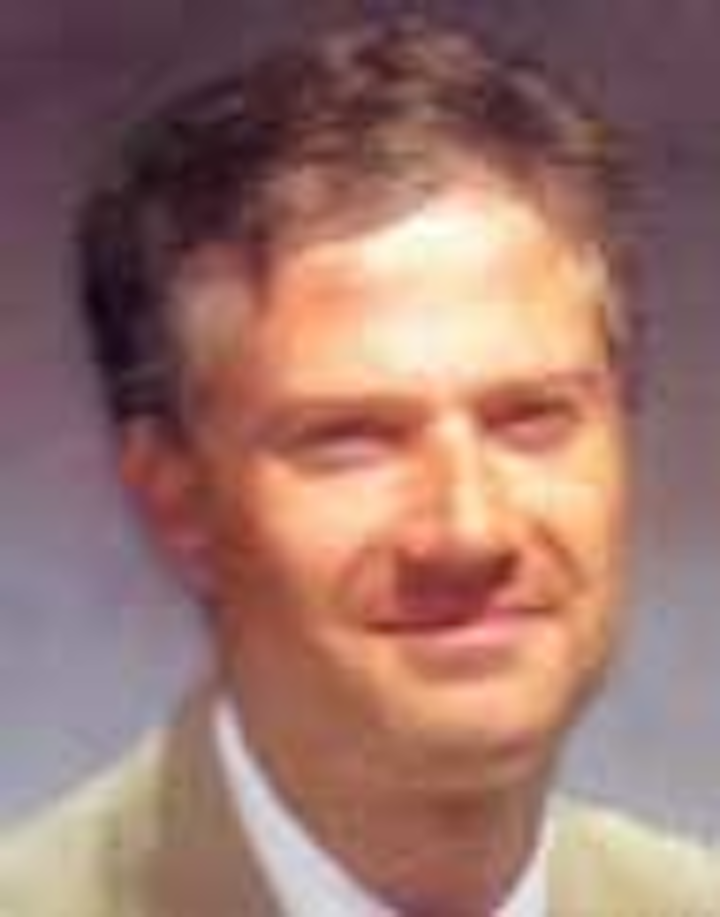 North America
| | | |
| --- | --- | --- |
| | | Jeremy Beckman • London |
Tullow Oil is farming into a license for block 9 (Tooq) in Baffin Bay, offshore Greenland. Maersk Oil will remain operator, with state-owned Nunaoil the other partner. Maersk plans to finish evaluation of a recent 3D seismic survey over the block before deciding whether to drill an exploration well.
•••
Pemex has contracted Dragados Offshore to build and install a platform for the Compresion Alta Litoral (CA-Litoral A) project in the Campeche region of the Gulf of Mexico. This will have a total weight of over 15,000 tons, including bridges and substructures. Dragados will install the deck via a floatover operation, a first for Mexico, with the deck to be installed via a conventional single lift.
The platform's high pressure compression modules will be designed to increase pressure to 85 kg/cm, in compliance with new operating conditions at the Litoral Processing center. Hookup and commissioning should be completed by the second half of 2015, in readiness for startup of production at the Litoral Process Center (CP-Litoral-A), with overall processing capacity of 200 MMb/d of oil and 600 MMcf/d of gas.
•••
PDVSA and CUPET failed to find viable oil with their recent exploration well off western Cuba, according to a report by the Havana Times. The well, in Cabo de San Antonio, was the third dry hole this year in the Cuban sector of the Gulf of Mexico.
South America
Apache Corp. has signed a production-sharing agreement for block 53 offshore Suriname with Staatsolie Maatschappij Suriname. The concession is 80 mi (130 km) offshore, in water depths of 1,640-5,900 ft (500-1,800 m). Apache has committed to a 3D seismic survey and two exploratory wells. The company points out that the block is on trend with the large Zaedyus discovery offshore French Guiana to the east.
•••
Petrobras has two more discoveries in frontier deepwater basins offshore Brazil. One well on the Farfan structure in block SEAL-M-426 in the Sergipe-Alagoas basin intersected a 44-m (144-ft) light hydrocarbon column, at a subsurface depth of 5,582 m (18,314 ft). Water depth is 2,720 m (8,924 ft). Another well found light oil in the Carioca Norte prospect in presalt Santos basin block BM-S-9. The oil was contained in the same carbonate rock found in the previous three Carioca area wells.
In the Campos basin, Statoil and Sinochem have successfully appraised the Peregrino South discovery via well 3-STAT-8-RJS. It encountered 85 m (279 ft) of oil-filled sandstone reservoir in the Carapebus formation. Results will be used to support planning for the Peregrino Phase II development. The main Peregino field produces oil via two drilling and wellhead platforms connected to an FPSO.
North Africa
Chariot Oil & Gas is set for a 75% operating stake in the Loukos and Casbalanca/Safi licenses offshore Morocco, subject to approvals. Office National des Hydrocarbures et des Mines will hold the remaining 25% equity. The two permits cover a total area of 5,425 sq mi (14,050 sq km), and extend from the coast out to 50 km (31 mi) offshore, in water depths of 5-165 m (16-541 ft). Chariot has agreed to reprocess existing 2D seismic over both licenses, with the option to acquire 3D data and eventually drill.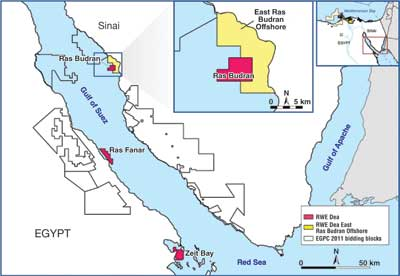 RWE Dea's newly awarded Ras El Badran concession offshore Egypt.
Off Egypt, EGPC has awarded RWE Dea an 80% operating interest, in partnership with Dove Energy, in the East Budran Offshore concession. The 46-sq km (17.7-sq mi) block adjoins RWE Dea's Ras Budran production license close to eastern Gulf of Suez coast.
West Africa
Oil production has started from the shallow-water Okoro field extension offshore southeast Nigeria. This is a new play discovered in January, comprising a deeper buried horst block structure in Tertiary reservoir sands. Operator Afren has drilled and completed a single well which it has brought onstream via the Okoro FPSO, lifting overall output from the field to 21,500 b/d.
•••
Bowleven and Petrofac plan to collaborate on the proposed development of the Etinde permit offshore Cameroon. Subject to shareholder approval, Petrofac will provide engineering services for the first--phase field development plan, followed by project management, engineering, procurement, and construction services for the development. Bowleven favors a "hub and spoke" scheme, with Phase 1 focused on the discoveries in block MLHP-7, and involving construction of all offshore facilities and associated (onshore) process infrastructure. Phase 2 would integrate discoveries on block MLHP-5.
•••
Cabinda Gulf Oil Co. (CABGOC) has commissioned WorleyParsons and INTECSEA to provide front end-engineering and design for the Lucapa field subsea facilities in Angolan block 14. Lucapa is on the north rim of the Congo River Canyon in 3,000-6,000 ft (910-1,830 m) of water.
The scheme involves tying back production wells with artificial lift, and water injection wells, to an FPSO.
Chevron, one of the CABGOC partners, has also contracted GE Oil & Gas to provide subsea trees and associated control modules for its Lianzi project, between Angola and Republic of Congo.
•••
Total has issued two major contracts for the Girassol Resources Initiative (GirRI) project in Angolan offshore block 17, 210 km (130 mi) northwest of Luada. Framo Engineering will supply a subsea multiphase pumping system, to be installed in 1,350 m (4,429 ft) of water, which will boost output from two production flow loops. It will incorporate new developments in helico-axial technology, and will be designed to handle differential pressure of up to 120 bar (1,740 psi). Delivery is scheduled for summer 2014, following testing at Framo's center in Horsoey, Norway. Saipem will perform associated topsides modification on the Girassol and Dalia FPSOs.
Black Sea/Caspian Sea
ExxonMobil and OMV Petrom have agreed to acquire a 65% interest in part of block 15 (Midia) offshore Romania. According to seller Sterling Resources, this is on the block's southeastern margin in deeper waters, and covers 11% of the total area of the Midia and Pelican concession. It contains the Anca and Maria prospects, and is adjacent to ExxonMobil/OMV Petrom's deepwater Neptun block, which includes the recent Domino gas discovery. Sterling is looking for buyers for other deepwater portions of its Romanian blocks, allowing it to focus on lower-cost E&P in the shallower water areas.
In the northern Caspian Sea (Russian sector), Lukoil has drilled four new horizontal development wells at its Yu. Korchagin field. The company plans four more next year, with potential horizontal displacements above 6 km (3.7 mi). Lukoil has also upgraded recoverable oil resources from the field by 50% to 360 MMbbl, following results from a new geological survey.
Middle East
The platform for Noble Energy's Tamar field development offshore Israel departed Corpus Christi, Texas, in October and was due to be installed before year-end. Noble says Tamar could deliver first gas by next May. Last month, the company was due to spud the Leviathan No. 4 appraisal well, also in the Levantine basin; earlier theEnsco 5006 rig sealed the Leviathan No. 2 well, halting the flow of water which caused drilling to be suspended. Noble will monitor the situation before committing to final abandonment.
•••
Saudi Aramco has awarded McDermott International a range of construction contracts for new projects offshore Saudi Arabia, for the Abu Safah, Marjan, and Safaniya fields. The North Dome project involves fabrication and installation of two wellhead decks for the first two fields, and an auxiliary platform and access bridge for Marjan. Another program involves supply and installation of three electrified production deck modules, to be built in Jebel Ali, UAE, for Marjan and Safaniya. Under the third contract, McDermott's engineering office in Al-Khobar will design and engineer over 55 km (34 mi) of composite power cables and associated anode sleds for all three fields, to be installed by the vesselNorth Ocean 102. Offshore works should start next spring.
India
The drillshipDhirubhai Deepwater KG2 is due to arrive in Indian waters by year-end. Reliance Industries has contracted the rig to drill a fifth exploration well during the first half of next year on the D3 license in the Krishna Godavari basin offshore eastern India, according to partner Hardy Oil & gas. The first four wells were all gas discoveries.
Asia/Pacific
CNOOC has contracted the Technip/COOEC consortium for subsea installations for the deepwater Panyu gas field development, 150 km (93 mi) south of Hong Kong. The $260-million program includes supply and installation of 10-in. and 6-in. clad-lined pipelines, steel-tube umbilicals and associated structures. These will link the field's six-well subsea production system with a central processing platform. TheDeep Orient and HYSY 201 vessels will perform pipelay in two phases between next summer and spring 2014.
In the Beibu Gulf, Roc Oil China has brought onstream the Weizhou 11-2 and Weizhou 6-9/6-10 oilfields via existing infrastructure. The company has also proved more oil in the WZ6-12 field via a step-out exploration well on the field's northern flank, drilled from the WZ6-12 wellhead platform.
•••
Shell has contracted Fluor Offshore Solutions for engineering, procurement and construction support for Phase 3 of the Malampaya Deep Water Gas-to-Power project off the Philippines. Contract scope includes design and installation of a new depletion compression platform, to be built by Keppel Subic Shipyard, bridge-linked to Malampaya's existing shallow-water production platform close to Palawan Island. Gas from the field is used for power generation on the island of Luzon. All the latest work should be completed by 2015.
•••
First gas and condensate has flowed ahead of schedule from the South Mahakam project offshore Indonesia. The program, designed to offset declining output from the Mahakam production-sharing contract, calls for phased development of the Stupa, West Stupa and East Mandu gas condensate fields, and the Jempang and Metulang gas fields, south of Balikpapan and the Peciko field. First-phase work involves installing three platforms and drilling of 19 wells, with gas and liquids sent through a new pipeline to the Senipah onshore terminal. Production should ramp up to 69,000 boe/d by the end of next year. Total operates the PSC in partnership with Inpex.
Australasia
GDF SUEZ has contracted KBR for design services for the planned floating liquefied natural gas vessel for the Bonaparte LNG project offshore Darwin, Northern Territory, Australia. KBR is also pre-qualified for the engineering, procurement and construction phase. It is performing concept definition work at its center in Leatherhead, near London, UK.
•••
Reports suggest that ExxonMobil and partner BHP Billiton will select a development scheme next year for the Scarborough gas field off Western Australia. Options include supplying the gas to other consortiums' LNG plants, or building a dedicated floating LNG platform. The field is 280 km (174 mi) offshore.
The FPSOFour Rainbow has departed the Eni-operated Woolybutt oilfield in the Carnarvon basin, where production came to an end in May. According to partner Tap Oil, field abandonment will follow in 2015.
Elsewhere in this region, Chervon has proven more gas via its Satyr-4 well on the WA-374-P1 permit, 75 mi (120 km) northwest of Barrow Island. The well, which was drilled in 3,570 ft (1,088 m) of water, encountered 220 ft (67 m) of net pay.
•••
Anadarko and partner Hyundai have blocked an attempt by New Zealand Oil and Gas (NZOG) to farm into deepwater exploration permit 38451 in New Zealand's Taranaki basin. NZOG had a conditional agreement to take a 6.667% stake, but the existing partners exercised their pre-emption agreement.