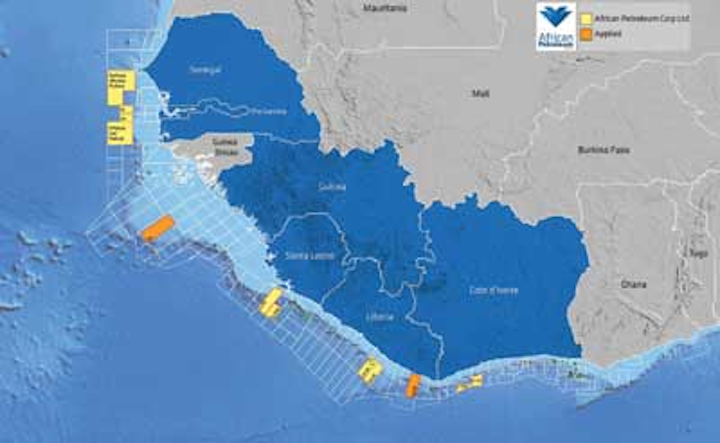 Jeremy Beckman
Editor, Europe
Analysts RFC Ambrian claim that equity markets underestimate the potential for new petroleum discoveries in Sub-Saharan Africa. In particular, small independent oil companies, which have been instrumental in opening frontier plays around the world, are struggling to attract sufficient investment to pursue their exploration aims. This is due to a perception of a relatively heavy concentration of regional, geological and/or political risk in their African portfolios.
However, as the analysts point out in a new report on these companies and their strategies, certain trends and developments should be working in their favor. Among these are this April's assessment by the US Geological Survey of undiscovered conventional petroleum resources across Sub-Saharan Africa, which was 2.2 times larger (or 146 BBoe) than its 2000 estimate. The increase was also much larger than for any of the other seven main assessment regions.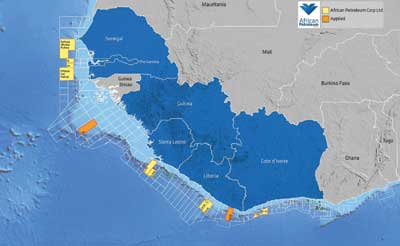 African Petroleum licenses offshore northwestern Africa.
New technology has helped de-risk exploration of certain play types considered too risky in the past when the majors held much of the continent's available offshore acreage. Improvements in seismic imaging, for instance, have opened up pre-salt plays off Brazil, with the general consensus being that these plays could extend to Gabon and Angola. Cobalt's Cameia deepwater discovery in Angola's offshore block 21 may be the first evidence.
Regulatory and political risk and security issues have also caused the region to be less explored than its potential may warrant. But according to RFC Ambrian, economic growth across Africa has generally improved, and this in turn is driving political stability, particularly in some of the smaller countries around the northwest African coastline which are the target of so much of the current offshore exploration.
The report highlights activities of a few companies active in this region. One of the leaders is Africa Petroleum Corp. Ltd. (APCL), which operates 10 licenses offshore five West African countries, and which has applied for two further permits off Guinea and Liberia. Its main achievement to date has been Liberia's first significant offshore oil discovery, the deepwater Narina-1 well drilled in February.
The company acquired its current licenses for Liberian blocks LB-08 and LB-09 in 2005, before the Jubilee discovery that opened up the West African Transform Margin. Two years ago APCL completed acquisition of 5,100 sq km (1,969 sq mi) of 3D seismic over the blocks. Interpretation revealed extensive submarine fan systems similar to those containing Jubilee and Anadarko's trio of deepwater finds off Sierra Leone, with over 40 prospects and leads in the Upper Cretaceous interval.
In September 2011 the company completed its first exploratory well, Apalis-1, on LB-09. This was designed to test a large stratigraphic trap – the well was dry, but results proved that all main elements were in place for a working hydrocarbon system. Narina-1 followed, and did encounter oil at Turonian and Albian levels, similar in quality to Jubilee, along with good-quality reservoir sands in the shallower Campanian, Santonian, and Coniacian intervals. Water depth is 1,143 m (3,750 ft).
APCL was due to resume exploration this month, using the semisubmersibleEirik Raude to drill the Bee Eater-1 well testing the Bee-Eater fan, at a location 9.5 km (5.9 mi) northwest of Narina-1. If the well proves oil in communication with reserves at Narina-1, recoverable resources could be at least 800 MMbbl. The rig will then drill a second well designed to locate the oil-water contact in the Bee-Eater reservoir. Depending on the outcome, the resources estimate could be nearly doubled.
Offshore Gambia to the northwest, APCL farmed into the A1 and A4 offshore blocks in August 2010, completing acquisition of 2,500 sq km (965 sq mi) of 3D seismic by year-end over both licenses. Interpretation has confirmed a four-way dip closed structure, Alhamdulillah, extending over an area of 24 sq km (9.3 sq mi), with five mapped reservoirs. A first well is planned either this month or early next year. Potential resources could be 500 MMbbl.
Late last year, APCL acquired the Rufisque Offshore Profond and Offshore Sud Profond blocks off neighboring Senegal, acquiring 3,600 sq km (1,390 sq mi) of 3D data this year. The plan is to target deepwater late Cretaceous stratigraphic trap fan plays, and the same applies to APCL's recently acquired CI-513 and CI-509 blocks off Cote d'Ivoire, where the BGP Prospector has been shooting 3D data.
Another company with interests off Senegal is FAR, which has been the majority license holder in the Rufisque, Sangomar and Sangomar Deep licenses since late 2008. In February, the Senegalese government confirmed the progression into the second renewal period of the PSC for the permits. Both Shell and Ophir Energy had options to participate, but withdrew – in Shell's case because of inconclusive results following a controlled source electromagnetic survey over the carbonate shelf in the licenses.
FAR has since reinterpreted existing seismic data, boosting its estimate of combined prospective resources to 1,580 MMbbl of oil, of which 80% are thought to be contained in late Cretaceous fan complexes. The company aims to farm out an interest and operatorship before the deadline for drilling a commitment well (February 2014). RFC Ambrian thinks prospects of bringing in a partner are good, given drilling successes on Cretaceous stratigraphic traps elsewhere in the region, and especially if APCL finds oil via its Gambia well.
In late 2009, FAR farmed into 15% of interests in three licenses off Guinea Bissau held by Delek International Energy. These include Premier's 2004 small Sinapa oil discovery and untested prospects potentially holding over 90 MMbbl combined. New 3D data were acquired over the licenses in 2010, and up to two wells could follow in 2013.
One of the more successful Africa-focused independents is London-based Ophir Energy, due to its successes in proving gas off Equatorial Guinea and offshore Tanzania, in partnership with BG. But according to RFC Ambrian the company's four deepwater PSCs offshore Gabon could be more rewarding, with potential for substantial presalt oil finds.
Ophir entered the Gnondo, Manga, Mbeli, and Ntsina PSCs in 2005, and three years later drilled two wells to test postsalt prospects, neither of which was successful. Last year, the company farmed out 50% of the Mbeli and Ntsina blocks to Petrobras, which is carrying Ophir's cost of a new survey and two exploratory wells (subject to a financial cap). The partners are now focusing on presalt plays in these blocks.
Results from a recent 3D seismic survey are being processed with data from a 2010 marine gravity gradiometry survey, with final 3D data due to be ready in February. The plan is to drill the Ntsina Padouck prospect in mid-2013, where recoverable reserves could be 1 Bbbl or more. There is another deepwater play on the western edge of all four of Ophir's blocks, analogous to the Barra play offshore Brazil.
Early this year Ophir also acquired 3D seismic over prospects on the Gnondo and Manga blocks, designed to investigate potential deepwater stratigraphic plays.