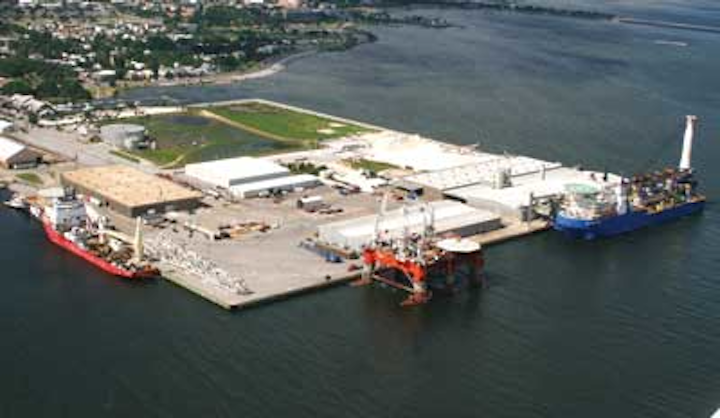 Bruce Beaubouef • Houston
The US Bureau of Ocean Energy Management (BOEM) plans to offer more than 20 million acres offshore Texas for oil and gas exploration and development. This includes all available unleased area in the Western Gulf of Mexico Planning Area.
The sale would include approximately 3,800 blocks, covering 20.5 million acres, located from nine to 250 mi (14.5 to 402 km) offshore, in water depths ranging from 16 to more than 10,975 ft (5 to 3,346 m).
The proposed Western Gulf of Mexico Lease Sale 229, scheduled for New Orleans on Nov. 28, 2012, will be under the new Outer Continental Shelf Oil and Gas Leasing Program for 2012-2017 (Five Year Program).
This sale will build on other actions taken by the Obama administration to expand domestic oil and gas development, including two successful Gulf of Mexico lease sales within the past year.
Last month, BOEM offered over 39 million acres as part of Central Gulf of Mexico Sale 216/222, which attracted $1.7 billion in high bids for more than 2.4 million acres. That followed Western Gulf of Mexico lease sale 218 in December 2011, which offered 21 million acres and attracted $324,971,001 in accepted high bids.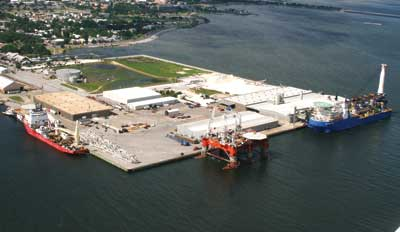 Offshore Inland Marine & Oilfield Services (OIMO) continues to advance plans for a state-of-the-art subsea support base to service the deepwater construction fleet at the Port of Pensacola. The TechnipG-1200 pipelay/heavy lift vessel, Cal Dive's Uncle John saturation diving vessel, and Hornbeck Offshore Services Achiever multipurpose supply vessel can be seen here at OIMO's Pensacola facility.
BSEE issues final Drilling Safety Rule
The Bureau of Safety and Environmental Enforcement (BSEE) has issued a final offshore drilling safety rule, and it features requirements for safety equipment, well control systems, and BOP practices. BSEE says the rule makes final the interim rule changes put in place following the Macondo incident.
The Drilling Safety Rule establishes new standards for casing and cementing, including integrity testing requirements; third-party certification and verification requirements; BOP capability, testing, and documentation obligations; and standards for specific well control training, to include deepwater operations.
The rule also describes and classifies well-control barriers; define testing requirements for cement; clarifies requirements for the installation of dual mechanical barriers; and extends requirements for BOPs and well-control fluids to well-completions, workovers, and decommissioning operations.
Stone Energy provides update on Parmer prospect
Stone Energy Corp. has provided an update on the deepwater Parmer prospect located in Green Canyon block 823.
Drilling operations have been completed, and the rig has been released. The well has been logged, and pressure readings and fluid samples have been taken in several Miocene objective sands. The data indicates approximately 240 ft of net condensate-rich gas pay in two gas sands that are full to base, as well as 40 ft of net oil pay in two sands that both encountered oil on water.
The partners plan to analyze the data from this well and develop a plan forward. Stone holds a 35% working interest in the project, and Apache Corp. is the operator.
Second exploratory well off Cuba a bust
A second deepwater exploratory well in the Gulf of Mexico has proved a bust, Cuban state oil company Cubapetroleo has announced. As reported by the Associated Press, the drilling operation carried out by PC Gulf, a subsidiary of Malaysia's Petronas, and Gazpromneft of Russia, concluded July 31 off the western province of Pinar del Rio.
Analysis of the findings revealed an "active petroleum system that could extend to other parts of the four blocks contracted by PC Gulf and Gazpromneft, and even beyond their limits," read the statement, which was published by Communist Party newspaper Granma.
"Nevertheless, at that point the rocks are very compact and do not have the capacity to deliver significant quantities of petroleum and gas," it continued, "so it cannot be qualified as a commercial discovery."
An estimated 5 Bbbl to 9 Bbbl of crude may be buried off Cuba deep below the Gulf of Mexico, according to geologic surveys, and authorities are hoping the reserves could be even bigger. Cubapetroleo said PC Gulf and Gazpromneft will study the geologic information gained from drilling the 15,300-ft (4,666-m) well to evaluate the potential of other parts of the four blocs they have contracted.
LLOG reports two GoM discoveries
LLOG Exploration Co. LLC is reporting that two wells drilled earlier this year in the Gulf of Mexico discovered hydrocarbons. Son of Bluto 2 and Marmalard both were suspended pending completions.
Bluto 2 (Mississippi Canyon 431) was drilled to a TD of 18,500 ft and encountered an oil-bearing zone and a separate gas-bearing zone. The well was suspended pending completion in the first quarter.
Marmalard (Mississippi Canyon 300) was drilled to a TD of 18,100 ft and encountered two oil-bearing zones. The well was suspended pending completion in the second quarter.
A development plan for the discoveries is being worked by the partnership, which includes Ridgewood Energy, Red Willow Offshore LLC, Calypso Exploration LLC, Deep Gulf Energy, and Houston Energy.
Anadarko agrees to joint-venture arrangement
Anadarko Petroleum Corp. has signed a joint-venture capital carry agreement involving the Lucius development project in the Gulf of Mexico.
Under the terms of the agreement with an unidentified party, Anadarko will be carried for $556 million, which is estimated to represent 100% of its expected capital obligation through the anticipated date of first production at Lucius.
In exchange, Anadarko will convey a 7.2% working interest in Lucius and will continue as operator with a 27.8% working interest. The agreement is expected to close during 3Q 2012, with an effective date of Jan. 1, 2012, subject to a variety of approvals.
The Lucius development is approximately 230 mi (370 km) offshore in 7,200 ft (2,195 m) of water. It includes portions of Keathley Canyon blocks 874, 875, 918, and 919.
The project is being developed using a truss spar floating production facility that is currently under construction. The spar is being built with the capacity to produce more than 80,000 b/d of oil and 450 MMcf/d of natural gas.