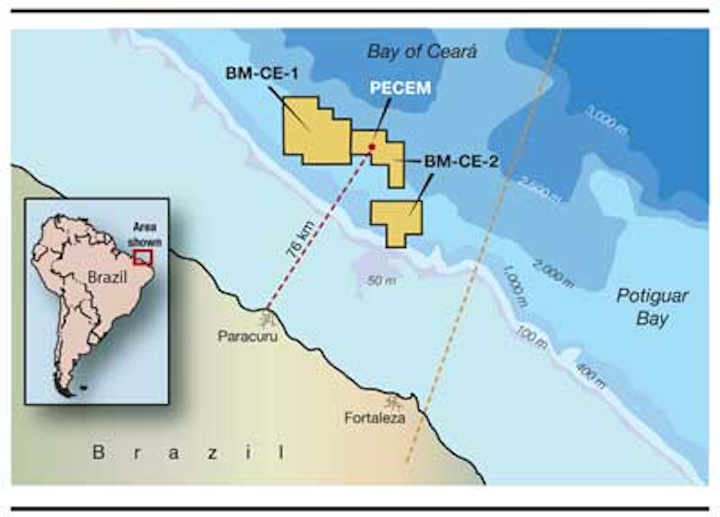 Jeremy Beckman • London
Husky Energy is considering development options for the White Rose extension project offshore Newfoundland. The chosen solution will make use of the existing FPSO's processing and storage facilities. Elsewhere in the region, Husky expects to participate in upcoming wells on the offshore Searcher and Harpoon prospects, respectively in the southern Jeanne d'Arc basin and the Flemish Pass basin.
•••
Petronas subsidiary PC Gulf and Russia's Gazpromneft have pulled the plug on an exploratory well offshore Cuba after failing to find hydrocarbons. The well was drilled in the Gulf of Mexico off the western province of Pinar del Rio. This was the second successive dry hole in the Cuban deepwater sector following Repsol's abandoned effort earlier this year.
South America
Exploration drilling has resumed on the Shell-operated Guyane Maritime concession offshore French Guiana, using theStena Drillmax ICE deepwater drillship. According to news wire reports, the GM-ES-2 well targets oil reserves of at least 300 MMbbl following last year's Zaedyus discovery, which could hold 1 Bbbl or more recoverable.
•••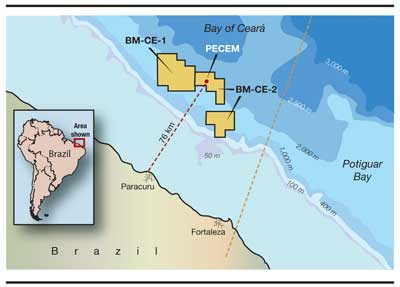 Location of Petrobras' Pecem discovery in the Ceara basin offshore Brazil.
Petrobras may have opened a new deepwater frontier offshore Brazil in the Ceara basin. The Pecem well, drilled 76 km (47 mi) offshore Paracuru county in Ceara state, encountered oil in siliclastic reservoirs of the Paracuru formation. Analysis of fluid samples indicated a liquid hydrocarbon. The well was drilled in the BM-CE-2 concession, in 2,129 m (6,985 ft) of water.
•••
Sete Brasil has commissioned Sembcorp Marine to design and build five DP-3 drillships, operable in water depths of 10,000 ft (3,048 m) and to drilling depths of 40,000 ft (12,192 m). All will be based on Jurong Shipyard's proprietary Jurong Espadon design, with deliveries scheduled between 2Q 2015 and 2Q 2019.
Brazil's deepwater semisubmersible fleet too is set for further expansion, following a series of agreements between Petrobras and various drilling contractors. All will be built by Estaleiro BrasFELS in Angra dos Reis, with three operated by Queiroz Galvao, two by Petroserv, and one by Odebrecht. All should be delivered by end-2016, and they will work mostly in the presalt areas of the Santos basin.
•••
The semisubLeiv Eiriksson is drilling the Loligo prospect, 124 km (77 mi) east of the Falkland Islands, for operator Falkland Oil & Gas Ltd (FOGL). This is a large, Tertiary-age stratigraphic trap with multiple reservoir objectives. Previous operator Borders & Southern released the rig after having to abandon a well on the Stebbing structure, due to technical constraints.
FOGL has attracted Noble Energy as a second farm-in partner to some of its licenses south and east of the islands, following a deal earlier this year with Italy's Edison. Noble will assume operatorship of all FOGL's northern permits next year, excluding two areas, and eventually also the southern licenses. After Loligo and the planned Scotia well in the northern area, the partners intend to focus on 3D seismic acquisition during 2013, with a more concerted drilling campaign set to follow in late 2014.
West Africa
Tullow Oil has extended the discovery areas of its operated PSC A and B concessions off Mauritania. These contain the Banda, Tevet, and Tiof oil and gas discoveries. The partners are negotiating with the government on gas deliveries from the Banda field development for a new power station. Tullow plans to step up exploration drilling across its Mauritania offshore licenses during 2013.
•••
Sierra Leone's government has awarded Minexco offshore exploration block 7A-10, under the country's 3rd bid round. Minexco will work in partnership with Elinilto and Signet Petroleum.
•••
In Ghana's Deepwater Tano license, Tullow has had further success with its latest exploration effort, Wawa-1, drilled by the semisubAtwood Hunter. The Wawa-1 well found oil and gas/condensate in a Turonian turbidite channel system in 587 m (1,926 ft) water depth. The location, 10 km (6.2 mi) north of the Enyenra-3A well, was designed to test a previously undrilled, updip section of the license. Pressure readings suggest Wawa is a separate accumulation from the Tweneboa/Enyenra/Ntomme fields which are under review for a collective development.
•••
Ophir Energy has discovered gas with its Tonel-1 (R-4) well off Equatorial Guinea. Gas was encountered in mid-Miocene age sands, trapped within a thrust belt anticline. Ophir estimates 800 bcf recoverable.
•••
Perenco has installed a CoSMOS minimal facilities wellhead platform on the Dissoni field offshore Cameroon. The 15 m (49 ft) tall DIF-1 platform, supported by well conductors, is installed in 7 m (23 ft) of water. 2H Offshore provided detailed engineering.
•••
Chevron has committed to a $2-billion development of the Lianzi offshore field, in waters between the Republic of Congo and Angola. Facilities will include a subsea production system and a 27-mi (43-km) electrically heated flowline to transport Lianzi's oil to the existing Benguela Belize Lobito Tomboco platform in Angolan block 14. Following start-up in 2015, production should build to 46,000 boe/d. Lianzi is 65 mi (100 km) offshore in 3,000 ft (900 m) water depth.
Mediterranean Sea
Italy's Ministry for Economic Development has awarded Po Valley Energy an exploration permit in the Adriatic Sea. The shallow-water AR94PY concession contains the small connected gas discoveries Carola and Irma, both drilled and tested by previous operator Eni. Po Valley will work on a development plan. The nearest infrastructure is an offshore production facility on Eni's Pandora gas field.
•••
Phoenicia Energy is set to take outright control of Malta's Offshore Area 4 PSC, after agreeing to acquire Leni Gas and Oil Investments' 10% stake. Phoenicia, owned by Mediterranean Oil and Gas, now aims to complete a farm-out process by year-end, and drive forward exploration drilling on various oil prospects.
•••
Lundin Petroleum has decided to abandon the Oudna field in the Gulf of Hammet offshore Tunisia. A flowline damaged by a storm in March has proven uneconomic to repair.
Russia
Statoil has returned its shares in the Shtokman Development AG venture to operator Gazprom. This follows the continued failure to agree on a solution for the Shtokman gas/condensate field development in the Barents Sea, combined with high associated investment costs and uncertain profitability. Statoil remains hopeful of participating, if these issues can be resolved.
Middle East
Saudi Aramco has contracted McDermott for construction services on two projects at the Karan, Safaniya, and Zuluf fields offshore Saudi Arabia. For the Karan-45 project, McDermott will fabricate a wellhead platform and auxiliary platform, and install associated flowlines, power and fiber optic cables. The other program calls for pipeline installations and subsea tie-ins. Both jobs should be completed between late 2013 and early 2014.
•••
Technip and NPCC will jointly perform engineering and construction of the Upper Zakum 750K project offshore Abu Dhabi. The scope awarded by Zakum Development Co. includes almost 30,000 tons of platform structures, 240 km (149 mi) of subsea pipelines in diameters from 6-42-in. (15-106 cm), and 128 km (79 mi) of subsea composite and fiber optic cables. Work should be completed during summer 2015.
East Africa
BG's Papa-1 well is the first Cretaceous gas find outboard of the Rufiji Delta in Tanzania's deepwater block 3. The well was drilled by theDeep Sea Metro drillship 100 km (62 mi) offshore, 53 km (33 mi) southeast of the Pweza-1 gas discovery. It encountered an 89-m (292-ft) gas-bearing column in interbedded Campanian sandstones. Reserves are estimated at 0.5-2 tcf.
•••
Eni has yet another giant offshore gas find in Mozambique area 4. The company claims that Mamba North East 2, 9 km (5.6 mi) east of Mamba North East 1, has added at least 10 tcf of resources, pushing the overall total in area 4 to 70 tcf. Gas pay was encountered in multiple stacked sands, with the well opening a new exploration play in the Paleocene. Eni planned a production test on the well, which was drilled in 1,994 m (6,542 ft) of water to a TD of 5,365 m (17,602 ft).
India
ONGC has upgraded potential reserves at its D1 field off western India from 600 MMbbl to more than 1 Bbbl. This follows discovery of an additional oil-bearing zone of around 142 m (466 ft) during development on D1, which now appears to be the third largest field in the Western Offshore basin after Mumbai High and Heera. D1 is 200 km (124 mi) west of Mumbai in water depths of 85-90 m (279-295 ft). Production currently averages 12,500 b/d, but following a new phase of development – including three new wellhead platforms – and the latest findings, there is scope to lift output eventually to 60,000 b/d, ONGC believes.
Southeast Asia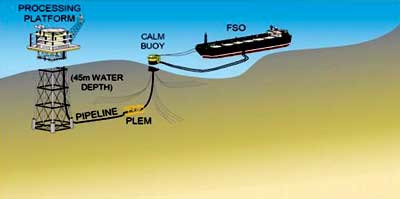 Schematic shows probable Manora field development in the Gulf of Thailand.
Tap Oil says a final investment decision has been reached on the Manora oil development in the G1/48 concession in the northern Gulf of Thailand, operated by Pearl Oil (Amata). Manora was discovered in late 2009, and appraised by two more wells the following year. The $246-million development is likely to call for a single wellhead platform with 15 development wells linked to an FSO. First oil could flow in early 2014, peaking at 15,000 b/d.
•••
Shell has signed two oil and gas production sharing contracts with CNOOC offshore China for blocks 62/02 and 62/17 in the Yinghai basin. Shell will operate both, and plans to apply advanced 3D seismic acquisition and processing technologies followed by advanced exploration drilling techniques later on in the exploration phase.
In the northern part of the South China Sea, CNOOC has started gas production at the Yacheng 13-4 field, 72 km (45 mi) southwest of Sanya, Hainan province. Three development wells tied into existing facilities are expected to eventually deliver a total of 12.36 bcf/yr. In the central-north sector of Bohai Bay, the company has drilled two successful appraisal wells on the Qinhuangdao oil and gas structure, in 27 m (88 ft) water depth. Qinghuangdao 29-2E4 encountered 218 m (715 ft) of oil pay.
Australia
Chevron has proven more gas in the Greater Gorgon area of the Carnarvon basin offshore Western Australia. The Pontus-1 well was drilled in 690 ft (210 m) of water in the WA-37-L permit area, 40 mi (65 km) northwest of Barrow Island. It intersected around 97 ft (30 m) of net pay.