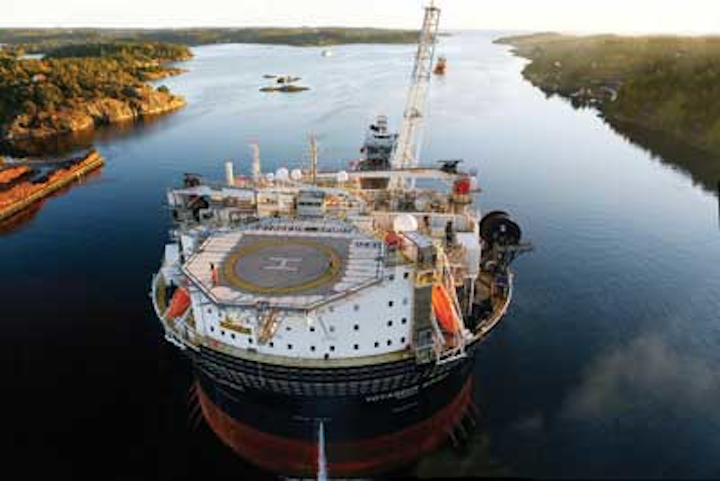 Jeremy Beckman • London
Eni's latest wildcat well in the Barents Sea has proven gas condensate in the Salina structure, although not in the anticipated high-impact range. The well was drilled by the semisubScarabeo 8 in a previously unexplored area on the west flank of the Loppa High, 50 km (31 mi) northwest of the producing Snøhvit field. It encountered two gas columns in Cretaceous and Jurassic sandstones, with preliminary analysis suggesting reserves in the range 29-41 MMboe.
Statoil, which operates Snøhvit, has agreed with its partners to put on hold studies on a possible increase in gas export capacity at the field's reception terminal on Melkoya Island, which could have led to construction of a second LNG train. They have come to the conclusion that gas discoveries in the area do not warrant expansion at this stage, so the focus will switch instead to optimization and upgrading of the existing facility, and progressing the Snøhvit 2-4 offshore development phases. These will take in the currently undeveloped Askeladd satellite structure, and will involve commissioning of five new subsea templates, 12 production wells, and potentially a compressor station.
New loading systems for Heidrun, Draugen
In the Norwegian Sea, one of the longest-producing fields, Heidrun, came onstream in 1995 through a concrete-hulled tension leg platform. Oil has always been exported via two loading buoys to shuttle tankers. Now Statoil plans to add a new floating storage unit (FSU) which will permanently connect to a buoy, again offloading to tankers. Samsung Heavy Industries in South Korea has a letter of intent to build the FSU which will be constantly manned, and designed for a lifespan of around 30 years. It should arrive on location at Heidrun in the first half of 2015. In addition, Statoil has secured options to buy two more storage units for use on other fields.
Norske Shell operates the Draugen field in the same region. Draugen has been in production since 1993 via a giant concrete platform with integrate topsides. As part of the company's latest facilities upgrade/expansion program, a new subsea crude loading system is being installed and commissioned. This will replace an existing loading buoy connected by pipelines to oil stored in tanks at the bottom of the platform.
In the North Sea, Total has started gas/condensate production from the Atla field in block 25/5, two years after discovery. It is tied into the company's Skirne/Byggve subsea system, which connects to the Heimdal platform, 24 km (14.9 mi) to the southwest. Flow should build to an average of 14,000 boe/d during 2013.
Overhauled floater reaches Huntington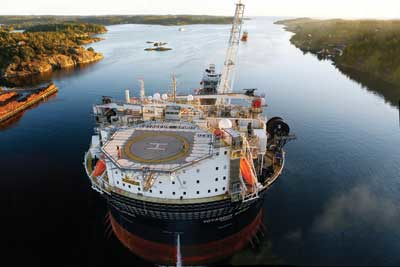 Sevan Marine's FPSOVoyageur Spirit on its way to the Huntington field.
The modified FPSOVoyageur Spirit has left the Nymo yard in Arendal, Norway, for a new life on the E.ON Ruhrgas-operated Huntington field in the UK central North Sea. Work on the floater, which previously served for a short period on the Shelley field in the same sector, was delayed by problems related to Sevan's financial difficulties, since resolved following an arrangement with Teekay Shipping.
BP is about to complete its latest round of investments in this part of the North Sea. The company's Devenick gas field has just come onstream as a 34-km (21-mi) subsea tieback to a newly installed reception module on Marathon's East Brae platform. Devenick's subsea manifold connects insulated flowlines that direct the gas through a 16-in. (40.6-cm) export pipeline to East Brae. Total cost to BP and partner RWE Dea UK was around $1.04 billion.
Last month, a new 700-metric ton (771-ton) process module built by Heerema Hartlepool in northeast England was installed on BP's Andrew platform. This will handle produced fluids from the satellite Kinnoull field and Andrew's Lower Cretaceous reservoirs, which will be linked to the platform via four new subsea pipeline bundles. BP estimates the project cost at $1.13 billion.
In the UK northern North Sea, Fairfield Energy has committed $113 million to improvements at the Dunlin field platform. These include a new fuel gas import system and a modified water injection system designed to help lift oil production to around 10,000 b/d. Fairfield recently commissioned a new 3D seismic survey over Dunlin, and hopes results will support a planned near-field exploration program that could in time deliver new tiebacks to the platform.
Deepwater rig secured for Dunquin
ExxonMobil has signed a letter of intent for use of Ocean Rig UDW's semisubEirik Raude for a deepwater well early next year off southwest Ireland. This will be the first drilled on the Dunquin prospect in Frontier Exploration License 3/04, and because of the scope, the program could last six months.
One of the company's partners is Providence Resources, which has studies and campaigns ongoing in most other Irish offshore frontier basins. Among these are the Kish basin offshore Dublin, eastern Ireland, where the government has recently granted a Foreshore License. This will allow Providence and partner Petronas to drill a well during the first half next year on the shallow water, lower Triassic Dalkey Island oil prospect in Standard Exploration License SEL 2/11.
Offshore Northern Ireland, Providence owns outright one license covering six offshore blocks in the Rathlin basin and one onshore license over Rathlin Island. New subsurface studies identify prospectivity for hydrocarbons in lower Triassic Sherwood sandstones which have also proven productive in the nearby East Irish Sea basin in the Liverpool Bay area. And data from a recent magnetic airborne and full tensor gradiometry survey, conducted by Bell Geospace, have revealed five large anomalies on Providence's acreage, not far from the sole well drilled to date in the area, the onshore Ballinlea-1. Screening is under way to examine potential drilling locations both offshore and from onshore locations.
Finally, Providence has contracted Procyon Oil & Gas for a concept development engineering study for the Barryroe oil field in the North Celtic Sea basin off southern Ireland. Recoverable reserves here have been revised upwards following a successful appraisal well earlier this year.