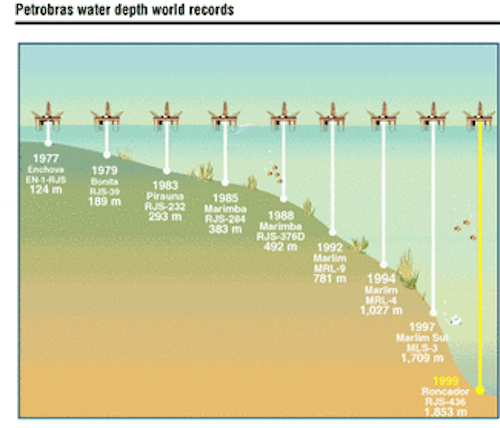 George Hawrylyshyn
Correspondent
It has been four years since the Brazilian national oil company lost its half-century oil and gas exploration and production mono-poly. But there are oilmen in Brazil who charge that a Petrobras monopoly cont-inues "de facto." All the pipelines in Brazil are owned by the company, as are almost all refineries. Most domestic oil and gas produc-tion comes from Petrobras fields, and most of the drilling is done for the company.
Petrobras officials reply that oil activity there is in transition to an open market, but that after almost 50 years, ending the monopoly is a slow process. They point out that of the existing 55 Petrobras exploratory concessions, 29 are partnerships, and the partners operate 18 of them. The company also has 274 production concessions, of which 14 are partnerships.
Brazil's Agência Nacional do Petrôleo (ANP), the country's national petroleum agency and regulatory body, believes changes are underway offshore Brazil. Sebastiao do Regos Barros, the general director of ANP, points out that 35 oil companies now operate in Brazil. There was only one until three years ago. Companies other than Petrobras hold more than half of the E&P concessions.
New operators
The pace of investment in exploration, especially drilling, for the new operators is expected to start picking up rapidly in September. That is when newcomers who obtained concessions in the first bidding round three years ago will be obliged to drill in their blocks, after fulfilling their seismic obligations. The ANP calculates that over the next few years, drilling investments by new operators could reach $5 billion. Meanwhile, Petrobras officials say that partners in their concessions invested $1.8 billion over the past year, of which two-thirds went for exploration and one-third to development.
Post-monopoly discoveries
Petrobras' detractors have alleged that since the end of the Petrobras monopoly in 1997, there have not been any giant field discoveries off Brazil. Both the ANP and Petrobras point out that, in this period, there have been more than 200 oil strikes, shows, or indications and that recently Shell, TotalFinaElf, Petrobras, Texaco, and Devon have had good drilling results. Devon, Starfish, and Queiroz Galvao will start production before the end of the year.
A history of records
Arguments aside, the Brazilian offshore has been extremely active. Since the discovery of oil in Campos in 1974, Petrobras has been setting deepwater records, including the world record set three years ago for oil production in the deepest water, 1,853 m in the Roncador field. The RJS-436 well, where the record was set, has since been de-activated, but the record stands.



Meanwhile, the present Brazilian record holder for deepest water production is the Roncador 20 in 1,800 m. Petrobras already has wells completed in even deeper waters, up to 1,886 m, which are waiting for the arrival of equipment to be brought onstream.
Records go deeper
Recently the Gulf of Mexico and the West Coast of Africa have upstaged Petrobras in deepwater exploration and discoveries. As if to remind the industry of its past achievements, Petrobras set another world record in ultra-deepwater, this one for the installation of a subsea gas lift manifold at 1,885-m water depth in the Roncador field in the Campos basin. This installation was said to be unique for subsea equipment because of its size and weight - 10 x 7.5 x 4 m and 191 tons. The manifold, manufactured in Rio de Janeiro by FMC-CBV, was installed using steel cables and support vessels. It was designed to reduce costs by distributing gas from the production unit in a single line, for injection into six wells.
Deepwater activity
Petrobras' deepwater activity last year included 36 wells in waters deeper than 1,000 m, seven of which were deeper than 2,000 m. To date, Petrobras has drilled 23 wells in water depths greater than 2,000 m. For 2002, the expectation is for 30 wells in waters deeper than 1,000 m and 18 in waters over 2,000 m. The latest available Brazil rig statistics show 17 wells being drilled in water deeper than 400 m. Nine of these were in waters over 1,000 m.
As most of the big deepwater discoveries in the GoM and West Africa are still at the development or planning stages, Brazil's Campos basin continues to lead in oil production from deep and ultra-deepwater, with an output of 1 MMb/d and rising steadily. The overall average production in the Campos basin, including shallower waters, is now 1.2 MMb/d.
Development drilling and well completion continues in the Roncador and Albacora Leste fields. These wells should be onstream soon, further boosting production numbers. A new emphasis on exploratory drilling will begin soon in the highly promising Santos basin blocks south of Campos, where Petrobras has concluded 3D seismic surveys. Expectations are high, as the size of these blocks is eight times that of the production ring fence of the Campos basin.
Boosting domestic reserves
Petrobras says "numerous smaller discoveries" have boosted the company's reserves to the point that it can guarantee an oil supply to meet the target production of 1.9 MMb/d by 2005. Present production stands at 1.5 MMb/d.
Proven and recoverable domestic reserves now stand at 9.67 Bboe. By 2005, the proven reserves are projected to increase to 11.7 Bboe. These calculations are made according to the Society of Petroleum Engineers code of reserves and involve first the replacement of the 2.9 Bboe, which will be depleted by then, and another 2 Bboe that must be added to reach the 11.7 Bboe mark. These volumes will be provided by already discovered probable and possible reserves, which are expected to be upgraded to proven reserves following additional drilling. The number includes appraisals of discoveries made in the last three years, still being tested by step-outs and new discoveries.
---
null
Brazil builds ocean basin lab
Coppe, the Federal University of Rio de Janeiro, and LabOceano are building an ocean basin lab to provide experimental support for deepwater offshore model testing.
The model of the Brazilian ocean basin will be 40 m long, 30 m wide, and 15 m deep, with an additional 10-m central pit and will be equipped with modern wind and wave generating systems.
A generating system to create artificial ocean currents in six levels of water galleries will allow external water re-circulation. The galleries are fed by six pumps capable of discharging up to 60 cu m of water per second into the basin. The pumps will operate independently, allowing for different current profile definitions that include reversion flow.
Increase in water depth intensifies ocean current effects on offshore structures and equipment dynamics. The current generating system, along with the basin dimensions, wind, and wave generators, are important features in the pursuit to realistic simulation of offshore physical modeling. The basin is scheduled to open in July.
---
Only 21 of 54 Brazil blocks sold
Brazil's fourth bid round resulted in the sale of 21 of the 54 bocks offered, 11 of them offshore. Petrobras was the biggest buyer in the round, held June 19 and 20, with total bids of $7.37 million. The Agência Nacional do Petróleo (ANP) collected $34.2 million in bonuses and estimated that winning companies will invest $1 billion in contractual obligations.
Lack of interest in this bidding round has been attributed in part to world instability since the events of Sept. 11, 2001, compounded by a dearth of discoveries offshore Brazil in the last few years.
The deepwater and more complex blocks yielded only four takers of the 18 offered. The most disputed blocks were those of least risk.
As a result, onshore blocks saw considerably more interest than those offshore. Even Petrobras avoided risk, buying only two of the deep risk category blocks.
"Our portfolio has many risk areas," company officials explained, "so we have to vary a bit and spread out these risks. The idea of our participation here was to acquire areas where we have infrastructure and increase reserves in regions with a declining production."
Five newcomers bid in this round: Newfield Exploration, BHP Billiton, Dover Investments, Partex Oil and Gas, and PetroRecôncavo. PetroRecôncavo was the biggest bidder, placing them on three blocks, one in partnership with Petrobras. Mærsk offered the highest bid recorded for this round, $5.5 million, for a Santos basin deepwater block. There were only two takers out of the six blocks offered in Campos. Shell was the only major participating, taking one entire block in the Campos basin and another in partnership.
Though the results appear marginal, Sebastiao do Rego Barros, ANP director general, said the results exceeded his expectations.
"If we compare ourselves with the financial sector, which is going through some tough moments, we have to congratulate the petroleum companies, who are reconfirming their confidence in the county," he said.
The ANP is considering significant changes for the 5th round next year. One possibility is to adopt the auction model of cells, small blocks, and modules used in the Gulf of Mexico. The objective would be for versatility of investment to increase interest next year.