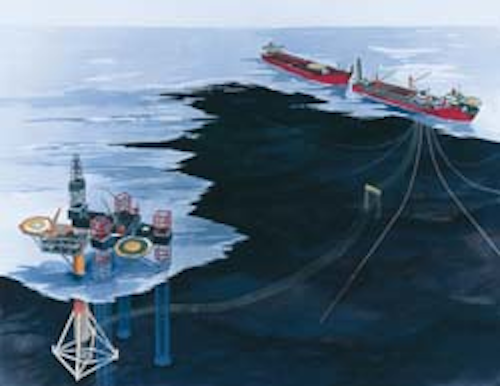 Production level still rising, but reserve additions begin to taper off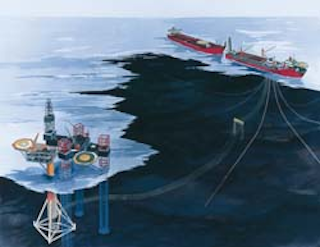 Saga's Varg project is one of an array of developments under way in Norway.
With the award in January of the long-awaited 15th round licenses, Norway's offshore industry is again firing on all cylinders. Production is at record levels and still rising, and development activity is continuing apace. But in recent years exploration results have been disappointing. Last year, despite an impressive strike rate - 10 out of 21 wildcats completed found hydrocarbons - the volume of fresh reserves discovered was only 130 MMcm of oil equivalent, while production totaled 194 MMcmoe.
But the new licenses open up acreage which has got the industry enthusing. Fourteen of the 18 licences are located off mid-Norway, some of them in depths of more than 1,400 metres in the challenging waters of the Voering Basin. This is where the remaining large fields are thought to lie.
The new licenses maintain the changes in terms in the industry's favor which were introduced in the 14th round. The state's direct participation is held at 30-35% except on two licences on which it has no interest, while Statoil is present on only eight licences, with a share of 15-40%. Foreign companies are operators on 10 licenses. The trend towards a smaller number of licensees has also been maintained.
Two of the hot blocks are Norsk Hydro's 6305/1 etc., which contains the Ormen Lange prospect, and Norske Shell's 6404/3 etc., on which lies the Helland Hansen prospect. Many of the blocks still require seismic acquisition and other forms of preparatory work, but up to four wells could be drilled on 15th round blocks this year. The imminent opening of deep-water acreage has prompted a number of efforts to tackle the high cost of drilling in these areas. Notable among these are Saga's EfEx project, which aims to upgrade a second-generation rig for drilling slender holes, and Statoil's studies of a catamaran concept, also for drilling slender holes. In both cases, a firm decision on whether to proceed had been expected by end 1995, but in early March had yet to be made. Both projects appear to be facing higher costs than expected.
Meanwhile production has been roaring ahead, and oil output recently broke the 3 million b/d mark, strengthening Norway's position as the world's third largest exporter. Although the giant Ekofisk, Statfjord, Oseberg and Gullfaks Fields are now past their peak, last year saw first oil from both Troll and Heidrun. At year-end Troll Oil, which uses the world's first concrete-hulled production semi, was producing in excess of 185,000 b/d. Heidrun, featuring the world's first concrete-hulled TLP, had some teething problems, but earlier this year was pumping in excess of 200,000 b/d.
Gas exports are also on the verge of a period of growth as more Troll contracts come into effect. Having totaled 27.8 bcm last year, they are set to reach 65 bcm by about 2005. This October will be memorable for the start of deliveries from the giant (825 bcm) Troll gas field, not to mention first gas from Sleipner West.
In fact, the development department looks full of vitality, with 13 committed projects under way, most of them already approved (see table). At a cost of almost NKr 100 billion, they will bring on stream estimated reserves of 2.7 billion bbl of oil and almost 450 bcm of gas. The most notable is Statoil's Aasgard development, which will use an FPSO for oil production and a semisub for gas production. Aasgard will also entail the installation of a strategically important gas pipeline link, via the Kaarstoe terminal, to the North Sea export infrastructure.
Behind these projects lie another dozen or so as yet uncommitted developments. They include a second phase on Troll Oil, Snorre North, Oseberg East and South, Vidar and Tau, and Hermod, all oil fields. But there is little recently discovered of significant size, with the exception of Saga's 6406/2 gas find to the south of Aasgard, which holds an estimated 120 bcm. The economics of the upstream oil industry in Norway have been transformed in the last couple of years as, under the aegis of the Norsok initiative, oil companies, contractors, suppliers and authorities have pulled together to reduce costs. One important result is that viable ways have been found of developing a number of long-standing discoveries, such as Hydro's Njord, Saga's Varg and Esso's Balder.
While the Norsok culture is still being absorbed by industry, steps are being taken to bring the new approach to bear in two new theatres. On the international front, Intsok will spread the new ways of doing business to companies' activities overseas, while Miljosok will tackle the fraught question of the environment, seeking solutions which are at the same time environmentally acceptable and cost-effective.
Copyright 1996 Offshore. All Rights Reserved.