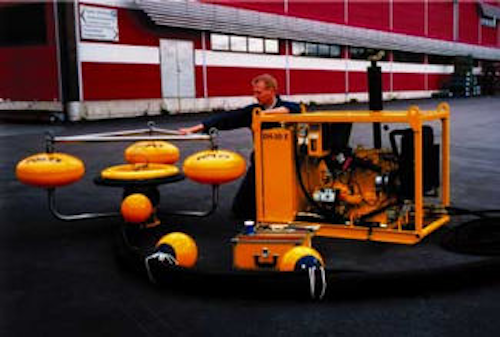 Foilex Engineering has developed a line of oil skimmers and pumps to address the cleaning needs of lifting oil from water. The company produces hydraulically-driven skimmers, complete with diesel power packs and all necessary connections and hoses. The skimmers are lightweight, flame-proof, and are available in several sizes. They are designed for quick deployment.
The heart of the skimming system is a patented twin disc pump. The center pump screw and accompanying twin disks are driven by hydraulic power. This removes the possibility of any electricity-related spark ignition caused by the in-water equipment. The pumping discs concentrate the oil and increase the applied pressure up to 10 bar.
For high viscosity oils, the system can pump slowly while maintaining high capacity, due to the twin disc design. The pump has 50-70% more capacity than any other standard screw pumps and has sufficient pressure to lift viscous oil from cold waters.
The pump screw above the sealing disks pushes the oil through the outlet hose while cutter blades chop small debris (sticks, etc.) into small pieces for pumping. The cutter blades use a scissors action with the circular knives working against the overhead screw. This cutting ability is especially important in estuary or river deployments where intrained debris can block other skimming systems.
Foilex skimmers are used across the world. In Brazil, Petrobras has established nine coastal oil spill response bases through Alpina Briggs. Each base is supplied with the largest Foilex oil skimmer, the TDS 250, which can lift 140 tons of oil per hour. This skimmer was used earlier on the clean-up, during and after the sinking of thePetrobras 36 (P-36).
The Commission D'Etudes Practiques of the French Navy used the company's skimmers in theErika oil spill. In fact, it was the only skimmer that could move the highly viscous oil. Foilex skimmers also impressed the Marine Disaster Prevention Center (MDPC) of Japan. This year MDPC bought ten TDS 200 Sea Skimmers for their ten bases.
For more information, contact Anders Johansson Foilex Engineering. Tel: +46 31 222525, Fax: +46 31 222595, E-mail: anders.johansson@foilex.com