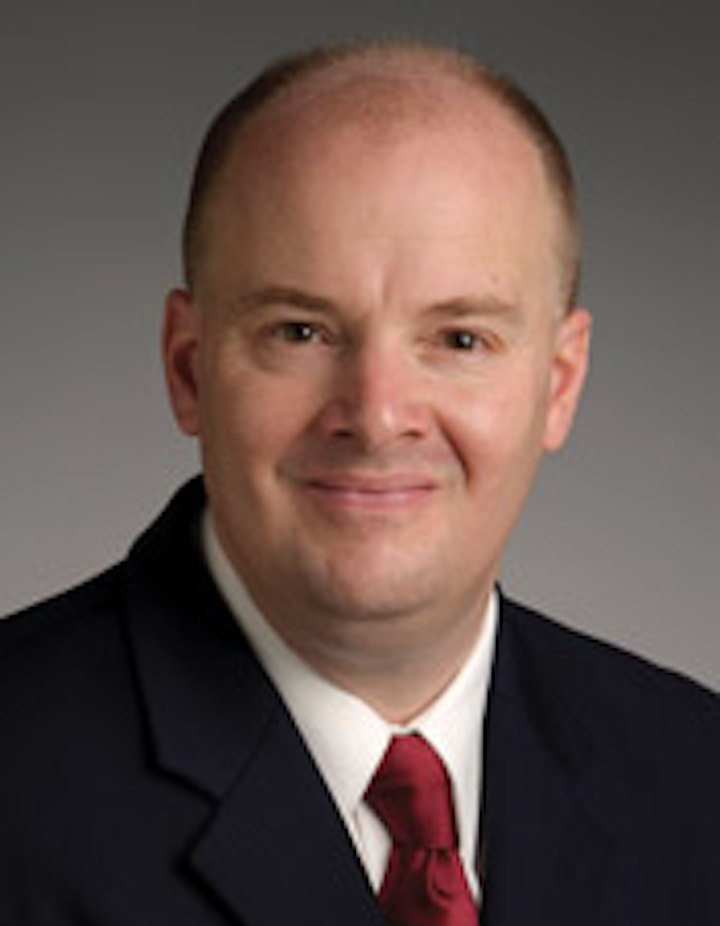 | | | |
| --- | --- | --- |
| | | Bruce Beaubouef • Houston |
E&P activities ramping up offshore Mexico
Prompted by the ongoing reform of Mexico's oil and gas market, a number of oilfield service providers have begun to ramp up their E&P activities in the Mexican portion of the GoM.
In recent months, a number of seismic survey companies have been undertaking new exploration efforts, or have agreed to join forces on ongoing exploration campaigns in the region.
In May, TGS said that it had received a permit from Mexico's Comisión Nacional de Hidrocarburos (CNH) to conduct a 181,500-km (112,779-mi) regional 2D seismic survey in the Gulf. TGS said it would commence acquisition of the "Gigante" survey in 2Q 2015.
Data processing will be performed by TGS with initial fasttrack results in 3Q 2015. Gigante will also include gravity and magnetic data with a regional seismic structural interpretation.
This survey will use four Seabird vessels to acquire a regional grid of 2D multi-client seismic with 12,000 m (39,370 ft) offsets. Gigante will cover a large sector offshore Mexico, including the Perdido fold belt and Campeche Bay. Line ties will be made in to previously acquired US GoM grids.
In addition, Spectrum and Schlumberger recently agreed to jointly acquire and process Spectrum's offshore Mexico Campeche-Yucatan 2D regional multi-client program. The cooperation agreement includes more than 44,000 km (27,000 mi) of regional 2D seismic data in the frontier Campeche/Yucatan area.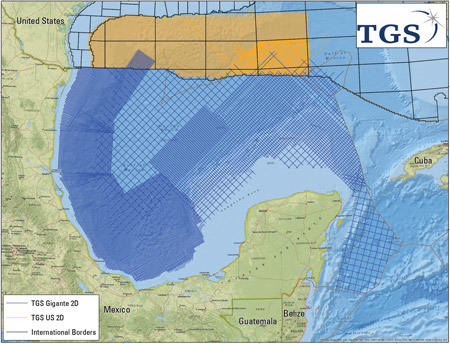 TGS will soon begin work on the "Gigante" survey offshore Mexico, using four Seabird vessels to acquire a regional grid of 2D multi-client seismic over a 181,500-km (112,779-mi) area. (Map courtesy TGS)
The new 2D regional program provides a tie to the Spectrum's Big Wave multi-client program in the northern and eastern areas in the US section of the GoM. The long offset 2D survey was designed to illuminate the complex structures located in the deepwater area, including both presalt and post-salt plays. Spectrum says that the location of the program is adjacent to productive and prospective areas in the US sector of the GoM and prolific areas in Mexico to the southwest.
Work on Phase 1 of this project began in June. Phase 1 covers some 12,200 km (7,581 mi) of the full 44,000-km (27,340-mi) program. The survey will cover areas from the Campeche Escarpment, including ties to Round 1 blocks, the Yucatan shelf, and deepwater.
Meanwhile, PEMEX has reported the discovery of four new fields in the shallow-water Gulf. In mid-June, multiple news reports cited PEMEX CEO Emilio Lozoya as saying the new fields have potential production of 200,000 b/d of oil and 170 MMcf/d of natural gas.
The discoveries are GoM blocks that PEMEX maintained last year as part of the non-competitive bid Round Zero. The finds are close to 14 shallow-water blocks that private companies were expected to bid on in July.
"This is the first tangible result of the energy reform," Lozoya told reporters following the inauguration of the Oil Workers' Conference in Guadalajara. "PEMEX, thanks to the energy reform, is accelerating plans to incorporate private capital in exploration and production of our wells."
Field development work is also proceeding on at least a couple of projects offshore Mexico. In early June, Aker Solutions said it had secured a contract from Saipem to supply umbilicals for the PEMEX-operated Lakach deepwater natural gas field. This is the company's first order for a project offshore Mexico.
Aker Solutions will deliver about 73 km (45 mi) of electro-hydraulic steel tube umbilicals that will help connect Mexico's first subsea gas development to onshore processing facilities. The field is located about 98 km (60 mi) southeast of Veracruz at depths of between 900 and 1,200 m (2,952 and 3,937 ft) in the Gulf of Mexico. It is targeted to supply 400 MMcf/d.
Also in early June, McDermott reported that it has been awarded a contract by PEMEX for the engineering, procurement, construction, installation, and pre-commissioning of the Ayatsil-C replacement jacket and associated deck installation.
McDermott expects to use in-house engineering and procurement, the Altamira fabrication yard in Mexico, and the Intermac 600 transportation and launch barge and heavy-lift Derrick Barge 50 to complete the installation. The total weight of the facilities is approximately 14,800 tons. Completion is scheduled for 4Q 2016.
In the Bay of Campeche, the Ayatsil field is the largest discovery for PEMEX to date. PEMEX has said it plans to develop Ayatsil with as many as four platforms and the adjacent Tekel heavy-oil field with one platform, all tied to an FPSO. It plans to drill 43 wells in the project. Water depths in the area are approximately 375-405 ft (114-123 m).
This is the fourth contract McDermott has received for the Ayatsil field and follows the successful delivery of the Ayatsil-B drilling platform in 2014 and installation of the Ayatsil-A offshore jacket, deck, and piles earlier this year.
US GoM
Meanwhile, in the US GoM, new discoveries are being made in spite of the low oil price environment. In early June, W&T Offshore reported that it had made a discovery at Ewing Banks 910, and that it had brought the Medusa field, located at Mississippi Canyon 538, onstream. Both fields are located in the deepwater Gulf.
W&T successfully drilled and evaluated the Ewing Banks 910 A-5 ST well. The company logged 160 ft (49 m) of gross hydrocarbon interval, and is currently completing the well. W&T expects recovery from the well to exceed its pre-drill estimates, and anticipates that the well could be online and flowing by the end of the second quarter. W&T has a 50% working interest in the well.
The next well to be drilled at Ewing Banks 910 will be the A-8 exploration well which the company estimates, based on seismic data, to be a significantly larger reserve target than the recently successful A-5 ST well. •