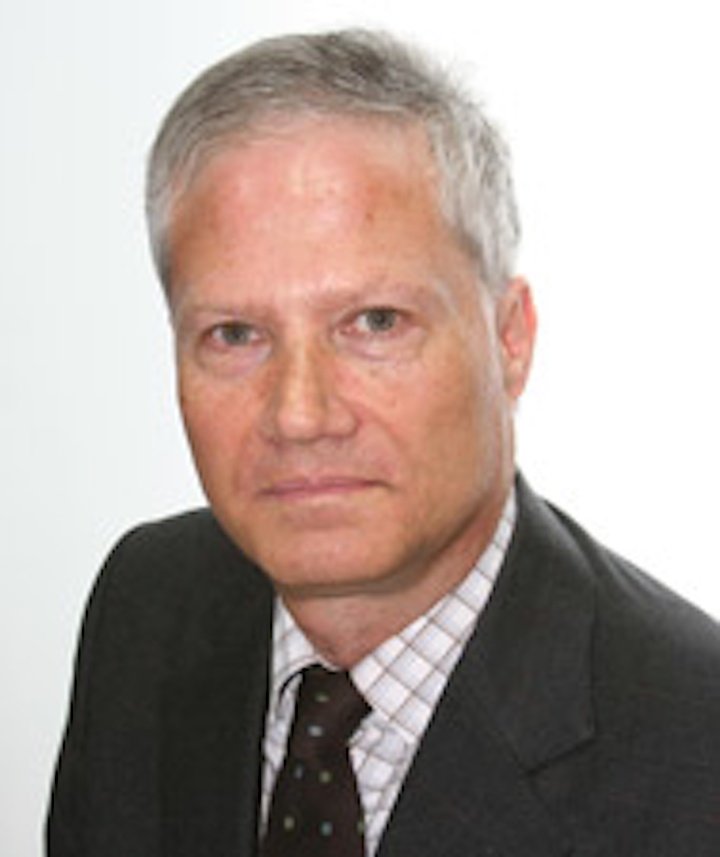 | | | |
| --- | --- | --- |
| | | Jeremy Beckman • London |
Johan Sverdrup gets official go-ahead
Norway's Parliament (Storting) has approved Statoil's plan for development and operation of the Johan Sverdrup field in the Norwegian North Sea, the country's largest-scale offshore project for many years. The Petroleum and Energy Ministry also issued a final re-determination of the partners' various interests, as Johan Sverdrup extends across several licenses. While Lundin Norway and Maersk Oil expressed satisfaction over the outcome, Det norske oljeselskap – which earlier this year criticized the allocation process – said it would consider its position after being allotted an 11.573% stake.
Statoil has since issued most of the major engineering design, construction and installation contracts, while Gassco has been confirmed as operator of the new 156-km (97-mi), 18-in. pipeline that will take gas from the field's riser platform to a connection point on the Statpipe rich gas system, west of Karmøy. The line will have capacity to accommodate gas from other new projects in the Utsira High area.
Elsewhere in the North Sea, Statoil has submitted a plan to extract 18 MMboe from the Gullfaks field's previously undeveloped Shetland group/Lista formation reservoir. This interval is characterized by thin, fractured limestone beds (the main Gullfaks reservoirs are in deeper Brent group deposits). Development would involve re-use of 15 existing wells drilled from Gullfaks' platforms, with no need for any new infrastructure.
The world's first subsea wet gas compressor station was recently installed on the seafloor near the Gullfaks C platform and is expected to be operational before year-end, eventually allowing Statoil to produce a further 22 MMboe from the field.
Dutch operators opt for minimized facilities
Wintershall has started production from the L6-B gas field, the first development in a restricted military zone in the Dutch North Sea. For this reason, the unmanned "mini-platform" needed to be as small as possible, the company said, and its three-deck, 100-ton topsides may be the smallest ever built. The substructure, weighing 1,100 tons, is anchored to the seafloor via suction piles. Gas is exported through a subsea pipeline to the nearby L8-P4 complex which controls the facility and supplies it with electricity.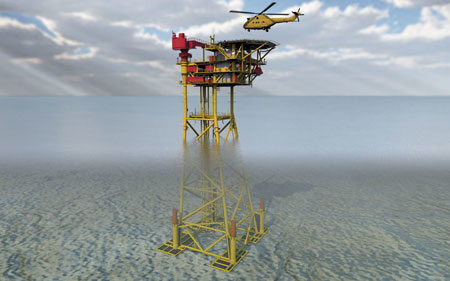 Schematic of A18 platform. (Image courtesy HSM Offshore)
Another Dutch sector operator, Orange-Nassau Energi has contracted Heerema Zwijndrecht to build a 1,650-ton unmanned satellite platform to serve the P11-E field, 55 km (34 mi) northwest of Rotterdam. The installation's solar panels and wind turbines should make it self-sufficient in electricity generation – operations will be controlled from a base on the coast.
Schiedam-based HSM, one of Heerema's main competitors in the sector, was due to deliver a new 330-metric ton (364-ton) compressor last month to GDF Suez E&P Nederland's E17a-A platform, which HSM also built in 2009. This month the fabricator hoped to complete construction of the 2,200-metric ton (2,425-ton) A18 platform for installation in the northern part of the Dutch North Sea. Operator Petrogas Transportation acquired A18 and other B block production facilities last September from previous owner Chevron.
'Risk-based' approach could slash P&A costs
DNV GL – Oil & Gas aims to publish new guidelines later this year to operators seeking to lower the cost of plugging and abandonment (P&A) of offshore wells. Throughout the Norwegian continental shelf around 2,350 wells will have to be P&A'd at some point, with 3,000 more to be drilled in the future. Based on current practice, 15 rigs would have to operate full time for the next 40 years to complete the program, DNV GL claimed, at an estimated cost of $108 billion.
The purpose of P&A is to create a permanent barrier in decommissioned wells that prevents hydrocarbons migrating to the surface. Traditional techniques are time-consuming as well as expensive and have remained basically unchanged despite advances in most other aspects of well engineering. The main barrier to change, DNV GL argues, is the prevailing prescriptive approach to the regulations based on a conservative interpretation of prior experience.
The company suggests adopting an alternate approach taking into account environmental and safety risk aspects, which it believes could cut expenditure by 30-50%. It has been working with various international operators to develop initial criteria for this approach, which would involve paying due attention to hazardous wells while avoiding excessive rig time on "benign" wells.
Components in place for major Norwegian projects
The jackupMaersk Integrator was due to arrive at the Gina Krog field in the central Norwegian North Sea to start development drilling. Earlier, Heerema Marine Contractors' heavy-lift vessel Hermodhad installed the 17,000-metric ton (18,739-ton) jacket, built by Heerema Fabrication Group in Vlissingen, and the 250-metric ton (275-ton) pre-drilling module.
Another Heerema vessel, Thialf, has had a busy summer season in the North Sea, installing the 8,900-ton steel jacket built by Saipem for Det norske oljeselskap's Ivar Aasen project. This is due to be mated next year with the platform deck, still under construction at the SMOE yard in Singapore. Thialf also lifted into place three modules with a combined weight of 16,160 metric tons (17,813 tons) for the quarters and utilities platform at BP's Clair Ridge project 75 km (46.6 mi) west of Shetland. This will be bridge-linked next summer to the new production and drilling platform, with production due to start later in 2016.
In the Norwegian Sea, theBoa Sub C completed installation of the three subsea templates for Statoil's Aasta Hansteen project in 1,300 m (4,265 ft) of water, the deepest for any Norwegian field to date. Aker Solutions built the templates in Sandessjoen to a new design, in which the top structure is separated from the base structure – the lower weights allow use of a smaller installation vessel in deep, rough waters. The six structures comprising the templates weigh between 120 and 190 metric tons (132 and 209 tons), and are secured to the seabed by 22.5-m (74-ft) high suction anchors. Installation was due to follow of the 25 suction anchors mooring Aasta Hansteen's spar platform and associated risers, all built by Momek in Mo i Rana, Norway. •