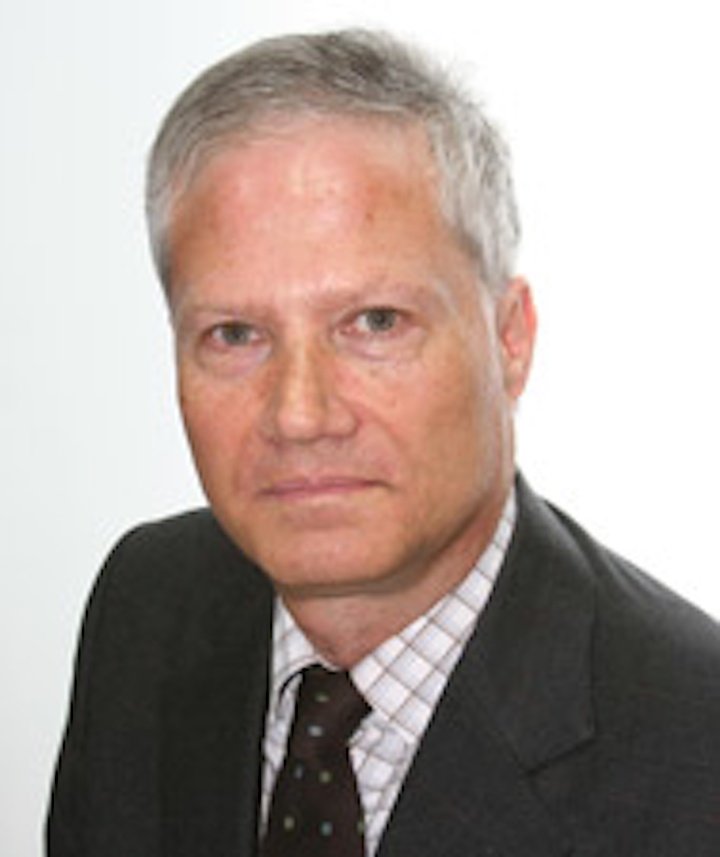 | | | |
| --- | --- | --- |
| | | Jeremy Beckman • London |
North America
Shell aimed to re-start exploration drilling offshoreAlaska last month, assuming sea ice had cleared. The company had conditional approval from the US Department of the Interior to use the Polar Pioneer and another rig for a campaign in the Chukchi Sea, which could continue until late-September.
•••
Husky Energy has started production through the first well of its South White Rose project in the Jeanne d'Arc basin offshore Newfoundland and Labrador via a tieback to theSeaRose FPSO. A second well is due to come online later this summer.
•••
PEMEX has discovered four shallow-water fields in the Gulf of Mexico, reportedly with combined production potential of 200,000 b/d of oil and 170 MMcf/d (4.8 MMcm/d) of gas. All are close to shallow-water blocks newly opened to bidding under Mexico's first international licensing round.
Dragados Offshore has won a contract to build and install a drilling platform for PEMEX's Tekel field, 13 km (8 mi) west of the offshore Maloob field. Work is expected to be completed next summer.
Eni and Repsol have started gas production from the Perla field in the Cardón IV block in the Gulf of Venezuela, the country's first offshore gas field development. Perla holds an estimated 17 tcf within a Mio-Oligocene carbonates reservoir, in a water depth of 60 m (197 ft). Development is in three phases, involving four relatively light platforms connected to 26 wells, with gas exported through a 30-in. subsea pipeline to a new two-train treatment complex onshore at Punto Fijo. PDVSA has contracted the gas for all three phases until 2036.
•••
The FPSOCidade de Maricáberthed at the Brasa shipyard in Nitero-Rio, Brazil early last month following a 19,678-km (12,227-mi) voyage from the CXG yard in China. Some of the topsides modules were already fitted to the vessel – the remainder, built by Brasa and Rio-based EBSE, will be integrated in phases to the hull, with all work due to be completed by the end of this year. It will then be ready to start work for Petrobras on the Lula field in the presalt Santos basin. SBM Offshore, which will own and operate the FPSO under a joint venture, says its production capacity of 150,000 b/d of oil is the largest of its entire fleet.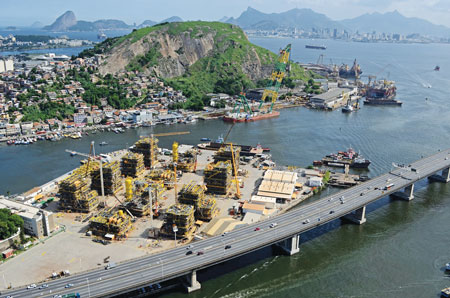 Construction of modules for the FPSOsCidade de Maricá and Cidade de Saquarema at the Brasa shipyard. (Photo courtesy SBM Offshore)
Another newly-converted FPSO,Cidade de Itaguaí, was preparing to start production on the Iracema Norte area of the Lula field, following integration work at the BrasFELS shipyard in Angra dos Reis. The Schahin-Modec consortium-built and operated floater, moored in 2,240 m (7,349 ft) of water, can produce 150,000 b/d of oil and compress 8 MMcm/d (282 MMcf/d) of gas. This will be exported to the shore via a subsea pipeline.
African Petroleum (AP) has agreed to farm out a 45% operated interest in block CI-513 offshore Côte d'Ivoire to an unnamed oil company. Assuming government approval, AP would retain 45%, with state-owned Petroci holding 10%. AP is negotiating further farmouts of its concessions offshore Senegal and Gambia.
•••
Tullow Oil has suspended gas exports from the Jubilee field offshore Ghana to the gas plant at Atuabo due to technical issues with gas compression systems on the FPSOKwame Nkrumah. Gas production began in March. Tullow expects production to resume by mid-August. The company and its partners are working on a next-phase development of Jubilee, taking in the nearby Akasa, Mahogany, and Teak discoveries. They plan to submit their plan to the government by year-end.
•••
Nigerian fabricator Aveon Offshore has dispatched the completed suction piles, production and water-injection manifolds, and riser base lift module for ExxonMobil's Erha North Phase 2 project offshore Nigeria. Additionally, Aveon will supply components for the christmas trees. OneSubsea Offshore Systems commissioned the equipment.
•••
Ophir Energy has awarded upstream front-end engineering and design (FEED) contracts for its Fortuna floating LNG (FLNG) project in block R offshore Equatorial Guinea. Under a competitive process, the McDermott Marine Construction/GE Oil & Gas UK and Subsea 7/Aker Solutions consortia are working on the subsea design scope, focusing in particular on cost and the number of wells required at start-up. Both are due to submit EPCIC tenders next March, with a final investment decision following in mid-2016.
Golar LNG will build and operate the 2.2 MMt/yr FLNG vesselGimi, which is due to start operating in mid-2019. Ophir is additionally considering a second FLNG vessel to process currently unallocated resources from block R, probably operating from the mid-2020s.
PA Resources and state oil company ETAP have completed work on their proposals for the southern tract of Zarat, one of Tunisia's largest undeveloped offshore oil and gas fields. They plan a two-stage program involving standalone fixed facilities tied back to the BG-operated Miskar field platform, which has a pipeline link to the onshore Hannibal gas processing plant. Assuming agreement by Zarat's northern tract partners, they aim to submit an overall unit development plan to Tunisia's authorities.
•••
Northern Petroleum was seeking a farm-in partner to co-fund a 3D seismic survey over two permits in the southern Adriatic Sea, after receiving approval from Italy's authorities for the environmental impact assessment of the program. Northern aims to improve delineation of the 26-MMbbl Giove oil discovery and the 446-MMbbl Cygnus prospect.
Black Sea
Petroceltic has sold its Romanian subsidiary to GVC Investment, thereby exiting the Romanian sector. The main interests transferred under the deal included shares of offshore blocks 27 Muridava and 28 Est Cobalcescu.
•••
Gazprom has canceled Saipem's contract to lay the first four lines of the South Stream offshore gas pipeline following the European Union's imposition of sanctions last year against Russia. Work had been suspended from June 2014 – Saipem, which will receive compensation, had mobilized theCastoro Sei pipelay vessel to Russian waters.
Saudi Aramco has signed three long-term agreements with international offshore contractors. McDermott International will be allowed to bid for future EPCI contacts for brownfield projects on various fields offshore Saudi Arabia. Wood Group Mustang in the US will provide greenfield and brownfield engineering and construction management support services, and will establish an offshore engineering center in Al Khobar with its Saudi joint venture Mustang-HDP. Finally, the Ezra Holdings/Larsen & Toubro consortium will jointly execute offshore projects, including construction and transportation of platforms and subsea pipelines and cables.
East Africa
Orca Exploration Group has contracted Paragon Offshore's mobile drilling/workover rigM826 for the shallow-water phase of the Songo Songo gas field development offshore Tanzania. The rig will likely remove and replace existing production tubing strings and drill up to three new wells.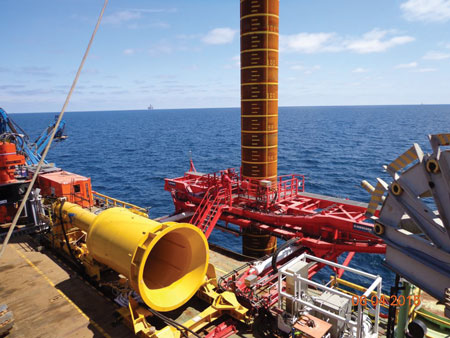 Houlder's pin pile installation for the new Shah Deniz platform jackets. (Photo courtesy Houlder Marine Equipment)
Houlder has delivered a pin pile installation and restraining frame to Saipem for the Shah Deniz field development in the Azeri sector. The equipment is being used to install foundations for eight steel jacket foundations for two new platforms. The frame has been operating on the deck of theDerrick Barge Azerbaijan.
•••
In the Kazakh sector, Eni and KazmunayGas will form a joint venture to operate the Isatay block, thought to hold large oil resources.
ONGC has contracted Larsen & Toubro to construct and install three new platforms for the Bassein field offshore western India. These will provide facilities for gas processing and compression, drilling, and accommodation. The project, due to be completed by end-2016, is designed to extend the field's productive life through 2027-28.
Additionally, ONGC and partners BG and Reliance Industries have produced first oil through the new unmanned Mukta-B wellhead platform serving the Panna-Mukta fields in the Bombay basin. The program included reactivating production from the MA platform which had been shut in for more than two years due to pipeline integrity issues.
Mubadala Petroleum has produced first oil from the Nong Yao field in the G11/48 license in the Gulf of Thailand. Three producer wells were online initially with a further 20 wells to be added eventually, connected to a wellhead processing platform and a wellhead platform. Oil is exported via an FSO. At peak, the facilities will produce up to 15,000 b/d.
•••
PetroVietnam has acquired Chevron's assets offshore Vietnam. These include operated interests in three offshore production-sharing contracts in the Malay – Tho Chu basin off the southwest coast in water depths of up to 80 m (262 ft). PetroVietnam estimates potential recoverable resources at 3.78 tcf of gas and 12.65 MMbbl of condensates, with further potential following additional exploration.
•••
CNOOC has started production from two more projects offshore China. The company added a new wellhead platform with seven producer wells in 70 m (229 ft) of water at the Dongfang 1-1 gas field in the Beibu Gulf in the South China Sea. At the Bozhong 28/34 oil fields in the Bohai area, the company installed six platforms which will eventually be linked to 79 wells. Output should peak next year at 30,000 b/d.
•••
Kebabangan Petroleum Operating Co. has commissioned Wood Group Kenny (WGK) to provide pipeline engineering and flow assurance studies for the Kamansu East field offshore Sabah, Malaysia. WGK's work scope includes examining subsea heating options to prevent hydrates forming in the 30-km (18.6-mi) gas pipeline that will run from the field, in 750 m (2,460 ft) of water, to the new shelf-edge Kebabangan platform. Petronas is project operator.
Samsung Heavy Industries' shipyard in South Korea has cut first steel for Petronas' second FLNG vessel, destined for the Rotan gas field, 130 km (80.7 mi) offshore Sabah.
•••
Pertamina will become operator of the Mahakam block offshore East Kalimantan, Indonesia when existing contracts expire at end-2017. Currently, Total and INPEX are joint operators of the block, Indonesia's largest. Both will be retained as partners. Pertamina has also agreed to contract 1.4 MM metric tons/yr (1.54 MM tons/yr) of LNG from 2017 from the Jangkrik and Jangkrik North-East fields that Eni is currently developing in 400 m (1,312 ft) of water in the Muara Bakau block, 100 km (62 mi) east of Bakikpapan.
Australasia
Woodside and its partners have started awarding FEED contracts for the Browse FLNG development offshore northwest Australia. This will process resources from the offshore Brecknock, Calliance, and Torosa fields, estimated at 15.4 tcf of dry gas and 453 MMbbl of condensate. The Technip Samsung consortium has two contracts – one related to engineering issues concerning gas composition and local weather conditions. The other is an EPCI award to provide three FLNG vessels pending next year's final investment decision. •