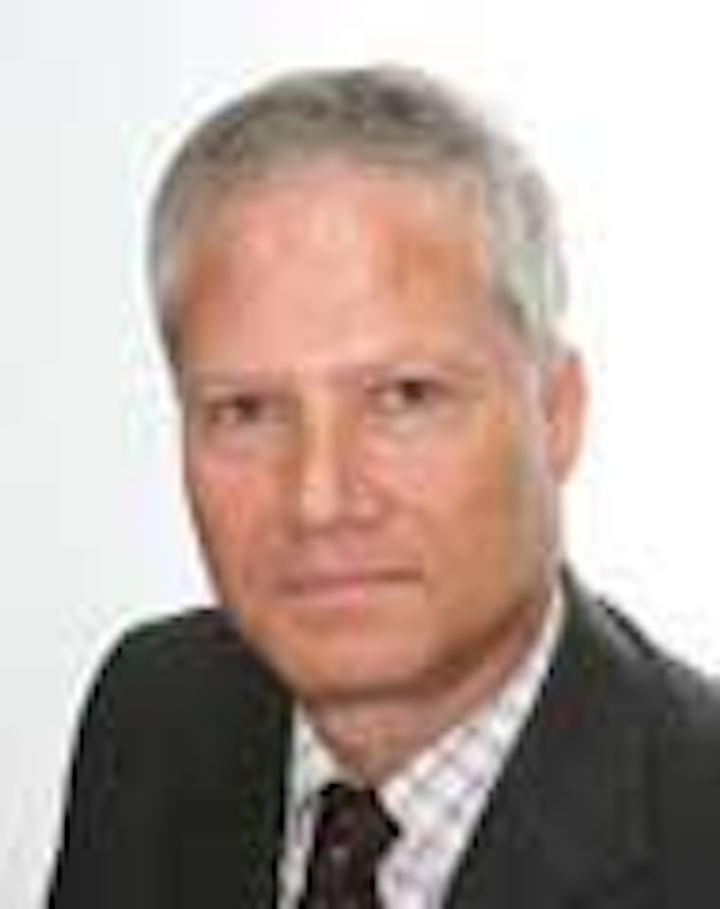 | | | |
| --- | --- | --- |
| | | Jeremy Beckman • London |
ExxonMobil has contracted Cameron to supply wellhead equipment, production trees, and risers for the 52-well Hebron development offshore Newfoundland & Labrador. Additionally Cameron will establish a service center in St. John's to support operations.
Caribbean Sea
BG Group has delivered first gas from the Starfish field in Trinidad's East Coast Marine Area via a tieback to the Dolphin A platform. The subsea facilities are 50 mi (80 km) offshore in 130 m (426 ft) of water.
•••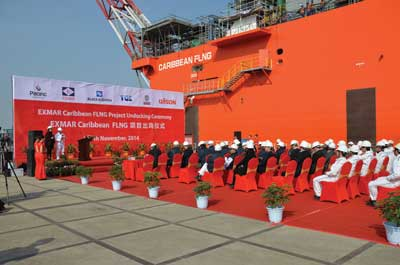 Caribbean FLNG vessel undocking at Wison yard in China. (Photo courtesy Wuson Offshore & Marine)
Petrobras and partners Repsol and Ecopetrol have discovered gas in deepwater north of Colombia, 40 km (25 mi) from the coast of La Guajira. The Orca-1 exploration well, drilled in 674 m (2,211 ft) of water, proved gas at a depth of 3,600 m (11,811 ft). The partners plan to review results from the well and seismic over the area to assess the block's full gas potential.
In Nantong, China, a ceremony late last year celebrated the undocking of the Caribbean FLNG (floating LNG) vessel at the Wison Offshore & Marine dry dock. The vessel, which is under construction for operator Exmar, is expected to be delivered to its location off Colombia by mid-2015.
•••
Tullow Oil has signed a production-sharing agreement for 10 blocks and one part-block in the shallow-water Walton and Morant basins off southern Jamaica. The company has committed initially to studies and data reprocessing with an option to acquire 2D and 3D seismic later in the exploration period. Most of the previous wells drilled off the island encountered oil or gas shows.
South America
T-Rex Engineering is constructing two drilling platforms in Texas and Louisiana for BPZ Energy's forthcoming exploration drilling campaign in block Z-1 offshore Peru. The completed platforms should be installed at their offshore locations in 250 m (820 ft) water depth in mid-2015. BPZ plans to drill for oil in the Zorritos formation of the Delfin prospect and for oil and gas in the Eocene and Macoras formations of the Piedra Redonda structure.
•••
The hull of the FPSOP-66 was due to arrive at the Brasfels Shipyard in Angra dos Reis, Rio de Janeiro, last month for installation of topsides modules. The completed platform, 288 m (945 ft) long and with a total weight of 353,500 metric tons (389,667 tons), will be moored in 2,200 m (7,218 ft) of water on Lula South in the presalt Santos basin. This is the first of eight lookalike FPSOs that Petrobras has commissioned, and the hull (constructed at the Rio Grande 1 shipyard) was the first built entirely in Brazil.
•••
Premier Oil and partner Rockhopper have scaled back their ambitions for the Sea Lion oilfield in the offshore North Falkland basin in favor of a phased, lower-cost solution. They now plan to initially use a leased FPSO to develop around 160 MMbbl of oil over 15 years from 10-15 wells. They are targeting first oil in 2019, assuming sanction for the project next year. The first-phase scheme, with an estimated price tag of under $2 billion, will focus on the field's northeast segment within the PL032 license.
West Africa
The semisubmersibleNoble Paul Romano has P&A'd the Nour exploration well in the Sidi Moussa block offshore Morocco after encountering 26° API oil in fractured and brecciated Upper Jurassic carbonates. However, subsequent testing over this interval did not produce oil at sustainable rates, said operator Genel Energy, possibly due to reservoir damage during drilling/well control operations.
Woodside Petroleum has agreed to enter a 12-month reconnaissance license for Morocco's Ultra Deep Offshore concession, in water depths of 1,700-4,400 m (5,577-14,435 ft). Commitments include a 2D seismic survey.
•••
The government of the Republic of the Gambia has agreed to reinstate African Petroleum's offshore licenses for the Alhamidullah blocks A1 and A4, thereby terminating arbitration proceedings. AP will drill one well and reprocess seismic on block 4 prior to the expiry of the initial exploration period in September 2016.
•••
Ghana's government has reportedly sanctioned Eni's proposed $6-billion development of gas in the offshore Cape Three Points block. The project is due to come onstream in 2017 with plateau production of 170 MMcf/d (4.8 MMcm/d).
Tullow Oil expects the final two Jubilee Phase 1A wells to start up next year. The company and its partners are now working on a next-phase development taking in Jubilee and the Mahogany-Teak-Akasa area in Ghana's West Cape Three Points license.
•••
Eni has produced first oil from its deepwater West Hub development in block 15/06 offshore Angola, 350 km (217 mi) northwest of Luanda. Development encompasses the Cingvu, Mpungi, and Sangos fields with 21 subsea wells (12 producers, four alternate water/gas injectors, and five gas injectors) tied back to an FPSO. Water depths range from 1,000-1,500 m (3,281-4,921 ft).
Sonangol and Eni have agreed to form a joint team to review the potential of non-associated gas in Angola's offshore Lower Congo basin. They plan to review options for commercializing the gas domestically and internationally.
Russia
Russia's State Commission on Reserves has confirmed that the newly named Pobeda field in the Kara Sea is an oil and gas discovery. ExxonMobil and Rosneft drilled the Universitetskaya-1 well this summer, 250 km (155 mi) offshore northern Russia in 81 m (266 ft) of water, proving oil in Jurassic sediments and gas in Cenomanian/Apt-Alb chalk deposits. Estimated reserves are 130 MM tons of oil and 499 bcm (20 tcf) of gas.
Gazprom and Botas Petroleum Pipeline Corp. have signed a memorandum of understanding on construction of a 63-bcm (2.2-tcf) capacity offshore pipeline in the Black Sea taking Russian gas to Turkey. Russia's government moved swiftly to approve the project after suspending work on the South Stream offshore pipeline to the south in response to European sanctions.
Caspian Sea
Eni has signed an exploration memorandum with the Turkmen State Agency for Management and Use of Hydrocarbon Resources. This could lead to Eni extending its activities in Turkmenistan to exploration in the Caspian Sea.
Middle East
ADMA-OPCO has issued main contracts for Phase II of the Nasr full field development, 131 km (81 mi) offshore Abu Dhabi. This is designed to increase oil production to 65,000 b/d. Hyundai Heavy Industries has the $1.84-billion EPCIC contract for the gas treatment, separation and accommodation platforms, and will additionally lay 144 km (89 mi) of subsea power cables and 55 km (34 mi) of infield cables and modify three existing platforms on the field. Technip will manage engineering, procurement and construction works, with all activities due to be completed in 2019.
•••
Iran has started new development projects on two oil fields in the Persian Gulf. A South Korean contractor is reportedly building two platforms for the Forouzan field while Iran Offshore Oil Co. has commissioned three new platforms from a yard in Hormuzgan province for the Hengam field.
New Zealand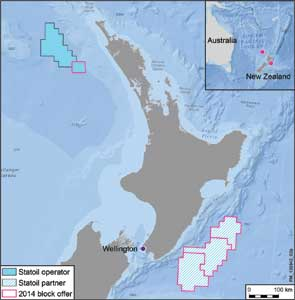 Statoil's new acreage offshore New Zealand. (Map courtesy Statoil)
New Zealand's government has awarded Statoil stakes in four new offshore exploration permits under the country's 2014 Block Offer. Statoil will have a 100% operated interest in block 57057 in the Reinga basin, 100 km (62 m) offshore Northland and adjacent to its existing 55781 concession. Water depths area average around 1,500 m (4,921 ft) – commitments include acquiring 200 line km (124 mi) of 2D seismic. Elsewhere Statoil secured 50% of three Chevron-operated blocks in the East Coast and Pegasus basins southeast of the North Island and in water depths of 800-3,000 m (2,625-9,842 ft).
•••
OMV has achieved first oil from its Maari field redevelopment, 80 km (50 mi) off the Taranamki coast in 100 m (328 ft) of water. The company has been drilling new wells to arrest a decline in production. The first of these, W MR-8A, is producing from a previously undrained compartment in the field's Moki formation.
India
Keppel FELS has completed construction of a new KFELS B Class jackup for Star Drilling which will work offshore India. TheJindal Explorer's bearing pressure and rig geometry have been adapted to the anticipated harsh environment of the drilling program. The rig can operate in water depths up to 350 ft (107 m) and drill to depths of 30,000 ft (9,144 m).
Asia/Pacific
Ophir Energy has signed a production-sharing contract that gives it a 95% operating interest in block AD-03 in Myanmar's offshore Rakhine basin. The 10,000-sq km (3,861-sq mi) concession is on trend with the Daewoo-operated offshore Shwe gas field. Ophir's initial priorities will be to reprocess existing 2D seismic and acquire new 3D data.
•••
Mubadala Petroleum has produced first oil from the Manora field in the Gulf of Thailand. According to partner Tap Oil, production came initially from two wells drilled from a platform connected to an FSO vessel. Output should ramp up to a peak of 15,000 b/d during the first part of 2015.
•••
ConocoPhillips and partners Shell and Petronas have brought onstream the Kebabangan gas field offshore Malaysia. The centerpiece of the development is an integrated drilling and production platform in 450 ft (137 m) of water. Initially six wells are in operation, with gas sent through a pipeline to the Sabah Oil and Gas terminal in Kimanis.
•••
CNOOC has discovered a new oil field in Lufeng Sag area of the Pearl River Mouth basin in the eastern South China Sea. The Lufeng 14-4 well, drilled in 145 m (476 ft) of water, intersected oil pay zones with a total thickness of 150 m (492 ft). On test the well flowed 1,320 b/d of oil. The result, CNOOC said, underlines the potential of the basin's Paleogene system.
Elsewhere in this region the company has started production from two more development projects. Huizhou 25-8/Xigiang 24-1 oil field is a joint development served by an FPSO in 100 m (328 ft) water depth. The facilities include two drilling and production platforms and 29 wells, of which six were online at start-up. Panyu 34-1/35-1/35-2 comprises three gas fields served by a platform, two subsea production systems, and 13 production wells. Output should build to 150 MMcf/d (4.2 MMcm/d) later this year.
•••
McDermott International has completed operations for main contractor PT Rekayasa Industri at ExxonMobil's Banyu Urip oil field in the Java Sea offshore Indonesia.
McDermott'sDerrick Barge 30 installed a yoke-type single point mooring tower and performed hook-up to a 1.7-MMbbl FSO.
The full-field Banyu Urip development will produce 165,000 b/d from facilities including a central processing platform and 49 wells.