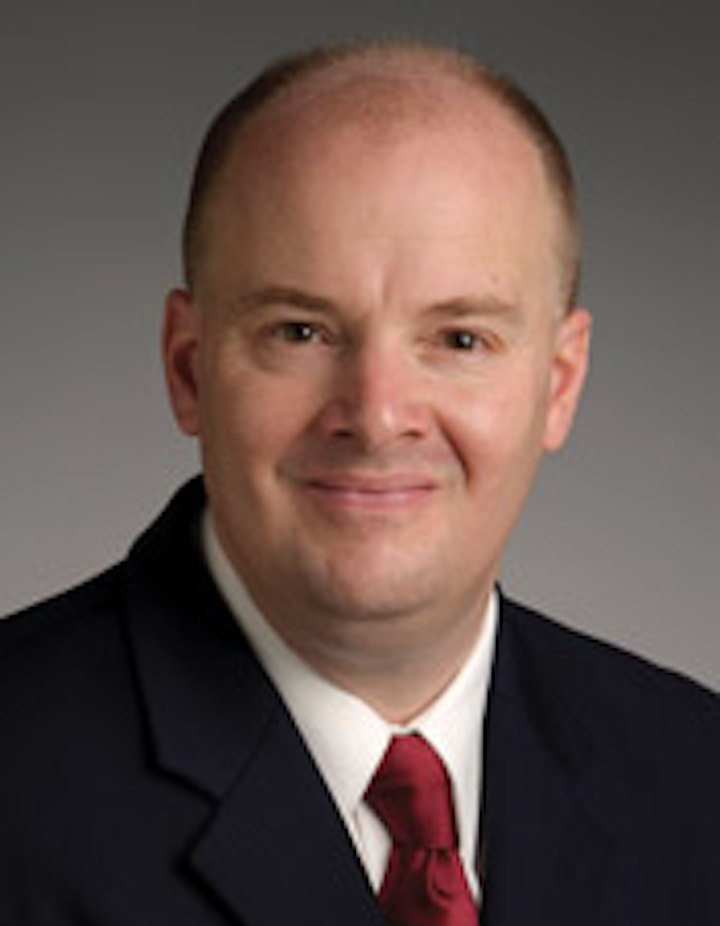 | | | |
| --- | --- | --- |
| | | Bruce Beaubouef • Houston |
Central GoM lease sale garners $539 million in high bids
The Department of the Interior's Bureau of Ocean Energy Management (BOEM) held an oil and gas lease sale for the Central Gulf of Mexico that drew $538,780,056 in high bids for tracts on the US outer continental shelf offshore Louisiana, Mississippi, and Alabama.
More than 40 offshore oil and gas companies submitted 195 bids on 169 tracts, spanning about 923,700 acres. The sum of all bids received totaled $583,201,520, reported the agency.
Lease Sale 235, which took place in mid-March, offered 7,788 unleased blocks, covering an area of about 41.2 million acres, located 3 to 230 mi (5 to 370 km) offshore in water depths ranging from 9 to more than 11,115 ft (3 to 3,400 m). It is estimated that the sale could result in the production of 460 to 890 MMbbl of oil and 1.9 tcf to 3.9 tcf of natural gas.
The deepwater and ultra-deepwater tracts drew the most bids. Of the blocks in water depths 1,600 m (5,250 ft) or more, 64 drew bids totaling $334,974,279. For blocks in 900-1,600 m (2,953-5,250 ft), 36 drew bids totaling $192,099,011.
The tracts drawing the most number of bids were Green Canyon 364 and 904, and Atwater Valley 153. The highest bid on a block was $52,224,107 for Walker Ridge 107, and that was from Houston Energy and Red Willow Offshore.
Of the 412 companies placing bids, the 10 most active companies and the number of bids from each was as follows: Shell Offshore Inc., 17; Statoil Gulf of Mexico LLC, 14; Venari Offshore LLC, 12; Chevron U.S.A. Inc., 11; Exxon Mobil Corp., 11; Houston Energy L.P., 10; BHP Billiton Petroleum (Deepwater) Inc., nine; Apache Shelf Exploration LLC, nine; Red Willow Offshore LLC, nine; and Anadarko US Offshore Corp., nine. There were a total of 195 bids.
Ceona Amazon to install Walter pipelines
Ceona says it has secured a letter of intent from Walter Oil & Gas Corp. to use theCeona Amazon on what will be Ceona's first rigid pipelay project in the Gulf of Mexico.
TheCeona Amazon will be deployed for the Coelacanth Export Pipelines project with the scope of work encompassing the installation of an oil and a gas export line tying the new Coelacanth Platform into existing pipeline infrastructure. Each 10-in. line will be approximately 11 mi long, for a total of 22.6 mi (36 km). The pipelines will each terminate at two pipeline end termination structures installed by the new pipelay vessel.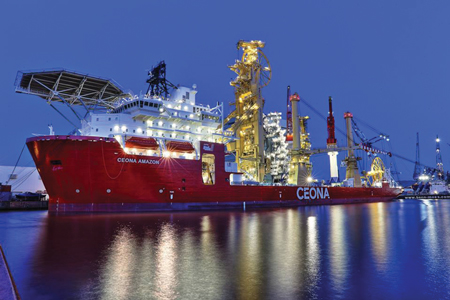 Through its recently acquired letter of intent with Walter Oil & Gas Corp.,Ceona Amazon is expected to tie the new Coelacanth Platform in to existing pipeline infrastructure for its first pipelay job in the GoM. (Photo courtesy Huisman Equipment/Douglas Neil Robertson)
The vessel is due to enter service this month. It was equipped with inclined multi-lay VLS with a top tension of 600 metric tons (661 tons), and with two 400 metric tons (441 tons) active heave compensated masthead cranes able to work in tandem. The two 18 m (59 ft) diameter wheels on the top tower and deck are also being installed. All deck installation work has been carried out at the Huisman yard in the Netherlands. TheCeona Amazon is 199.4 m (655 ft) long and 32.2 m (106 ft) wide, drawing 8.0 m (25 ft) with a gross tonnage of 33,000 metric tons (36,376 tons).
Wood Mackenzie reviews Mexico's Round One leasing terms
Looking at Mexico's Round One shallow-water Gulf of Mexico leasing opportunities, Wood Mackenzie has noted that there are nine shallow-water fields with a total of 356 MMboe of 2P reserves. These fields, which have not yet been put into production, are organized in five different contractual areas within the Salinas Sureste basin.
The terms expected for the winning bids play a role in determining success, too.
"The proposed fiscal terms represent an improvement over the originally proposed terms for shallow-water exploration opportunities," said Marco Baltazar, Wood Mackenzie research analyst Latin America upstream.
The following are key considerations from Wood Mackenzie's Round One analysis:
• Progressive fiscal regime with higher IRR thresholds: Under certain scenarios, "gold-plating" can be an issue, as the operator can potentially earn more profit when it incurs higher unit cost. This creates a potential misalignment of incentives between the operator and the government.
• Qualification criteria are similar to those of shallow-water exploration: Qualification criteria are in line with the shallow-water exploration opportunities, with one exception; operators already qualified for the shallow-water exploration round must now fulfill a 10,000 b/d minimum production threshold for this round.
PSCs continue to be the contract of choice, said Wood Mackenzie. Development areas will be governed by a production-sharing contract, which will have a 25-year duration with the possibility of two five-year extensions for the application of EOR. The appraisal phase will take two years, with a one-year extension possible if operators commit to drilling an additional well. The 60% cost-cap observed for shallow-water exploration also applies to development opportunities. The low cost-cap means that high cost, marginal projects may be unable to recoup their investment quickly enough to meet costs of capital - companies will pay a 30% corporate tax.
ExxonMobil turns on Hadrian South taps
ExxonMobil Corp. has commenced production in the deepwater Gulf of Mexico at Hadrian South with facilities tied-back to the nearby Lucius project.
Production from the development is expected to reach around 300 MMcf/d and 3,000 bbl of liquids from two wells.
Hadrian South consists of flowlines connected to the Anadarko-operated Lucius truss spar, which started production in January.
Hadrian South is located approximately 230 mi (370 km) offshore in the Keathley Canyon area of the GoM in about 7,650 ft (2,332 m) of water. The discovery well, Hadrian-2, was drilled in 2008 and the appraisal well, the Hadrian-4 side track, was completed in 2009.
ExxonMobil operates Hadrian South; co-venturers Petrobras and Eni hold 23.3% and 30%, respectively. •