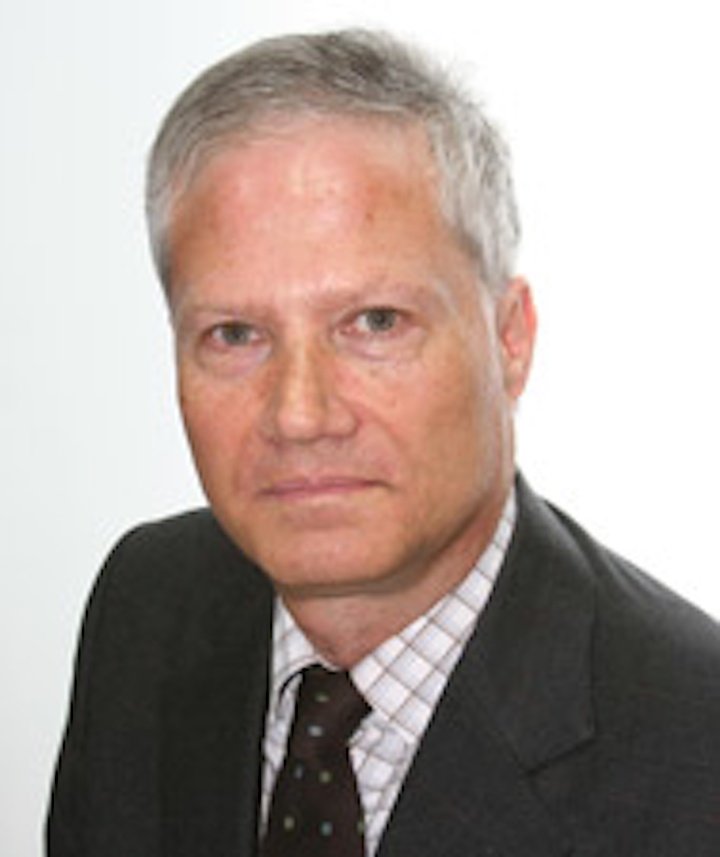 | | | |
| --- | --- | --- |
| | | Jeremy Beckman • London |
South America
Venezuela and Trinidad and Tobago have sanctioned joint exploration for gas in the waters between the two countries, according to an AP report. However, Venezuela's government is said to have objected to ExxonMobil's planned drilling on the offshore Liza field, administered by Guyana but claimed by Venezuela. TheDeep Water Champion was due to start the program in March.
•••
Petrobras' P-61 has entered service on the Papa-Terra field in the southern Campos basin offshore Brazil. This is the country's first tension leg wellhead platform, designed to accommodate dry completions. It is connected to a tender-assisted drilling platform and is equipped with a drilling and completion rig. Production is exported through subsea flexible flowlines to Papa-Terra's P-63 FPSO, which can process up to 140,000 b/d of oil.
In the Santos basin, a six-month early production system is in operation on a single well at Petrobras' Buzios field, 200 km (124 mi) from Rio de Janeiro in water depths of 1,600-2,100 m (5,249-6,890 ft). The FPSODynamic Producer's average output is restricted to 15,000 b/d of oil due to constraints on gas use. Results from the test will be used to optimize the field's first permanent production system, the P-74 platform, which is undergoing conversion at the Inhaúma shipyard in Rio.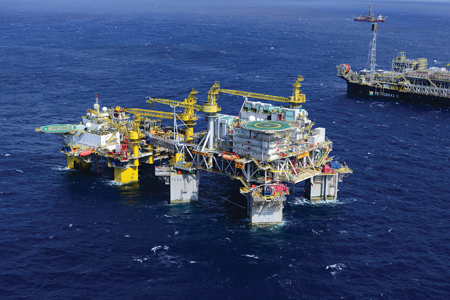 Papa-Terra platform. (Photo courtesy Petrobras)
Farther north, Petrobras has claimed a new water depth record for exploratory drilling off Brazil. The well in the Moita Bonita area of the Sergipe-Alagoas basin, 92 km (57 mi) from Aracaju, was drilled in 2,990 m (9,809 ft) of water. Only six exploration wells worldwide have exceeded this depth, Petrobras added.
•••
Total has been drilling new wells to boost production from the Carina field offshore Tierra del Fuego, Argentina. The company and partners Wintershall and Pan American Energy are concurrently developing the nearby offshore gas field Vega Pleyade.
•••
The semisubmersibleEirik Raude has started an exploration campaign for various partnerships offshore the Falkland Islands. Each of the six wells carries an estimated cost of around $50 million, according to Rockhopper Exploration. Operations may have concluded on the first well on the Zebedee prospect in the North Falkland basin.
West Africa
The drillshipAtwood Achiever was due to spud the MZ-1 exploratory well offshore southern Morocco last month on the Freeport-McMoran Oil & Gas-operated Mazagan permit. The well is targeting the potential 1.4-Bbbl deepwater Ouanoukrim prospect, according to partner Pura Vida Energy.
Earlier, the drillship completed a well on a sub-commercial gas/condensate discovery in the Cap Boujdour permit offshore Western Sahara for operator Kosmos Energy.
•••
Foxtrot International has discovered oil and gas in the Marlin North structure in block CI-27 offshore Côte d'Ivoire. The well, drilled in 65 m (213 ft) of water, encountered hydrocarbons at Turonian and lower Senonian levels. Elsewhere on the block development of the Marlin and Manta fields is on track, Foxtrot added. The $1-billion expansion scheme involves installation of a second production platform with development drilling due to start in July.
Côte d'Ivoire's government has requested that Ghana suspend exploration and development activity in a disputed area along the two countries' maritime boundary. This includes the TEN deepwater development operated by Tullow Oil. The International Tribunal of the Law of the Sea in Hamburg was due to issue a ruling in April.
•••
Bowleven has completed a farm-out of 40% of the Etinde permit offshore Cameroon to Lukoil and New Age, with the latter assuming operatorship. The transaction should allow appraisal and development activity to move forward, Bowleven said.
Russia
Rosneft and Golar LNG are considering cooperation in liquefaction and transportation of natural gas. This could lead to Golar's floating LNG technologies being deployed on Rosneft gas field developments in Russia. Rosneft is currently building coastal support bases on its north coast and surveying soils in parts of the Barents and Okhotsk seas ahead of a planned drilling campaign in 2016.
In the Russian sector of the Caspian Sea, LUKOIL-Nizhnevolzhskneft is claiming a world record in horizontal drilling. A well drilled from an ice-resistant stationary platform on the Yuri Korchagin field extended for 4,908 m (16,102 ft) in the 9.5-in. section in one run, without the need for tripping. Total length of the well was 8,005 m (26,263 ft).
Mediterranean Sea
Morocco's government has awarded Mubadala Petroleum a reconnaissance license offshore the country's north coast. The company will perform a geological evaluation of the hydrocarbon potential of the 3,433-sq km (1,325-sq mi) Mediteranee Ouest area.
•••
Eni has discovered potentially substantial volumes of gas and condensate in the Bahr Essalam South prospect, 82 km (51 mi) offshore Libya. The B1-16/4 well was drilled in 150 m (492 ft) of water, encountering hydrocarbons in the Eocene Metlaoui formation. The company is considering a fasttrack development with the other nearby Bahr Essalam structures.
In neighboring Egypt, the company has signed an agreement with the Petroleum and Mineral Resources Ministry to commit $5 billion to new projects over the next four years. These will develop 200 MMbbl of oil and 1.3 tcf of gas. The agreement includes an extension to some Eni permits in the Mediterranean offshore and the Gulf of Suez.
•••
BP's deepwater Atoll-1 gas discovery in the North Damietta concession in the East Nile Delta could also be Egypt's deepest (subsurface) to date. The well, drilled by the semisubMaersk Discoverer in 923 m (3,028 ft) of water, initially encountered gas in Oligocene sandstones at a depth of 6,400 m (20,997 ft). It was then due to be deepened a further 1 km (0.6 mi) to test the same reservoir section that flowed gas from the 2013 Salamat discovery, 15 km (9.3 mi) to the south. Reserves in the concession are now thought to exceed 5 tcf.
•••
Noble Energy and its partners in the deepwater Tamar project offshore Israel have signed a contract to export gas from the field over a seven-year period to Dolphinus Holdings. The latter will transport gas landed at Askelon in Israel to Egypt via an existing pipeline operated by the East Mediterranean Gas Co.
Middle East
Saudi Aramco has awarded KBR a six-year project management contract for its offshore program. In addition, KBR will supply engineering services for Aramco's new and existing offshore facilities to maintain or increase crude production levels.
•••
Iran's President Hassan Rouhani has inaugurated Phase 12 of the South Pars gas/condensate field in the Persian Gulf. This is one of the widest-ranging phases in scope to date, producing 3 bcf/d of gas and 120,000 b/d from three main platforms and one satellite installation. It should raise Iran's annual gas output by more than 16%. Phases 15/16 and 17/18 are due to come onstream by July.
East Africa
Statoil and ExxonMobil have scored their eighth deepwater gas find in block 2 offshore Tanzania. The Mdalasini-1 well was drilled in the southernmost part of the block in 2,296 m (7,533 ft) of water. Statoil estimates the in-place resource at 1-1.8 tcf, lifting the total gas volume proven in the concession to 22 tcf. The partners next plan to appraise the 2013 Tangawizi-1 discovery before taking a pause to determine their future options.
India
ONGC has increased oil production from its Western Offshore fields to 325,000 b/d of gas condensate, the highest figure for Mumbai Offshore in the past five years. The main factor in the rise was the tie-in of three marginal fields, 210 km (130 mi) west of Mumbai in 80-88 m (262-288 ft) of water, to the new FPSOSterling-II. This was installed last November and became operational in February.
Asia/Pacific
Myanmar has awarded Chevron subsidiary Unocal Myanmar Offshore operatorship of an exploration concession for block A5 in the Rakhine basin, 125 mi (200 km) northwest of Yangon. Woodside Petroleum signed further PSCs for offshore blocks AD-5 and A-7 in the southern part of the same basin (both as operator), and for blocks AD-2 and A-4 in the northern offshore area, operated by BG.
•••
KrisEnergy has proven oil and gas with an appraisal well on the 2009 Rossukon discovery in the Gulf of Thailand. The jackupKey Gibraltar drilled Rossukon-2 in 210 ft (64 m) of water. This part of the Karawake basin is north of the KrisEnergy-operated Wassana oil field where the same rig is contracted for development drilling.
In Vietnamese block 105 in the Gulf of Tomkin, KrisEnergy has assumed operatorship from Eni. Water depths range from 20-80 m (65.6-262 ft). The one well drilled to date in the contract area in 2013, Cu Lo-1, confirmed the existence of a petroleum system.
•••
CNOOC has started production from its Qinhuangdao comprehensive adjustment project. The Qinhuangdao 32-6 oil field is in the central northern part of Bohai Bay in 20 m (65.6 ft) of water. The main facilities of the adjustment project include four platforms with 99 producing wells. Output should build to a peak later this year of 36,000 b/d.
•••
Santos has reportedly discovered oil in the deepwater Bestari structure in block R offshore Sabah, eastern Malaysia, close to various other oil fields including Kikeh. The Bestari-1 well encountered 67 m (220 ft) of oil pay.
•••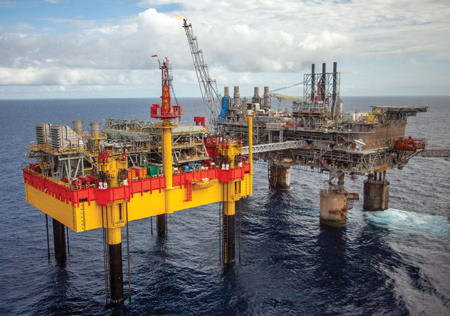 Mammoet installing the new Malampaya platform for Shell offshore the Philippines. (Photo courtesy Mammoet)
Mammoet has installed the Malampaya Phase 3 depletion compression platform (DCP) for Shell offshore the Philippines. It will be bridge-linked to the existing Malampaya shallow water production platform (SWP). The self-installing DCP is a new design that involves floating the platform into place over its offshore location, with a pre-installed jacking system applied to lower the 80-m (262-ft) legs onto the seabed, lifting the platform from the water to its final position. Installation was completed within 48 hours.
•••
Indonesia has awarded new exploration blocks offshore northwest and east Java to respectively Shell and Petronas. Statoil too secured new exploration acreage with the 8,300-sq km (3,204-sq mi) Aru Trough I license, adjacent to its existing frontier Aru and West Papua IV concessions.
Following analysis of last October's deepwater Merakes-1 discovery well offshore East Kalimantan, Eni has upgraded the potential gas resource from 1.3 tcf to 2 tcf. The well was drilled in 1,372 m (4,501 ft) of water in the East Sepinggan block, 35 km (21.7 mi) south of the company's current Jangkrik development. Eni is considering a fasttrack development that could make use of the Jangkrik facilities.
In Indonesia's Natuna block A, Premier Oil has delivered first gas from the new platform serving the Pelikan field development. Last November, the company started production from the Naga gas field in the same block. Both fields will provide additional reserves for Premier's long-term supply contracts with customers in Indonesia and Singapore.
Australasia
Tap Oil has secured 100% operated interests in two blocks in the Barrow and Dampier subbasins on Australia's North West Shelf, under the 2014 Offshore Petroleum Exploration Acreage Release. One of the concessions, the WA-515-P permit, is in water depths of 100-400 m (328-1,312 ft), in between the Wheatstone and Goodwyn/Perseus gas field developments. WA-516-P is in shallower water, adjacent to other Tap-held acreage. The company's initial focus will be on reprocessing 3D seismic.
•••
Offshore Victoria, the jackupWest Telesto has been drilling the Yolla-5 production well for the BassGas Joint Venture. Operator Origin Energy says this and the subsequent Yolla-6 well form part of Stage 2 of the BassGas Mid Life Enhancement project, designed to extend production from the Yolla field.