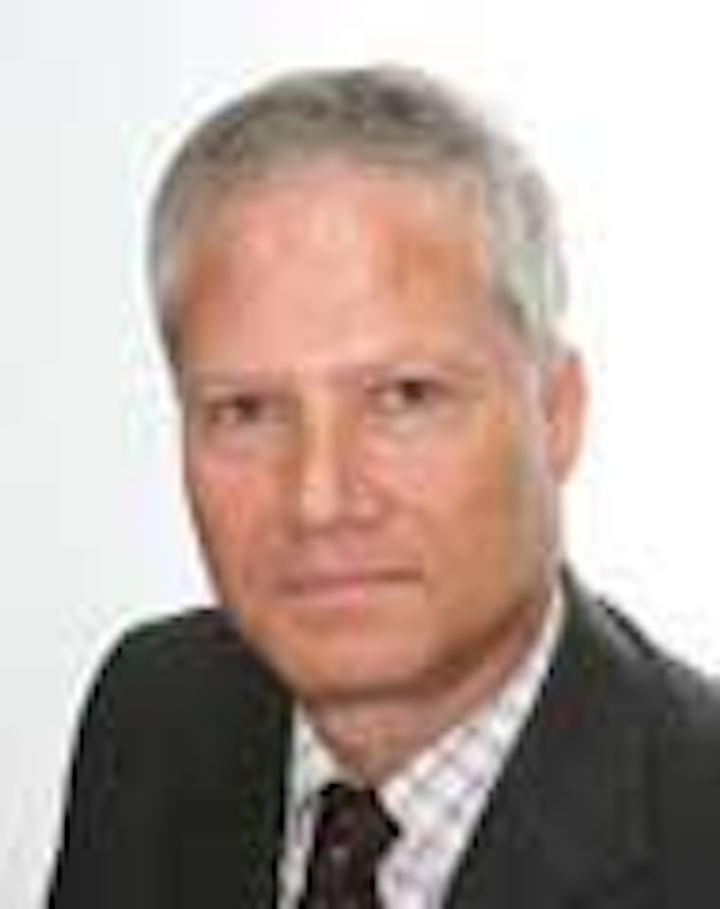 | | | |
| --- | --- | --- |
| | | Jeremy Beckman • London |
Demand for subsea well intervention will remain high over the next five years, according to analysts Douglas-Westwood. Despite the oil price drop, they expect the number of subsea wells worldwide to rise by 41%, driven largely by an increase in ultra-deepwater developments. The fastest-growing market for intervention vessels and rigs will likely be Africa, while maturing subsea wells (more than five years old) will drive increased demand for workover units in North and South America and offshore Western Europe.
North America
Husky Oil expects first oil in mid-year from the South White Rose satellite extension offshore Newfoundland & Labrador. A Hibernia-formation well underneath the North Amethyst field is expected to enter production this summer, the company adds.
•••
Woodside Petroleum has completed a farm in to 20% of four licenses operated by BP offshore Nova Scotia. Water depths range from 500-3,600 m (1,640-11,811 ft). Exploration drilling is expected to start in 2017.
•••
Reliance Industries and PEMEX have entered a memorandum of understanding to jointly assess upstream opportunities in Mexico and internationally. They also plan to share their respective expertise in deepwater oil and gas E&P.
•••
McDermott International has won a second contract for PEMEX's Ayatsil field development in the Bay of Campeche. Two of its vessels will launch and install the 8,400-ton (7,620-metric ton) jackets and the 3,400-ton (3,084-metric ton) jacket for the Ayatsil-A drilling platform in 400 ft (122 m) water depth. Last summer McDermott delivered the eight-legged jacket and deck for Ayatsil-B.
Brazil
BG Group says operator Petrobras has submitted declarations of commerciality for three oil and gas accumulations in the Iará area in the presalt Santos basin, to be renamed Atapú West, Berbigão, and Sururu. All are in the BM-S-11 block, 250 km (155 mi) from the coast of Rio de Janeiro in waters around 2,270 m (7,447 ft) deep. Exploration started on the concession in 2008. Development will likely call for three new FPSOs.
•••
Petrobras has clearance from Brazil's ANP to start up an early production system (EPS) on the Buzios oil field (ex-Franco area) in the presalt Santos basin. The seven-month program on well 2-ANP-1RJS is designed to provide information for optimizing the full production system for the field, 200 km (124 mi) from the Rio de Janeiro coast in 1,600-2,100 m (5,249-6,890 ft) of water.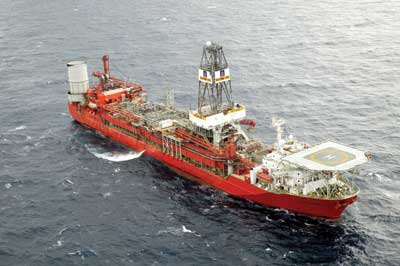 Petrojarl I will be converted for use on the Atlanta field. (Photo courtesy Damen/Teekay Shipping)
Another EPS is planned on the postsalt heavy-oil Atlanta field elsewhere in the basin in 1,550 m (5,085 ft) of water. Teekay Corp. has commissioned the Damen Shipyard Group's Schiedam shipyard in the Netherlands to upgrade the FPSOPetrojarl I for this task, with operations due to start during 1Q 2016 under a five-year charter to Atlanta operator Queiroz Galvão Exploracão and Producão.
West Africa
African Petroleum has agreed to farm out 50% of its LB-08 license offshore Liberia to an unnamed London-based independent. Consultants ERC Equipoise estimate potential resources at more than 2 Bbbl, and there is proven oil in an adjacent license.
•••
ExxonMobil has signed production-sharing agreements for two ultra-deepwater blocks in Côte d'Ivoire's portion of the Gulf of Guinea. Blocks CI-602 and CI-603 span a total area of 9,417 sq km (3,636 sq mi), in water depths of 3,000-4,000 m (9,843-13,123 ft).
•••
Total has started harnessing associated gas from the shallow-water Ofon field in Nigeria's offshore Mining Lease 102. The gas is compressed and exported via a pipeline to shore for feedstock for Nigeria LNG. Ofon came onstream in 1997 and early this year was producing around 25,000 boe/d of oil and gas. The Phase 2 investments – new and modified platforms – will eventually lift output to 90,000 boe/d, with gas production of around 100 MMcf/d.
•••
Lekoil and partner Green Energy have secured approvals for a well re-entry program at Nigeria's offshore Otakipo oil field. The company now expects production to start during the first half of this year, six months ahead of the previous target.
•••
Eni has begun production from the 1.5-Bboe Nene Marine field in the Marine XII block, 17 km (10.6 mi) offshore Congo, 16 months after the initial discovery. The phased development will involve installation of production platforms and drilling of more than 30 wells with peak production of more than 140,000 boe/d (first-phase output is 7,500 boe/d). Water depth is 28 m (92 ft). Recently the company discovered more light oil and gas in the same block via a well on the Minsala Marine structure. In-place reserves could be 1 Bboe, of which 80% appears to be oil.
Southern Europe/ Mediterranean Sea
Eni is taking a 70% operated stake in three unexplored permits offshore Portugal. The Gamba, Lavagante, and Santola concessions cover a total area of 9,100 sq km (3,513 sq mi). Portugal's government awarded all three to Galp Energia subsidiary Petrogal in 2007.
•••
Italy's government was due to issue a verdict in January on the environmental assessment for the Ombrina Mare development offshore the Abruzzo region in the Adriatic Sea. Operator Rockhopper was hoping for a positive outcome, allowing it to negotiate the final award of the production concession. Late last year, the government passed new legislation through Italy's parliament that should speed up the planning process for various stalled oil and gas development projects.
•••
Croatia has awarded offshore licenses to five companies. (Map courtesy Croatian Hydrocarbon Agency)
Croatia's government has awarded licenses for 10 offshore blocks under the country's first licensing round. Marathon Oil, in partnership with OMV, secured seven blocks in the North, Central, and South Adriatic sectors. Croatian company INA-Industrija nafte gained two blocks in the southern sector, while Eni and partners Medoilgas (a subsidiary of Rockhopper) were awarded shallow-water block 9 in the prolific North Adriatic gas province. This includes the Ksenija discovery.
•••
Israel's Anti-Trust Authority has decided against submitting a consent decree for the giant deepwater Leviathan gas field to the country's Anti-Trust Tribunal. Noble Energy and its partners in the field have requested a hearing with the Anti-Trust Authority. Noble Chairman Charles D. Davidson said the decision provided further evidence of Israel's uncertain regulatory environment.
•••
Gazprom has agreed to acquire the combined 50% interest in South Stream Transport held by Eni, EDF, and Wintershall. The joint project company was formed to construct the offshore section of the South Stream gas pipelines through the Black Sea. Russia shelved the project late last year following a cooling of relations with the European Union.
Caspian Sea
BP has signed a production-sharing agreement offshore Azerbaijan with state-owned company SOCAR. They will jointly explore and develop potential prospects in the shallow-water area around the Absheron Peninsula. The contract area extends along the margins of the basin to the south of the peninsula in water depths of up to 40 m (131 ft).
Middle East
Iran Shipbuilding & Offshore Industries Complex (ISOICO) has started construction of two wellhead platforms for the latest development phase of the Hendijan oil field in the Persian Gulf. Production, which started in the 1960s, is currently around 25,000 b/d. ISOICO is also responsible for installation of offshore cables and pipelines.
India
ONGC has two new discoveries offshore western and eastern India. In the Mumbai Offshore area, the company proved oil and gas via well WO-5-11, 160 km (99 mi) west of Maharashtra. In the KG basin off the east coast, the GD-11-1 well encountered gas in 812 m (2,664 ft) of water in block KG-OS-DW-III, with around 36 m (118 ft) of pay in the Pliocene section.
L&T Hydrocarbon Engineering has won a contract to build and install two wellhead platforms and subsea pipelines for ONGC's Vasai East project in the Heera-Panna-Bassein block of Mumbai Offshore. The operator is seeking to improve recovery from Vasai East where production started in 2008. All work, including modifications to existing facilities, should be completed by April 2016.
Asia/Pacific
EnQuest subsidiary EQ Petroleum Developments has contracted 2H Offshore to supply a lightweight conductor-supported platform for the Tanjong Baram field offshore Malaysia. The three-deck structure, to be built in Malaysia, will host two wells with a subsea template and will be linked via an 8-km (5-mi) flexible pipeline to the West Lutong-A facility. Installation is expected to be completed by mid-year.
•••
CNOOC has discovered oil and gas in deepwater in the Lingshui 25-1 structure in a new province in the South China Sea. The well was drilled in 980 m (3,215 ft) of water in the northeast Ledong Sag in the Qiongdongnan basin. On test, it flowed 35.6 MMcf/d of gas and 395 b/d of oil.
In the eastern South China Sea, the company has started production from the Liuhua 34-2 gas field via a single well tied into the Liwan 3-1 facilities. Output from Liuhua 34-2 should peak later this year at 45 MMcf/d.
•••
Indonesia's government has approved KrisEnergy's plan to develop the Lengo gas field in the Bulu production-sharing contract offshore East Java. The operator plans to install an unmanned wellhead platform with four development wells, with gas exported to shore through a 65-km (40-mi) 20-in. subsea pipeline. A successful appraisal well on the East Lengo accumulation could add a single-well tieback to the facilities.
The Husky-CNOOC Madura joint venture has contracted Bumi Armada Offshore and PT Armada Gema Nusantara to provide an FPSO for the Indonesia's Madura BD field development. The location is 65 km (40 mi) east of Surabaya and 16 km (10 mi) south of Madura Island. Operations on the field should start in late 2016.
Australia
Woodside Petroleum and its partners have agreed on a revised schedule for front-end engineering and design (FEED) for the Browse FLNG development off northwest Australia. They are looking to lower the overall cost. FEED should now begin in mid-year, followed by a final investment decision in 2016.
Additionally, the company has reached a deal to buy Apache's interest in the Chevron-operated Wheatstone LNG and the same company's 65% stake in the offshore WA-49-L block, which includes the recently onstream Balnaves oil field and the Julimar/Brunello oil/gas development.
Hess has signed a non-binding letter of intent with the North West Shelf (NWS) partners concerning development of the company's deepwater Equus gas discoveries in the WA-390-P and WA-474-P permits. Production would be sent to the NWS liquefaction facilities in Karratha for sale to customers in the Asia/Pacific region.