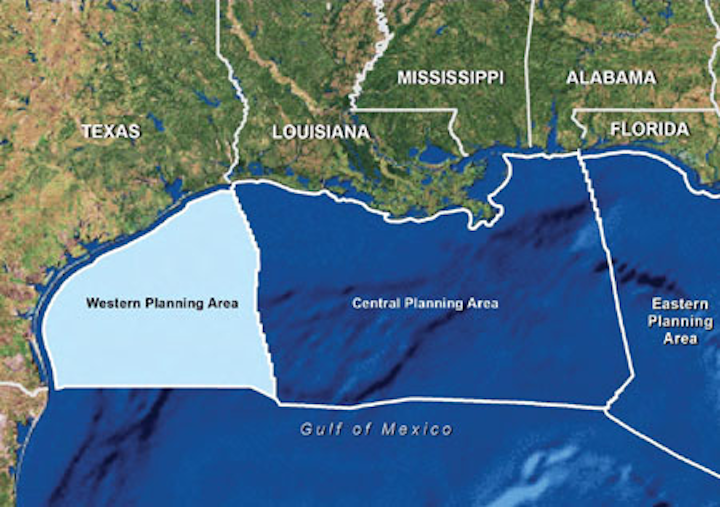 Bruce Beaubouef • Houston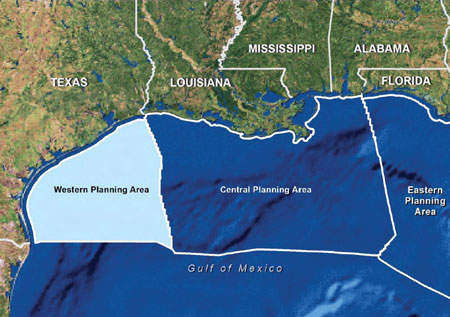 The BOEM is proposing to offer approximately 22 million acres for oil and gas leasing in the Western Planning Area Lease Sale 248, proposed for 2016. (Courtesy BOEM)
BOEM outlines next GoM lease sales
The US Bureau of Ocean Energy Management (BOEM) says it will offer 40 million acres offshore Louisiana, Mississippi, and Alabama for oil and gas exploration and development in sales that will include all available unleased areas in the Central and Eastern Gulf of Mexico Planning Areas.
Proposed Gulf of Mexico Central Planning Area (CPA) Lease Sale 241 and Eastern Planning Area (EPA) Lease Sale 226, scheduled to take place in New Orleans in March 2016, will be the ninth and tenth offshore sales under the Administration's Outer Continental Shelf Oil and Gas Leasing Program for 2012-2017 (Five-Year Program).
Proposed CPA Sale 241 will include approximately 7,919 blocks, covering 42.1 million acres, located from three to 230 nautical miles offshore, in water depths ranging from nine to more than 11,000 ft (three to 3,400 m).
Proposed EPA Sale 226 will offer approximately 175 blocks, covering 595,475 acres. The blocks are at least 125 statute miles offshore in water depths ranging from 2,657 ft to 10,213 ft (810 m to 3,113 m). The area is bordered by the Central Planning Area boundary on the West and the Military Mission Line (86° 41'W) on the East. It is south of eastern Alabama and western Florida; the nearest point of land is 125 miles (201 km) northwest in Louisiana.
The BOEM says it has published the final supplemental environmental impact statement prepared for these sales.
In addition, BOEM has published a draft supplemental environmental impact statement for its proposed Gulf of Mexico Western Planning Area Lease Sale 248.
The BOEM is proposing to offer approximately 22 million acres for oil and gas leasing in the WPA, with the exception of whole and partial blocks within the boundary of the Flower Garden Banks National Marine Sanctuary. The sale is proposed to be held in 2016.
Public meetings were scheduled in Houston and New Orleans in September, but interested parties may also comment by email no later than Oct. 19, 2015, atwpa248@boem.gov.
The Public Review page on the BOEM website is also available athttp://www.boem.gov/nepaprocess/ for details on how to submit comments and to download or view the Draft Supplemental EIS.
Shell taps OneSubsea for Stones
Shell Offshore Inc. has awarded OneSubsea a contract to supply subsea processing systems for the Stones project in the Gulf of Mexico.
The award comes after a technology qualification program and will deliver the industry's first 15,000-psi subsea pump system, to be installed in the Gulf of Mexico at approximately 9,500 ft (2,900 m). The system will be tied back to the Stones FPSO.
The subsea processing systems scope includes a dual pump station with two 3-MW single-phase pumps and two subsea control modules, a topsides power and control module, a barrier-fluid hydraulic power unit with associated spares, as well as installation and maintenance tools.
Manufacturing and testing will take place at OneSubsea's facility in Horsøy, Norway, for delivery in early 2018.
Shell awards Appomattox contracts
Shell Offshore Inc. has awarded a number of contracts related to its Appomattox project, which will be developed in the Mississippi Canyon area in approximately 7,200 ft (2,195 m) of water.
Oceaneering International Inc. says it has secured a contract from Shell to supply umbilicals for the project. The order is for electro-hydraulic steel tube control umbilicals, totaling approximately 60 km (37 mi) in length. Product manufacturing is planned to be performed at the company's umbilical facility in Panama City, Florida, beginning in 4Q 2015 and completed in 3Q 2017.
Danos reports that it has received a contract from Shell to fabricate three boarding valve skid assemblies for Appomattox. Danos says that the project will engage five of its divisions - coatings, fabrication, instrumentation and electrical, project management, and procurement. The company says that this work is underway, and is expected to take about 12 months to complete.
The boarding valve skids will be fabricated at the company's fabrication facility in Amelia, Louisiana, and shipped to Ingleside, Texas, for integration on the facility topsides. Following integration, the equipment will be installed on a floating production platform about 80 mi (129 km) offshore Louisiana.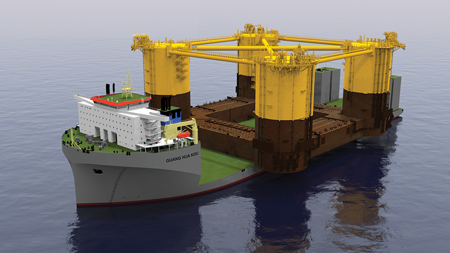 COSCO Shipping Co. has signed a contract with Shell for the transportation of the Appomattox semisubmersible platform hull from South Korea to Ingleside, Texas via the heavy transport vesselGuang Hua Kou.(Courtesy COSCOL)
COSCO Shipping Co. Ltd. (COSCOL) says it has signed a contract with Shell for the transportation of the Appomattox semisubmersible platform hull from South Korea to Ingleside, Texas.
Shell's 41,165 metric ton (45,376 ton) hull will be transported on COSCOL's newbuild 98,000 deadweight ton vesselGuang Hua Kou. The heavy transport vessel is currently under construction at the COMEC shipyard in Guangzhou, China, and expected to be delivered in late 2016. •