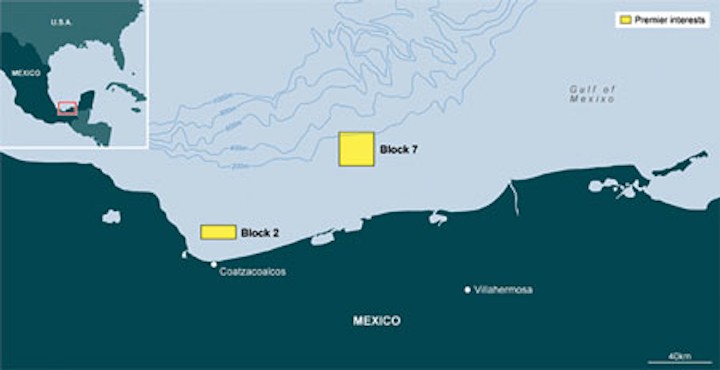 Jeremy Beckman • London
Mexico
PEMEX has awarded Wood Group a three-year scoping study, worth up to $28 million, for various fields in the Gulf of Mexico. Wood Group Mustang will perform concept and basic engineering of topsides, subsea, and floating facilities for the deepwater Exploratus Piklis, Kunah, Trion and Lakach fields and the heavy-oil Ayatsil, Tekel, and Utsil fields.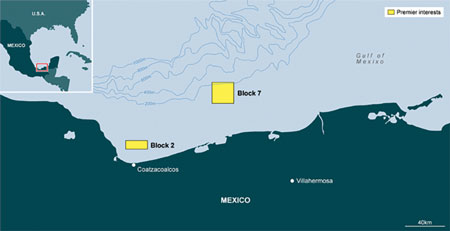 Talos Energy's shallow-water blocks offshore Mexico. (Map courtesy Premier Oil)
Two of the offshore blocks awarded under Mexico's first licensing round this summer were in the shallow-water Sureste basin. Talos Energy operates blocks 2 and 7, both containing Tertiary clastic plays, according to partner Premier Oil. The partners will acquire and reprocess 3D seismic with a view to firming up drilling locations by the end of 2016.
South America
Ecopetrol plans to establish a subsidiary company focused on exploration offshore Colombia. It will then seek approval from the country's National Hydrocarbon Agency to assign its contractual rights to the E&P contracts for offshore blocks in which it is a partner.
•••
Petrobras has produced first oil through the FPSOCidade de Itaguai on the Iracema Norte area of the Lula field in the presalt Santos basin, 240 km (149 mi) offshore Rio de Janeiro in 2,240 m (7,349 ft) of water. The company's subsidiary Tupi BV has chartered the vessel from MODEC under a 20-year lease and operation contract. It is designed to process 150,000 b/d of oil and 280 MMcf/d of gas.
West Africa
Kosmos Energy plans delineation drilling on its deepwater Tortue gas discovery (since renamed Ahmeyim) offshore Mauritania. The discovery well earlier this year was one of the largest offshore finds anywhere this year, the company claimed, encountering hydrocarbons in Cenomanian and Albian intervals. Kosmos was also preparing to spud the Marsouin-1 exploratory well in block C-8 in the central Mauritanian offshore sector.
•••
The drillship Ocean Rig Athena was due to start drilling back-to-back appraisal wells this month on the 2014 deepwater SNE oil discovery offshore Senegal. The vessel is under contract to ConocoPhillips, a partner in the consortium led by Cairn Energy. Depending on the results, the partners plan a third well on the previously unexplored Bellatrix prospect, which is thought to overlie the northern end of SNE.
•••
Nigerian independent Oriental Energy Resources has agreed to take charge of operations for the shallow-water Ebok field offshore Nigeria after partner and operator Afren declared insolvency. Oriental will take on all duties as technical advisor and will renegotiate all existing contracts for the development with the various suppliers. Oriental also planned to continue implementation of the development plan for the offshore Okwok field via the same handover process.
•••
Sonangol has agreed to acquire Cobalt International Energy's 40% operating interest in blocks 21/09 and 20/11 offshore Angola for $1.75 billion, subject to approvals. Until the transfer goes through, both parties will work to secure a final investment decision for the Cameia development in block 21/09 by year-end, with a view to deliver first oil in 2018.
Eastern Europe
Representatives from Gazprom, E.ON, Shell, OMV, and BASF/Wintershall have signed an agreement to construct two new gas lines for the Nord Stream II project in the Baltic Sea. These will supply 55 bcm/yr of Russian gas to markets in Europe via a reception point in Germany, doubling the current throughput of the existing Nord Stream pipelines. Gazprom will have a 51% share in the joint project company responsible for the program.
Mediterranean Sea
Rockhopper has received approval for the environmental impact assessment for its Ombrina Mare field development in the Adriatic Sea. Subsequent authorization from Italy's Ministry of Economic Development should complete the formal award of the surrounding production concession.
•••
Circle Oil has secured a renewal of the exploration permit for its Mahdia block offshore Tunisia until Jan. 19, 2018. The concession includes the 2014 El Mediouni (EMD-1) discovery well, which encountered oil in Ketatna (Oligo-Miocene) carbonates, although mud losses prevented logging. Circle, which has identified numerous other similar prospects, has committed to drill one exploration and one appraisal well and to acquire 3D seismic.
•••
Eni claims to have proven a potential gas super-giant in the deepwater Shorouk block offshore Egypt. The Zohr 1X NFW well, drilled in 1,450 m (4,757 ft) of water, may have unlocked 30 tcf of lean gas covering an area of around 100 sq km (39 sq mi). The well encountered hydrocarbons in Miocene carbonates. Eni plans follow-up drilling, including a well targeting the structure's deeper Cretaceous potential.
•••
Israel's government has approved a drafted outline relating to development of various offshore gas fields. According to Delek Group, these include the Leviathan, Karish, and Tanin fields and a project to increase gas extraction from the deepwater Tamar field.
Middle East
McDermott has scooped its largest single award ever in the region in the form of a lump-sum contract from Saudi Aramco for brownfield work on various fields offshore Saudi Arabia. The duration is until 2Q 2018. McDermott plans to assign much of the engineering and fabrication scope to its facilities in Al Khobar and Dammam, supported by its teams in Dubai and Chennai. McDermott vessels will handle all offshore installations.
•••
ZADCO has extended Amec Foster Wheeler's project management consultancy contract for the UZ750 project, originally awarded in mid-2008. This involves a redevelopment of the offshore Upper Zakum oil field, 84 km (52 mi) northwest of Abu Dhabi, which is intended to sustain production at 1 MMb/d until at least 2050. Production is via four artificial islands with associated drilling and production facilities. All work under the extension must be completed by December 2017.
East Africa
ION Geophysical has a contract from the Puntland Petroleum Minerals Agency (PPMA) to acquire 8,000 km (4,971 mi) of 2D seismic over the entire Somalia Puntland offshore margin. Results from the program, designed to improve understanding of the sedimentary basin in this unexplored region, will assist a future license round initiative. PPMA has divided the Puntland offshore territory into 25 exploration blocks spanning a total area of 180,000 sq km (69,498 sq mi).
•••
Aminex has secured a deferral of its obligation to drill two exploration wells in the Nyuni area offshore Tanzania from the Ministry of Energy and Mines. It also has approval to convert shallow-water 2D seismic commitments to acquisition of 3D data on the potentially more prospective deepwater portion of the license, and has started re-tendering for a contractor to perform the program.
Eastern Russia
Two Rosneft/Statoil joint ventures - Magadanmorneftegaz and Lisyanskmorneftegaz - have secured a rig for two exploration wells next year in the Sea of Okhotsk. The China Oilfield Services Ltd.-owned semisubmersible Nanhai-9 will drill in the Magadan-1 and Lisyansky areas, respectively 100 km (62 mi) and 90 km (56 mi) offshore, south of the Arctic Circle, in water depths below 150 m (492 ft).
Gazprom Geologarzvedka has approval to acquire 3D seismic in the Sea of Okhotsk offshore Sakhalin Island. The agreed program for this ecologically sensitive area, which followed detailed consultations, stipulates continuous environmental monitoring for all stages of operations. The company operates three license blocks offshore Sakhalin that include the Yuzhno-Kirinskoye field, recently added to the US government's list of sanctions in response to Russia's activity in Ukraine, according to Reuters. Export or transfers of oil will now require a license from the US Department of Commerce which is unlikely to be approved, Reuters reported.
Australasia
Esso Australia has completed a five-well program on the Turrum gas/oil field in the Bass Strait off southeast Australia. The AUD $335-million ($232-million) project involved drilling four new gas wells and one oil producer.
•••
New Zealand's consultation process with local authorities and tribal communities on new oil and gas exploration permits is due to close at the end of this month. The government aims to issue tenders for offshore and onshore oil and as acreage by March 2016. According to Energy and Resources Minister Simon Bridges, "Successive block offers have shown that operators are looking for long-term opportunities in a mix of mature and frontier acreage."
Asia/Pacific
Tap Oil and partner Smart E&P International have signed a production-sharing contract for block M-7 in the Moattama basin offshore Myanmar. They will conduct an 18-month environmental/social impact study campaign over the shallow-water concession before deciding whether to proceed to a three-year exploration phase.
•••
Singapore-based KrisEnergy has started up its first offshore project as operator at the Wassana oil field in the Gulf of Thailand. Main facilities are the MOPU Ingenium, a mooring buoy, and the FSO Rubicon Vantage. The jackup Key Gibraltar is drilling the wells. KrisEnergy plans up to 14 producers and one water disposal well, with peak oil production of around 10,000 b/d. Wassana is in the G10/48 contract area in shallow water in the Southern Pattani basin.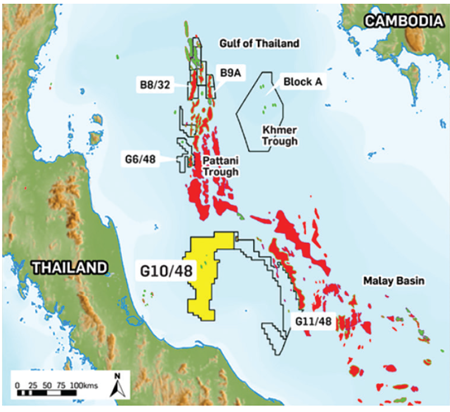 The Wassana oil field is in the G10/48 concession offshore Thailand. (Map courtesy KrisEnergy)
Ophir Energy has contracted the jackup Vantage Emerald Driller to start its first exploration campaign in the G4/50 block since acquiring former operator Salamander Energy. The block surrounds the B8/38 license containing the producing Bualuang oil field. The rig was due to drill the Soy Siam and Parichat prospects with combined prospective resources of more than 50 MMbbl.
•••
Oil and gas production is building through the newly onstream H5 wellhead platform on the southern part of the Te Guiac Trang field in the Cuu Long basin, 100 km (62 mi) from Vung Tau in southern Vietnam. This is the third platform to be brought into service on the field since it was discovered in 2005.
Talisman Energy has contracted Wood Group branches in Kuala Lumpur and Houston to perform front-end engineering and design studies for the 67-MMboe Ca Rong Do field offshore Vietnam. The combined scope covers the subsea system, including flowlines and umbilicals, and the dry tree riser systems for the field's tension leg wellhead platform.
Rosneft has commissioned Japan Drilling Co.'s Hakuryu-5 rig to drill two exploration wells next year on blocks 06.1 and 05-3/11 in the Nam Con Son basin.
•••
Fluor and CNOOC subsidiary Offshore Oil Engineering Co. have agreed to form a joint venture, COOEC Fluor Heavy Industries Co. This will operate the 2-million sq m (21.6-million sq ft) Zhuhai fabrication yard in China's Guangdong province, which will be able to accommodate modules weighing more than 50,000 tons.
CNOOC has signed production-sharing contracts with ROC Oil for blocks 16/07 and 03/33 in the South China Sea. Both are in the Pearl River Mouth basin, in water depths ranging from 65-145 m (213-476 ft). ROC will operate during the exploration period, covering all related expenditures.
•••
INPEX has submitted a revised development plan for the Abadi gas field in the Masela block in the Arafura Sea offshore Indonesia. This calls for use of an FLNG vessel with a capacity to process 7.5 MM tons/yr, three times the volume of the originally envisaged scheme. The increase follows positive results from appraisal drilling on the field during 2013-14. •