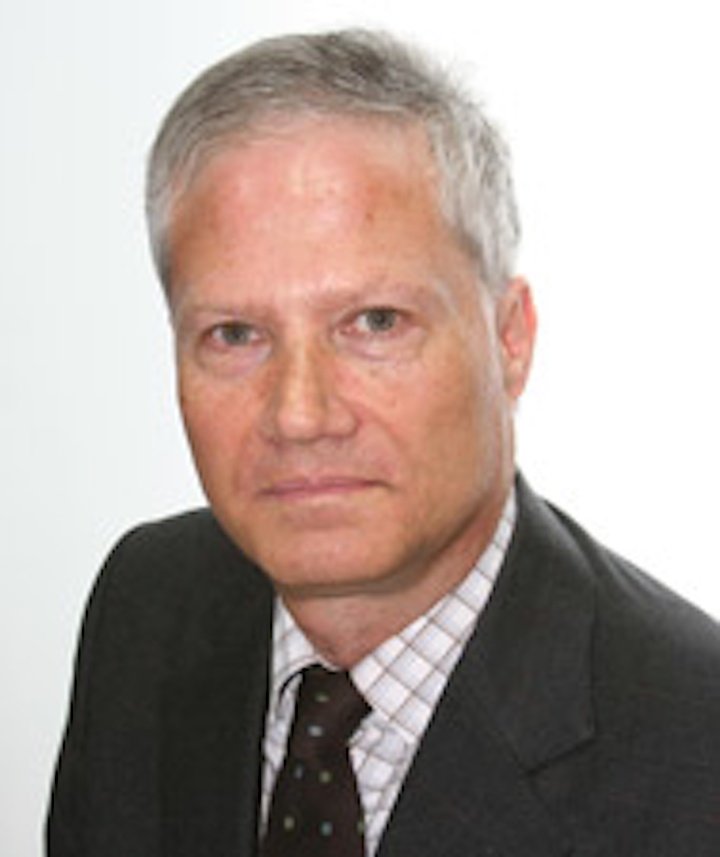 | | | |
| --- | --- | --- |
| | | Jeremy Beckman • London |
Prospects bleaker for UK well services
Demand for well services in UK waters held steady last year, according to a report by industry association Oil & Gas UK. The respondents - which comprised 85% of contractors supporting the UK offshore industry throughout the life cycle of well operations - reported total revenues of $3.24 billion in 2014, a 1% increase on the figure for 2013.
During the first part of the year, contractors continued to benefit from the high level of investment in greenfield development projects in the North Sea and west of Shetland. From mid-2014 onward, however, respondents reported a slowdown in demand for their services, and they expected the trend to continue through 2015 as the oil price squeezes UK drilling activity.
Another report by Wood Mackenzie predicts that capital and operating costs in the UK and Norwegian upstream sectors will continue sliding in response to the oil price, with drilling costs potentially falling one-third by the end of 2016 due to rig over-supply. Rig rates across the region are already markedly lower, with reductions of up to 20% for new contracts agreed to so far this year. The analyst added that 40% of mobile rigs in the UK and 23% in Norway are currently either un-contracted or due to finish contracts by the end of the year, giving scope for further reductions in future renewal negotiations.
Costs are likely to drop quicker in the UK, where rig demand is currently lower, particularly for brownfield developments. However, many of the UK's outstanding new projects are technically more complex, and in these cases standardized solutions are not an option, the analyst suggested, with few contractors capable of supporting them. Wood Mackenzie cautioned that the outlook for upstream costs beyond 2016 is less clear and will depend on oil price movements.
UK well services contracto sector gross revenue since 1996. (Image courtesy Oil & Gas UK)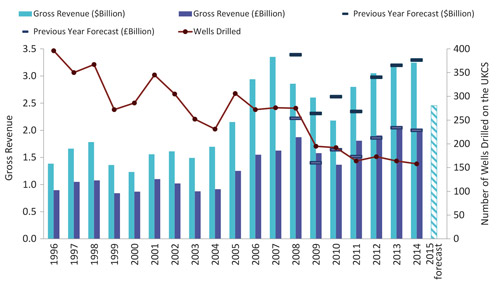 Engineering advances lift Norway's oil reserves
Norway's recoverable offshore oil resources have risen substantially over the past decade, according to the Norwegian Petroleum Directorate (NPD). In 2005, the association targeted an increase in reserves from existing fields and new discoveries of 5 Bbbl within 10 years. The actual result was somewhat lower, although the threshold would have been attained if Statoil had submitted its plan for the Johan Sverdrup field in the North Sea prior to the end of 2014.
Of the 62 discoveries NPD reviewed in 2005, 28 have since progressed to development and their oil reserves have been upgraded following advances in reservoir understanding, improved drainage strategies, and general optimization of development solutions. Discoveries since 2004 have been converted into 13 new field developments that have contributed 80 MMcm to the reserves growth. Lundin's Edvard Grieg, Det norske oljeselskap's Ivar Aasen and BG's Knarr, all in the North Sea, account for more than 75% of that figure.
One of the next projects set to go forward is Statoil's addition of an unmanned wellhead platform for the brownfield Oseberg Future Development in the North Sea. Aibel recently started work on front-end engineering and design (FEED) for the facility which would be linked to the existing Oseberg A and B platforms, with modifications to the Oseberg complex to connect the field's Kappa wells to the Vestflanken subsea pipeline. Depending on the final investment decision, Aibel could start work on the subsequent engineering services, procurement, construction, and installation program early next year.
Alpha opts for FPSO for Cheviot
In the UK northern North Sea, Alpha Petroleum has chosen an FPSO-based hub scheme for its development of the 75-MMboe Cheviot field that would also tie in production from the Padon gas and Peel/Poppy oil accumulations. In the longer term, Alpha envisages further tiebacks of some of the 20-plus discoveries and prospects in the area with combined resources of around 150 MMbbl. Xodus Group has started work on the pre-FEED, with full FEED likely to start early next year.
Alpha has agreed to sell 50% of Skipper, another undeveloped oil field in the northern UK sector, to Independent Oil & Gas, which is seeking a rig to drill an appraisal well and subsequent development wells.
Among other transactions in UK waters, Serica Energy has agreed to acquire BP's 18% stake in the declining Erskine gas/condensate field in the UK central North Sea.
Shell shuffles UK assets
Orange-Nassau Energie (ONE) has succeeded Shell as operator of the Sean field in the UK's southern gas basin, 68 mi (109 km) offshore Lowestoft. Petrofac is providing duty- holder services for the facilities, which comprise a manned wellhead and production platform, a normally unmanned installation, and a 30-in. gas export line to the terminal at Bacton on the Norfolk coast.
Another former Shell operation, the Dunlin cluster in the East Shetland basin, was due to be shut down for good last month. Fairfield Energy acquired the Dunlin, Dunlin SW, Merlin, and Osprey fields from Shell and its partners in 2008, and extended production via a series of measures that included installing electric submersible pumps in the Dunlin main field. Fairfield expects the phased decommissioning process for the large fixed platform, wells and subsea facilities to last for several years.
Oil seep studies under way offshore Ireland
Spectrum Geo has teamed up with Airbus Defence and Space for a 2D seismic and seep study over the Porcupine basin off western Ireland ahead of the country's forthcoming offshore licensing round. The program is attempting to correlate natural seeps identified by radar satellites with 2D data reprocessed by Spectrum and integrated with gravity, magnetics, and well data.
Providence Resources has completed analysis of satellite oil seep data acquired over its P1185 license in the Rathlin basin off Northern Ireland's Antrim coast. Results indicate the presence of two large seeps 3.5 km (2.2 mi) northwest of the Polaris oil prospect, which may provide evidence of migration from lower Carbonfierous source rocks. An appraisal well is due to be drilled on the Ballinlea oil discovery in the adjacent onshore license - results could have a bearing on future drilling in the Providence concession. •