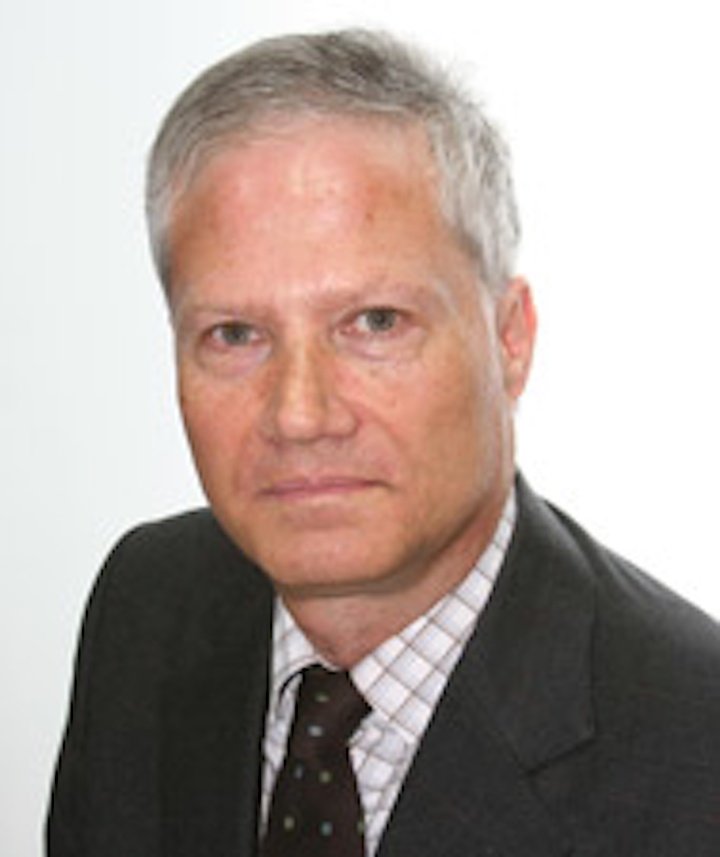 | | | |
| --- | --- | --- |
| | | Jeremy Beckman • London |
Ultra-deepwater production set to surge
Oil and gas production from the world's deepwater fields will grow by 7.7% annually over the next seven years according to analyst Douglas Westwood, reaching 10.2 MMboe/d in 2021. The growth will come mainly from drilling of 1,470 ultra-deepwater wells (beyond 1,000 m, or 3,281 ft), targeting the most productive plays. The established deepwater quartet of Angola, Brazil, the Gulf of Mexico, and Nigeria will lead the way in terms of new fields coming onstream, but they could be joined by first ultra-deepwater gas from Equatorial Guinea and Mozambique, where FLNG vessels could be in service toward the end of this decade.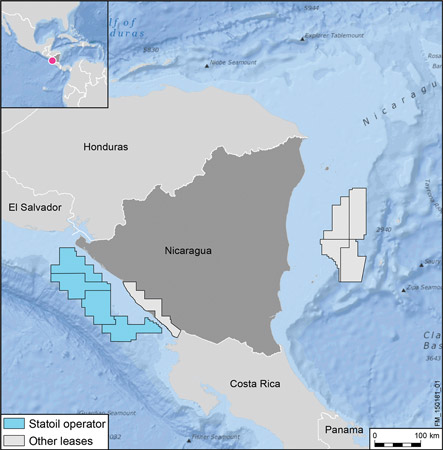 Statoil's licenses offshore Nicaragua. (Map courtesy Statoil)
South America
Nicaragua's government has awarded Statoil four frontier licenses off the country's Pacific coast, spanning a total area of around 16,000 sq km (6,177 sq mi) in the little explored Sandino basin. The company is partnered by state-owned Petronic. Initial work commitments include reprocessing of 3D seismic and acquiring new 2D data.
•••
ExxonMobil claims to have discovered significant oil volumes with an ultra-deepwater well on the Staborek block, 120 mi (193 km) offshore Guyana. The well, drilled in 5,719 ft (1,743 m) of water, penetrated more than 295 ft (90 m) of good-quality, oil-bearing sandstone reservoirs. Hess, CNOOC, and Nexen are the other partners.
•••
Petrobras has proven light oil with its second well on the Carcará discovery in the presalt Santos basin offshore Brazil. It was drilled 4.6 km (2.9 mi) north of the discovery well in block BM-S-8 in 2,072 m (6,798 ft) of water, 229 km (142 mi) offshore São Paulo state. The well encountered 31° API oil in interconnected carbonate reservoirs below the salt layer at a depth of 5,820 m (19,094 ft). Later this year the partners plan to drill the Carcará Northwest structure.
•••
The semisubmersibleEirik Raude had to shut in the Premier Oil-operated Isobel Deep exploration well in the North Falkland basin prior to target depth after encountering higher than anticipated pressure. Analysis of the available data confirmed an oil discovery. Drilling should resume later in the year after the rig has completed other wells for various consortia around the Falkland Islands.
North America
The Alaska Division of Oil and Gas has awarded seven offshore tracts in the Cook Inlet under the state's latest bid round. Awards were shared between AIX Energy, Hillcorp Alaska, and Woodstone Resources. All the leases run for 10 years.
•••
PEMEX has awarded McDermott International its fourth major contract for the Ayatsil field in the Bay of Campeche, Mexico's largest offshore discovery to date. McDermott's Altamira yard will build the Ayatsil-C replacement jacket and associated deck, with a total weight of around 14,800 tons. TheIntermac 60 and Derrick Barge 50 will transport and install the various structures, with all work due to be completed in 4Q 2016. Saipem has contracted Aker Solutions to supply around 73 km (45 mi) of electro-hydraulic steel tube umbilicals, to be manufactured in Mobile, Alabama. These will link PEMEX's new subsea gas production facilities at the Lakach field to an onshore processing complex. Lakach is 98 km (60 mi) southeast of Veracruz in water depths of 900-1,200 m (2,952-3,937 ft). PEMEX is targeting production of 400 MMcf/d.
•••
The Bahamian House of Assembly has been reviewing a new Petroleum Bill, designed to guide the next phase of exploration around the islands. If members of the house and the senate issue their consent, the proposals will be enacted in law. One of the main beneficiaries would be Bahamas Petroleum Co. (BPC), which hopes to take advantage of lower rig rates to drill its first offshore exploratory well at a cost of $50-60 million.
Additionally, BPC has won an extension until spring 2018 for four concessions south of the islands, with the boundaries expanded up to the median line with Cuba.
West Africa
Gambia's Ministry of Petroleum has extended the initial exploration period for offshore blocks A2 and A5 to end-December 2018. Operator Erin Energy's work program includes one exploration well in either block. Additionally, the ministry has approved 3D seismic acquisition over the blocks which are 30 mi (48 km) offshore and on trend with Cairn's deepwater oil discoveries off Senegal to the north.
•••
Endeavour Energy has appointed BMT Asia Pacific lead design consultant for a floating LNG storage and regasification vessel moored offshore Ghana. The vessel, to be provided by Excelerate Energy, would export supplies through subsea infrastructure to the Ghana 1000 Gas to Power project, designed to generate more than 1,000 MW for Ghana's national grid. Shell is in negotiations with the Ghana 1000 consortium over long-term LNG supplies.
•••
VAALCO Energy is assessing options for treating oil containing hydrogen sulfide (H2S) which has affected some of its wells in the Ebouri and Etame field developments offshore Gabon. Possible solutions include installing new processing facilities to remove the H2S, and drilling new wells.
•••
Total recently produced its two-billionth barrel from deepwater block 17, 150 km (93 mi) offshore Angola, where four FPSO-based hubs are currently in production. The latest, CLOV, came onstream in June 2014. Block 17 is also the company's most prolific site worldwide, presently delivering more than 700,000 boe/d.
Cobalt International Energy is aiming for formal sanction by year-end for its Cameia development project in Angola's ultra-deepwater block 21. Current plans call for an FPSO, handling more than 80,000 b/d early in the field's life. Production could begin in 2018.
•••
Polarcus has signed a memorandum of understanding with Namibia's state oil company NAMCO concerning exploration and development of the country's offshore resources. They will collaborate on various geoscience initiatives, with Polarcus contributing its expertise in 3D/4D marine seismic acquisition and processing.
Mediterranean Sea
Italy's Environment Ministry has approved Rockhopper's environmental impact assessment for its planned Ombrina Mare field development in the Adriatic. Further ministerial assent must follow for Rockhopper to secure a field production concession.
•••
Dublin-based San Leon Energy is seeking to raise $29 million via a proposed share placement, with some of the funds to be allocated to drilling the first exploratory well on the Durresi license offshore Albania this fall. San Leon plans to drill the well from an onshore location.
•••
The Noble Energy-led consortium has issued a declaration of commerciality for the deepwater Aphrodite gas field in block 12 offshore Cyprus. They also plan to submit a development proposal to the Cypriot government.
•••
Eni has drilled its second discovery this year in Libya's offshore Area D. The A1-1/1 well on the Bouri North structure was drilled in 125 m (410 ft) of water, 140 km (87 mi) from the Libyan coast. It encountered gas and condensates in an Eocene interval. The location is 20 km (12.4 m) north of the producing Bouri field complex.
Russia
Russian licensing authority Rosnedra has issued a production license for the 175-MMboe Morskaya field in the Lagansky block in the northern Caspian Sea. The LLC Petroresurs partnership of Lundin Petroleum and Gunvor Group now plan a comprehensive appraisal program.
Gazprom's exploration plans this year include acquiring a total of 10,000 sq km (3,861 sq mi) of 3D seismic over the Barents and Kara seas off northern Russia, and drilling two exploratory wells on the Yuzhno-Kirinskoye field in the Sea of Okhotsk off the northeast coast.
Middle East
Saudi Aramco has commissioned McDermott International to engineer, build, and install 12 platform jackets for various producing oil and gas fields offshore Saudi Arabia. McDermott expects to construct the jackets at its complex in Dubai.
•••
National Iranian Gas Exports Co. has appointed a consultant to perform feasibility studies for a pipeline to export gas from Iran across the Persian Gulf to Oman. According to news service Shana, the 400-km (248-mi) pipeline will extend from Mubarak Mountain and terminate at Sohar Port. Two years ago, Iran agreed to export 28 MMcm/d of gas to Oman over a 15-year period via a subsea pipeline.
East Africa
Anadarko has appointed a consortium of CB&I, Chiyoda Corp., and Saipem to manage initial development of an LNG complex onshore Mozambique. This would process production from various deepwater gas fields in Offshore Area 1 in the Rovuma basin. Initially, Anadarko and its partners in the concession aim for two LNG trains, each with a capacity of 6 MM metric tons/yr (6.6 MM tons/yr).
Asia/Pacific
CNOOC has discovered oil with its Liuhua 20-2 well in the eastern China Sea, on the northern slope belt of the Baiyun Sag in the Pearl River Mouth basin. Water depth is 390 m (1,279 ft). During a test, the well flowed 8,000 b/d. The company says the result could trigger further drilling in this underexplored area.
•••
Petronas has produced first oil from its Bukit Tua field development in the Ketapang block, 110 km (68 mi) offshore East Java. This is the company's largest project to date in Indonesia. Production from the FPSORatu Nusantara is offloaded to tankers, with produced gas exported to Gresik, East Java, through a 110-km (68-mi) subsea pipeline. Output should build to a peak of 20,000 b/d and 2.2 MMcf/d. Petronas' partner in the development is state-owned Perusahaan Gas Negara.
•••
CPHL Cambodia is teaming up with Landocean Energy Services, PST Service Corp., and Chengdu Western Union Petro Engineering Technology to explore Cambodia's offshore block D. They plan three exploratory wells, with results from the first well used to refine the plan and location for the other two.
Australia
The Macquarie/Brookfield consortium has acquired Apache's E&P interests in Western Australia, renaming it Quadrant Energy. Assets include three offshore exploration permits covering the Phoenix blocks, including Apache's surprise oil discovery on the Phoenix South structure in 2014. Quadrant and its partners are looking to drill the Roc prospect in the WA-437-P permit later this year using a jackup.
•••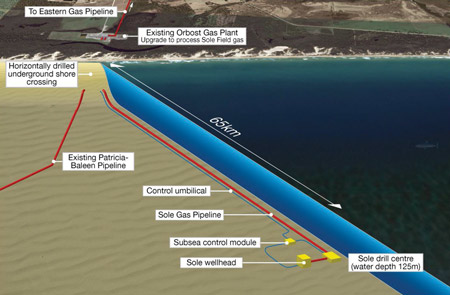 Possible development route for the Sole gas field. (Image courtesy Cooper Energy)
Cooper Energy and partner Santos have initiated the front-end engineering and design phase for the Sole gas field development in the Gippsland basin offshore Victoria. Shell discovered the field in 1972 with a well in the Palaeocene Kingsfish formation. Cooper recently completed a 50% acquisition of Sole and the onshore Orbost gas plant that will likely receive the field's production. •