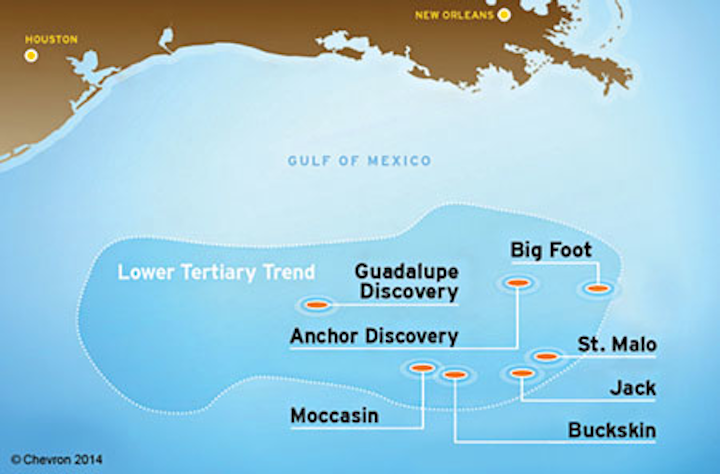 Bruce Beaubouef• Houston
Amidst storm clouds, some silver linings
Even amidst the dark gloom that pervades the current market downturn, one can still find a few silver linings. While the number of active drilling rigs in the Gulf is significantly down from last year, there have been a few positive metrics in recent weeks.
A total of 19 drilling permits were issued for work in October, up from 13 in September, according to Evercore ISI's US Drilling Permit Monthly update issue in mid-November. Of course, that number is down from 21 a year ago.
But in October, eight permits were issued for new wells, including three deepwater, four midwater, and one ultra-deepwater. Five permits were issued for side tracks while six were issued for bypasses and eight for new wells. A total of 154 new permits have been issued year to date, down 42% versus 2014, driven by sharply lower bypass and new well permits.
Only 58 new well permits have been issued year-to-date compared to 105 as of this time last year. While the number of ultra-deepwater and midwater new well permits have been largely resilient over the past year, only 18 deepwater and 12 shallow-water new well permits have been issued year to date, down 18% and 76% respectively from a year ago.
Meanwhile, the number of new oil and gas exploration plans filed in the Gulf of Mexico held steady month-to-month, with operators filing five plans to drill a total of 22 wells, versus five plans to drill 14 wells in September. No development plans were filed to drill in October.
But even with lower oil prices, Evercore ISI says it expects development activity to accelerate slightly in the coming months and years, and it believes that the Gulf of Mexico will be the only relative bright spot for deepwater activity in 2016-2017.
More good news came in late October, when Chevron announced a successful appraisal well at its Anchor discovery in the Lower Tertiary Wilcox Trend. Appraisal drilling has found 694 ft (211 m) of net oil pay.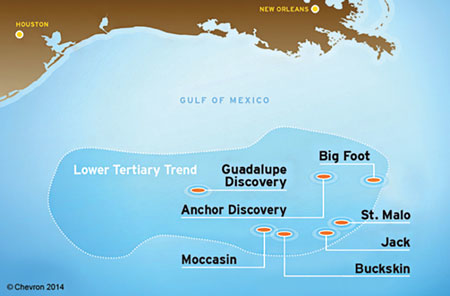 Chevron assets in the Lower Tertiary in the Gulf of Mexico. (Courtesy Chevron)
To date, Chevron has confirmed a hydrocarbon column of at least 1,800 ft (549 m) in the Lower Tertiary Wilcox reservoirs at Anchor. Complete appraisal of the field requires further delineation wells and technical studies, Chevron said.
The original Anchor discovery well, in Green Canyon block 807, approximately 140 mi (225 km) off the coast of Louisiana in 5,180 ft of water (1,579 m), was drilled to a depth of 33,750 ft (10,287 m) and it encountered 690 ft (210 m) of net oil pay.
Chevron U.S.A. Inc. is the operator of Anchor, with a 55% working interest. Anchor co-owners are Cobalt International Energy, L.P. (20%), Samson Offshore Anchor, LLC (12.5%), and Venari Resources, LLC (12.5%).
Meanwhile, Shell announced in mid-November that it is one step closer to achieving first oil at its Stones development, with the launch of the world's deepest floating production facility. The Turritella FPSO recently set sail from Singapore, where it was built at the Keppel yard, and is on its way to the deepwater Gulf.
Once it reaches the GoM, the facility will be connected to subsea infrastructure located in the Lower Tertiary play, beneath 9,500 ft (2,896 m) of water, which Shell says breaks the existing water depth record for an oil and gas production facility.
Stones is located about 200 mi (320 km) southwest of New Orleans in the Walker Ridge area.
TheTurritella FPSO recently set sail from Singapore, where it was built at the Keppel yard, and is now on its way to the deepwater Gulf for Shell's Stones project. (Courtesy Shell)
"The strength of Shell in deepwater is rooted in our ability to combine innovation with our strong track record for delivery," said Wael Sawan, executive vice president of Deep Water, Shell Upstream Americas. "Achieving first oil at Stones - in this new Gulf of Mexico frontier - involves taking a measured and strategic approach, growing as we learn more about the reservoir."
The project has nearly 16 million hours of work safely completed during construction. Shell said a "safety first" mindset and a desire to "build something special with no harm to people" is what led to the safety success during the construction of the Turritella.
Shell says it selected this vessel design to optimize field development and produce this ultra-deepwater discovery in a safe and responsible manner. Using this floating vessel allows Shell to address the relative lack of infrastructure, seabed complexity, and unique reservoir properties. Aside from being the world's deepest facility, it also features an industry-first application of combining a disconnectable buoy with steel lazy wave risers - steel pipe with in-line buoyancy that absorbs the vessel's motion and boosts riser performance at extreme depths.
SBM Offshore was contracted to build the vessel, which is a converted Suezmax FPSO. It will have a processing facility capacity of 60,000 b/d of oil and 15 MMcf/d of gas treatment and export. No water injection facilities are specified. SBM said that the Suezmax hull will be able to store 800,000 bbl of oil.
But of course, in these times, not everything is a silver lining. There are still storm clouds. This was in evidence in early November, when Marathon Oil Corp. agreed to sell most of its GoM oil and gas assets.
Marathon's GoM portfolio includes its operated producing assets in the greater Ewing Bank area and its non-operated producing interests in the Petronius and Neptune fields in the Gulf of Mexico. They are being sold for $205 million.
Marathon Oil operates the Arnold, Lobster, and Oyster fields in Ewing Bank blocks 963, 873, and 917, holding 65% working interest in Ewing Bank; 66.67% WI in Lobster and Oyster and 62.5% WI in Arnold. It holds a 30% non-operated WI in Neptune, and a 50% non-operated WI in Petronius/Perseus development in Viosca Knoll blocks 786/830.
Marathon Oil said it will retain its interests in certain other producing assets and acreage in the GoM, as well as its interests in the Gunflint development and Shenandoah discovery.
Marathon holds a 10% non-operated WI in the Shenandoah discovery, located in Walker Ridge block 52, and an 18% non-operated working interest in Gunflint, located on Mississippi Canyon blocks 948, 949, 992(N/2) and 993(N/2).
The unnamed buyer will assume all future abandonment obligations for the acquired assets. The effective date of the transaction is Jan. 1, 2015. Closing is expected before the end of the year.