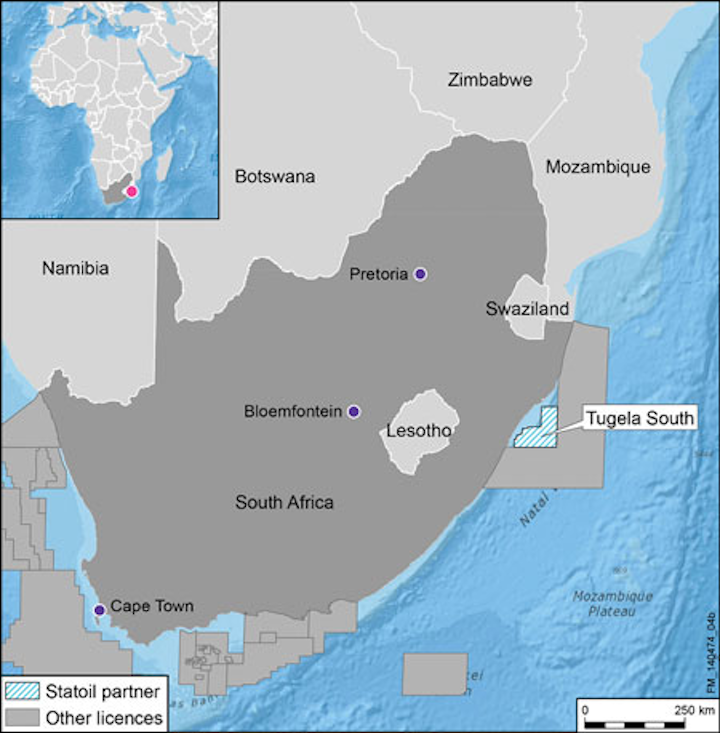 Jeremy Beckman •London
DW downgrades floating production capex
Capex on new floating production systems (FPSs) will likely total $4.5 billion this year, according to projections from analyst Douglas-Westwood (DW). This is 72% down on the figure for 2014, and reflects operators' continuing difficulties in the lower oil price era. By early November, only four FPSs had been ordered for new projects: Appomattox in the Gulf of Mexico, Sankofa offshore Ghana, South Pars in the Persian Gulf, and the Brotojoyo field redevelopment off Indonesia.
As a result, DW has downgraded its projections of FPS capex during 2015-19 from $81 billion to $68 billion, although it does foresee a recovery in the market next year as various projects go forward that had been put on hold.
North America
The US Department of the Interior has canceled two Arctic offshore lease sales tentatively scheduled for 2016-17 in the Chukchi and Beaufort seas. This follows Shell's decision to cease exploration off Alaska after disappointing results from its well on the Burger prospect in the Chukchi Sea. Additionally, the Bureau of Safety and Environmental Enforcement turned down requests from Shell and Statoil to retain their leases in these regions beyond their primary 10-year terms, citing inadequate evidence of forward exploration and development programs.
•••
Shell has approval from the Canada-Nova Scotia Offshore Petroleum Board for its Shelburne basin offshore drilling. This requires a response of no more than 12-13 days to contain a subsea blowout. Shell's initial capping stack would come from Stavanger, Norway, with a second contingency stack to be deployed from Brazil.
Latin America
State-owned Cuban company Cupet could partner with PDVSA and Sonangol in a new round of exploratory drilling offshore Cuba, Reuters reported. They are looking at an oil-prospective deepwater area northwest of the island and could begin their program in late 2016. This would be Cuba's first offshore well since 2012 when Repsol pulled out of the country following a dry hole.
•••
Anadarko has been drilling its second deepwater prospect offshore Colombia's Pacific coast, following the earlier Kronos gas discovery to the south. The Calasu-1 well was targeting a large four-way structure.
•••
ExxonMobil is reportedly looking to develop its deepwater Liza oil discovery offshore Guyana, thought to hold more than 200 MMbbl recoverable, via an FPSO. Development should benefit from recent decreases in FPSO leasing costs and drillship day rates, claims consultant GlobalData.
•••
Petrobras has completed drilling a fourth exploratory well on the Libra oil field in the presalt Santos basin offshore Brazil, in the central part of the block. Operations recently started on another well to the north. The partners have also invited tenders for a second FPSO to conduct extended well tests for the Libra Pilot Project: this would have a capacity of 180 b/d of oil and 12 MMcm/d of gas.
West Africa
Foxtrot International has brought online a second platform in block CI-27 offshore Cote d'Ivoire as part of $1-billion, four-year program to develop the Marlin oil and gas and Manta gas fields. The new facility, in 100 m (328 ft) of water, should double the block's hydrocarbons treatment capability. The existing platform, in service since 1999, handles production from the Foxtrot and Mahi fields.
•••
Jacka Resources expects first oil to flow early next year from the Aje field in the OML 113 license offshore Nigeria via the FPSO Front Puffin, recently refurbished in Singapore.
Lekoil is the new operator of the Nigerian OPL 325 lease after buying the interest previously held by Ashbert Oil and Gas. The concession is in the offshore Dahomey basin wrench zone that straddles the western Niger Delta. Lumina Geophysical's recent review based on existing seismic has identified various large prospects with associated channel complexes and potential in-place oil totalling 5.7 Bbbl.
•••
Equatorial Guinea's Ministry of Mines, Industry and Energy plans a new bid round next year for all the country's remaining deep and ultra-deepwater blocks. However, the Ministry has decided not to extend the production-sharing contract for the offshore Zafiro field, operated by ExxonMobil.
Noble Energy expects to install a new gas compression platform at its offshore Alba field during 1Q 2016. The facility should start operating later in the year.
•••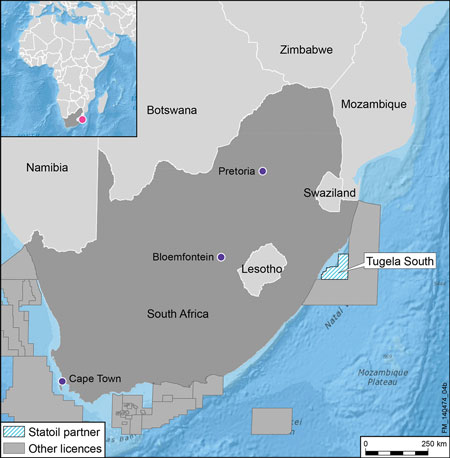 The Tugela license offshore South Africa. (Map courtesy Statoil)
Statoil has farmed into its first exploration concession offshore South Africa, acquiring a 35% stake in the ER 12/3/154 Tugela South Exploration Right, operated by ExxonMobil. The 9,054-sq km (3,496-sq mi) permit is offshore eastern South Africa in water depths up to 1,800 m (5,905 ft). Commitments include shooting 3D seismic and geology/geophysics studies.
•••
Galp Energia and Kosmos Energy have been assigned equal 45% stakes in block 6 in the Sao Tome and Principe Exclusive Economic Zone. This spans 5,024 sq km (1,940 sq mi) in water depths up to 2,500 m (8,202 ft). The partners have committed to seismic acquisition during the first four-year exploration term.
•••
CGG is helping to promote Gabon's 11th licensing round which features five deepwater blocks and which will open for bids from Feb. 15 to March 31, 2016. New 3D BroadSeis data should improve imaging of areas downdip of and adjacent to various recent deepwater pre-Aptian salt discoveries, CGG said.
•••
Eni has added 250-350 MMboe of gas-condensates to its reserves pool in the Marine XII block offshore Congo following its Nkala Marine discovery. The well was drilled 3 km (1.86 mi) from the Nene Marine field which began production late last year. On test it flowed more than 300,000 cmoe/d from a lower Cretaceous interval. Eni plans appraisal drilling and will study options for a development taking in various finds on the block.
•••
Chevron has produced first oil and gas from the Lianzi field within a unitized offshore zone between Republic of Congo and Angola. The field, discovered in 2004 in 3,000 ft (900 m) of water, 65 mi (105 km) offshore, has been developed via a subsea production system and a 27-mi (43-km) with a direct electrical (flowline) heating system, exporting production to Chevron's Belize-Lobito Tomboco compliant tower platform in Angola's block 14.
Eastern Europe
LOTOS Petrobaltic has delivered first oil from its B8 field development in the Polish sector of the Baltic Sea. Production came initially through an upgraded drilling rig which earlier had drilled a water injector on the field.
•••
Lukoil has discovered a potential gas giant in the Romanian sector of the Black Sea. The semisubmersible Transocean Development Driller II drilled the Lira-1X well on the Trident block, 170 km (105 mi) offshore in 700 m (2,296 ft) of water. Early data from the well suggested a productive interval with a gas-saturated thickness of 46 m (151 ft) - reserves could be more than 30 bcm, although this has to be confirmed by appraisal drilling.
Mediterranean Sea
BP has agreed to speed up development of its recent deepwater Atoll discovery in the North Damietta concession offshore Egypt. The company estimates reserves at 1.5 tcf of gas and 31 MMbbl of condensate: under a first-phase development it plans two wells tied back to existing infrastructure.
Eni has brought onstream its fasttrack Nooros gas/condensate development in the shallow-water Nile Delta region following the discovery this July, via two deviated wells drilled from an onshore location. Production is sent 25 km (15.5 mi) to the Abu Madi treatment plant. Eni planned three more exploration wells in the license area.
•••
Delek Group says the Noble Energy-led partners in deepwater block 12 offshore Cyprus have re-scheduled further test drilling until May 2016. This gives them more time to work on amendments to the development plan for the Aphrodite gas discovery.
Middle East
Iran Offshore Oil Co. has increased oil output from the Salman field in the Persian Gulf by 3,500 b/d following gas injection. Two rigs were due to drill further wells to step up injection, lifting oil volumes by a further 4,000 b/d.
East Africa
Mozambique's government has awarded four offshore exploration blocks to two consortia under the country's fifth bidding round. ExxonMobil/Rosneft picked up the Z5-C and Z5-D contract areas in the Zambezi Delta and a5-B in the Angoche basin. Eni, in partnership with Statoil and Sasol, secured A5-A in the Angoche area of the Northern Zambezi basin. Although nearly all Mozambique's deepwater finds to date have been gas, this area could be oil-prone, Statoil said.
Asia/Pacific
The WP4 platform for the Zawtika Phase 1b gas project offshore Myanmar has departed the Tanggu Fabrication yard in China, according to operator PTTEP. Last month it was due to sail to its offshore location in the Gulf of Martaban. Most of the gas from Zawtika, which started production in March 2014, heads to Thailand.
•••
CNOOC has confirmed its Caofedian field in the Bohai region offshore China is a mid-sized oil discovery. A recent appraisal well was drilled in the western part of the Shijuto Uplift in 20 m (65.6 ft) of water, flowing 5,750 b/d of light crude during testing - the highest rate achieved to date in Palaeogene clastic rocks, the company claimed.
•••
Lundin Petroleum has discovered a small gas accumulation in the Mengkuang structure, 75 km (46.6 mi) north of its Bertam field offshore Pensinsular Malaysia. The well encountered 9 m (29.5 ft) of gas pay in Miocene channel sands. Early next year the company and partner Petronas plan two exploration wells offshore Sabah on the Imbok and Bambazon prospects in the SB307/308 concessions. Both are said to be on trend with three producing oil fields operated by Shell.
•••
Husky Energy has started a tendering process for a floating production vessel to develop the MDA and MBH fields in the Madura Strait, offshore Indonesia. The company has commissioned another FPSO to process gas and liquids from the BD field in the same region.
Australasia
The BGP Explorer was mobilizing early last month to start shooting the Haere 2D seismic survey in the Gulf of Papua. According to Searcher Seismic - a partner in the project, along with Papua New Guinea's PNG's Department of Petroleum and Energy - the aim is to build a 17,000-km (10,56-mi) grid of long-offset, high-resolution broadband seismic. This should assist reinterpretation of the geology in the region and identification of prospective structural and stratigraphic trends. The area is thought to contain extensive Mesozoic and Palaeozoic sediments.
•••
Saipem has finished installation of the 890-km (553-mi) 42-in. gas export pipeline for the Ichthys LNG project offshore northern Australia. This is the world's third longest subsea pipeline, according to operator INPEX. It will take gas from the Ichthys gas/condensate field to new processing facilities near Darwin. Saipem's laybarges SEMAC and Castorone began the installation in mid-2014.
•••
Australia's National Offshore Petroleum Safety and Environmental Management Authority (Nopsema) is considering BP's environment plan for exploratory drilling offshore South Australia. Nopsema has asked the company to provide a detailed risk assessment of its proposed program in the Great Australian Bight, with arrangements for dealing with the impact of any oil spill.