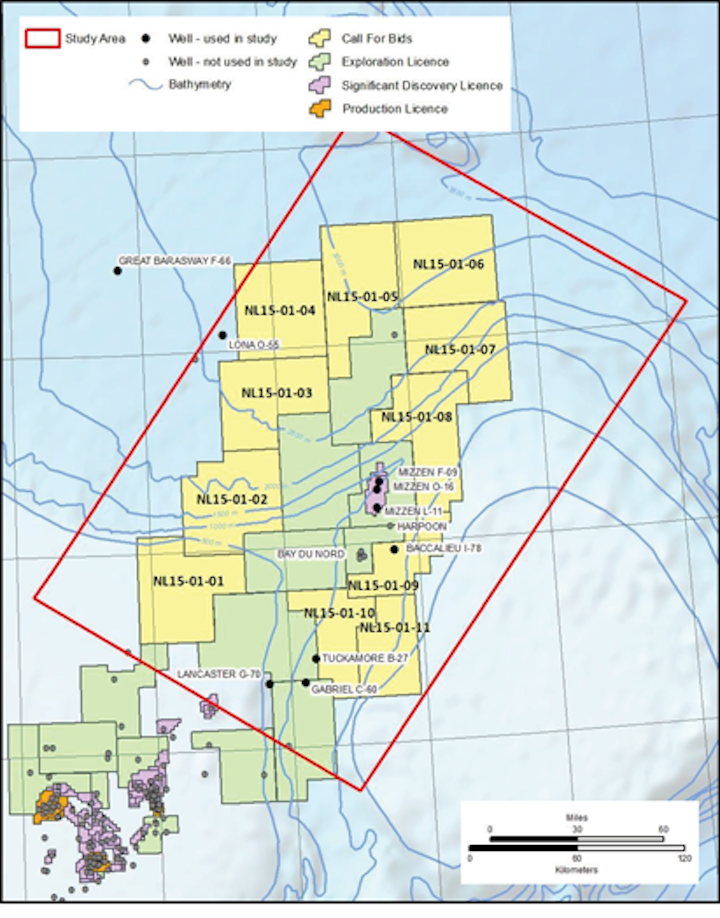 Jeremy Beckman
Editor, Europe
Resources in the Flemish Pass area offshore eastern Newfoundland could amount to 12 Bbbl of oil and 113 tcf of gas, according to a new report. It is the first time the provincial government has issued a resource assessment ahead of a licensing round, in this case for 11 parcels of land under the Call for Bids NL15-01EN, due to close Nov. 12. This is also the first call for bids offshore under the province's new Scheduled Land Tenure Regime which will open up other frontier offshore areas at regular intervals over the next few years, including previously undrilled waters offshore Labrador.
Nalcor Energy, the provincial energy corporation, and the Newfoundland and Labrador Department of Natural Resources (DNR) commissioned Paris-based petroleum consultancy Beicip-Franlab to perform an independent assessment of the potential of the Flemish Pass. Statoil has drilled three deepwater oil discoveries in the area over the past six years, based on new geoscience data over the 11 parcels offered. This covered an area of roughly 24,000 sq km (9,266 sq mi), around 1.6% of the province's total offshore area of 1.5 million sq km (580,000 sq mi).
Beicip-Franlab's analysis reveals a prolific petroleum system with three main reservoirs sourced by two constrained source rocks. Hydrocarbons appear to be trapped and sealed regionally through rotated Jurassic and Cretaceous blocks and large Cretaceous turbidite complexes.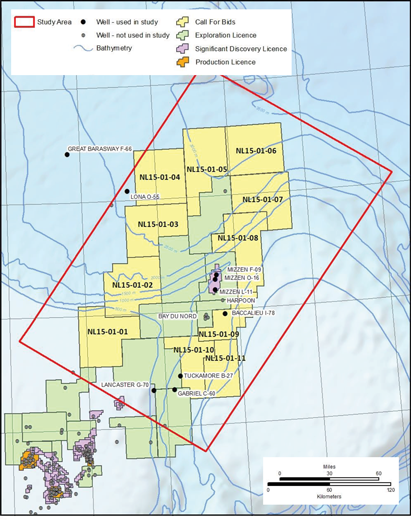 The 11 offshore parcels offered under this month's Call for Bids. (Image courtesy Nalcor Energy)
Nalcor and Beicip-Franlab started their joint program this January, taking in the 2015 license round parcels and surrounding acreage. The study drew on data from 10 historic offshore wells, each with an associated set of petrophysical logs, stratigraphic markers, and geochemical reports. Excluded were the recent discovery wells in the Flemish Pass area, full results of which are not yet in the public domain.
Nearly 160 exploration wells have been drilled so far offshore Newfoundland & Labrador, many in the Jeanne d'Arc basin where four fields are in production and another is due to come onstream in 2017. Exploration in the deeper waters of the Orphan/Flemish Pass basins followed the initial wave of activity on the Grand Banks. Gabriel C-60, the first well in the assessment area, was drilled in 1979, encountering Hibernia-equivalent reservoir but no mature source rock. Subsequent wells in the 1980s (Baccalieu 1-78 and Lancaster G-70) did encounter good quality Kimmeridgian source rock, while Kyle L-11 drilled through early Cretaceous reservoir sandstones.
Over a decade later, the first 3D survey was acquired in the region and in 2003, PetroCanada drilled the Mizzen L-11 well, delivering 5 m (16.4 ft) of light oil pay from early Cretaceous sandstones, although the find was sub-economic. Statoil proved more commercial oil on the same structure six years later in 1,100 m (3,609 ft) of water, targeting late Jurassic sandstones, in the process reviving the industry's interest in the Flemish Pass basin. Statoil/Husky Energy's subsequent deepwater Harpoon and Bay du Nord discoveries are surrounded by the parcels outlining the current Call for Bids. Bay du Nord is thought to hold 300-600 MMbbl recoverable. Other (unsuccessful) wells drilled through the Jurassic on the eastern side of the Orphan basin were Great Barasway F-66 (2006) and Lona 0-55 (2010).
Northward extension
In 2007, Nalcor was established as an energy company with a brief that included commissioning new geoscience data to open more of the province's offshore waters to exploration. The company is a minority partner in some of the province's major existing and new field developments, including Hebron and Hibernia Southern Extension, and can also take equity in frontier licenses, although it does not participate in license rounds as it does not consider itself a competitor to oil companies.
In late 2010 Nalcor, supported by Airbus Defense and Space, conducted a regional oil seep mapping and interpretation study over Newfoundland and Labrador's entire 1.5 million sq km-plus offshore. Satellite data acquired during this campaign imaged areas of potential natural seepage in the Orphan/Flemish Pass basins, indicating a regional working petroleum system. Two years later, Nalcor supported a TGS/PGS-conducted 2D multi-client survey that generated a 10 x 10-km (6.2 x 6.2-mi) data grid over the Flemish Pass area.
Around the same time, TGS and PGS had also begun acquiring data for a 10 x 10-km 2D grid over the slope and deepwater areas offshore Labrador to the north, and during 2014 this was infilled, resulting in a 5 x 5-km (3.1 x 3.1-mi) grid. Also in 2014, Norwegian company EMGS acquired a controlled source electromagnetic (CSEM) survey to characterize and de-risk leads in this area.
Rifting events
This year's report assessed regional and detailed fault mapping to provide constraints on the timing of fault activities and the impact on oil expulsion, migration pathways, and trapping in the 2D section and the 3D model. Both the Flemish Pass and Orphan basins are affected by three consecutive extensional episodes, and the timing of the deformation and chief direction of the faults appears compatible with the North Atlantic Margin Mesozoic rifting history.
The study area highlights late Jurassic to early Cretaceous rifting that led to spreading between Newfoundland and Iberia during the early Cretaceous. This was the main cause of fault-related trap opportunities at Tithonian reservoir levels. Analysis has identified four main phases of fault activity. However, only the principal regional fault trends have been inserted in the model, as these structures appeared most likely to have impacted the regional migration character for the area. In the 3D petroleum system model they behave either as pressure barriers or have limited impact in fluid flow - especially from the late Cretaceous onward as they are sealed by overlying stratigraphy. The initial 3D petroleum system model, comprising 10 stratigraphic layers, was then subdivided into 35 layers to allow identification of main components of the petroleum system, while preserving the main regional lithological and sequence stratigraphic events.
Within the NL15-01EN license area there appear to be multiple large-scale Cretaceous Fan plays, many of which display an AVO response when viewed in the gathers and on near and far-angle stacks. There also appear to be numerous Jurassic tilted fault block plays, some of which have been imaged over two or more 2D seismic lines, again displaying an AVO response. In addition, there are multiple upper and lower Cretaceous fault block plays, some of which have been imaged over two or more 2D seismic lines.
In its conclusion, Beicip-Franlab states that the main and proven source rocks (Kimmeridgian and Tihonian) appear to be generating oil during the lowermost Cretaceous interval and began expelling oil a few million years later to the north of the study area. Maturation and expulsion occur much later to the south (Tertiary) due to late burial of late Jurassic layers. As the basin evolution was well advanced, the Tithonian and lowermost Cretaceous sands were already deposited. Timing of maturation and expulsion appears compatible with oil and gas entrapment in these main plays, while the Tithonian appears to hold the highest volumes of in-place oil and gas due to a combination of an efficient vertical migration from the source and substantial lateral migration within the Tithonian interval.