Bruce Beaubouef• Houston

New floating rig well permits issued in the U.S. Gulf of Mexico by type
Drilling permits down, but rig count up slightly
A total of 13 new permits were issued in the US Gulf of Mexico in September, down from 21 in August and down from 19 a year ago, according to the Evercore ISI Drilling Permit Monthly report issued on Oct. 13.
According to the report, five permits were issued for new wells, including three deepwater and two midwater. In addition, five permits were issued for sidetracks and three for bypasses.
A total of 154 new well permits have been issued year to date, down 37% versus 2014, driven by sharply fewer bypass and new well permits. Only 58 new well permits have been issued year-to-date compared to 100 as of this time last year.
While the number of ultra-deepwater and midwater new well permits are largely unchanged from a year ago, only 18 deepwater and 12 shallow water new well permits have been issued year to date, down 14% and 76% respectively from a year ago.
Meanwhile, there was a downtick in the number of new exploration plans filed in the Gulf last month, with operators filing just five plans to drill a total of 13 wells versus 10 plans to drill 27 wells in August.
Though one development plan was filed to drill one well (up from none in August), development of the Lower Tertiary appears to remain a long ways off and the industry has filed only 13 development plans totaling 30 wells year-to-date, the report notes.
With pricing having contracted sharply, Evercore ISI says it expects development activity to accelerate slightly in the coming months and years, and it believes that the GoM will be the only relative bright spot for deepwater activity in 2016-2017.
Meanwhile, the rig counts in the GoM were showing modest signs of increased activity in mid-October, although the level is still down significantly from last year. On Oct. 12, the Baker Hughes Inc. weekly report said that the US offshore rig count was up by two rigs over the previous week, reaching 32. That figure was still down by 26 year over year. That rig count rose again by one to 33 when Baker Hughes issued its Oct. 19 report. But that number was still down by 24 rigs year over year.
Subsea 7 employs Sonardyne tech
Subsea 7 has successfully used acoustic and inertial navigation technologies from Sonardyne International Ltd. during a project to install flowlines, risers, and subsea structures at a major new deepwater field development in the GoM. According to Sonardyne, this unnamed project is expected to commence production in 2016.
To meet the complex positioning requirements of the project, Subsea 7 worked with Sonardyne's in-house Survey Support Group (SSG) to determine the optimum configuration of subsea, ROV and vessel-based equipment. For a low-risk, multi-functional and cost-effective solution, a combined acoustic and aided-inertial navigation approach was adopted comprised of Fusion 6G LBL (Long BaseLine) and SPRINT inertial navigation technologies.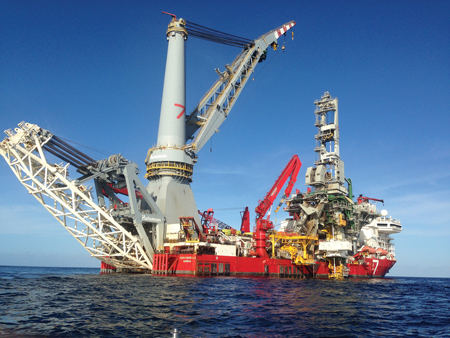 Subsea 7 says it has been saving time using Sonardyne's acoustic and inertial navigation technologies for the installation of subsea structures at a new deepwater oil field in the GoM. (Courtesy Sonardyne)
For the installation of the flowlines and structures, an array of Sonardyne Compatt 6 transponders was deployed. The SSG assisted Subsea 7 in designing the array, optimizing array geometry and modeling acoustic ray bending paths. This helped ensure that the design produced an array that met the stringent positioning tolerances required and offered sufficient redundancy in acoustic observations.
The work identified that the quantity of transponders needed for the project could be reduced through the use of Sonardyne's inertial navigation sensor, SPRINT, installed on the survey team's ROV which was being used for touchdown monitoring. The sensor makes use of acoustic aiding data from acoustic USBL and LBL positioning systems and other sensors such as Doppler Velocity Log (DVL) and pressure sensors to improve position accuracy, precision reliability, and integrity for subsea vehicles.
Hess orders Stampede tubulars, line pipe
Hess Corp. has ordered 14,000 tons of tubular goods and line pipe from Vallourec for use on the Stampede project in the Gulf of Mexico.
The contract calls for Vallourec to supply more than 5,000 tons of oil country tubular goods including high-performance premium grades and 9,000 tons of seamless steel line pipe for flow liens and steel catenary risers.
Vallourec said that most of the pipes will be threaded at VAM USA with more than 12,000 connections.
Stampede is a deepwater GoM project and the pipe is destined for installation in 3,500 ft (1,000 m) water depth. The project is 115 mi (185 km) south of Fourchon, Louisiana.