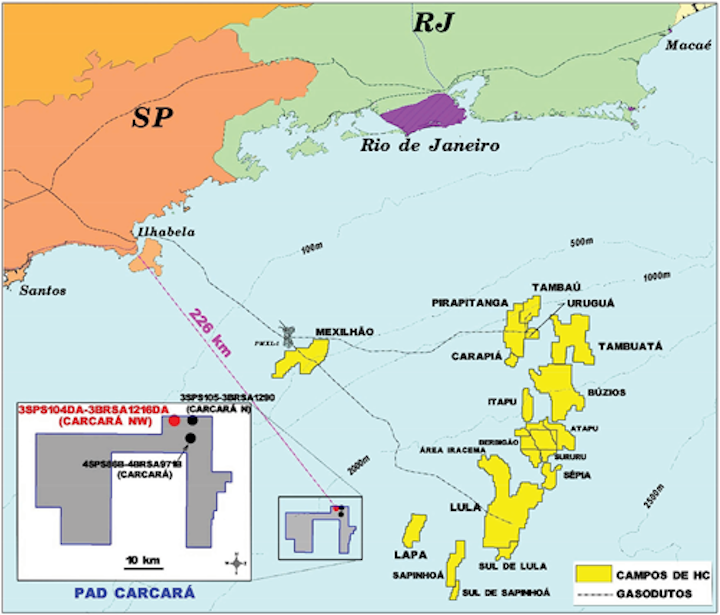 Jeremy Beckman •London
North America
Shell is withdrawing from exploration offshore Alaska following its recent experience drilling the Burger J prospect in the Chukchi Sea. The well, drilled 150 mi (241 km) from Barrow in 150 ft (45.7 m) of water, found only indications of oil and gas that did not warrant further appraisal. Shell also cited the project's high costs and its difficulties dealing with the federal regulatory environment off Alaska.
•••
Husky Oil has canceled a five-year contract for the newbuild semisubmersibleWest Mira to operate offshore Canada and Greenland following continued construction delays at the Hyundai yard in South Korea. Contractor Seadrill was discussing alternative options with Husky.
•••
Repsol has sold interest in three blocks offshore Newfoundland operated by Statoil to BG Group. All are around 200 km (124 mi) from St John's. Drilling of a first well was due to start this fall.
South America/Caribbean Sea
BHP Billiton has commissioned EMAS AMC to engineer, fabricate, and install subsea facilities for the Angostura Phase 3 development, 35 km (21 mi) northeast of Trinidad and Tobago. The scope covers a 12-in. flowline, control umbilicals, and pipeline end manifold. TheLewek Express vessel will perform installations next summer.
•••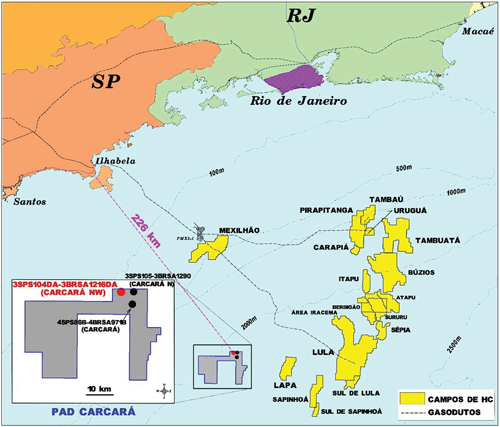 Location of the latest discovery in the Carcará area. (Map courtesy Petrobras)
Petrobras has proven light oil with its third well in the Carcará area (block BM-S-8) in the presalt Santos basin off Brazil. The well was drilled in 2,024 m (6,640 ft) of water, 226 km (140 mi) offshore São Paulo state. It intersected a 318-m (1,043-ft) column of light oil in good-quality carbonate reservoirs, just below the presalt layer. Pressure data confirmed it is a western extension of the two previous discovery wells in the area.
Like many other major oil companies, Petrobras declined to participate in Brazil's 13th Exploratory Block Bidding Round last month, organized by the ANP. The company said it already had substantial acreage in the sedimentary basins on offer.
•••
The various partnerships in the current exploration campaign offshore the Falklands have agreed to alter the schedule for the semisubmersibleEirik Raude. After completing an unexpectedly protracted operation on the Humpback prospect south of the islands, the rig was due to drill another well on the Isobel/Elaine complex in the North Falkland basin. A well here earlier this year encountered oil, but had to be terminated due to mechanical issues. This is in place of a planned well on the Jayne East structure.
Later, the rig should drill a first well on license PL001 in the same basin on the potential 443-MMbbl Rhea prospect. Noble Energy and Edison International recently completed a farm-in to 100% of the license from previous operator, Stanley-based Argos Resources.
West Africa
Australian independent FAR has an option to farm into 75% of the Djiffere block offshore Senegal currently held by a subsidiary of Trace Atlantic Oil. The concession adjoins three deeper-water blocks, in which FAR is also a partner, containing last year's FAN-1 and SNE-1 oil discoveries. FAR has identified prospects in Djiffere's western section that could hold 765 MMbbl of resources, along with other shelf structures. Terms for the block call for a first well to be drilled prior to end-July 2018.
•••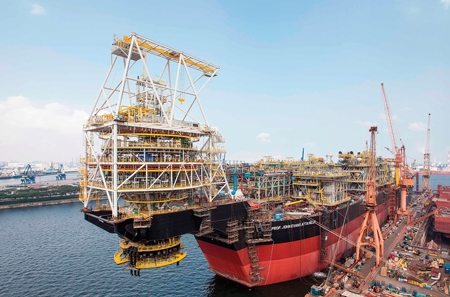 The recently named FPSO for the TEN project. (Photo courtesy Tullow Oil)
The MODEC-supplied FPSO for Tullow Oil's deepwater TEN project offshore Ghana has been named at the yard in Singapore, after Ghana's former president Prof. John Evans Atta Mills. The 340-m (1,115-ft) long, 56-m (184-ft) wide vessel is designed to produce 80,000 b/d of oil and process 170 MMcf/d of gas. Tullow expects start-up in mid-2016.
Erin Energy subsidiary Camac Energy has completed a resource assessment for Ghana's offshore Shallow Water Tano block. Fourteen wells have been drilled to date on various fields on the acreage, with total reserves estimated at 500 MMbbl of oil and 282 bcf of gas. Erin and its partners are working to determine commerciality.
•••
Two of Nigeria's main deepwater players have started production from incremental projects. Shell's Bonga Phase 3 is an extension of the Bonga Main development that came onstream in 2005 in more than 1,000 m (3,281 ft) of water, and which has delivered more than 600 MMbbl so far. Phase 3, which involved drilling new wells connected via flowlines to theBonga FPSO, will supply around 50,000 boe/d at peak.
Erha North Phase 2, operated by ExxonMobil, is 60 mi (96 km) offshore in 3,300 ft (1,006 m) water depth, and 4 mi (6.4 km) north of the Erha field. Development called for drilling of seven wells with three drilling centers tied back to theErha FPSO. At peak, the new facilities will add 65,000 b/d of oil, lifting overall production to around 90,000 b/d.
•••
Cameroon's government has approved a floating liquefied natural gas (FLNG) project that will harness gas from the offshore Kribi fields. This involves use of Golar LNG's GoFLNG vessel, currently undergoing conversion at Keppel Shipyard in Singapore. Under the agreement, 500 bcf from the fields will be converted to around 1.2 MMt/yr of LNG for export to global markets. Other partners in the development are Perenco and state oil company Societé Nationale des Hydrocarbures.
UK independent Tower Resources has signed a production-sharing contract for the shallow-water Thali (ex-Dissoni) concession in the Rio del Rey basin offshore Cameroon. Tower believes up to four distinct play systems could be present, including one that has so far delivered one oil and two gas discoveries on the block. Following a 3D seismic survey next year, drilling could begin in 2017-18.
Black Sea
Bulgaria has reportedly agreed to award Shell a five-year exploration permit for the 7,000-sq km (2,703-sq mi) offshore Silistar block, close to the median line with Romania. The initial work program is thought to include seismic surveys.
Petroceltic, which produces gas from various shallow-water fields in the Bulgarian sector, plans a single subsea well tieback of the 9.6-bcf Kavarna East discovery to a manifold near the Kavarna field, in turn connected to the Galata production platform.
Middle East
Egyptian state gas company EGAS has awarded four new oil and gas explorations licenses in the Mediterranean Sea, according to a Reuters report. One is to BP, another to Edison, with two more split between BP and Eni, and BP/Eni and Total. Egypt is said to be planning a further bidding round in the Mediterranean during the first half of 2016.
•••
Saudi Aramco and Bahrain's state oil company BAPCO have contracted NPCC for construction services for Offshore Package II of the Saudi Arabia to Bahrain A/B Pipeline project. NPCC will supply and install around 42 km (26 mi) of offshore pipeline and submarine fiber-optic cable for the section running from Isolating Flange, Qurrayah to Isolating Flange, Al-Jazair.
•••
McDermott International has started work on construction of four wellhead jackets for a brownfield development of Qatar Petroleum's Bul-Hanine field offshore Doha. Two of the structures are due to be delivered and installed by December 2016, the other two following in July 2017. Combined weight of the jackets will be 3,495 tons (3,170 metric tons).
•••
Petro Iran Development Co. has completed an initial drilling campaign through the oil layers of the South Pars gas field in the Persian Gulf, according to news service Shana. Operator PEDCO Iran has commissioned a drilling platform and FPSO to produce the oil under a first-phase development, designed to deliver 35,000 b/d.
East Africa
Spectrum has a cooperation agreement with the federal government of Somalia to acquire roughly 28,000 km (17,398 mi) of long-offset 2D seismic offshore the south of the country. This will complement 20,000 km (12,427 mi) of existing seismic shot in 2014. Results from the two surveys will be used to analyze the offshore prospectivity of this region, which may be on trend with recent large discoveries on the East African margin.
•••
Kenya's government has extended the initial exploration period for offshore blocks L27 and L28 to February 2017. This will give operator Erin Energy more time to acquire and process 3D seismic over both blocks.
•••
Douglas-Westwood's World Drilling & Production Market Forecast has identified over 83 wells drilled offshore Mozambique and Tanzania since Anadarko's Windjammer-1 discovery in the offshore Rovuma basin in 2009. Activity since has lifted the two countries' combined proven reserves to 29.5 Bboe. The analyst expects first gas from Anadarko's planned subsea-beach development of Golfinho-Atum and Prosperidade offshore Mozambique in 2019, with Eni's FLNG solution for its ultra-deepwater Coral and Mamba fields set to operate by 2021.
Asia/Pacific
Murphy Sabah Oil has contracted Aker Solutions to provide the subsea production system for the deepwater Rotan gas field in block B offshore East Malaysia. Scope includes four subsea wells, a hub manifold, in-line tees, and a production control system. First deliveries are due next spring.
OceanMight has a letter of award from Talisman Malaysia to construct a wellhead platform for the Kinabalu redevelopment offshore Sabah, pending approvals and completion of detailed design. Work is due to be completed in 2Q 2017. Offshore Sarawak, Petronas has commissioned Technip to supply and install two 8-in. water injection flexible pipes, connecting to three fixed platforms serving the D18 project offshore Sarawak. All work should be finished by the end of this year.
•••
Shell has started production from the new Depletion Compression Platform serving the Malampaya field offshore the Philippines. The facility is adjacent to the existing shallow water platform, 50 km (31 mi) offshore Palawan. The self-installed facility, which was towed from Subic to the Malampaya location, is designed to maintain production of gas needed to fulfil sales commitments.
•••
Hague and London Oil has a conditional agreement to take an operating interest in the Duyung production-sharing contract in the Natuna Sea, offshore Indonesia, from Singapore-based West Natuna Exploration. The concession includes the undeveloped 902-bcf Mako gas discovery.
Australasia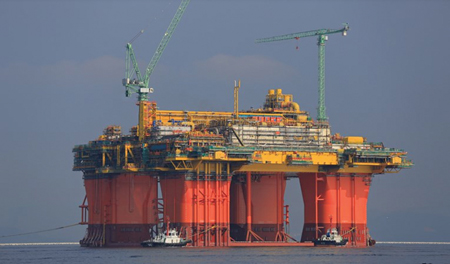 The newly launched Ichthys central processing facility. (Photo courtesy INPEX)
The central processing facility for INPEX's LNG project offshore northwest Australia was launched in September from the offshore floating dock at the Samsung shipyard in Geoje, South Korea. Following installation of the living quarters and integration and commissioning of all equipment, it will be towed 5,600 km (3,479 mi) to the Ichthys field in the Browse basin. INPEX has delayed the project's start-up date to 3Q 2017.