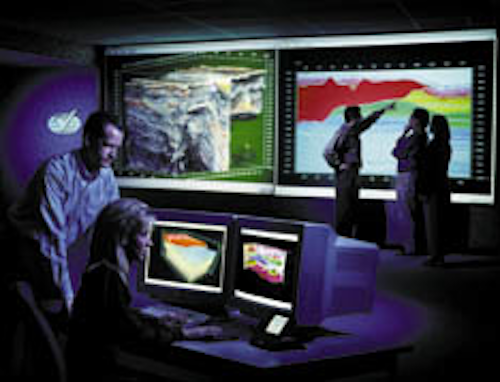 Veritas' new Visualization Center opened in Houston for velocity studies and interpretation of very large 3D data sets. The back-lit system permits asset teams to work under normal lighting conditions.
Veritas opens visualization center
Veritas DGC Inc has opened its new Visualization Center, which will allow teams of explorationists to view and interpret large volumes of 3D seismic data gathered by Veritas vessels. "From data processing through reconnaissance to production, the ability to display and interpret huge volumes of data in a collaborative setting allows better decision making in a more timely manner," said Dale Bowering, Vice President of Business Development for Veritas Marine Surveys. "A lot of ground can be covered very quickly, producing results in a fraction of the time taken using conventional methods."
The new center is powered by a Silicon Graphics Onyx2 RealityMonstertrademark super computer. The main workroom contains an 18 ft by 7 ft rear-projection viewing screen that allows the team to work directly in front of the image for consultations and close viewing of image details. The center also houses four private interpretation and visualization workrooms, allowing multiple teams to work simultaneously.
Utilizing the high-speed fiber link with Veritas' NEC supercomputers, the center allows for data quality control throughout the processing stage, where potential problems can be identified and resolved early, saving clients time and money. The center is being put to work providing the interpretation and quality control technology required in Veritas' new non-exclusive 3D prestack depth migration program in the Gulf of Mexico.
New US Gulf surveys
TGS-NOPEC announced the beginning of Phase 49, a 2D non-exclusive survey in the Desoto Canyon and Lloyd Ridge areas of the Gulf of Mexico (GOM). The program is 12,000 km in length and complements the 26,000 km Phase 46 program completed in 1998. The Northern Access, launched in September 1998, is collecting for the survey. Phase 49 is the first non-exclusive GOM survey collected by TGS-NOPEC's own vessel.
Surveys set for Destin, DeSoto, Viosca areas
TGS-NOPEC is gathering three non-exclusive 3D surveys in the Viosca Knoll, Destin Dome, and DeSoto Canyon areas of the Gulf of Mexico. The surveys will gather more than 2,100 sq mi of data before the end of 1999. Acquisition began in October 1998.
The Eastern Gulf 1 survey covers 105 blocks (945 sq mi) in Viosca Knoll and Destin Dome areas. Recent discoveries in the Lower Cretaceous have opened a new exploration play across this region. This survey is being acquired in partnership with Eagle Geophysical and is approximately 56% complete.
Discoveries in the adjacent Central Planning Area have spurred exploration interest in Desoto Canyon area. Eastern Gulf 2 and Eastern Gulf 3 are being acquired here in partnership with CGG. The surveys cover 129 blocks (1,161 sq mi). These surveys are approximately 52% complete. All surveys will be available in advance of the 2001 lease sale.
Exploring Morocco
Skidmore Energy signed an exclusive reconnaissance contract with Onarep to explore three Moroccan areas. Two of the blocks are onshore while one is offshore. The offshore Loukos block extends from Tanger south to Rabat and from the coast out to 1,000 m of water. The contract is for two years and will include extensive sedimentary residual magneticstrademark/magnetic bright spottrademark exploration. Seismic surveys will follow at a later time. Three offshore and 10 onshore wells are planned to test potential reservoirs in Miocene, Cretaceous, Jurassic and Paleozoic age sediments.
Egypt's archive
CGG-PECC will build a Corporate Databank using PetroVisiontrademark for the Egyptian General Petroleum Corp (EGPC) in Cairo, Egypt. The project is part of EGPC's Corporate Data Management Project, which aims to: preserve EGPC data, reduce handling and storage costs, improve access to archived records, and improve overall access to EGPC's data. The project also will include migration of seismic field records, processed data, associated documents, navigation tracks and well data to the new repository. The new system will be fully integrated into EGPC's existing computer environment. It will use an Oracle database designed along POSC standards.
Kerguelan LIP
Large igneous provinces (LIP) hold the early history of the earth. In December, the JOIDES Resolution set sail to drill on the Kergulean Plateau and Broken Ridge in the southern Indian Ocean. The goal is to reconstruct the magmatic history of the region, including the timing of eruptions and changes in chemical composition of the lavas. Dr. Mike Coffin from the University of Texas and one of the team leaders states: "Large igneous provinces provide the only known record of ancient deep earth dynamics. Kerguelan Plateau and Broken Ridge hold the history of one of the largest and longest lived magmatic events known on Earth, and the results of our expedition will undoubtably contribute greatly to our understanding of how mantle hot spots behave through time, and their possible effects on the global environment." The expedition will conclude on February 11, 1999.
Ultra-deepwater Nigeria survey
Veritas DGC completed the first 3,000 km of its new 2D ultra deepwater speculative survey in the outer reaches of the Niger delta. The vessel S/V Professor Kurensov is collecting the data jointly with Digital Exploration, Veritas' Nigerian partner. These new data show the continuation of an extremely thick section of Lower Tertiary to recent sediments into the ultra deepwater area. A broad zone of open to moderate folding above deeply buried, blind, thrust faults promises high potential unexplored acreage for future licensing, according to Veritas. Over 10,000 km of 2D seismic is planned over acreage southwest of blocks OPL 242 to OPL 250. Completion of the survey is expected by the end of January 1999. Because of extensive onboard processing, final processed sections will be delivered in February.
Copyright 1999 Oil & Gas Journal. All Rights Reserved.