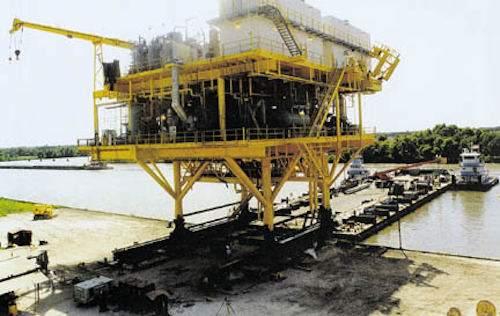 Action begins on OML 109 concession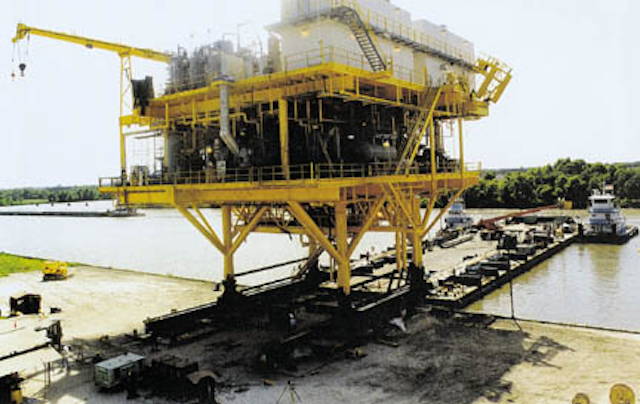 The Ejulebe production platform.
One of the newest fixtures in the Niger Delta region is the Ejulebe platform, which began producing oil last fall. Although production rates are not huge (around 10,000 b/d), the field is significant as the first of several prospects which could be developed across the prolific OML 109 license concession.
Ejulebe and its surrounding 15,000 acre development area are operated by Nigeria's Atlas Petroleum, with Summit Oil and Gas Worldwide (SOGW) acting as technical adviser to Atlas. Canadian Occidental Petroleum manages the area under a service contract to SOGW/Atlas.
SOGW was previously owned by Profco Resources. Last December, however, it became a wholly owned subsidiary of Calgary-based TransAtlantic Petroleum, a new company created from the merger between Profco and GHP Exploration. Commitment to the license, which runs for 20 years from 1996, is undiminished since the changeover.
Geology
The Niger Delta's geology is characterized by depositional belts which formed within major trending fault systems during the Tertiary age. These systems are roughly parallel and extend for long distances forming structural traps along the crestal portions. All known oil and gas accumulations surrounding OML-109 are trapped by structures related to normal faulting.
West and north of the concession are the producing Delta, Delta South, Mefa, Meji, Meren and Okan fields and the Forcados complex, which to date have yielded a total of 2 billion bbl plus. To the west of the concession are the Obokun and Sonam oilfields , as yet undeveloped, due in part to their greater water depths and the lack of infrastructure nearby.
Sonam has been estimated as a 40 million bbl NGL/1 tcf prospect. Several structures and fault closures on OML-109 are on trend with Sonam. A large synclinal feature trending north-west to south-east through the center of OML-109 is an area where oil and gas were generated, subsequently migrating updip to the west and east where they were trapped in structures associated with shale ridges.
Prior to the recent merger, SOGW/Atlas had shot 32 sq miles of 3-D seismic over the northern half of the concession, including Ejulebe. It also acquired 2-D seismic over the entire 215,000 acres of the license and 295 sq miles of additional 3-D seismic. The partners therefore have 3-D surveys covering 82% of the concession, with interpretation of the data ongoing. Several prospects have been identified either on or extending onto OML-109.
During 1996, Canadian Occidental Petroleum was appointed as service contractor in OML-109, including Ejulebe, with a remit that included:
Selecting well locations and funding drilling and testing of two exploration wells (both abandoned)
Financing drilling of development and water injection wells
Funding construction and installation of production facilities and surrounding infrastructure
Reimbursing Profco (now TransAtlantic Petroleum) for costs incurred previously and, upon attaining 1 million bbl of production from Ejulebe, additional compensation.
Development progress
OML-109 lies seven to nine miles offshore the Niger Delta in water depths varying from 50-200 ft. Ejulebe is in the shallower north-eastern section, immediately northwest of the Chevron-operated Mefa oilfield. Mefa extends onto OML-109 and is a growth fault structure. 3-D seismic mapping indicates a possible extension of the productive intervals of two of Mefa's wells into the concession.

The OML-109 contains numerous prospective oilfields aside from Ejulebe, in the north-east portion.
Development drilling on Ejelebe began in summer 1997, using the jackup Falrig 83. Four oil wells were completed, generating a cumulative 21,100 b/d during production tests. Three wells drilled directionally from the 1996 discovery location Ejulebe 1 hit their targets, while an earlier appraisal well, Ejulebe 2, encountered net oil pay of 119 ft and 39 ft of net gas pay in separate reservoirs. A fifth well, a water injector, is used for pressure maintenance.
The central production facilities comprise a minimal platform linked via flowlines to a production caisson 1.7 km away on the Ejulebe 2 well. Oil is exported via a 14 mile, 6-in. pipeline to Conoco's Ukpokiti FPSO, stationed in an adjacent block. The project represented Canadian Occidental Petroleum's first commission as service provider and procurer of an offshore platform. In this case, the platform was built in New Orleans, from where it was delivered directly by barge.
According to TransAtlantic Petroleum's Barry Lasker, it is a conventional four-leg, six-slot platform with 15,000 b/d oil production capacity, and water injection facilities capable of handling over 15,000 b/d. Spare capacity should be available by the end of this year to allow further wells to be tied back to the platform. Total cost of the development was $85 million. The field came onstream last September, with production due to build to 13,000 b/d.
Numerous other prospects have been identified close to the Ejulebe pool. Profco had been keen to drill, with a view to farming in a partner for the wells. However, the recent oil price fall necessitated deeper economic scrutiny of these prospects, Lasker says, with regard to reserves and associated gas risk. There are also prospective deeper zones below the Ejulebe 1 discovery well, but a potential well here has also been postponed pending further evaluation.
Away from Ejulebe, but in the same OML-109 concession, are some potentially much larger prospects. According to Lasker, SOGW is currently revisiting these and other leads, with plans to conduct additional stratigraphic and rock property studies in attempt to mitigate exploration and subsequent commercial risks.
As part of its commitment to the license and Nigeria's Indigenous Operations program, SOGW is also looking at creative low cost development scenarios for prospects in the concession as well as other opportunities offshore Nigeria. "Atlas and SOGW will aggressively pursue prospects which make good economic sense," he adds, "taking advantage of lower drilling and facilities costs to bring production onstream as soon as possible."
Candidates away from Ejulebe in OML-109 include:
Olongo, in the southeast sector of the concession, on trend with the Awodi discovery. This covers an area of around 3,200 acres. A well drilled in 1968 to a depth of 12,000 ft encountered reservoir quality sands to total depth. Good hydrocarbon indicators are said to occur on a series of fault closures which are very prospective from 7,000 ft to 12,000 ft. Since the prospects are on the updip edge of a large synclinal area, recovery factors are thought to be similar to Mefa's, with perhaps 100-200 million bbl of oil in place.
Kahuna, on the western edge of the concession, lies within a fault closure east of the Sonam structural crest. This is a 1,500 acre prospect in 125 ft of water. The area comprises major growth faults and several small fault blocks. Several amplitude anomalies are associated with the fault closures. Reserve potential is put at 180-400 million bbl.
Just south of Kahuna, Ekura is one the west side of the same large shale ridge identified in the Sonam Field to the north. A Sonam well drilled near the Ekura prospect encountered 480 ft of oil, gas and condensate pay in the 7,500-11,300 ft interval. The well tested over 3,000 b/d of oil and 11 MMcf/d of gas. Ekura also exhibits stacked seismic amplitude anomalies, indicating potential for a sizeable hydrocarbon accumulation - perhaps 150-230 million bbl of oil.
Copyright 1999 Oil & Gas Journal. All Rights Reserved.