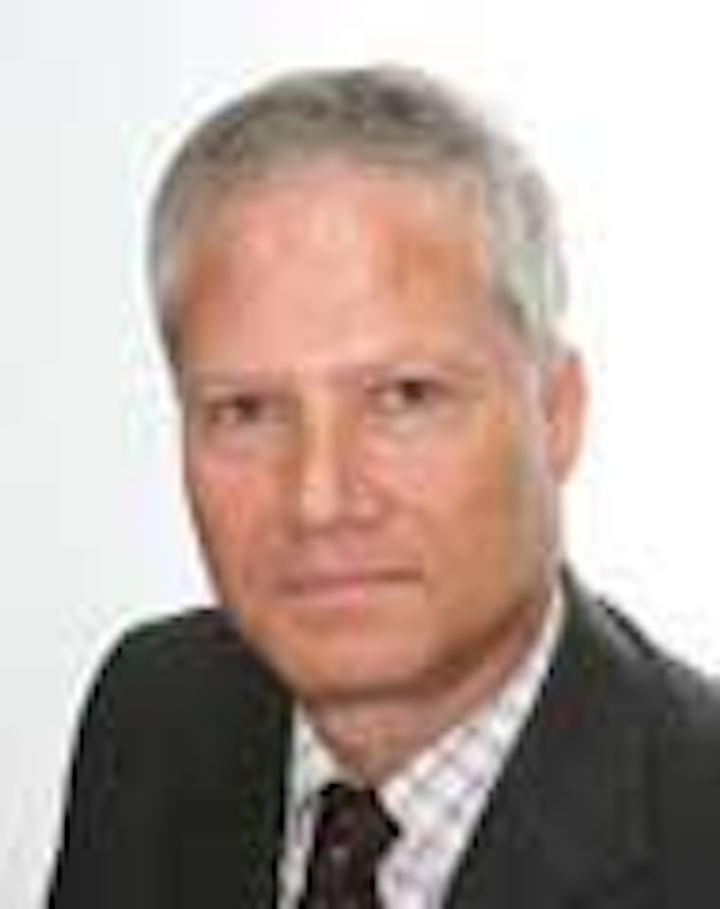 | | | |
| --- | --- | --- |
| | | Jeremy Beckman • London |
ConocoPhillips Co. and Suncor Energy have agreed to join Shell's deepwater exploration program off Nova Scotia. They will acquire a collective 50% interest in six contiguous licenses that Shell operates in the Shelburne basin, 300 km (186 mi) from the Nova Scotia coast, in water depths varying from 500 to 3,500 m (1,640 to 11,480 ft).
•••
McDermott's yard in Altamira, Mexico, has completed construction of a drilling platform that will serve Pemex's heavy-oil Ayatsil field development in the Campeche Sound in the Gulf of Mexico. The eight-leg jacket and deck, weighing a total of 11,535 metric tons (12,715 tons), was due to be installed in 115 m (377 ft) of water where it will be linked to three other platforms and an FPSO. Pemex has additionally contracted GE Oil & Gas to provide surface trees and wellheads for the drilling program, which will be manufactured in Ecatepec, Mexico City.
•••
Reposl has proved oil in a new part of its producing Teak B field in the offshore TSOP block, east of Trinidad. The TB4 well, drilled on the northern part of the field, flowed 1,200 b/d on test, and the area could hold over 40 MMbbl of in-place oil. Repsol and its Trinidadian partners Petroleum Co. of Trinidad and Tobago Ltd. (Petrotin) and The National Gas Co. of Trinidad and Tobago (NGC) planned to drill and complete two more wells this year on the block: these should lift production by 24% above last year's average of 10,900 b/d.
Petrobras has started an extended well test in the western part of the Iara evaluation area, 300 km (186 mi) offshore in the presalt Santos basin. The FPSODynamicProducer is conducting the test on well 3-BRSA-1132-RJS, the first on Iara since its discovery in 2008. Its initial flow rate of 29,000 b/d was similar to that of other presalt wells currently producing from the basin. The partners must submit a declaration of commerciality to Agencia Nacional do Petroleo (ANP) around the turn of the year.
Currently presalt oil accounts for roughly 22% of Petrobras' overall production of 2.2 MMb/d. By 2018, the contribution should rise to 52% out of a total of 3.2 MMb/d – between now and late 2018 the company expects to have installed 19 new production platforms on its Santos basin presalt fields. Two, the FPSOsCidade de Mangaritiba and Cidade de Ilhabela, should start up later this year on Iracema South and Sapinhóa North.
Woodside Energy Ltd. has agreed to farm into 25% of the undrilled Rabat Deep Offshore permits I-VI off northwest Morocco, with an option to double its interest and assume operatorship from current incumbent Chariot Oil & Gas Ltd. The concessions span 10,782 sq km (4,163 sq mi) in water depths out from 150 to 3,600 m (492 to 11,811 ft). Woodside already holds exploration acreage in the region off the Canary Islands.
Repsol S.A. may have started drilling off the Canaries after Spain's government reportedly rejected appeals against the program on environmental grounds. The company is said to be targeting over 400 MMbbl of oil in the Sandía and Zanahoria prospects off the islands of Fuerteventura and Lanzarote.
•••
Lukoil and Cameroon Offshore Petroleum Ltd. (CAMOP) have conditionally agreed to farm into 50% of Bowleven plc's 75% stake in the Etinde permit offshore Cameroon, with CAMOP taking over as operator. Bowleven and its contractor Petrofac have been working on a phased hub-and-spoke development for the concession's gas which could serve a proposed fertilizer plant in Cameroon and Gaz de France's CLNG scheme. Phase 1 would focus on the IM field in the MLHP-7 block.
•••
Total S.A. has started production from its second deepwater cluster development in Angolan block 17. The location is 140 km (87 mi) offshore Luanda – water depths range from 1,100 to 1,400 m (3,609 to 4,593 ft). The Cravo, Lirio, Orquidea, and Violeta fields will eventually produce 160,000 b/d via 34 subsea wells and manifolds connected by 180 km (112 mi) of pipelines to the CLOV FPSO, with associated gas sent through another subsea pipeline to the onshore Angola LNG liquefaction plant.
As with Dalia, an earlier project in the block, CLOV produces lighter oil from the Oligocene and more viscous oil from Miocene, necessitating use of a subsea multi-phase pump system for boosting commingled fluids and enhancing oil recovery.
The converted FPSON'Goma, which previously served ExxonMobil's Xikomba development, arrived in June at Angola's Porto Amboim Estaleiros Navais Itda (Paenal) yard after sailing from Keppel Shipyard in Singapore. There it had undergone upgrades to the hull and turret. Among the new topsides modules, Paenal fabricated the sulfate removal package and the hot oil pump. The vessel, which now has 100,000 b/d oil processing capacity, will serve Eni's block 15/06 West Hub development.
•••
Sasol Ltd. is admitting Eni as a 40% operating partner in exploration right permit 236, which covers acreage in the Durban and Zululand basin offshore Kwazulu-Natal province along South Africa's east coast. Petroleum Agency of South Africa awarded the permit, which carries an initial three-year term, in November 2013. The farm-in is subject to regulatory approvals.
The jackupGSPSaturn has started drilling the 3-SD exploratory well for Gazpromneft-Sakhalin LLC in the Dolginskoye oil field, 75 km (47 mi) offshore in the Pechora Sea. The well is expected to reach a subsurface depth of 3,500 m (11,483 ft), with operations continuing through the ice-free months.
•••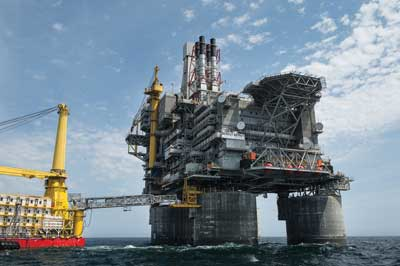 The Arkutun-Dagi field Berkut platform. (Photo courtesy Rosneft)
Rosneft and Exxon Mobil Corp. have completed installation of the drilling platformBerkut over the Arkutun-Dagi field in the Sakhalin-1 concession in the Sea of Okhotsk, in a water depth of 35 m (115 ft). The platform is designed to withstand conditions including waves up to 18 m (59 ft) high, ice floe pressure up to 2 m (6.6 ft) thick, and temperatures down to -44°C (-47°F). Production should start in December – a rig optimized for year-round service will drill 45 wells in a radius of up to 7 km (4.3 mi) from the platform.
Mediterranean Sea
ERC Equipoise Ltd.'s new Competent Persons Report has upgraded recoverable oil at Energean's producing fields off northeast Greece to over 30 MMbbl. This follows a review of the Prinos, Prinos North, and Epsilon fields in the Gulf of Kavala, combined with reprocessed seismic and data from two wells on Prinos completed late last year. Energean aims to maintain production from the area for at least 15 more years.
•••
Noble Energy Inc. and its partners have signed a non-binding letter of intent with BG International Ltd. for gas supplies from the deepwater Leviathan field offshore Israel. Up to 7 bcm a year could be sent to BG's LNG facilities in Idku on the northern Egyptian coast over a 15-year period, exported from an FPSO via a new subsea pipeline.
Caspian Sea
KazMunayGas and Eni S.p.A. have agreed to jointly enter an exploration and production concession for the Isatay exploration area offshore Kazakhstan, said to be prospective for oil. Additionally, they have agreed to develop an associated shipyard in Kuryk on the coast of the Mangystau region.
Sharjah's government has extended Zubara Petroleum Ltd's concession agreement for the Sharjah Offshore block in the United Arab Emirates, giving the company more time for drilling an exploration well by 3Q 2015. Zubara expects to complete its environmental impact assessment and site survey for the well by next January.
•••
Iranian Offshore Oil Co. (IOOC) plans new facilities to increase oil production from the current 20,000 b/d and to double gas output from the Hengam field in the Strait of Hormuz. IOOC will construct a new pipeline to shore-based process facilities. The field holds estimated in-place oil of over 700 MMbbl.
East Africa
Statoil ASA and ExxonMobil have notched their sixth gas discovery in Tanzania's deepwater block 2. The drillshipDiscovererAmericas drilled the Piri prospect in 2,360 m (7,743 ft) of water, 2 km (1.2 mi) southwest of the Lavani-1 well. Statoil estimates reserves in the structure at up to 3 tcf - the rig has since transferred to drill the Binzari prospect.
BG Group has awarded Genesis Oil & Gas Consultants Ltd. the upstream concept select study for its gas finds in Tanzanian blocks 1, 3 and 4, in water depths ranging from 1,000 to 1,800 m (3,281 to 5,905 ft). The development will be linked to a new LNG plant on the Tanzanian coast which could be shared by the block 2 partners.
India
Oil and Natural Gas Corp. (ONGC) is looking to further redevelop its Mumbai High (North) field off India's west coast, delivering a further 7 MM metric tons (7.7 MM tons) of oil production and 5.25 bcm of gas by 2030. This will entail adding five wellhead platforms, modifications to 13 existing installations, and drilling of 52 new wells and 24 side tracks. All work should be completed by May 2017.
Hess Corp. has issued a letter of award to Hyundai Heavy Industries Co., Ltd. (HHI) for a new central processing platform (CPP) and wellhead platform for the Bergading complex in the North Malay basin. Water depth is 60 m (197 ft). All facilities should be installed by year end-2016.
EnQuest plc has agreed to acquire ExxonMobil's interest in the Seligi oilfield, 240 km (149 mi) offshore peninsular Malaysia and in the associated Pm8 production sharing contract (PSC) for $67 million. Seligi has been developed via a production/gas compression platform complex in 73 m (239 ft) of water, connected to satellite platforms on four other fields in the concession. To date the fields have produced around 100 MMbbl of oil. EnQuest will cooperate with Petronas to extend production and the development through 2033.
•••
Carigali-PTTEPI Operating Co. Sdn Bhd (CPOC) has commissioned SapuraKencana Petroleum to construct and install four wellhead platforms and associated subsea pipelines. These will serve the block N-17 and B-17-01 field Phase 3 development project in the Thailand-Malaysia joint development area. All facilities should be in place by September 2017.
•••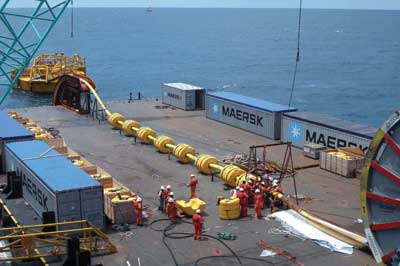 The Manora subsea flexible flowline riser undergoing attachment of buoyancy modules. (Photo courtesy Mubadala Petroleum)
Subsea work has been completed for the Mubadala-operated Manora oil development in the northern Gulf of Thailand, according to partner Tap Oil Ltd. The work included installation of a CALM buoy, risers, and connections to a subsea pipeline end manifold. Early last month the platform topsides were loaded out from the Sattahip fabrication yard and installed on the jacket, with the leased FSO due to arrive shortly afterwards. This month, the jackupAtwoodOrca should start drilling Manora's 10 production and five injection wells.
Elsewhere in the Gulf, KrisEnergy has approval to develop the Wassana oilfield in license G10/48, using a converted Bethlehem Mat type jackup and a mobile offshore production unit producing to an FSO. The jackup will have capacity to process up to 20,000 b/d of oil. The operator plans 12 to14 development wells.
GDF SUEZ S.A. and partner Santos Ltd. are to review more options for their Bonaparte LNG project, which takes in the offshore Frigate, Petrel, and Tern fields, 250 km (155 mi) west of Darwin. Although their original preference, a floating LNG project, is technically feasible, it is currently not practical in commercial terms. They will widen their studies to include a pipeline link to Darwin.
•••
Woodside Petroleum Ltd. has discovered gas in the Toro structure in the WA-430-P permit offshore Western Australia. The location is within 22 km (13.7 mi) of the Rangnar-1A discovery.
On July 7, Phase 2 of the offshore installation program, the load out and installation of the platform topsides was completed, with welding of the topsides to the jacket in progress. The platform topsides were loaded out from the Sattahip fabrication yard on July 2 and transported to the Manora development location for installation. The platform topsides were then successfully installed and secured on the previously installed jacket on July 7.
Final hook-up and commissioning work will proceed prior to the arrival of theAtwood Orca jackup drilling rig in mid-August to commence drilling the 10 production and five injection wells.