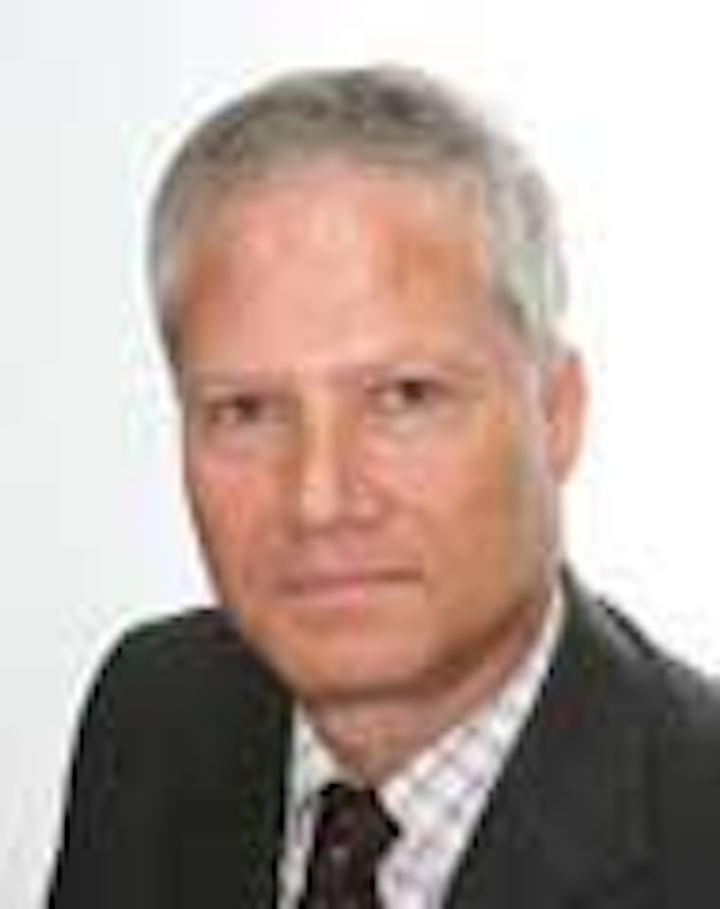 | | | |
| --- | --- | --- |
| | | Jeremy Beckman • London |
Global spending on offshore maintenance, modifications, and operations services totaled $113 billion in 2013, according to a report by Douglas-Westwood. During 2014-2018, the analysts forecast a surge in expenditure to $672 billion, 31% up on the previous five-year period. This will be due to a combination of high oil prices, high development activity, aging offshore infrastructure, and equipment cost inflation. Asia will lead demand for services with 30% of the market, followed by North America with 27%.
Assembly has started at Wison Offshore & Marine's construction yard in Shanghai of the topsides liquefaction equipment for the Caribbean floating LNG (FLNG) project. This will comprise a non-propelled barge stationed off the coast of Colombia, capable of converting 69.5 MMcf/d of natural gas to LNG for temporary storage and subsequent export. The vessel's three LNG storage tanks were installed in October. The vessel is expected to enter service in 2Q 2015.
•••
Petrobras expected the tender-assisted drilling semisubmersibleSS-88 to arrive in Brazil this month. It will head to the Papa Terra field in block BC-20, 70 mi (110 km) southeast of Rio de Janeiro, which began oil production in November. Petrobras has chartered the rig to work alongside Brazil's first tension leg wellhead platform, the P61. A modularized drilling package on the P61's deck will allow the 13 production wells to be drilled and completed from the platform. Papa Terra's oil is currently produced through the converted FPSO P-63. Water depths for the development range from 400-1,400 m (1,312-4,593 ft).
•••
Petrobras does not expect Brazil's giant Libra offshore oil field to enter production until 2020, with peak output following four years later. The operations license was awarded late in 2013 to a consortium comprising the Brazilian major (as operator), CNOOC, CNPC, Shell, and Total.
•••
Premier Oil and Rockhopper have farmed into two licenses off the Falkland Islands, which are held by fellow UK independent Falkland Oil & Gas Ltd (FOGL). The new entrants have agreed to fund FOGL's share of the costs of two exploration wells on the PL004a and Pl004c licenses, to be drilled late this year or early next year on the Isobel/Elaine and Jayne prospects.
Ghana's government has awarded a new deepwater concession in the Tano basin to a consortium of national oil company GNPC, GNPC Exploration and Production (Explorco), and AGM Petroleum Ghana. The 3,482-sq km (1,344-sq mi) South Deepwater Tano block is between two blocks in which Hess and Lukoil/Vanco have drilled eight deepwater discoveries, in water depths ranging from 2,000-3,500 m (6,562-11,483 ft).
•••
Afren estimates potential recoverable reserves from the Ogo discovery offshore Nigeria in the range of 774-1,180 MMboe, with further potential in the syn-rift play. Drilling, however, had to be suspended in November for safety reasons. PVT analyses to date suggest high-quality, 40°API oil at the Turonian level and condensate-rich gas in the Albian. The company and partners Lekoil and Optimum Petroleum Development plan follow-up appraisal drilling later this year.
•••
Cobalt International Energy's Lontra #1 well in block 20 offshore Angola has discovered oil and a high liquids-content gas. This was the company's third successive find in the Kwanza presalt basin. Last month theSSV Catanna transferred 15 mi (25 km) to the northeast to drill the Orca prospect on the same block.
•••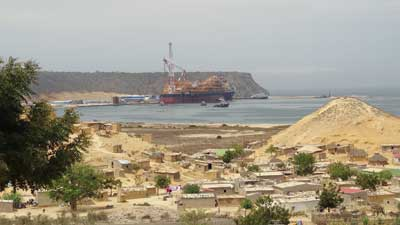 View of the CLOV FPSO at the Paenal yard in Angola. (Photo courtesy SBM Offshore)
Total's FPSO CLOV underwent a naming ceremony at the Paenal shipyard in Angola in December, a month after reaching port following its voyage from the DSME construction complex in South Korea. This was reportedly the first FPSO to berth at any African quayside. Paenal was purpose-designed by Sonangol and SBM Offshore to handle installation of topsides on very large floaters, due in large part to its 2,500-ton heavy-lift crane and 490-m (1,607-ft) long quay front.
Black Sea/ Mediterranean Sea
Eni has signed two cooperation accords in eastern Europe. One is a production-sharing agreement with the Ukrainian government to explore and develop a 1,400-sq km (541-sq mi) concession in the Black Sea on the eastern side of the Crimean Peninsula. Eni will operate in partnership with state-owned companies Vody Ukrainy and Chornomornaftogaz, and EDF.
The company has also signed a memorandum of understanding with Russia's Novatek to work together on future projects in the Mediterranean Sea.
•••
Ocean Rig and Energean Oil & Gas will participate in new bid rounds offshore Greece, the Black Sea, and Africa covering water depths of more than 1,000 m (3,281 ft). Their 50/50 joint venture OceanEnergean will draw on Energean's experience as Greece's sole offshore oil and gas producer and Ocean Rig's deepwater drilling capability.
•••
Noble Energy and its partners are reviewing options for the deepwater Aphrodite gas field in block 12 off southern Cyprus. According to Delek Group, parent company of two of the partners, these could include an integrated development with the same consortium's 19-tcf Leviathan field in Israeli waters, and construction of an onshore liquefaction complex in the Vassilikos area for LNG exports. Another route for Leviathan could be floating LNG.
Last month's Tamar SW gas discovery was the partners' eighth in the Israeli Levantine basin. The well, drilled in 5,405 ft (1,647 m) of water, encountered 355 ft (108 m) of net pay in the targeted Miocene intervals. Tamar SW's 640-770 bcf of resources have lifted the partners' discovered gas base in the Eastern Mediterranean close to 40 tcf.
Egypt's Petroleum Ministry has provisionally awarded Dragon Oil a shallow-water block in the Gulf of Suez off southern Egypt. Dragon pitched for the East Zeit bay block 19 under the Ganope International 2012 bid round. It covers an area of 93 sq km (36 sq mi) in water depths of 10-40 m (33-131 ft), and is close to various producing oil fields. Dragon plans seismic acquisition and two exploration wells.
•••
Dana Gas has contracted Adyard Abu Dhabi to construct a platform for the Zora gas field development, 40 km (24.8 mi) off the shared coasts of Sharjah and Ajman. The facility will be installed in a water depth of 24 m (79 ft), and is due to come onstream early in 2015. Zora's gas will head through a new 35-km (21.7-mi) subsea pipeline to a process plant onshore Sharjah. Dana Gas estimates the total project capex at $160 million.
East Africa
Statoil and partner ExxonMobil have a fifth gas discovery in deepwater block 2 off southern Tanzania. The drillshipDiscoverer Americas drilled Mronge-1 in 2,500 m (8,202 ft) of water, 20 km (12.4 mi) north of the Zafarani field. The well encountered gas at two separate levels, although the main accumulation was at the same stratigraphic level as Zafarani-1. The latest find increases total discovered (in-place) volumes on the block to 17-20 tcf.
In adjacent deepwater blocks 1, 3 and 4, BG Group and partner Ophir Energy have proved 15 tcf recoverable from nine discoveries, of which the two largest are Jodari and Mzia. This is sufficient for a two-train LNG project at an onshore site, due to be ratified by Tanzania's government. Both sets of partners will pool resources for the project. However, Ophir has been negotiating to sell 20% of its southern block interests to Singapore-based Pavilion Energy.
•••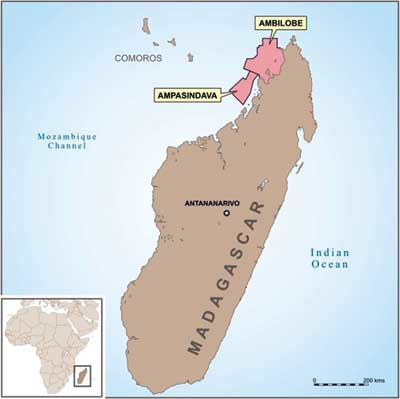 Ambilobe block offshore Madagascar. (Image courtesy Sterling Energy)
Madagascar's government has sanctioned Sterling Energy's farm-out of a 50% stake in the Ambilobe block off the island's northwest coast to Pura Vida Mauritius. The new partnership plans to acquire seismic data during 2014 over this largely unexplored area.
•••
Petroleum Agency South Africa has awarded Sasol Petroleum International an exploration right license off South Africa's east coast. The permit is offshore Kwazulu-Natal province, and spans the Durban and Zululand basins. Both are at the southern end of the Mozambique Channel, which has delivered large gas finds for Eni and Anadarko. Sasol has already acquired 4,000 km (2,485 mi) of 2D seismic over the concession, with more to follow this year.
A Russian/South Korean consortium is looking to establish a new shipbuilding/industrial cluster in the southern Primorskiy Krai region of eastern Russia. Rosneft, Gazprombank, Sovcomflot, and DSME aim to construct a new complex at the Zvezdayard focused on shipbuilding and marine equipment for offshore projects.
•••
Otto Energy has started oil production from the Galoc Phase 2 project offshore the Philippines. The Galoc field has delivered more than 11 MMbbl since the Phase I start-up in 2008. TheOcean Patriot drilled four new development wells which will eventually add an average of 12,000 b/d, extending the field's life into the next decade. Galoc produces through the FPSO Rubicon Intrepid.
•••
Hess has agreed to sell its interests in two producing fields offshore Indonesia for $1.3 billion to PT Pertamina and Thailand's PTTEP. Hess' share of production from Pangkah and Natuna A is around 15,000 boe/d. Following closure of the transaction, the two buyers will jointly operate Pangkah, an oil field with associated gas in the East Java Sea with reserves of 110 MMboe. Natuna A is a gas field in the West Natuna Sea, close to the Malaysia/Indonesia median line, with reserves of 209 MMboe. In this case, Premier Oil will remain operator.
The 488-m (1,601-ft) long hull of Shell's Prelude floating LNG vessel has left the dry dock of the Samsung construction yard in Geoje, South Korea. It will eventually be deployed 475 km (295 mi) northeast of Broome, northwest Australia, where it should remain in service for around 25 years. The facility is designed to produce 3.6 MM metric tons/yr of LNG, and to remain on station in all types of weather.
•••
Australia's National Offshore Petroleum Titles Administrator (NOPTA) has offered Carnarvon Hibiscus and partner 3D Oil a production license for the West Seahorse oil field in the Gippsland basin offshore southeast Australia. NOPTA Petroleum has also approved the field's development plan.
•••
New Zealand Oil & Gas (NZOG) has won interests in three offshore permits under New Zealand's 2013 Block Offer. The PEP 55793 "Vulcan" permit is offshore Taranaki, while PEP 55794 "Toroa" is a 9,835-sq km (3,797-sq mi) frontier permit southeast of New Zealand's South Island. Operator Woodside has committed to 3D seismic acquisition toward the end of this year. NZOG additionally gained 100% of PEP 55792 "Galleon" offshore Canterbury.
Statoil gained 100% of a 10,000-sq km (3,861-sq mi) permit in the Reinga-Northland Offshore Release Area, 100 km (62 mi) west of the North Island, in 1,000-2,000 m (3,281-6,562 ft) of water. This marks the company's entry into E&P off New Zealand. It plans 2D seismic acquisition and a multi-beam seafloor survey during the permit's initial phase.