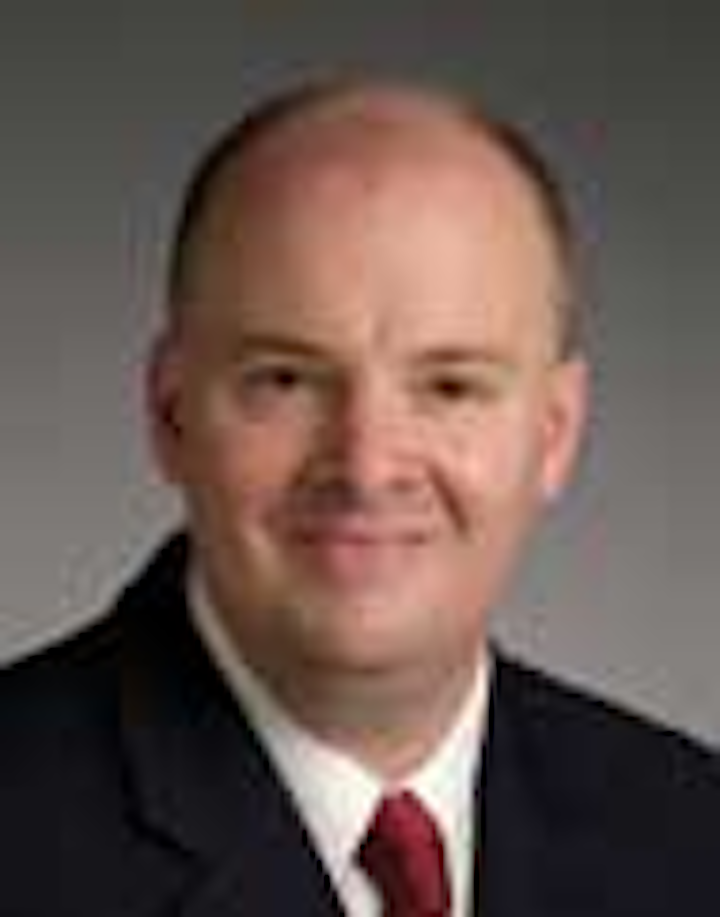 | | | |
| --- | --- | --- |
| | | Bruce Beaubouef • Houston |
The US Department of the Interior will offer more than 40 million acres for oil and gas exploration and development in theGulf of Mexico in March lease sales.
Secretary of the Interior Sally Jewell and Bureau of Ocean Energy Management (BOEM) Director Tommy P. Beaudreau say Lease Sale 231 in the Central Planning Area and Lease Sale 225 in the Eastern Planning Area will be held consecutively in New Orleans, Louisiana, on March 19. The sales will be the fourth and fifth offshore auctions under the Administration's Outer Continental Shelf Oil and Gas Leasing Program for 2012-2017 (Five-Year Program).
Sale 231 encompasses about 7,507 unleased blocks, covering 39.6 million acres, located from three to 230 nautical miles offshore Louisiana, Mississippi, and Alabama, in water depths ranging from 9 ft (3 m) to than 11,115 ft (3,400 m). BOEM estimates the proposed sale could result in the production of approximately 1 Bbbl of oil and 4 tcf of natural gas.
Sale 225 is the first of only two lease sales proposed for the Eastern Planning Area under the Five-Year Program, and it is the first sale offering acreage in that area since Sale 224 in March of 2008. The sale encompasses 134 whole or partial unleased blocks covering about 465,200 acres in the Eastern Planning Area. The blocks are at least 125 mi. (201 km) offshore in water depths ranging from 2,657 ft (810 m) to 10,213 ft (3,113 m). The area is south of eastern Alabama and western Florida. BOEM estimates the sale could result in the production of 71 MMbbl of oil and 162 bcf of natural gas.
In addition to opening bids for these two sales, BOEM will open any pending bids submitted in Western Planning Area Sale 233 for blocks located or partially located within three statute miles of the maritime and continental shelf boundary with Mexico (the Boundary Area). Any leases awarded as a result of these bids will be subject to the terms of the US-Mexico Transboundary Hydrocarbons Agreement.
Lucius spar installation completed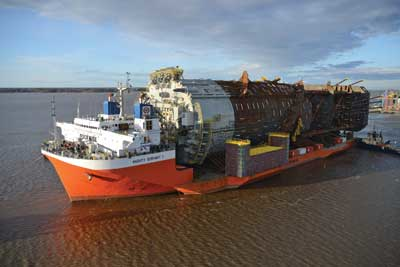 Anadarko says it has completed installation of the 80,000 b/d of oil capacity Lucius spar in Keathley Canyon block 875 in the Gulf of Mexico. Last year, Dockwise transported the spar on its semisubmersible heavy-lift vesselMighty Servant from Pori, Finland, to Ingleside, Texas. (Photo courtesy Dockwise)
Anadarko has completed installation of the 80,000 b/d oil capacity Lucius spar indeepwater Gulf of Mexico. The topsides are expected to be towed to location in 1Q 2014.
Lucius is on schedule toward first oil production in the second half of 2014, said Anadarko, and construction on the Lucius-look-alike Heidelberg spar is more than 70% complete. Heidelberg is on schedule for first oil production in 2016.
Anadarko's 2013 deepwater GoM success was highlighted by the emergence of the Shenandoah basin. Following the Anadarko-operated Shenandoah-2 appraisal well, which encountered more than 1,000 net feet of oil pay, and oil discoveries at the nearby Coronado and Yucatan prospects, Anadarko enhanced its ownership position in, and will become the operator of Coronado.
Anadarko is the only company with ownership in all three discoveries in the Shenandoah basin. In addition, Anadarko and its partners are accelerating appraisal activity in the basin with appraisal wells under way at Coronado and Yucatan, and a rig committed to drill a delineation well at Shenandoah beginning in 2Q 2014
Shell starts second Mars production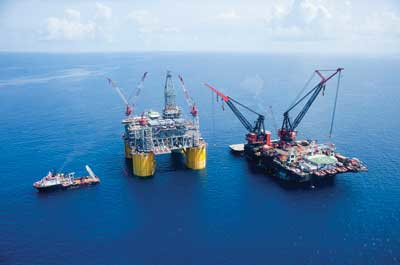 Shell says production from the deepwater Mars B platform has begun, marking the first deepwater GoM project to expand an existing oil and gas field with significant new infrastructure. (Photo courtesy Shell)
Shell has started producing from the deepwaterMars B platform in the Gulf of Mexico. Production is going through the Olympus installation, making this the first deepwater GoM project to expand an existing oil and gas field with significant new infrastructure.
Shell said this should extend the life of the greater Mars basin production to 2050 or beyond. When added to future Olympus production, the original Mars platform is expected to deliver a total of 1 Bboe.
"We safely completed construction and installation of the Olympus platform more than six months ahead of schedule, allowing us to begin production early from the development's first well," said John Hollowell, executive VP for Deep Water, Shell Upstream Americas. "Olympus is the latest successful start-up of our strong portfolio of deepwater projects, which we expect to generate substantial value in the coming years. Deepwater will continue to be a core growth opportunity for Shell."
In addition to the Olympus drilling and production platform, the Shell Mars B development includes subsea wells at the West Boreas and South Deimos fields, export pipelines, and a shallow-water platform at West Delta 143. Olympus is in approximately 945 m (3,100 ft) of water.
Using the Olympus platform drilling rig and a floating drill rig, additional development drilling will enable ramp up to an estimated peak of 100,000 boe/d in 2016. Mars field produced an average of over 60,000 boe/d in 2013. Partners in the development are operator Shell, 71.5%; and BP, 28.5%.
BSEE, Coast Guard respond to well control incident
On Jan. 31, the Bureau of Safety and Environmental Enforcement (BSEE) announced that along with the US Coast Guard it was responding to a loss of well control in Vermilion block 356. Vermilion block 356 is located about 108 mi (174 km) southwest of Lafayette, Louisiana.
EnVen Energy Ventures LLC reported a natural gas flow while drilling from the RowanLouisiana, at the A production platform. The gas was diverted overboard and work began immediately to shut in the well. No visible sheen was reported. Personnel were evacuated, no injuries were reported, and all oil and gas production at the platform was shut in.
BSEE approved EnVen's plan to kill the well with mud, and pumping began the afternoon of Jan. 31. By Feb. 3, the well control incident had been resolved. The BSEE reported that weighted drilling fluids had been pumped into well A-7 to stop the uncontrolled flow. The agency said that it will require additional work at the site, including setting of barriers to ensure no further gas release.