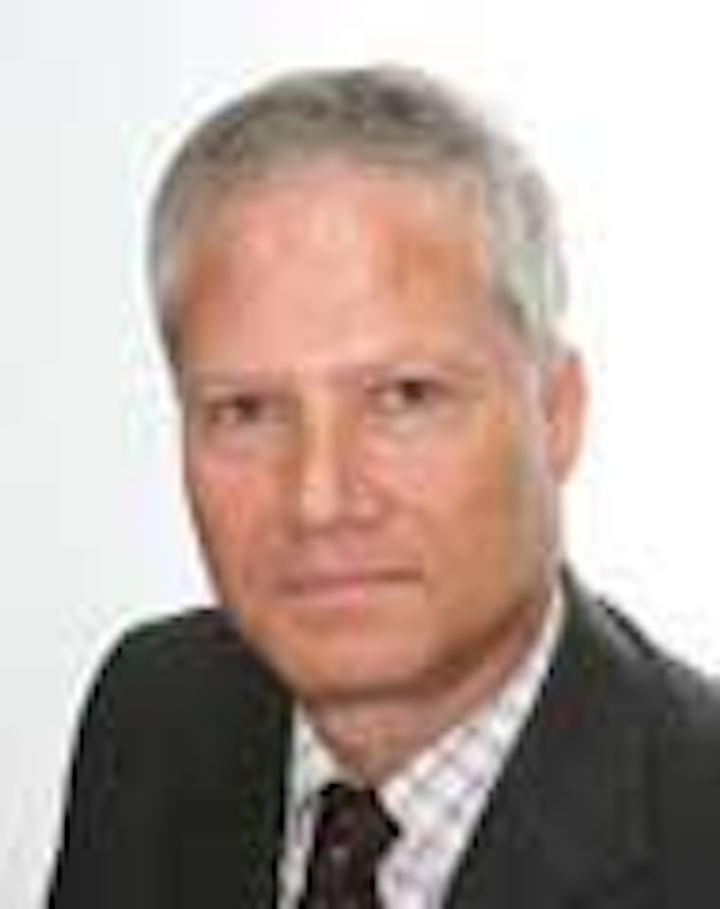 | | | |
| --- | --- | --- |
| | | Jeremy Beckman • London |
Jord Oil & Gas Systems has contracted Qingdao McDermott Wuchuan Offshore Engineering in China to fabricate three offshore process modules. These will be integrated on a jackup rig bridge-linked to the Akal G1 platform operated by Mexican oil company Nuvoil.
Oil has started flowing to the newP-58 FPSO serving the Parque das Baleias complex in the Campos basin. The facility will eventually handle production from the Baleia Ana, Baleia Azul, Baleia Franca, Cacholote, and Jubarte fields. One well is onstream, and operator Petrobras plans to drill eight more presalt and seven post-salt producers and nine water injectors. These will be interconnected through 250 km (155 mi) of flexible pipelines and two subsea manifolds wells. P-58 is designed to process 180,000 b/d of oil and 6 MMcm/d of gas. Oil will be offloaded to shuttle tankers and the gas sent through a pipeline to the onshore Cacimbas treatment center in the state of Espirito Santo.
•••
Petrobras has discovered oil in the Pitu structure in the deepwater Potiguar basin. The well was drilled 55 km (34 mi) offshore Rio Grande do Norte state in 1,731 m (5,679 ft) of water. It intersected a 188-m (617-ft) hydrocarbon column with 24° API oil. The company and partner Petrogal plan further exploration in the surrounding BM-PT-17 concession.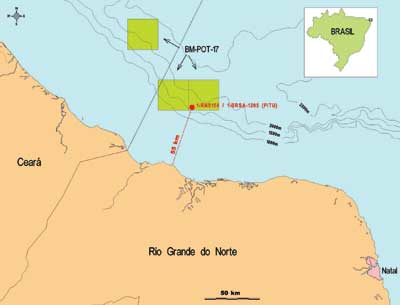 Location of the Pitu discovery in the Potiguar basin. (Map courtesy Petrobras)
In the Espirito Santo basin, government agency ANP has approved Statoil's acquisition of Vale's 25% equity in the Petrobras-operated BM-ES-22A concession. This covers two blocks and includes last year's São Bernardo oil discovery, which recently underwent appraisal via the Montanhés well.
Morocco's government has awarded Chariot Oil and Gas operatorship of the nearshore Mohammedia reconnaissance license, in water depths below 500 m (1,640 ft). Chariot requested the award to pursue analysis of a Miocene-Pliocene lead that extends from the adjoining offshore Loukos license. Dolphin Geophysical was due to start a 3D seismic survey over the concessions in April.
•••
Cairn Energy expected to start a planned two-well campaign last month on its exploration acreage off Senegal. These will be the country's first deepwater wells. The first well, targeting the North Fan prospect in 1,427 m (4,682 ft) of water, should be followed by a second on a shelf edge prospect in 1,100 m (3,609 ft) water depth.
•••
Tullow Oil has asserted a force majeure event under a joint operating exploration agreement/PSC offshore Guinea. Tullow said the US Department of Justice and the US Securities and Exchange Commission would investigate Hyperdynamics' activities in obtaining and retaining rights for the concession. The other partner is Dana Petroleum.
•••
Bumi Armada Berhad has a Letter of Intent from Eni to convert the VLCC tankerArmada Ali to an FPSO for the East Hub project in block 15/06 offshore Angola. The completed vessel should be delivered towards the end of 2016. Contract value is $2.9 billion.
Black Sea
Saipem will lay the first offshore gas pipeline for the South Stream project. Eventually, four parallel lines will take gas from Russian onshore fields 930 km (578 mi) across the southern Black Sea to Bulgaria, and from there to markets in southeast Europe. Under the $2.78-billion contract, Saipem will deploy theSaipem 7000 and Castoro Sei for the offshore installations, and will also construct the landfalls on either side of the sea. Work on line 1 will continue until summer 2015, with commissioning due to be completed by year-end.
A consortium of Energean, Trajan Oil & Gas, and Schlumberger is set to be awarded the Katakolon exploration block offshore western Greece. This follows the government's evaluation of bids under the country's Open Door round, launched in January 2012.
•••
PA Resources (PAR) and Tunisian state oil company ETAP are working on an updated development plan for the Zarat field in the Gulf of Gabes. Work should be completed in mid-year. PAR was also expecting approval to renew the license and its farm-out of this and other holdings off Tunisia to London-based EnQuest. Elsewhere, the new partners plan production enhancement measures at the offshore Didon field, including electric submersible pumps in existing wells.
•••
Woodside Petroleum says it will continue discussions with the partners in the deepwater Leviathan gas development offshore Israel after failing to agree to farm-in terms by the late March deadline. The parties will also extend negotiations with the government of Israel to resolve the remaining issues.
The government has granted two title deeds in lieu of offshore licenses 349/Rachel and 350/Amit encompassing Leviathan South and North. Noble Energy operates in partnership with Avner Oil, Delek Drilling, and Ratio Oil. The partners have been told to submit a development plan within six months, and they have agreed to sell their interests in two other offshore licenses containing the Karish and Tanin gas discoveries. The buyer will additionally have the option to also purchase over 15 bcm of gas from the Leviathan reservoir.
•••
Wintershall says two wells drilled last year proved gas in the Al Radeef reservoir in Qatar's offshore 4N concession. The company estimates potential resources of 450 MMboe and plans feasibility studies for a development.
East Africa
BG may have a discovery offshore Kenya. According to partner Pancontinental Oil and Gas, the Sunbird-1 well in the L10A concession intersected a hydrocarbon column at Miocene level, although the vertical extent was hard to quantify due to difficulties assessing wireline logs in the upper part of the Miocene reef. The drillshipDeepsea Metro-1 drilled the well in 723 m (2,372 ft) of water.
•••
Singapore-based Pavilion Energy has completed a $1.266-billion farm-in to 20% of blocks 1, 3, and 4 offshore Tanzania held by Ophir Energy. A further payment will follow a final investment decision to develop the various deepwater gas discoveries within the blocks, likely in 2016. Operator BG aims to prove up more gas this year with exploration wells on the Taachui prospect in block 1 and Kamba in block 4.
•••
The National Assembly of the Union of the Comoros has granted an exploration and production-sharing agreement for three offshore blocks to Bahari Resources and partner Discover Exploration. The Comoros archipelago lies in the Indian Ocean between East Africa and Madagascar. Blocks 35, 36, and 37 extend over an area of 18,000 sq km (6,950 sq mi) and are adjacent to the gas-rich Rovuma basin offshore Mozambique. The partners plan a phased seismic and drilling program and a regional study across the territory on behalf of the government.
Santos Sangu has secured operatorship of a five-year PSC for block SS-11 in the Bay of Bengal off Bangladesh. Most of the acreage is in shallow water up to 200 m (656 ft) deep, although depths in the southwest portion reach 1,500 m (4,921 ft). Santos and main partner KrisEnergy will acquire and process 2D and 3D seismic and drill one well.
•••
Myanmar's government has issued a batch of exploration permits following the country's 2013 offshore bid round. Chevron subsidiary Unocal Myanmar Offshore gained block A5 in the Rakhine basin, 200 km (125 mi) northwest of Yangon. In the same basin, BG Group operates blocks A4 and AD2, while Ophir provisionally secured operatorship of deepwater block AD-03, on trend with the producing Shwe offshore gas field. Statoil will work with ConocoPhillips in deepwater block AD-10 in the Bay of Bengal, while Australia's ROC Oil operates shallow-water block MO7 in a gas-prone area in the Moattama basin.
•••
Salamander Energy is assessing options for expanding infrastructure at its Bualang field offshore Thailand. This could mean adding further platforms; assuming sanction for a next phase of development by mid-year, the new facilities could start up in 2016, pushing oil production from the field above 15,000 b/d. The company is also looking to add more wells slots to the Bualang Bravo platform.
•••
CNOOC and Husky Energy have started production from the Liwan gas project in the South China Sea, 300 km (186 mi) southeast of the Hong Kong Special Administrative Region. Development takes in three fields, with a shared subsea production system, subsea pipelines, and onshore gas processing. Under the $6.5-billion first phase, gas from the producing Liwan 3-1 field should build to around 300 MMcf/d, with 10-14,000 boe/d of production from condensates and natural gas liquids. Liuhua 34-2 should be tied in later this year, with Liuhua 29-1 to follow during 2016-17. CNOOC operates the shallow-water facilities and onshore terminal, while Husky operates the deepwater infrastructure.
In the Bohai offshore region, CNOOC has discovered gas with a well on the Bozhong structure in 22 m (72 ft) of water. In the process the company claims to have uncovered a new gas play on the south slope in the Bozhong Sag.
•••
Petronas has approved the BC Petroleum partners plan for an initial phase development of the Bentra oil field in the Balai Cluster offshore eastern Malaysia. Phase 1, due to start up before mid-year, will produce from two wells connected to the early production vesselBalaiu Mutiara, averaging around 2,000-3,000 b/d. Bentara is in 60-70 m (197-229 ft) of water, 175 km (109 mi) northwest of Bintulu. The partners also plan further appraisal of other structures in the cluster area.
•••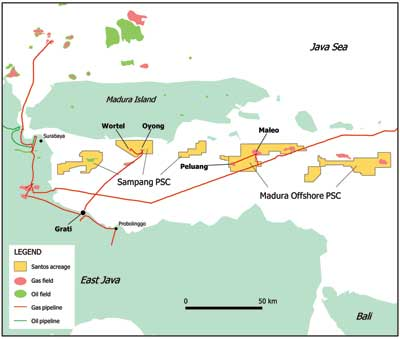 Click to Enlarge
The Peluang-Maleo tieback offshore Java. (Image courtesy Santos)
Santos has started production from the Peluang gas project in the Madura PSC offshore East Java. Peluang is a tieback to existing facilities serving the Maleo field. At peak the field should produce 25 MMcf/d.
Cooper Energy has agreed to take a 65% operated interest in the Basker/Manta/Gummy (BMG) gas and liquids project in the Gippsland basin offshore Victoria, pending approvals. The Australian company will also net 65% of surrounding production licenses Vic/L26, Vic/L27, and Vic/L28. The sellers are ROC Oil and Beach Energy. The BMG fields, 65 km (40 mi) offshore in water depths of 150-350 m (492-1,148 ft), were developed for oil and gas production and gas reinjection. In 2010, the facilities were shut down and some have since been removed, although subsea infrastructure remains in place. Cooper sees potential for further gas development to serve the eastern Australian market.