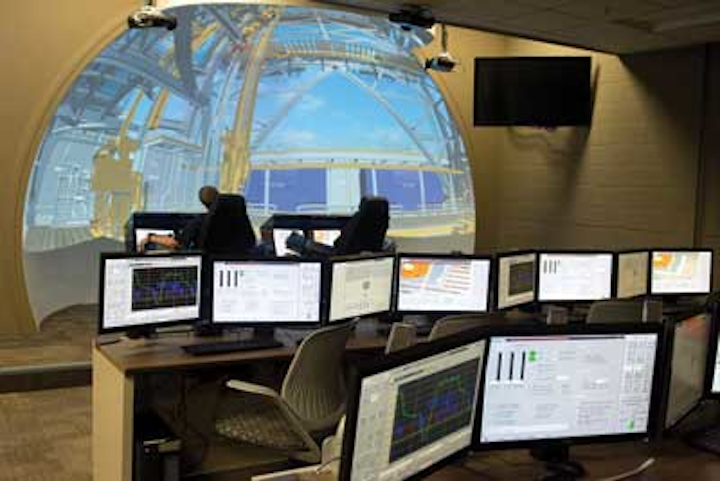 Improving perception of industry is key to attracting talent
Jessica Tippee
Assistant Editor
Theoil and gas industry's "great crew change" has been a looming challenge for years. As many baby boomers reach retirement, fewer young people earn engineering and science-based degrees or find the oil and gas industry attractive and rewarding. While the global demand for oil and gas continues to increase, so does the shortage of technical (engineering, geoscience, etc.) skills in the industry.
A recent report by Practicus Ltd.,Skills and Capability Challenges Facing Upstream, points out that the skills shortage needs to be addressed from many angles – industry, government, education, and training providers – to make a difference in the mid- to long-term. "Growing ties with learning institutions, becoming more active in schools and universities, and improving the perception and understanding of the industry among upcoming talent are key parts of the solution to attracting the next generation," the report says.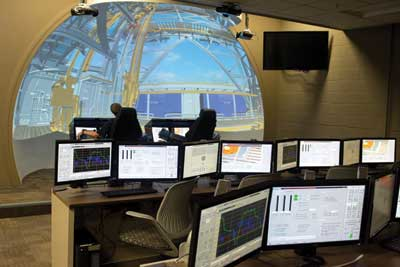 National Oilwell Varco donated a $2.7-million drilling simulator that includes two Cyberbase chairs and a computer representation of an offshore well projected onto a dome-shaped screen. (Photo courtesy Cockrell School of Engineering)
Academia and the industry
The Bureau of Safety and Environmental Enforcement (BSEE) has announced a $5-million, five-year agreement to establish the Ocean Energy Safety Institute, in partnership with Texas A&M University, the University of Texas at Austin, and the University of Houston. It will provide a forum for dialogue, shared learning, and cooperative research among academia, government, industry, and other non-government organizations in offshore-related technologies and activities to help ensure environmentally safe and responsible offshore operations. The Mary Kay O'Connor Process Safety Center within the Texas A&M Engineering Experimental Station will manage the institute.
BSEE Director Brian Salerno said: "The institute will develop a program of research, technical assistance, and education that serves as a center of expertise in offshore oil and gas exploration, development and production technology, including frontier areas, such as high-temperature/high-pressure reservoirs, deepwater, and Arctic exploration and development."
The University of Texas at Austin Department of Petroleum and Geosystems Engineering has opened three new laboratories to advance energy research and transform how students learn about drilling for oil and gas. The three labs include: the Real-Time Operations Center, the Drilling Automation Lab, and the Zonal Isolation Lab. Baker Hughes donated $1.7 million to the university.
The Bob L. Herd Department of Petroleum Engineering at Texas Tech University recently established a $22.8-million research facility. The 42,000-sq ft (3,900-sq m) Terry Fuller Petroleum Engineering Research Building features the following laboratories, teaching, and research areas:
Anadarko Unconventional Technology Center
Apache Upstream Research Center
Chevron Reservoir and Drilling Simulation Center
Michael Herd Fracturing and Production Laboratory
LINN Energy Student Lounge
Oxy Enhanced Oil Recovery Laboratory
Pioneer Natural Resources Pressure Volume Temperature Laboratory.
The University of Aberdeen in the UK has established a new institute of energy to create a global center of energy research, industry collaboration, and education. The Aberdeen Institute of Energy will provide a multi-disciplinary environment to respond to industry challenges. Academic oil and gas activity will be drawn together from many disciplines involving physical, environmental and social scientists, engineers, economists, and lawyers. The university says every stage of the oil and gas life cycle will be covered, from demand through exploration, production and generation, distribution and consumption, to environmental impact, and the choices and behaviors that influence demand.
Scotland's First Minister Alex Salmond has pledged £10.6 million ($17.7 million) in funding for a new Oil and Gas Innovation Centre (OGIC). Based in Aberdeen, this will bring academic and private sector groups to collaborate on new technologies to increase production and reduce costs. The center will link more than 2,300 oil and gas operator and service companies to 12 Scottish universities with more than 450 academic staff and researchers.
The new body aims to attract more than £26 million ($43.3 million) of investments from other sources, including industry external funding agencies, within its first five years. Academic partners include Heriot-Watt University, University of Aberdeen, University of Strathclyde, University of Abertay, University of Dundee, University of Edinburgh, University of Glasgow, University of the Highlands and Islands, Robert Gordon University, University of St Andrews, Glasgow Caledonian University, and University of the West of Scotland.
Robert Gordon University (RGU) and Russian oilfield educational and engineering services company OILTEAM have formed a partnership worth more than £1.2 million ($2 million) to train the next generation ofRussia's offshore professionals. OILTEAM's Academy and RGU will deliver a master's of science degree in offshore oil and gas engineering in the Black Sea town of Sochi. Targeting graduates as well as employees of oil and gas majors, the one-year program aims to equip specialists with backgrounds in land-based E&P, with a comprehensive overview of the challenges, technologies, and know-how from the world's leading offshore theaters.
Curtin University in Perth, Australia, is the first university in Australia and New Zealand to offer a master's degree in subsea engineering. The two-year program will train students in the latest technologies involving offshore oil and gas production.
Seven universities have launched an initiative to establish worldwide standards forsubsea engineering education. The Global Subsea University Alliance consists of the University of Houston (US), Curtin University (Australia), Federal University of Rio de Janeiro (Brazil), the National University of Singapore, the University of Aberdeen (Scotland), the University of Bergen (Norway), and the University of Stavanger (Norway). The alliance seeks to establish a global subsea curriculum in coordination with companies such as Cameron and FMC Technologies.
In August 2013, the Houston (Texas) Independent School District opened the nation's first school focused on science, technology, engineering, and mathematics. The Energy Institute High School is a magnet program where students focus on geosciences, alternative energy, or offshore technology.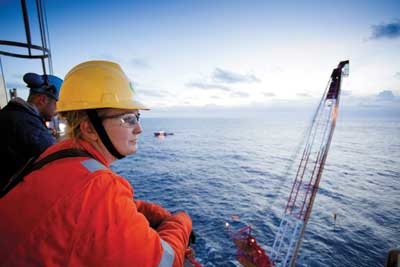 Drilling engineer Claire Horsman on board theByford Dolphin drilling rig in the North Sea. (Photo courtesy BP)
Women in the industry
As the competition for talent escalates, the industry will diversify to fill the talent gap.
NES Global Talent expects the oil and gas industry will focus more on recruiting women. The company's recent report,Attracting and retaining women in oil and gas engineering – a survey examining the gender talent gap, says that to attract and retain female workers, the industry needs to improve its ability to provide mentorships, recognize workers equally, and highlight the benefits of studying science, technology, engineering, and mathematics (STEM).
The 2013 Economic and Statistics Administration Report says women comprise half of the US workforce, but hold less than 25% of STEM jobs and 14% of engineering positions.
According to the first "Global Diversity and Inclusion Report," career prospects for women in the oil and gas industry have improved in recent years, and more women are taking advantage of the opportunities. The survey examined female representation from the perspective of 3,000 oil and gas professionals. One in five strongly agreed gender-based discrimination occurs within the industry. Respondents cited societal conditioning, a lack of qualified candidates, and family care responsibilities as the most significant barriers to increasing the proportion of women in the industry. The report found that implementing STEM programs in schools, offering flexible working arrangements, and establishing company goals to encourage an improved gender balance were cited as the most important ways to increase female representation.
The report says that male and female oil and gas professionals agree on the top three decision points for selecting an employer: transparency in remuneration structure, availability of mentoring and sponsorship programs, and flexible working arrangements. However, female respondents placed more importance on mentoring and sponsorship programs and pay transparency, while male respondents placed more importance on companies offering specific childcare benefits. At the same time, both men and women placed nearly equal importance on flexible work arrangements when selecting an employer.
Global job opportunities
As investment and confidence rises in the offshore oil and gas market, more jobs will be created. The Global Oil & Gas Workforce Survey 2014 – published by OilCareers.com and Air Energi – identified engineers as the most in-demand job role in the industry, followed by project managers, drilling and contract administrators, and geologists.
The UK's oil and gas industry supports about 440,000 jobs, but as business confidence and investment in the industry grows, an estimated 20,000 more jobs will be created in the North Sea alone this year.
With an estimated $200 billion worth of projects under way, the Australian Workforce and Productivity Agency found that by 2018 the country's oil and gas workforce is expected to increase by 57%.
A new study released by the National Ocean Industries Association and the American Petroleum Institute indicates that offshore oil and natural gas development on the US Atlantic outer continental shelf could create about 280,000 jobs, spur an additional $195 billion in new private investment, contribute up to $24 billion/year to the US economy, generate $51 billion in new revenue for the government, and add 1.3 MMboe/d to domestic production between 2017 and 2035.