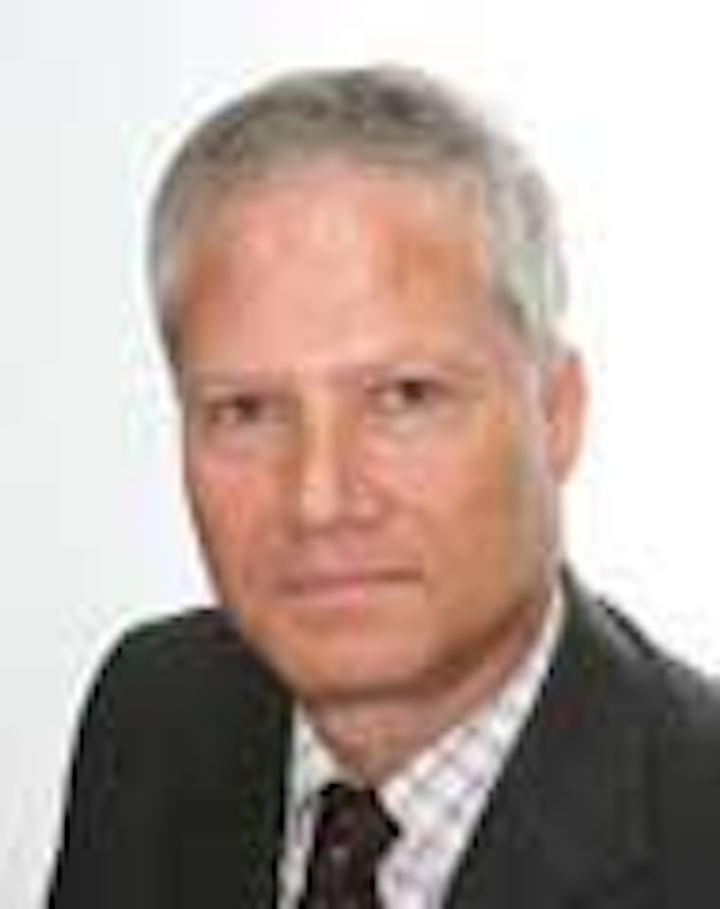 | | | |
| --- | --- | --- |
| | | Jeremy Beckman • London |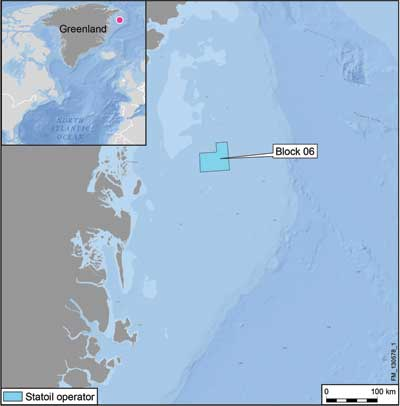 Statoil will operate block 6 offshore Greenland license (Map courtesy of Statoil).
Greenland's government has awarded exploration licenses for four blocks in the Greenland Sea off the country's northeast coast. Operating conditions in the area are known to be among the harshest anywhere in the Arctic Circle. State-owned Nunaoil will participate in all the concessions.
Statoil will operate block 6 (Avinngaq) in partnership with ConocoPhillips. Statoil has already conducted shallow core drilling, and will initially focus on seismic acquisition. Eni, BP, and DONG team up for block 8 (Amaroq). Chevron, Greenpex, and Shell will collaborate in blocks 9 and 14 (Umimmak and Nerleq).
Husky Energy has commissioned Wood Group Mustang Canada to provide detailed engineering and design for the White Rose extension project offshore Newfoundland & Labrador. This covers the integrated topsides, which will be supported by a concrete gravity structure. Wood Group companies completed front-end engineering design for the topsides last year.
RWE Dea has agreed to farm into 30% of the Kanuku license in the Guyana-Suriname basin off Guyana. Repsol operates, in partnership with Tullow Oil. The 6,525-sq km (2,519-sq mi) concession is 80 km (49.7 mi) offshore, with the main prospectivity anticipated to be at the Cretaceous level, out to 200 m (656 ft) water depth. A review is under way of new 3D and 2D seismic data to determine drilling candidates.
Off neighboring Suriname, Cepsa has taken a 25% stake in deepwater block 53, operated by Apache. Here the program includes acquiring 3D seismic and drilling two exploratory wells.
•••
The semisubmersible platform P-55 has started operating on the Roncador field in the Campos basin, offshore Brazil. The facility, part of operator Petrobras' Roncador Module 3 project, will be connected eventually to 11 oil and gas producer wells and six water injectors. It has capacity to process 180,000 b/d of oil and to compress 6 MMcm/d (212 MMcf/d) of gas. At 55,000 tons, it is the largest production semi built to date in Brazil.P-55 operates alongside existing platforms P-52 and P-54 in 1,800 m (5,905 ft) of water.
In the deepwater Potiguar basin offshore Rio Grande do Norte, Petrobras has notched its first oil discovery in the BM-POT-17 permit. This was confirmed by logs and samples from the well on the Pitu structure, drilled 55 km (34 mi) offshore in 1,731 m (5,679 ft) of water. Petrobras has also confirmed a gas/oil extension of a 2012 discovery in the Moita Bonita area of the ultra-deepwater Sergipe-Alagoas basin. Moita Bonita-1, drilled 7 km (4.3 mi) from the discovery well in 2,800 m (9,186 ft) of water, encountered 50-m (164-ft) thick reservoirs.
The Gambian government has notified African Petroleum that its offshore licenses will be terminated. These cover blocks A1 and A4. The Australian independent had mapped the potentially giant Alhamdullilah prospect in 2,300 m (7,546 ft) of water, and had hoped to drill a first exploration well last year,
•••
OMV has agreed to farm into four blocks offshore Gabon held by Ophir Energy, subject to government approval. These span a total area of over 12,000 sq km (4,633 sq mi). The partnership plans to drill three exploratory wells this year on the Gnondo, Mbeli, and Ntsina prospects, including subsalt targets.
Black Sea
Up to 10 deepwater exploration wells could be drilled in the Black Sea by 2018, according to analysts Wood Mackenzie. ExxonMobil/OMV Petrom will lead the way with follow-up drilling on their Domino gas discovery in the Romanian sector. Successful appraisal could lead to first production in 2019, the analysts claim, with Eastern European countries in need of gas-fired power as the likeliest market.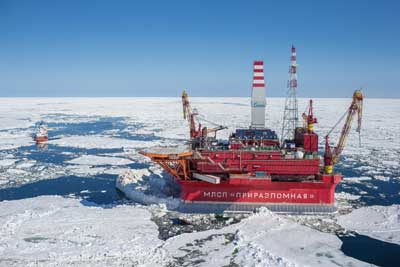 The Prirazlomonye ice-resistant platform. (Photo courtesy Gazprom).
GSP Offshore expects to mobilize the jackupGSP Saturn this May to the Pechora Sea in the southeastern Barents Sea. It will drill and test the North-Dolginskaya No. 3 well for Gazpromneft-Sakhalin under a two-year contract. The program was originally due to start last year, but had to be postponed.
Gazprom has finally produced first oil from Prirazlomonye field, also in the Pechora Sea, despite Greenpeace's attempts to halt operations by boarding the ice-resistant fixed platform. The field is 60 km (37 mi) offshore, with reserves of 525 MMbbl. Gazprom is targeting annual production of 43.8 MMbbl, with associated gas used for the crew/platform's needs. The 506,000-ton structure is protected from wave/ice impact by a high-strength deflector, with all wellheads located inside the platform.
Caspian Sea
Prior to Christmas, the BP-led consortium for the Shah Deniz field in the Azeri sector committed to the Stage 2 development. This involves constructing two new bridge-linked platforms, drilling and completing 26 new subsea wells, and extending the overland gas pipeline system eastward to connect with the new Trans Adriatic Pipeline (TAP) in southeast Europe. BP estimates the total investments at around $28 billion. KBR will provide engineering design and procurement services for the new offshore complex and associated two-train gas processing facilities at Sangachal Terminal.
Russia's Soyuzneftegaz has reportedly agreed to a joint exploration program with Syria's government in the eastern Mediterranean Sea. The 25-year agreement is said to cover an area of 2,190 sq km (845 sq mi).
•••
Noble Energy aims to expand throughput at gas compression facilities in Ashdod, Israel, to 1.5 bcf/d by 2016. The facility receives supplies from the deepwater Tamar field in the Levantine basin. Expansion will likely coincide with development of the recent Tamar Southwest discovery.
Additionally, the company plans multiple phases of development for the 19-tcf offshore Leviathan field, leading to first production in 2017. Delek Group, parent company for two of Noble's partners, says a deal has been struck to supply 4.75 bcm of gas from the field contained in the Rachel and Amit licenses to Palestine Power Generation Co. This would head to a proposed new power plant near Jenin in the northern West Bank. Closure remains contingent on approvals for Leviathan and financing of the onshore plant.
•••
Egypt is offering 22 oil and gas exploration concessions, with bids due by May 19. Areas covered include the Mediterranean Sea, the Nile Delta and the Suez Canal region. The government may alter its gas pricing arrangements to offset the high costs of deepwater exploration.
•••
Abu Dhabi Oil Co. (ADOC) has contracted Mott MacDonald to manage Phase 1 of the Halul oilfield development offshore Abu Dhabi, 10 km (6.2 mi) south of Mubarraz Island. This is an expansion program designed to maximize and extend production for 30 years. Production manifolds will be installed on a new artificial island.
•••
JX Nippon Oil & Gas has contracted GDI's jackup Al Khor to drill the JXQA-1 exploration well this spring offshore Qatar on block A (Pre-Khuff). JX Nippon has a 100% interest in the concession.
East Africa
Aminex is close to completing a gas sales agreement with the Tanzania Petroleum Development Corp. for the offshore Kiliwani North field. This should lead to first gas heading through a new 36-in. regional pipeline system in early 2015.
India
ONGC will reportedly commit $9 billion to bring onstream various oil discoveries off eastern India by 2017-18. The company has 11 oil and gas finds in the KG-DWN-98/2 block in the Krishna Godavari basin, four of which were discovered by previous operator Cairn Energy. Since taking over in 2005, ONGC has added seven discoveries, including UD-1 in 2,841 m (9,321 ft) of water. The company plans to exploit reserves in the block's Northern Discovery area via an FPSO, and could also use facilities in adjacent block KG-D6, operated by Reliance Industries.
The keel has been laid for the hull of Petronas' first floating liquefied natural gas (FLNG) vessel at the DSME shipyard in Okpo, South Korea. Construction of thePFLNG 1 vessel started last June, and should be finished in 4Q 2015.
The completed vessel, 365 m (1,197 ft) long and weighing around 125,000 metric tons (137,789 tons), will be the first in operation anywhere, Petronas claims, and the first to employ a dual row cargo containment system to ensure limited sloshing within the hull. It will be stationed over the Kanowit gas field, 180 km (112 mi) offshore Sarawak, and producing 1.2 MMmt/yr (1.32 MMt/yr) of LNG.
Elsewhere off Sarawak, the company's operator-partner Mubadala Petroleun has discovered gas with a well on the Sintok structure, 240 km (149 mi) northwest of Bintulu. Analysis of the well data indicated a 292-m (958-ft) gas column. This was the third gas find on block SK320 since it was awarded in February 2010.
•••
UK independent Salamander Energy has been awarded a production-sharing contract in the Melaka Straits offshore west coast peninsular Malaysia. This is for block PM322 on the Malaysian side of the central Sumatra basin, where only six wells have been drilled to date. The shallow-water permit includes Sun Oil's 1991 Port Klang oil discovery. Salamander will acquire 3D seismic and drill one well prior to December 2016.
•••
CNOOC has started up its Qikou 18-1 adjustment project in the western part of Bohai Bay, offshore China. Qikou-18 is an oilfield in an average water depth of 18 m (59 ft) - the development involved adding a processing facility and two production platforms to expand output from the existing infrastructure.
•••
China Offshore Oil Engineering Co has signed a five-year agreement with Technip to pursue EPCI and SURF projects offshore China in water depths beyond 200 m (656 ft). The consortium started working together at the end of 2012 after successfully bidding for CNOOC's Panyu 34/-1/2 development project.
•••
Cuu Long Joint Operating Co. has awarded PTSC M&C an EPCIC contract for expansion of facilities at the Su Tu Nau field in block 15-1 off southern Vietnam. Currently two unmanned wellhead platforms produce a maximum of 50,000 b/d of oil and a similar quantity of liquids. The new contract involves adding two new wellhead platforms, Su Tu Nau North and South, along with modifications to existing facilities
•••
The Indonesian upstream taskforce SKK Migas says 13 new oil and gas projects should enter production this year. They include the Sisi Nubi 2B gas development in the offshore Mahakam block, operated by Total, and three others which were due to start up last year. Another operator, Mobil Cepu, expects to deliver first oil late this year from the Banyu Urip field in the Cepu block, with peak production estimated at 165,000 b/d.
•••
Offshore eastern Russia, Gazprom and Shell plan to construct a third LNG process train in Prigorodnoye settlement, Sakhalin Island. This would handle supplies from the Sakhalin 2 project. The first LNG plant was commissioned in 2009, reaching design capacity of 9.6 MMmt/yr (10.6 MMt/yr) the following year.