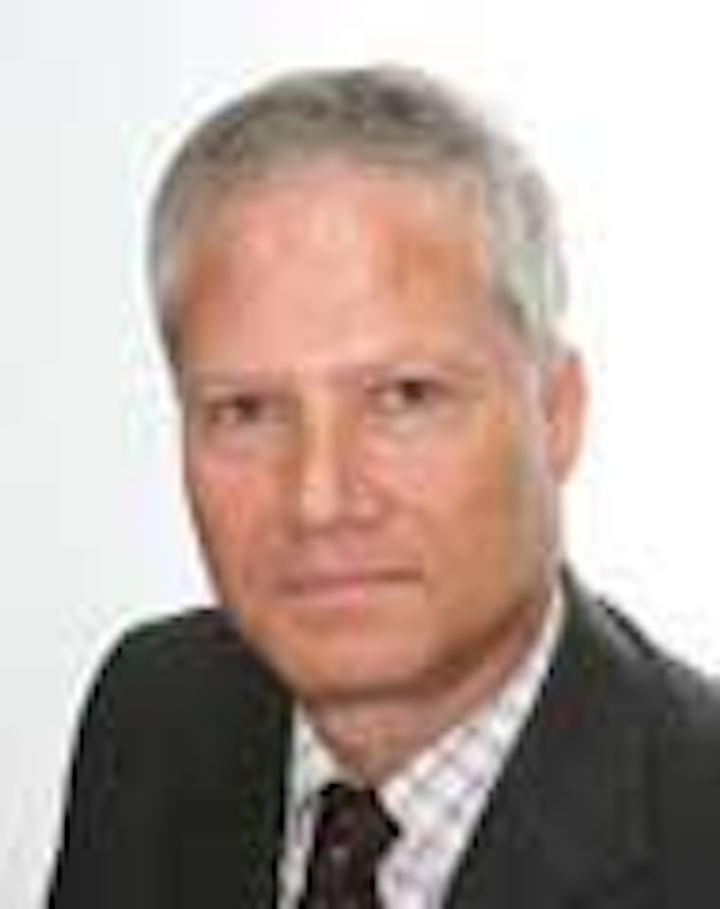 | | | |
| --- | --- | --- |
| | | Jeremy Beckman • London |
Statoil has suffered more frustration with its latest well in the Barents Sea. The company hoped to prove oil in the Kramsnø prospect in license PL532 to supplement its 400 to 600-MMbbl Johan Castberg development, currently focused on the Havis and Skrugard fields. The result, however, was a modest gas find with moderate reservoir quality.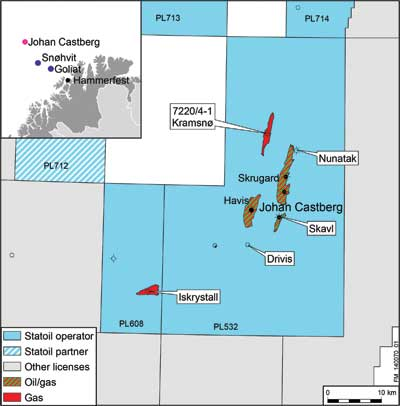 Statoil's Kramsnø discovery is one of a cluster in the Barents Sea. (Image courtesy Statoil)
Only one of the four wells the company has drilled in this area has delivered oil. Statoil had hoped to improve the odds by testing various play models in different geological settings. The semisubmersibleWest Hercules was due to drill the final well in the current campaign on the Drivis structure.
Det norske oljeselskap has found oil with its first operated well in the region, on the Langlitinden prospect, but with low mobility and poor reservoir properties. Det norske had better luck as a participant in a Total-operated well in the central NorwegianNorth Sea, which encountered good-quality oil in the Trell structure. The location is relatively close to the Heimdal complex.
VNG's new Pil discovery in the Norwegian Sea could be somewhat larger, exceeding pre-drill expectations of 20-50 MMboe recoverable, according to partner Rocksource. The well, drilled by the semisubTransocean Arctic in PL586, proved oil and gas in the same Rogn formation that has been prolific at Norske Shell's Draugen field to the northeast.
Norway's Energy Ministry plans to offer 61 blocks under the country's 23rd licensing round later this year following nominations from 40 companies. Thirty-four blocks will be in the previously off-limits southeastern part of the Barents Sea, with 20 more in the southern Barents Sea and seven in the Norwegian Sea.
Ireland to review licensing terms
Ireland's government has appointed analysts Wood Mackenzie to provide advice on oil and gas fiscal terms ahead of the country's next licensing round this summer. One of the goals is to galvanize offshore exploration activity. Pat Rabitte, Minister for Communications, Energy and Natural Resources, pointed out that just one well was drilled off Ireland's shores in 2012, compared with 172 that year offshore Norway. Plus, the most recent commercial discovery was Enterprise's Corrib gas field off western Ireland in the 1990s.
Interest in offshore licensing remains strong and Dublin-based Providence Resources has plans to step up exploration drilling around Ireland over the next two years. Recently the government agreed to widen the area around the company's Barryroe exploration license in the North Celtic Sea to take into account potential southerly extensions of the Barryroe oil and gas field. Another Irish company, Petrel Resources, has been awarded two frontier licenses in the Porcupine basin in the Atlantic over acreage held previously under licensing options. Woodside farmed into both options as operator last August.
Costs holding back UK E&P
UK offshore capex this year could reach $21.7 billion, according to the latest activity survey from industry associationOil & Gas UK. This would be below last year's record figure of $23.9 billion, but would still be the second largest total ever. Much of the spending is directed at a few new projects and major field overhauls.
Production across the sector continues to slide, dipping 8% last year to an average of 1.43 MMboe/d. Over the next two years, output should rise again with 25 new UK fields coming onstream, building to 1.7 MMboe/d by 2018. Longer-term prospects, however, are less assured, due to low reserves replacement levels. Only 15 exploratory wells were drilled across the UK shelf last year, the survey found, discovering a total of just 80 MMboe. Oil & Gas UK members identified rig shortages and difficulties accessing capital as two main factors holding back exploration.
But this is not the only concern. Of the 10.7 Bboe currently in company plans, 4 Bboe have not yet secured investment. If development is held back, spending across the sector could drop to $11.6 billion by 2016-17, the survey warned. One factor could be the UK's high offshore operating costs, which rose 15.5% last year to a record $14.8 billion. The number of fields with opex costs more than $50/boe doubled during 2013.
Former Wood Group chairman Sir Ian Wood has issued various recommendations to halt the drift and resuscitate the sector's fortunes. His government-commissioned report onmaximizing the economic recovery from the UK continental shelf (MER UK) sets out to extend the life of the UK continental shelf and realize a further £200 billion ($334 billion) value from UK offshore activities over the next three decades. "We need to step up our game to maximize the recovery of our hydrocarbon reserves and attract more investment," he said.
Sir Ian's interim report, published in the fall of 2013, pointed out that Britain's new discoveries are smaller than before and often of marginal value. He also identified strong competition to develop accumulations through ageing offshore infrastructure.
His final report recommends six main strategies to achieve MER UK. These include revitalizing exploration via efficient access to well and seismic data, a more appropriate licensing regime, and encouraging data-sharing within regional offshore development plans. He also called for operators to be held to account for proper stewardship of their offshore assets and infrastructure, in order to maximize recovery both from fields in their licenses and from nearby resources.
UKCS resources should be developed increasingly on a regional, rather than a sole-field basis, he suggested, with operators obliged to co-operate with the regulator and other license holders in the area on all aspects of field and cluster development, from exploration through decommissioning. Additionally, operators should open their infrastructure and process facilities where possible to third parties at fair commercial terms.
Measures should be taken to prolong the life of existing infrastructure, ensuring assets are not decommissioned prematurely to the detriment of production hubs. And the UK should focus on five critical technology areas to build on its position as a global center for exploitation of offshore hydrocarbons.