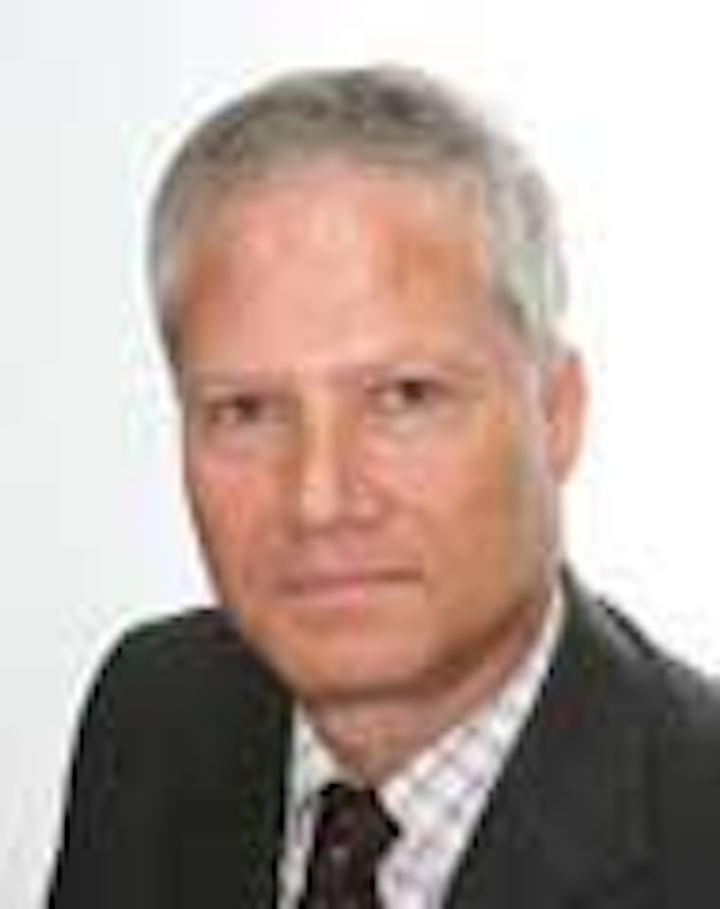 | | | |
| --- | --- | --- |
| | | Jeremy Beckman • London |
Brazil will account for 32% of deep and ultra-deepwater capex worldwide between now and 2018, according to a report from Infield Systems. Overall, the market is set for 8% capital growth over this period, the authors add. Other contributory factors will be an increase in FLNG/FPSO projects across Southeast Asia, Australasia and the Middle East, and deepwater gas pipeline projects in Europe such as Polarled in the Norwegian Sea and South Stream in the Black Sea.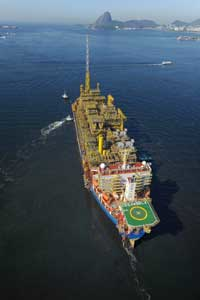 The FPSOCidade de Ilhabela left the Brasa shipyard last month for sea trials ahead of starting service on the Sapinhoá field in the presalt Santos basin offshore Brazil. Owners SBM Offshore, Quiroz Galvão Oleo e Gas, and Mitsubishi will operate the vessel on behalf of Petrobras and its block BM-S-9 partners BG and Repsol. (Photo courtesy SBM Offshore)
Infield also foresees steep increases in deepwater activity outside the established Atlantic triangle area, including projects such as the Krishna Godavari UD and Dhirubhai developments off eastern India and the giant Rotan offshore Malaysia, where thePFLNG-2 facility is due to be installed in 2018. Infield expects a total of 81 operators to contribute to deep and ultra-deepwater capex over the period compared with 55 during 2009-2013, with independents such as Anadarko and Noble Energy among the highest spenders.
North/Central America
Shell has resubmitted a draft plan to the US' Department of the Interior concerning exploration drilling in the Chukchi Sea. According to theNew York Times, the company plans to use two rigs for a campaign in 2015 or 2016. Shell holds interests in three prospects spanning five offshore blocks.
•••
Statoil and state-owned entity Petronic are looking to collaborate on joint oil and gas activities offshore Nicaragua's Pacific coast. They have submitted a request to the country's Ministry of Energy and Mines to negotiate concession contracts in the region, where Petronic has authorized Geoex International to acquire 32,000 sq km (12,355 sq mi) of 3D seismic.
South America/ Caribbean Sea
BP has awarded Technip an EPIC contract for the Juniper project offshore southeast Trinidad. Technip's Houston center will manage the program which includes construction of a 10,400-ton (9,434-metric ton) platform, designed to process 590 MMcf/d (17 MMcm/d) of gas, and engineer and install a 10-km (6.2-mi) 26-in. rigid pipeline and associated flexible flowlines, umbilicals, and other subsea structures. Offshore work is expected to start during the second half of 2016.
•••
Petrobras has confirmed an extension of a gas and light oil discovery in the Moita basin area of the Sergipe-Alagoas basin offshore Brazil. Moita Bonita 3, the second well in the BM-EAL-10 concession, was drilled 82 km (52 mi) from the Sergipe coast in 2,790 m (9,153 ft) of water. It encountered 40-m (131-ft) thick reservoirs with good permeability and porosity.
In the presalt Santos basin, the company has submitted a declaration of commerciality for three fields – Sul de Guará, Nordeste de Tupi, and Florim – which it proposes to rename Sul de Sapinhoá, Sepia, and Itapu. Combined reserves are 1.214 Bboe. Production from Sepia and Itapu should start in 2018 and 2020, respectively. Concept evaluation continues for Sul de Guará.
Wood Group Kenny (WGK) is working on conceptual engineering for Petrobras' presalt Lapa (ex-Carioca) field, 170 m (273 km) off the south coast of Rio de Janeiro. WGK is examining two alternative pipeline heating systems, water or electrically trace heated. Either would be a first in a presalt environment. The results will help determine options for a southwest area tieback on the field.
•••
KCA Deutag subsidiary RDS is performing a drilling front-end engineering and design study for main contractor AMEC for the Sea Lion development in the offshore North Falkland basin. This covers the drilling rig modules for the proposed TLP, to be installed 200 km (124 mi) north of the Falkland Islands.
West Africa
Nigeria's Department of Petroleum Resources has sanctioned development of the Afren-operated Aje oil field. The first-phase will involve tieback of two subsea production wells to a leased FPSO, with start-up likely in late 2015.
Mediterranean Sea
ADX Energy has been awarded an exploration permit in the Sicily Channel offshore southwest Italy, on trend with the company's Kerkouane permit in adjoining Tunisian waters. The 363 C.R.AX concession includes the abandoned Nilde oil field, formerly operated by Eni.
•••
Circle Oil is reporting a promising oil discovery in the Mahdia permit offshore Tunisia, 120 km (74 mi) east of the port of Sousse. The El Mediouni-1 well, drilled in 240 m (787 ft) of water, encountered light oil in the lower Birsa and upper Ketatna carbonates, with analysis confirming a working petroleum system both for this and other prospects. Discovered resources could be around 100 MMbbl.
•••
The Petrobel joint venture has brought onstream the DEKA gas project in the Temsah concession in Egypt's offshore East Nile Delta. Initial production is through the Denise South-6 well, 65 km (40 mi) north of Port Said in 100 m (328 ft) of water. JV partners BP and Eni plan five subsea wells on various fields in the concession, linked via sealines to the onshore El Gamil gas plant, with production peaking at 230 MMcf/d (6.5 MMcm/d) early next year.
•••
Noble Energy has a letter of intent (LOI) to supply 1.6 tcf (45 bcm) of gas over a 15-year period from the deepwater Leviathan field offshore Israel to Jordan's National Electric Power Co. Deliveries will occur at a border location between the two countries, with an initial sales volume of 300 MMcf/d (8.5 MMcm/d). Noble says it now has more than 60% of the 22-tcf (620-bcm) field's initial capacity tied up in LOIs with customers in the region.
•••
Energean's tender-assist rig will drill development wells offshore Greece. (Photo courtesy Energean)
Energean Oil & Gas has purchased the tender-assist rigGlen Esk from KCA Deutag for use in a $225-million development program offshore northwest Greece. The rig, to be renamed Energean Force, is expected to start operations in early December. Energean plans to drill 15 wells and install two new unmanned platforms on the Prinos North and Epsilon fields.
Caspian Sea
Offshore delivery started last month of the topsides for the riser block platform for Lukoil's Vladimir Filanovsky field in the Russian sector. It will connect interfield and export pipelines carrying oil and gas. This month, transport was due to start on the ice-resistant stationary platform that will be used for drilling. All four platform topsides and bridges are expected to be in place by year-end.
Middle East
More development phases are nearing completion at the South Pars gas-condensate field in the Persian Gulf. The export pipeline has been laid between the Phase 22 facilities and the Iranian mainland, while a new platform at Phase 17 should enter service in January, adding 14.5 MMcm/d (500 MMcf/d) to the country's output.
East Africa
A second drillstem test on the deepwater Mzia gas discovery offshore Tanzania has reduced reservoir risk ahead of a planned development, according to operator BG Group. The DST was performed on the Mzia-3 appraisal well in block 1 in 1,800 m (5,905 ft) of water, 6 km (3.7 mi) north of the discovery well, flowing up to 101 MMcf/d (2.8 MMcm/d) of gas. BG now estimates recoverable resources from blocks 1, 3, and 4 at 15 tcf (425 bcm). The drillshipDeepseaMetro-1 was due to transfer north to drill the Kamba-1 well in block 4.
Aminex has applied to Tanzania's Petroleum Development Co. to convert an obligation for shallow-water seismic over its Nyuni Area PSA to deepwater 3D seismic in the outboard sector. Aminex has identified a large prospect that appears analogous with other large deepwater gas discoveries in neighboring blocks.
•••
ION Geoventures has acquired an additional 2,330 km (1,448 mi) of 2D seismic over three blocks offshore the Union of the Comoros. Bahari Resources and partner Discover Exploration commissioned the survey which total around 18,000 sq km (6,950 sq mi) in the western part of the Comoros. Interpretation to date indicates an extension of the same gas-rich reservoir play fairway offshore neighboring Mozambique.
Asia/Pacific
Rosneft has started production from the northern section of the Chayvo oil and gas field offshore Sakhalin Island. In the process, the land rigYastreb established a new record for a long-reach well drilled from shore, the company reports, with a drilled depth of 10,825 m (35,515 ft) and a horizontal displacement of 9,517 m (31,223 ft). The second well will be around 11,000 m (36,989 ft) long. Rosneft was also due to start drilling from the newly installed Berkut platform in the Sea of Okhotsk.
•••
CNOOC has brought onstream the Wenchang 13-6 oil field in the Pearl River Mouth basin offshore China. Water depth is 120 m (393 ft). Facilities include a wellhead platform with 12 producing wells, five of which were in service last month.
•••
Shell has discovered gas in the deepwater Marjoram structure offshore Sarawak, Malaysia. Marjoram-1 was drilled in 800 m (2,624 ft) of water in block SK318, 180 km (112 mi) from shore. It follows a gas find earlier this year on the Rosmari prospect in the same concession.
In the shallow-water SK408 permit, Sapura-Kencana Energy notched its fifth gas discovery of the year with Bakong-1, which intersected a gross gas column of more than 600 m (1,968 ft) within late Miocene carbonates. Total resources found to date are more than 3 tcf (84 bcm). Petronas has achieved start-up three months ahead of schedule at the Banang oil field development off peninsular Malaysia. This was the second field onstream in the KBM cluster (Kapal produced first oil last December). Facilities include a mobile offshore production unit, a 600,000-bbl storage tanker, a wellbay module, and a flexible flowline.
•••
Idemitsu Oil & Gas has proven more gas and condensate in blocks 05-1b and O5-c, 300 km (186 mi) offshore Ho Chin Minh City, southern Vietnam. The well was spudded in February, and drillstem tested in May and August. The company and partners JX Nippon Oil & Gas and Teikoku Oil plan to assess other prospects on the block.
Also off southern Vietnam, the consortium developing the TGT field is aiming for first oil in September/October 2015 from the nearby H5 accumulation. According to partner SOCO International, the jackupNaga 2 was due to start drilling the first of five planned wells from the newly installed wellhead platform that will be linked by pipeline to the FPSO serving the TGT complex.
•••
Husky-CNOOC Madura has awarded a LOI to Bumi Armada Offshore for a leased FPSO for the Madura field development offshore Indonesia. The location is 65 km (40 mi) east of Surabaya and 16 km (10 mi) south of Madura Island. Contract value is $1.18 billion over 10 years, with optional extensions.
Australia
Apache has discovered a potentially large oil field in the Canning basin offshore Western Australia. According to partner Carnarvon Petroleum, the Phoenix South-1 well in the WA-435 permit encountered at least four discrete oil columns in the Triassic lower Kerauden formation. In-place reserves could be 300 MMbbl. The location is 110 mi (180 km) north of Port Hedland in 435 ft (133 m) of water.
Santos is also claiming a significant find in the Browse basin. The Lasseter-1 well, 480 km (298 mi) northeast of Broome and 35 km (22 mi) southeast of the company's Crown discovery, intersected a 405-m (1,329-ft) gross gas/condensate bearing interval. Lasseter is near the sites of proposed LNG projects in the area.