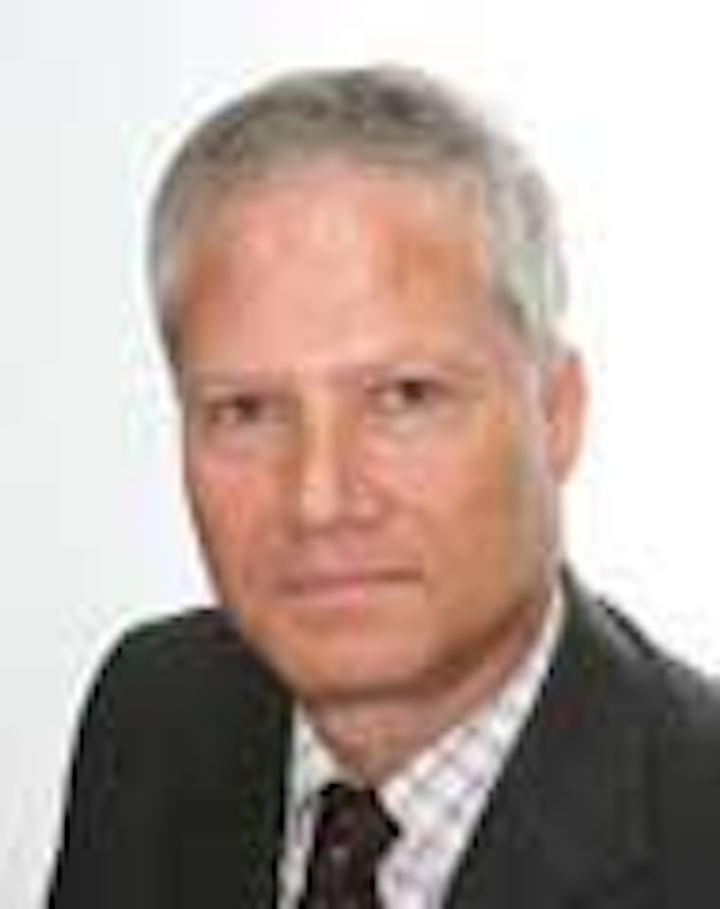 | | | |
| --- | --- | --- |
| | | Jeremy Beckman • London |
Global spending on subsea hardware could hit $117 billion during 2014-2018, according to analysts Douglas-Westwood. This would represent a hike of more than 80% over the previous five-year period. Growth will come mainly from expansion of established deepwater provinces and from large-scale field developments in frontier areas such as East Africa and the eastern Mediterranean. Around 44% of total expenditure will be directed at projects in water depths of more than 1,000 m (3,281 ft), the analysts added.
The partners in the Perla discovery in the Gulf of Venezuela have agreed on a joint venture to develop the field's condensate. This will be run jointly by PDVSA affiliate CVP (60%) and Eni and Repsol (20% each). Perla's gas, currently under development, should begin flowing by year-end. According to Eni, production should peak at 300 MMcf/d under the current Phase 1, rising eventually to 1.2 bcf/d following implementation of two more phases. The field is in the Cardon block, 50 km (31 mi) offshore in 60 m (197 ft) of water.
•••
Calgary-based CGX Energy has a letter of intent to use the jackupHakuryu-12 for exploration of the Corentyne block off southeast Guyana. The rig is due to mobilize initially to Trinidad in April-May 2015 before starting the program.
•••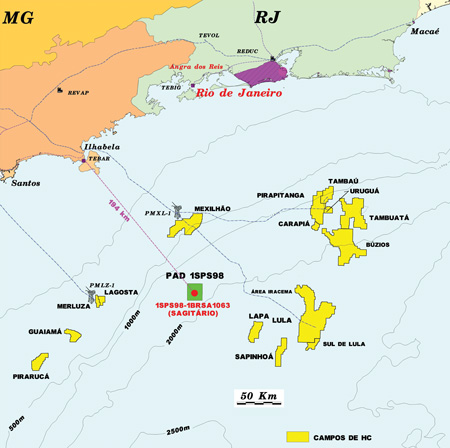 Click to Enlarge
Location of the Sagitário discovery in the Santos basin. (Image courtesy Petrobras)
Petrobras has signed 41 concession contracts for blocks awarded under Brazil's 12th Bidding Round. All are in recently explored or mature basins. Petrobras' bid strategy was to increase its gas reserves and to boost production through existing infrastructure.
In the presalt Santos basin the company has completed formation testing of its 1-SPS-98 Sagitário-1 oil discovery well, the first on block BM-S-50. The location was 195 km (120 mi) off the Sao Paulo coast in a water depth of 1,871 m (6,138 ft). Results confirmed carbonate reservoirs with good permeability.
•••
Premier Oil and Noble Energy have entered into a rig-sharing agreement offshore the Falkland Islands after securing a rig for a multiple-well campaign. The harsh environment DP semi is expected to mobilize to the islands during 1Q-2Q 2015 and will drill a minimum of six wells, four operated by Premier and two by Noble. The firm program, due to last 240 days, takes in wells on prospects south and east of Premier's Sea Lion development in the North Falkland basin, and on Noble acreage in the South and East Falkland basin.
Afren plans to expand production from its shallow-water fields off Nigeria. Development drilling was due to start this summer from the newly installed Ebok Central Fault Block extension platform and from a new wellhead jacket on the Okwok field. Additionally, Afren has approval from Nigeria's authorities for the Okoro Further Field development.
•••
Cameroon's government has approved an application to develop the shallow-water Etinde permit by supplying treated gas to a government-sponsored fertilizer plant and an LNG scheme. Operator Bowleven was also granted development and exploration rights over block MLHP-7 within the permit area for an initial period of up to 20 years.
Rosneft and ONGC Videsh plan to team up for exploration and appraisal activity in the Arctic Ocean off northern Russia. Rosneft has also agreed to an Arctic Shelf drilling partnership with Seadrill and the latter's part-owned subsidiary North Atlantic Drilling Ltd (NADL). The accord could lead to Rosneft taking a stake in NADL, which is drilling the first two exploratory wells in the Kara Sea for the Rosneft/ExxonMobil joint venture.
•••
Russia's annexation of the Crimean peninsula has not impacted Ukraine's existing oil and gas production greatly, according to analysts Douglas-Westwood. However, Ukraine has lost its offshore deposits in Crimean waters with local operator Chernomornaftogas due to be transferred to Russian control. As a result, Ukraine is set to lose out on 50 well completions over the next seven years, the analysts claimed.
Mediterranean Sea
Rockhopper Exploration, which made its name discovering the Sea Lion field off the Falkland Islands, has turned its sights to southern Europe. The company has agreed to acquire all shares in Mediterranean Oil & Gas (MOG), subject to approval from shareholders. MOG has production from the Eni-operated Guendalina field offshore eastern Italy, and the company will partner with Genel in this year's deepwater well on the Hagar Qim prospect in block 7 in Malta's Offshore Area 4.
To the northeast, MOG has teamed up with Greek independent Energean Oil & Gas to bid for three blocks off Montenegro, under the Balkan nation's first licensing round. Offshore Greece, Energean and partner Trajan Oil have been awarded a 30-year licensing agreement for the Katokolon block in the northwestern Peloponnese where a state-owned oil company proved oil with a well in 1981. The partners plan new seismic studies and extended-reach drilling from shore to tap Katokolon's oil.
Another consortium involving Irish independent Petroceltic have secured a lease agreement for the Patraikos block offshore western Greece.
•••
Noble Energy and its Israeli partners hope to sanction their second deepwater development project offshore Israel by the end of this year. The first-phase program for the 19-tcf Leviathan field will likely call for a 1.6-bcf/d FPSO system, with gas exported to local and regional markets. Studies are also under way for a second phase involving a floating LNG production system.
Caspian Sea
Turkish state E&P company TPAO has agreed to purchase Total's 10% interest in the Shah Deniz field in the Azeri sector and the associated onshore South Caucasus Pipeline, for $1.5 billion. Total says it prefers to focus on development planning for its 2011 Azeri offshore gas/condensate discovery Absheron.
Saudi Aramco's frontier deepwater drilling campaign last year in the Red Sea off Saudi Arabia led to discovery of the Al-Haryd oil field, the company declared in its recent annual report. The previous year Aramco proved gas in this region in the Shaur structure. In the northern Red Sea, the company executed its first deepwater drillstem test on the Duba-1 well, in a water depth of 2,127 ft (648 m). Results revealed tight reservoirs that could be suitable for development.
East Africa
London-based Soma Oil & Gas has started processing 2D seismic recently acquired over Somalia's Offshore Evaluation Area. The company expects to complete evaluation of the 20,500-km (12,738-mi) data set by the end of this year and will provide it to the Ministry of Petroleum & Resources' for storage in a data room in Mogadishu. Soma hopes to identify leads and prospects to assist its bids for production-sharing agreements.
•••
Kenya's government has extended the initial exploration period of the L10B offshore license where earlier this year operator BG Group drilled the Sunbird-1 oil and gas discovery. The partners will use the extension to evaluate the potential for further drilling and the impact on prospects in the adjacent L10A license.
Offshore Tanzania, BG has proved gas in a new structure on the western boundary of block 1. The drillshipDeepsea Metro I drilled the Taachui-1 well, encountering 155 m (508 ft) of net pay in the targeted Cretaceous interval. Partner Ophir Energy estimated a recoverable resource of 1 tcf (28 bcm). The find lifted the partners' discovered volumes from three blocks off Tanzania to 16.7 tcf (470 bcm), potentially justifying a third LNG train in addition to the two under consideration.
•••
Eni has successfully appraised its Agulha gas discovery in Area 4 offshore Mozambique. The Agulha-2 well was drilled in 2,603 m (8,540 ft) of water in the southern part of the block, 12 km (7.5 mi) south of the discovery well. Agulha-2 intersected a 25-m (82-ft) gas column in good-quality Paleocene sandstones. Eni is considering further drilling in the southern area of the block, where estimated reserves have risen to 85 tcf.
Rosneft and ExxonMobil aimed to start engineering and sea surveys this summer for their planned (Russian) Far East LNG project. The proposed 5 MMt/yr LNG plant would draw on gas from the region, including the offshore Sakhalin-1 fields. A new extended-reach drilling campaign should also be under way as part of the second-phase development of Sakhalin-1. The land rig Yastreb was due to drill from shore into the shallow-water northern part of the Chaivo field. The aim is to recover 14 million tons of oil and 12.6 MMcm of gas from the Northern Chaivo project.
•••
Premier Oil has discovered wet gas with a well on the Singa Laut structure in the Tuna PSC offshore Indonesia. The well penetrated 177 ft (54 m) of gas-bearing sands in the target Oligocene sequence – the hydrocarbons appear to be of similar quality to the liquids-rich gas encountered in the nearby Kuda Laut well. Premier plans appraisal drilling on both structures next year.
Offshore Indonesia's East Kalimantan region, Chevron has awarded the McDermott International/PT Encona Inti Industri consortium an engineering, procurement, and construction contract for the Gendalo-Gehem gas development.
•••
Salamander Energy has agreed to sell 40% of two concessions in the Gulf of Thailand to Kuala Lumpur-based Sona Petroleum for $280 million. B8/38 includes the producing Bualuang oil field while the surrounding G4/50 permit is undergoing exploration. Under the transaction Salamander will cover SONA's costs of two wells on G4/50 up to an agreed cap, and in return could receive up to $15 million if a commercial discovery results.
Singapore-based KrisEnergy wrapped up a $102.5-million deal for Mubadala subsidiary MP G10. This gave the company outright control of the G10/48 license in the southern part of the Pattani basin in the Gulf, which includes the shallow-water oil discoveries Mayura, Niramai, and Wassana. KrisEnergy estimates potential resources at 19.6 MMbbl. It planned to submit a Production Area Application later this year with the first-phase development calling for up to 14 wells.
Click to Enlarge
The EP-491 permit in the Barrow sub-basin. (Map courtesy Carnarvon Petroleum)
Australasia
Carnarvon Petroleum has been awarded three blocks on the eastern side of the oil-prone Barrow sub-basin off northwest Australia. Blocks L11-6, L11-7, and T11-3 cover a total area of 2,310 sq km (892 sq mi) and are south and east of the Wandoo and Stag oil fields and others in the Harriet area. Carnarvon plans to reprocess the relatively recent 3D seismic that covers much of the permits with a view to identifying analogous traps to these discoveries.
Neon Energy has secured its first exploration permit off Western Australia, WA-503-P, in the Dampier sub-basin and on trend with oil and gas fields such as Hurricane and Legendre. Of the two wells drilled to date on the permit, one – Janus-1 – confirmed the presence of a working oil system. Neon will acquire 80 sq km (31 sq mi) of new broadband 3D seismic data by early 2015, focusing on Lower Cretaceous to Upper Jurassic basin margin fan deposits.