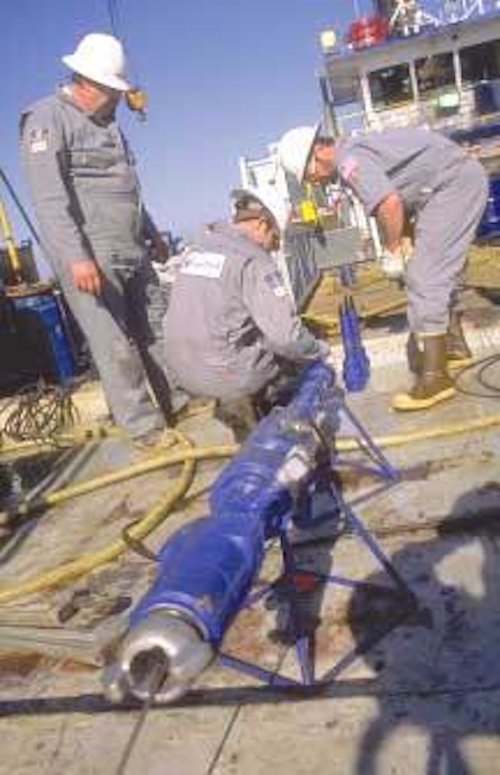 Jennifer Pallanich Hull • Houston
Pipe recovery group set up
Wood Group Logging Services, a unit of the Wood Group, has formed a new group to respond to an old call for help.
The company, which has performed pipe recovery for years, including pipe from wells with deviations greater than 70° from vertical, temperatures greater than 420° F, hydrostatic pressures greater than 20,000 psi, and depths greater than 22,000 ft, has grouped its pipe recovery specialists into the Rapid Response Team. Ready for accelerated recovery of stuck drill pipe from wells throughout the Gulf of Mexico and onshore Texas and Louisiana, the RRT members are based at eight locations throughout the Gulf region, and the team's primary offshore load-out point is at Port Fourchon, Louisiana, which is within a 40-mi radius of more than 600 offshore oil platforms.
"We're targeting drilling programs in the deepwater," said Joey Dionne, general manager of Wood Group Pipe Recovery.
The team, designed to mobilize within two hours of a call, is composed of more than a dozen pipe recovery specialists. Doug McCart- ney, vice president of Wood Group Logging Services, said the team, using Wood Group's pipe recovery toolbox, can work off of anybody's line.
"When you're at the well, it's not the time to say, 'I wish I had this,'" he said of the fully equipped toolbox that often is placed on drilling rigs.
Stuck pipe is more common in certain situations like depleted sands, shells that slough, and unconsolidated formations.
"There're a lot of things that can go wrong," McCartney said.
null
Dionne said the team solves problems by determining what happened when the pipe got stuck, rigging up the right tool, finding the free point to determine what is stuck and what is free, and taking torque readings. When the team knows what it's dealing with, he said, it can figure out how to most efficiently remove the stuck pipe.
"There's an art to it," he said.
The team will use a controlled explosion to free the pipe, and fishing or cementing and sidetracking will follow.
In a related development, Randy Smith Training Solutions is adding the Wood Group's pipe recovery methods and techniques to its stuck pipe prevention course. Course topics include causes and mechanisms of stuck pipe, warning signs, how to prevent stuck pipe, theory, and proper use of jars and freeing techniques.
Competition remains, despite mergers
Recent mega-mergers do not appear to have decreased the competitiveness of the Gulf of Mexico's lease sales on the outer continental shelf (OCS), according to a study released by the US Minerals Management Service. Following a period of mega-mergers in which supermajors formed by the combination of two majors, the MMS sponsored a study to determine the effect of the mergers on competition in the lease sales. The Changing patterns of ownership and control in the petroleum industry: Impli-cations on the market for oil and gas leases in the Gulf of Mexico OCS region, 1983-1999 study asked whether consolidation and control in the petroleum industry had reduced competition for, or lowered the value of, oil and gas leases on the OCS.
The study analyzed leases acquired during the 1983 to 1999 period based on the successful bidder's merger and acquisition experience and then tested for differences in bidding amounts. Second, the study made comparisons between majors and non-majors and between those firms listed on MMS's Restricted Bidders List and those that were not. Overall, the MMS said, the study found no results suggesting a decrease or a deficiency in the competitiveness of lease sales.
Shenzi-2 appraisal confirms deepwater find
BHP Billiton said its first appraisal well on the Shenzi field, discovered last year in the deepwater Gulf of Mexico, encountered 500 ft of net oil pay in a 1,250-ft gross hydrocarbon column of lower Miocene reservoir sandstones.
BHP Billiton-operated drillship C.R. Luigs spudded Shenzi-2 on Sept. 22 on Green Canyon block 653 in water depths of 4,238 ft and drilled it to 25,500 ft TD. Shenzi-2 is 2 mi southwest of the discovery well Shenzi-1, which encountered a gross hydrocarbon column of 465 ft with 140 ft of net pay. The discovery is located along the same geologic trend as the Mad Dog, Atlantis, and Neptune fields.
BHP Billiton Petroleum CEO Phil Aiken said the reservoirs were "appreciably thicker than those encountered in the first Shenzi well" and that the well significantly extended the scale of the oil accumulation discovered by Shenzi-1. Further appraisal drilling will be required, Aiken said, but BHP Billiton will work with its partners to study development options. Following well logging operations and other data collection activities, the partners plan to drill a sidetrack out of the existing well bore.
BHP Billiton operates Shenzi and holds 44% interest. Amerada Hess and BP each hold 28%.
Matterhorn goes onstream
Total has brought onstream its deepwater Matterhorn field on Mississippi Canyon block 243 in the Gulf of Mexico.
Total developed the field, discovered in 1999, with a TLP that has 33,000 b/d and 55 MMcf/d of throughput capacity. Production moves to shore through flowlines connected to the existing pipeline network. The platform was installed in mid-2003.
The field, 160 km southeast of New Orleans, is in 850 m of water. It is Total's third deepwater GoM field, following Virgo and Aconcagua, to go onstream.
Operator Total holds 100% interest in the field.