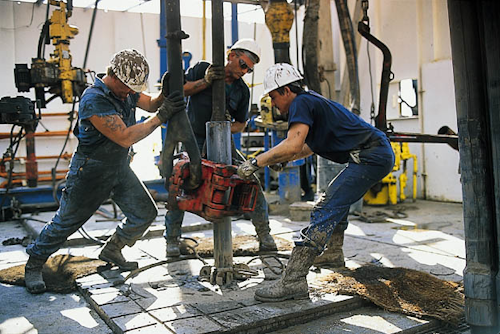 OPEC, Non-OPEC:
Who gets to create future wealth?
Victor Schmidt
International Editor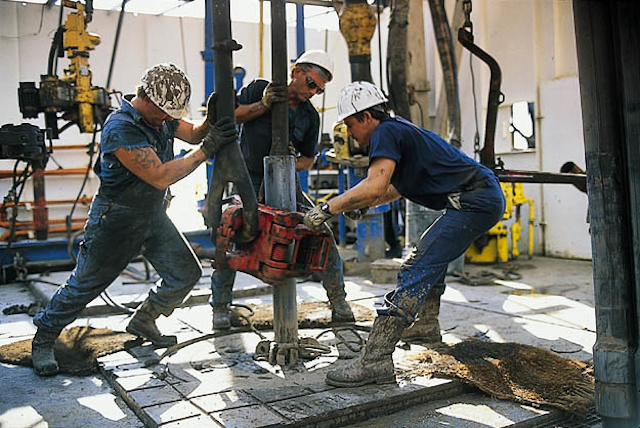 Source: Schlumburger
The boom of 1997 hit Max-Q (maximum pressure) as equipment and manpower reached utilization levels not seen since the 1970's. Unfortunately, just as it did, cash flow fell along with oil prices. Both left OPEC and non-OPEC producers searching for stability solutions.
The oil price crisis was partially abated by a rare event in March - cooperation between OPEC and non-OPEC producers. Until demand returns to levels experienced before the Asian economic crisis, producers will be shifting priorities to match long-term expectations with short-term cash flow realities.
Industry growth at the end of 1997 was characterized by constantly improving products and work efficiencies. Deepwater exploration and development continue to be the industry's major focus. Exploration drilling and production technological improvement allows a stepwise movement into deeper water depths. Theaters experiencing the most activity include the Gulf of Mexico, North Sea, West Africa, Southeast Asia and Australia. It was a year for working well-known areas and building forward into new areas such as the Atlantic Margin, Canadian Shelf, Falkland Shelf, and Russian Far East.
Regions providing a reasonably stable business environment and permitting free market forces to operate are prospering best. The Atlantic triangle - North Sea, Gulf of Mexico and West Africa - continued to find new reserves through the past year. Strong development activity kept Southeast Asia and Australia active. Later this year, Brazil will add a fourth pole to the Atlantic when it opens for international joint ventures.
Key factors, challenges
Petroleum is a basic input into every economy of the world and its price is a major factor in inflation due to the multiplier effect of its many uses. Below is an overview of the major factors that frame the petroleum equation.
Oil Prices - Cash flow and economic projections drive all exploration and development programs. The past year has been a downward slide as oil producers tested each other in a market share battle to fill the refiner's unused tank volumes. The 1.5- to 2-million bbl per day excess topped the holding tanks and the shipping vessels, driving market prices below the $13 mark. Exploration and development programs were not affected in 1997, but 1998 plans have been tempered.
Oil demand: Demand continues to grow with no long-term change expected. Growth moderation did occur as a result of the Southeast Asian financial collapse, but economies there still need energy to build internally and return
to manufacturing profitability. Marginal usage is moderated first as people consolidate driving trips, car-pool, use public transport or walk. The Asian financial collapse occurred at the end of 1997, so its main effects will be seen this year.
Oil supply: There are no immediate supply problem to hamper growth. Excess production has created a temporary oversupply, which will be worked off before the winter changeover to heating oil begins. Tankerage is plentiful and expanding, but under 2% per year. The fleet is aging and will require replacements. Offshore producers are ready to transform old tankers into FPSO systems, as they become available.
Politics: Political challenges are gradually moderating. Tensions with Iraq rose then abated as the threat and build-up of US forces in the Persian Gulf forced Iraq to moderate its behavior. Caspian Sea states led by Azerbaijan chose development and cash flow as a new political move in the Central Asia power game. States that continue to restrict development will be left behind by those willing to try the benefits of open trade. Pipelines are being built and new trading patterns are developing. Former Russian states and India continue to lag in developing reliable and profitable economic agreements. Most other areas are actively working to ensure their economies benefit through petroleum joint ventures and production sharing agreements.
Environment: Environmental challenges continue, but their extremism and expense were demonstrated in the final disposition of the Brent Spar. Once the public faces the hard economic choice of lifestyle versus cost, a reasonable balance will be found.
Overall, the upstream industry has a stellar environmental record, but the public refuses to listen to the facts. Governmental forces have allied themselves to the environmental movement by a chimera problem - global warming. The ultimate goal is higher taxes and broader control not carbon dioxide reduction. It is doubtful that any real reduction happen in the forseeable future.
Population dynamics will eventually prevail. The rising tide of new people demanding a reasonable lifestyle will force energy supplies to expand and more hydrocarbon to be burned. New and alternative energy sources are expensive and are not yet ready for our liquid-fuel distribution chains. The real question is who will pay for the development of the resources and at what rate. Ultimately, the consumer pays all bills.
Creating wealth
Petroleum exploration is a major wealth creator for all economies, generating hard money for developing countries and a basic input for developed economies. The multiplier effect of an oil dollar can be six-fold or more as it rolls through the supply, manufacturing, services, and consumption sectors. Traditional wealth measures: land, labor and capital, must now be augmented by a fourth wealth creator, information.
Land: More land and water-bottom than ever is now available for exploration. The industry is still digesting the new territories opened by collapse of the Soviet Union seven years ago. In addition, the offshore petroleum industry has actually "created" new territory for evaluation and development through deepwater technologies. Technology advancement continues to expand the operating envelope.
Last year the commitment to ultra-deepwater exploration began in earnest with the enhancement of the semisubmersible fleet and the commitment to expand the drillship fleet. The new offshore land-limit is out to the 12,000-ft bathymetric contour (3,650 meters). Fifth- generation drillships will begin testing these frontiers soon.
Capital: There appears to be capital available, and more coming. The new Euro currency, to be introduced this year, will create financial efficiencies in Europe that will free even more capital for investment. The oil industry will have to compete for investor money, but an expanding pool of capital worldwide can help the industry meet the 1-2% per year demand growth expected for petroleum.
Information: Information is an overwhelming flood. Satellite communications and Internet access are removing time-related frictions permitting market signals to immediately influence all markets. Technology related data now flows within minutes to petroleum specialists for interpretation and decisions thus reducing cycle times. Long distance control of operations has two effects:

Reduces the number of people exposed to distant or hazardous duty

Allows fewer people to monitor and direct more projects.
What is critical is the development of new tools to organize and extract knowledge and wisdom from the information flow. These tools are very advanced and new techniques are being developed to make professional specialists capable of acting in parallel rather than serial fashion on each project.
Labor: That leaves the major constraint - labor. The offshore oil industry turned a corner in its expansion this year and ran immediately into this limitation. Stripped of its resources and manpower depth in the late 1980s, the industry does not have the "muscle" to power it into the challenge of the new century without significant rethinking and major rebuilding.
Much has been said about this problem/ opportunity. It is significant and will continue to constrain the industry for the next 7-10 years. The industry must find a way to reach a disbelieving, environmentally sensitized public with its story: increasing population equals expanding demand for petroleum. Petroleum is necessary to maintain and extend successful economic expansion worldwide. Therefore, more trained people are required to do the needed work. Increasing petroleum demand means work for all those who chose to rise to the challenge.
With these elements in mind, let us review each region, its major 1997 activity, and its prospects for 1998.
North America
1997 was a strong year for the venerable producing regions of North America. New leases coupled with royalty relief and deepwater technology drove the most active region in the world to the limits of its capacity. New areas along the east coast foreshadow a resurgence of arctic activity.
Greenland: Seismic evaluation of the Fylla license was the major event of 1997. Prospect development is underway with one well scheduled for 1999. This will be a quiet year unless schedules are advanced.
Canada: The drumbeat in Canada this past year was Hibernia. The success of the project now opens the east coast for future development and exploration. For 1998 development drilling will continue, expanding the first well production of 40,000 b/d. Terra Nova field was sanctioned early in 1998 and engineering studies are underway before construction begins later this year. Other developments to watch are Whiterose, Hebron and Terra Haute. They will all have some drilling this year. Additional parcels sold in the area will be examined with seismic this year.
Canada continues to struggle to keep work in the Maritime provinces. Pipelines to service the Sable Island gas field are planned but recent claims by indigenous peoples are creating delays. In the Arctic, a Beaufort Sea licensing round has been announced.
Alaska: Activity was minimal this year. Cook Inlet lease sales have been cancelled until 2001 due to industry's lack of interest. Arco's Warthog prospect was tested from a federal lease adjacent to the Camden Bay Exploration Unit.
US Gulf of Mexico: The most active oil and gas province in the world continued to maintain its lead, bolstered by consistently strong lease sales. Last year the industry's interest shifted dramatically to very deep long term leases. The most recent sale this spring saw water depths of 13,000 ft receiving bids. Lease terms of 12 years give industry time for technology development and joint venture risk-spreading
The Minerals Management Service (MMS) policy providing deepwater royalty relief is an unqualified success. So much so that MMS is now tightening operational oversight to prevent marginal operators from creating problems. MMS fears the 10-year major accident cycle and is heightening safety.
New rules are being proposed that allow MMS greater access to all seismic data sets, including third party multi-client shoots. Anecdotes from seismic contractors are not complementary, they feel it is an unwarranted data-grab by MMS without compensation or regard for major competitive issues.
The GOM's major constraint on activity is the shortage of offshore rigs. All classes are affected but floaters are in the highest demand. More enhanced rigs will come out of the shipyards this year and all will be under long-term contract. Drilling numbers should be up. High rig rates and soft oil prices will help moderate demand although rig use will likely remain well above 90% throughout the year.
Significant discoveries include Elf's Virgo prospect in Viosca Knoll 823 in 1,132 ft of water. A four-leg, 14 slot platform is scheduled for 1999. Texaco and Spirit Energy tested the Ladybug prospect in Garden Banks 409, 1,355 ft water depth. Estimated reserves are 15-20 million BOE. Oryx kept the Subsalt Trend alive with a discovery in Garden Banks 216, in 1,450 ft water depth. A subsea tie-back of the Penn State field to Baldpate is planned for later this year.
Latin America
From the most advanced deepwater producer, Brazil, to the fledgling offshore hopeful, Columbia, Latin America is a region to watch closely over the coming year. Petrobras will create joint ventures to expand offshore production and new areas off Argentina tempt the industry for the future. 1997 was dominated by Brazilian development activity.
Trinidad: The deepwater licensing round was a success and sets up new drilling as early as 1999. Trinidad has enjoyed successful joint ventures over the last two years and should be a model for other states in the region.
Venezuela: Interest in Venezuela's Third Licensing Round drew investment into the older fields of Lake Maracaibo and into the interior of the country. High production targets ramping from 3.5 million b/d to 7 million b/d without regard to OPEC quotas placed major pressure on the oil markets in 1997. A compromise with Saudi Arabia occurred after Mexico stepped into the gap and agreed to split the North American market.
The unrepentant attitude of the Venezuelan government bodes continuing problems for the oil markets in 1998. The current tensions will moderate once demand in Southeast Asia returns to normal.
Brazil: Petrobras continues to tempt the international companies with joint venture and production sharing contract talk. The initial timetable for offering offshore blocks has slipped but is still promised for 1998.
Argentina: 1997 was a quiet year for the offshore with only a few wells were drilled in Tierra del Fuego fields. All eyes are on the Falkland drilling scheduled to start this month. Over the past year seismic studies were completed, a rig was secured and a rig-sharing scheme was developed to keep it busy through the initial phases of a 3-year contract. All the pieces are in place to open a new petroleum basin. Assuming drilling is successful, the Argentine coast may finally get the attention it deserves.
Politically the "Aperatura" has been a success. The involvement of international companies in the privitized economy brought not only money but expertise, creating greater efficiencies and improved service throughout the country.
North Seas
Development was strong in the North Sea while exploration in the deeper reaches and northern seas was slowed by environmental constraints. The gradual opening of Russian territory for examination and testing will eventually open large gas resources for European and Russian markets. 1997 was full of hope but limited success and the high cost of exploration kept deepwater activity down.
Barents and Pechora Seas: For a cold arctic region the Barents and Pechora Seas drew some industry heat in 1997. Large license areas of the Barents Sea were awarded with gas as the main target. Neste Oy of Finland is helping Russia organize a licensing round for its portion of the Barents Sea. Statoil is helping Gazprom explore the Medynskaya-more field in the Pechora Sea.

These are certainly wildcat regions, difficult to explore, difficult to produce, and holding large natural gas resources to date. In the coming year seismic evaluation studies will proceed. Expect steady development of the regions with some scheme for converting gas to liquid form for transport. Plans for submarine tankers are still in the early stages, but could offer a viable alternative to traditional pipelines in the ice-rich waters of the Arctic.
Norway:Europe's strongest oil producer kept the pressure on OPEC in 1997. It rode the price slide down along with the other oil producers, but yielded to pressure to moderate its production. By agreeing to a 3% cut (around 100,000 b/d) it helped facilitate a wider agreement between Saudia Arabia, Venezuela and Mexico to firm the market.
Norwegian Sea exploration is finding new deepwater resources - natural gas. This is good news/bad news. Gas is not easily transported like oil but is a fine fuel. If enough resource can be found, a case can be made for the major investment in pipelines required.
Norsk Hydro and Mobil brought Njord field onstream. It is expected to produce 70,000 b/d this year. Fifteen wells will be connected to a FPO. Statoil found a 700-meter column of oil and gas in Block 34/10 east of Gullfaks South Field.
UK:The Brent Spar conflict reverberated throughout 1997 until it reached its conclusion as a Norwegian quay. The Labour Party is on record opposing ocean disposal of platforms but as yet has not moved beyond the case-by-case approach to disposal. There is hope that the industry can still influence the political thinking. The public is infatuated with the environmentalists' doom-saying, but has yet to moderate its lifestyle or move away from the benefits of an oil-based economy.
On a more encouraging note, significant redevelopment of older fields and development of smaller fields is being aided by new drilling technology especially horizontal drilling. Deepwater licenses in the Atlantic Margin are proving productive. Future licenses off of the Faroe Islands will continue exploration of this challenging region. Oil prices and production technologies are the keys to full development.
Philips and Shell Expro discovered oil from Kate prospect in Block 22/23, testing 11,500 b/d.
Ireland- The first offshore field, Connemara, came onstream in August. This opening of the region to commercial production sets hopes for more to come. Leases in the Porcupine Trough will be tested this year with Rockall Trough licensing setting the schedule for exploration wells in 1999 and beyond.
Denmark - The Fifth Licensing Round resulted in 19 applications. Licenses will be awarded this summer.
West Africa
West Africa continued as one of the busiest exploration and development markets. Deepwater discoveries convinced companies to invest in more acreage and drill in deeper waters. This will continue into 1998 with the only limits being drilling rigs and manufacturing capacity for deepwater equipment.
Senegal: 1997 saw the completion of a 1,700-km seismic survey prior to a planned 1998 licensing round. Senegal is seeking to develop its known heavy oil deposits offshore. Petrosen is talking with PDVSA about possible development.
Ghana: A licensing agreement was signed for and Keta Blocks. A large seismic program is scheduled with a well planned for late 1998.
Nigeria: Tensions flared mid-1997 due to onshore production-related pollution and the lack of government wealth-sharing with its domestic communities. Persistent corruption continues to sap the wealth created by oil development.

Limited cash also hampered NNPC in its development agreements with international operators to the point where Nigeria was forced to approve a change from joint ventures to production sharing agreements. By permitting production sharing NNPC relieves itself of development contributions and can sell the produced oil to generate cash. International operators gain the freedom to invest at their own pace and resource level without having to carry NNPC.
Six new ultra-deepwater leases created by the government have received strong interest. So far the deepwater has not been very productive for operators. Obe Field in OML 110 and Bonga Field in OPL 212 will be developed this year.
Gabon: The shelf saw two good discoveries: the 8,165 b/d Tchatamba South No. 1 by Marathon and a 3,000 b/d well in Kenguene Marin drilled by Shell.
Congo: The Congolese government is getting tired of Elf's interference in its affairs. The national assembly was formally denounced in October
Exploration is having good results in the Congo, especially in Elf's Haute Mer license. Bilondo Marine 1 tested 8,520 b/d and Moho Marine 3 found a new reservoir that tested 6,800 b/d. The Djambala Field will come onstream in 1998.
Angola: Sonangol will invest strongly in 1998. Plans have been set to drill 45 wells per year through 2005, both on and offshore. Up to 20,000 sq km of 3D seismic per year is also in the plan.

Deepwater is having its best results Block 17, operated by Elf. East of Girassol Elf discovered Dalia Field in 1,300 meters of water. A second well confirmed the discovery by producing 16,000 b/d on test. Block 17 is estimated to hold over 3 billion bbl of oil. Oombo field began production from Block 3/91 by flowing 9,500 b/d of oil.
South Africa - Production from Oribi field began in July. By producing 24,000 b/d of oil it mets 6% of South Africa's petroleum need. Several offshore blocks are being evaluated and may see drilling in 1998.
Middle East
The recent market turmoil and resolution is only a temporary problem but underscores the need for all oil producers to moderate their output until demand growth returns. It will return and strongly into the next century. The game will then shift to expanding supply. Middle East producers are not waiting; they are building for the future by opening new fields and expanding existing production. Significant offshore work is underway and scheduled for the near future.
Egypt: The drive to develop gas reserves is bearing fruit in Egypt's Nile Delta. In 1997 The Rosseta, Rashid and Temsah concessions each had discoveries. BG Exploration and Production attributed the Rosetta concession discovery to a 1,500 sq km 3D seismic survey. The discovery well tested more than 60 MMcf/d of gas. BG, Royal Dutch/Shell, and Edisson drilled the Rashid 5 and 6 wells. They are expected to produce 90 and 40 MMcf/d of gas respectively.
The Gulf of Suez concessions also had a good year. The EGPC and IEOC concession northwest of Belayim Field had a discovery that tested 960 b/d at a 11,570 ft TD. In the Port Faud concession Sigan-1 found gas in three zones. Testing the well returned 18 MMcf/d of gas.
Yemen: Block 15/Mukalla will have a 2D survey performed by Petrocorp who has also commited to drill three wells. Over $12 million will be invested over the next three years. Abu Dhabi: Abu Dhabi National Oil is proceeding with plans to develop the Khuff Field. Total is the operator and will send the gas production to fuel a new electricity generating station.
Bahrain:Chevron recently signed for three offshore blocks. 2D and 3D surveys are planned for 1998 with drilling scheduled for 2000.
Qatar- Pennzoil began drilling on Block 8 in November. Two additional wells are scheduled. The Al-Rayyan Field was expanded by two wells that are adding an additiona 18,000 b/d of capacity through the facilities. There are now six wells in the field with one more planned. Occidental Petroleum signed a US$440 million production sharing agreement for the Idd Al-Shargi south Dome Field. This is part of Qatar's plan to raise oil production to over 700,000 b/d by 2000.
Iran: Total crossed sword's with the US government over development of the South Pars gas field. The US has held a strict embargo on Iran for years and has tried to extend its embargo and sanctions to non-US companies active in the region. The $3.5 billion deal is significant and US companies are screaming that they are being unfairly treated by the US policy. US-based companies cannot bid on such work until sanctions are removed. Fortunately, the rhetoric is beginning to moderate and the groundwork for new relations may be developing. Perhaps 1998 will see a restoration of US business relations.
Iraq: Although Iraq as limited offshore territory it has been a major thorn in the region. Saddam Hussein's cat and mouse game with UNSCOM and the US military continually raises the shadow of the Kuwaiti war. There is no solution other than containment until a change of government occurs. The world needs the oil of the Middle East and the industrial nations will do what is necessary to keep it flowing.
Central Asia
Offshore activity in Central Asia was dominated by Caspian Sea drilling and political maneuvering over the past year. Azerbaijan is having the most success developing its resources and building consensus for oil pipeline transport to western markets. India's governmental turnover has slowed needed legislation and planning for future licensing. Little progress will occur until the power relationships are settled.
Georgia: The Black Sea was quiet in 1997 with little activity anywhere. For 1998 expect movement by Arco to examine and test Georgia's deepwater potential. Reserve potential is estimated at 200 million tons of oil in a license covering 9,000 sq km. Arco will carry 100% of the investment.
Kazakhstan: Mid-year the seismic survey of the northern Caspian was completed. The consortium of Agip, BG, British Petroleum, Shell, Statoil, and Total funded the $300 million study, which found an enormous feature, the Kashagan structure. It lies in the shallow waters of the northeast Caspian and may contain 25-70 billion bbl of oil.
The consortium along with state-owned CaspiShelf established a joint operating company, Offshore Kazakhstan International Operating Comapny (IKIOC), to oversee exploration and development of Kashagan. The first well will be drilled soon using a swamp barge.
Production targets for Kazakhstan's Caspian fields have been set to begin in 2003. Initial targets are 100,000 b/d by 2004 increasing to 1-1.2 million b/d by 2013. Tengiz Field production is estimated to peak at 700,000 b/d.
Amoco joined the Caspian Pipeline Consortium in early 1998. The company will pay Kazakhstan's 19% share of the pipeline, around $400 million, to earn the right to ship up to 60,000 b/d through the line. The 900 mile pipeline will connect Tengiz Field to the Black Sea.
Turkmenistan: The first international licensing round was held offering 11 blocks covering 22,600 sq km. The country later decided to pull three blocks: Lachin, Yelbars, and Burgut, which will be jointly developed with Iran. These fields lie near the border with Iran. Other blocks are being negotiated.
Azerbaijan: Pennzoil found natural gas in the KPS-1 well on the Karabakh Block late in 1997. Two additional wells are planned for later this year after more seismic is evaluated.
Azeri-Chirag Field started producing in November. Oil flows increased to 17,000 b/d. Azerbaijan International Oil is the operator with Statoil.
Agip and Socar signed a production sharing agreement (PSC) for Kurdashi, Araz, and Shir van Deniz fields. Inital production is scheduled for 2003. Other PSC's signed include Royal Dutch/Shell for Bal Abiha Field, and Exxon for Nakhchivan prospect. Another PSC is about to be signed this year for Atashgah, Yanan-Tava and Mugandeniz fields with a consortium of Itochu Oil Exploration, Indonesia Petroleum, Japan Exploration and Teikoku Oil.
Southeast Asia
Activity in the region was strong throughout 1997 with the Gulf of Thailand finding and developing significant reserves of gas. Late in the year the economic collapse in Indonesia spread throughout the regin but did not significantly affect oil and gas activity. 1998 will be a year of rebuilding for all the economies in the area as private companies work their way out of high debt levels. Restructuring of many companies can be expected, some will be sold or take on a foreign partner to provide liquidity. The region should return to solid growth by 2000.
Myanmar (Burma): Texaco and Myanmar Oil and Gas Enterprise has a discovery in Block M-12, the Aung Ze Ya-1. The field is located 25 miles northwest of Yetagun Field and is expected to produce 200 MMcf/d of gas. Field development will take place in 1998 with start-up scheduled for 1999.
Indonesia: Unocal a deepwater discovery in the Makassar Strait offshore East Kalimantan. The Merah Besar-6 was drilled in 2,284 ft of water and produced 24.8 MMcf/d with 860 b/d of oil on test. The discovery earns Unocal a 50% working interest in the Mobil license. The Merah Besar-5 was tested early in 1998 and produced 9,430 b/d with 7.4 MMcf/d of gas. The well was drilled in 1,664 ft of water.
Gas was dicovered by Premier Oil Natuna in Block A west of Natuna Island. The Gajahputri-2 well tested 35 MMcf/d of gas and 1,406 b/d of condensate. Reserves are estimated at 200-400 bcf. In early 1998 a second discovery, the Pelikan-1, was made in Block A. The well produced 43 Mmcf/d of gas. Premier has 67% in the block with Kuwait Foreign Exploration holding 33%.
Unocal Ganal signed a PSC for the Ganal Block, a 1.2 million acre tract. Water depths range from 2,400 to 6,600 ft.
Malaysia: Lawit Field came onstream last June. The operator, Exxon said that average output is 450 MMcf/d of natural gas. By 1999 the field will be capable of producing one-third of peninsular Malaysia's need.
Thailand: The Tantawan Explorer, a converted FPSO, went into service at Tantawan Field in the Gulf of Thailand last year. The field is expected to produce 50,000 b/d of Oil and 200 MMcf/d of gas. Platform "C" came onstream in October and more than doubled the production to 8,200 b/d and 90 MMcf/d of gas.
Rutherford-Moran Oil continued the successful development of Benchamas Field. Wells 18, 19 and 20 all found large hydrocarbon columns. Since 1995 19 productive wells have been drilled.
Cambodia: Five companies: BHP, Conoco, Enterprise Oil, Inpex and Idemitsu, signed conditional agreements for four blocks in the disputed zone between Cambodia and Thailand. No drilling will be allowed until a settlement is reached. The companies are starting to evaluate the blocks.
Vietnam: Fina and Sodec discovered oil in Block 46. The 46-PT-1X flowed 2,507 b/d of oil and 31.7 MMcf/d of gas.
British Petroleum will build a 400 km gas pipeline to connect Lan Tey and Lan Do fields to the mainland. Brown & Root and JP Kenny will build the Nam Con Son Pipeline to serve Ho Chi Minh City.
Unocal Vietnam discovered gas in Block B. The B-KL-1X tested 52.9 MMcf/d and will be followed by a second well later this year.
Australia:The West Tuna and Bream B platforms started up last year. Combined production is expected to be 25,000 b/d of oil. Mobil announced a discovery in WA-248-P. The Athena-1 flowed 2,133 b/d of oil and 47.4 Mmcf/d of gas. Mobil holds the license 50/50 with Phillips. Apache announced that the Jaubert-1 in WA-1-P tested 6,300 b/d from two zones in the Lower Cretaceous Legendre formation.
New Zealand:Two deepwater wells were scheduled last year by Conoco and Inpex northland for license PEP 38602. The partners have eight years to develop the license. The western edge of the Pacific Rim was moderately active in 1997. China and its active PSC's tested many protions of the aquatory but with limited success except around Hainan Island in the South and Bohai bay in the north. New areas offshore Sakhalin Island are almost ready to enter production. Slow and steady development is the pace for 1998.
China: China established a new state oil company, China National Star Petroleum. It will explore both on and offshore. In the South China Sea Statoil's Lufeng Field came onstream. Two production wells are flowing to the prosuction ship, Navion Munin. Peak production is set for 60,000 b/d of oil. In Bohai Bay, Energy Development was awarded Cheng Zi Kou Block. The block is adjacent to Shengli Field. In December 1997 Philips China announced an oil discovery in the Bozhong Block, also in the bay. The Peng Lai 14-3-1 tested 1,602 b/d. North Korea - Beach petroleum is planning to explore the eastern coast. A survey of the 30,000 km area off Wonson was completed. Exploratory drilling is pending survey interpretation.
Eastern Russia:Sakhalin II is preparing for production. Early this year the extended Molikpaq platform was entering the final stages of construction before being towed to its location on Piltun-Astokhskoye Field. The platform will be ballasted on location this coming fall with first oil scheduled for 1999. The consortium is seeking a FPSO to aid in development of the field.
Copyright 1998 Oil & Gas Journal. All Rights Reserved.