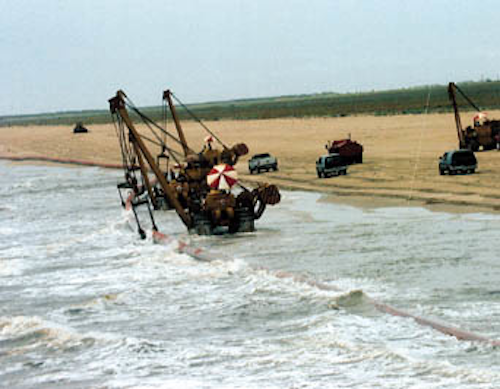 Technology coming of age
Gene Raborn
Kværner - R. J. Brown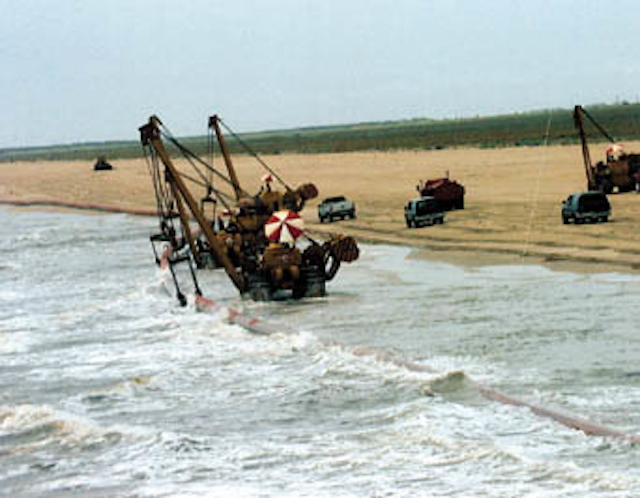 Pipeline bundles for US Gulf of Mexico installation are launched at Matagorda Island, Texas.
With the completion of the Flextrend four-mile-long bundle, a three-mile system for Enserch Exploration in the Gulf of Mexico and a 14-mile pipe-in-pipe system for BP Exploration, pipeline bundling entered the mainstream of approaches to pipeline installation. Design and construction management support for these projects was carried out by Kværner - RJ Brown in Houston.
Pipeline bundling has been around for some time as an alternative to conventional installation by expensive lay barges. The concept is simple: Build a multiple pipeline system on land and place the lines inside a carrier pipe. The carrier pipe provides flotation and allows the completed system to be towed from the fabrication site to the installation location.
Although the approach greatly reduces the need for major marine equipment and accordingly reduces costs, the line lengths are currently limited by size and towing equipment. Diverless connection systems have been added to allow for deepwater installation.
Now, sophisticated insulation systems have been added to reduce production problems in deepwater subsea wells. Further innovations are now under planning, including installation in water depths down to 6,000 ft and midline tie-ins to allow unlimited lengths.
Background
Bundles and bottom tows have been used in many places around the world, but several major projects have led directly to the current breed of bottom-towed bundles in the Gulf of Mexico. These include:
Panarctic - Drake 76 (1977): Complex pipeline bundling, including flowlines, control lines and electric heating lines, was introduced with the Panarctic project in the Canadian high Arctic. This system was installed underneath the ice using the bottom-tow method. The deflect-to-connect method was successfully used for the first time to execute diverless connections to a single subsea well under the ice.
Placid - Green Canyon 29 Field development (1984-1986): Next came Placid's Green Canyon 29 project in the Gulf of Mexico, where pipeline bundles were used for deepwater subsea tie-back operations in water depths down to 2,400 ft. Four different bundles (lengths of 1-10 miles) were built on the beach at Matagorda Peninsula and bottom-towed 425 miles to the installation site. Diverless connections were required both at subsea well sites and at a subsea template located beneath a floating production system.
Enserch - Mississippi Canyon 441 Field development (1991-1992): Enserch Exploration had been a partner with Placid in the Green Canyon 29 project and was convinced that the bundle option offered distinct advantages for its Mississippi Canyon 441 project. Six wells were to be tied back from two 3-well templates via bundles six miles and three miles long. Diverless connections were required at the templates in water depths of 1,550 ft and 1,450 ft, respectively. Once again, the Matagorda Peninsula was used as the fabrication site, and the bundle was laterally launched into the surf. Both bundles were bottom- towed 450 miles to the installation site at an average speed of almost 6 knots.
Insulation of these Mississippi Canyon 441 systems was added in order to reduce the risk of hydrate formation. This innovation would prove to be very significant for bundle applications on future projects.
Recent experience
Two projects have just been successfully completed with the bundles built simultaneously at the Matagorda Peninsula. Both projects required an exceptional degree of thermal insulation because hydrate and paraffin concerns were key elements in the development schemes. Also the execution time - from start of detailed design to offshore installation - was dramatically reduced. The Mississippi Canyon 441 project took 21 months from start to finish, compared to 8 months for Flextrend and 13 months for Enserch Garden Banks 387.
During the execution of these jobs, a major study effort was carried out for the DeepStar project, a joint industry group looking at deepwater solutions in the Gulf of Mexico. The study entitled "Deepwater Gulf of Mexico - Integrated Towed Flowline Bundle Design Study," investigated major advances in bundle technology with offset distances of 60 miles and water depths down to 6,000 ft. A third project for BP involved use of 14-mile long twin pipe-in-pipe flowline systems.
•Flextrend - Garden Banks 72 tie-back to Garden Banks 117 (1995): A cased insulated bundle, 4 miles long, was designed, fabricated and towed into position over a period of slightly more than eight months. The bundle connects two subsea trees in water depth of 950 ft to a platform in 550 ft of water. The 18-in. diameter casing holds four 3.5-in. flowlines, System design is for 7,500-psi service.
Because of paraffin and hydrate formation potential in the crude, the four flowlines, were insulated using pre-formed open-cell polyurethane foam enclosures. The completed bundle was internally pressurized with nitrogen at a pressure of about 150 psig. The nitrogen serves two purposes: (1) to present an inert atmosphere inside the casing, essentially eliminating flowline external corrosion and casing internal corrosion; (2) to reduce the casing's otherwise negative hoop stress to zero, eliminating the possibility of collapse of the casing due to external pressure during tow. Flexible jumpers connect the bundled flowlines, to the trees, while rigid steel jumpers are used at the platform risers. Because of scheduling requirements, the umbilical was installed separately.
•Enserch - Garden Banks 387 tie-back to Garden Banks 388 template (1995-1996): These three-mile-long bundle ties back the two production wells in Block 387 to the template at the floating production facility in Block 388. Provisions for a third well at 387 or tieback from an adjacent block have been included through two of the six 4.000-in. OD by 0.500-in. wall flowlines in the bundle. The design service is 10,000 psi and total weight of the bundle system is 2,500 short tons.
Hydrates and paraffin formation potentials are considered severe problems because the wellhead flowing temperatures are low. Open cell polyurethane foam, 3-in. thick, is used for the insulation material, and comprehensive tests of the bundle thermal efficiency were carried out. The casing diameter is 28-in., and the casing is pressurized to over 1,300 psig because of the 2,300-ft water depth in final position and the 3,200-ft water depth along the tow route. Engineering began in early 1995. Fabrication of the bundles at the beach started in July. Sleds for the end connection were fabricated in Houston and taken by barge to the Matagorda Peninsula job site. The bundle was launched from the beach at Matagorda Peninsula in February 1996, with offshore positioning completed in March.
•BP - Green Canyon 200 tie-back to Bullwinkle Platform (1996-1997): The Troika Project includes an eight well manifold template located in Block GC200 in a water depth of 2750 ft, 14.1 miles from the Bullwinkle platform in Block GC65, in a water depth of 1350 ft. The twin flowline bundles consist of individual 10-in. diameter pipes, each placed inside a 24-in. diameter carrier pipe. High integrity open cell polyurethane insulation is placed around the flowlines, to protect against hydrate formation and paraffin fallout. The twin bundles will each be made up in 7-mile lengths with a midline tie-in made offshore. The four bundle sections will be made up on Matagorda Peninsula laterally launched into the sea and bottom towed 390 miles to the field. Steel catenary risers will be installed at the Bullwinkle platform. Midline tie- ins will be made with jumpers. A design flowrate of up to 80,000 bbl of oil equivalent per day with design pressure of 10,000 psi is envisaged. Initial flow for the project was attained in late 1996.
Conclusion
Pipeline bundling provides unique capabilities for future deepwater developments. As the evolution of this technology is at an early stage, there remains considerable room for improvements. It is expected that integrated systems will be developed, which would combine flowlines, with risers, manifolds or templates, all connected and tested before being towed to the installation on site.
Better methods of controlling heat loss and warming flowlines will come, along with other improvements not yet imagined. Innovation and experience will combine to reduce risks and costs - the primary barriers to deepwater developments.
Copyright 1998 Oil & Gas Journal. All Rights Reserved.