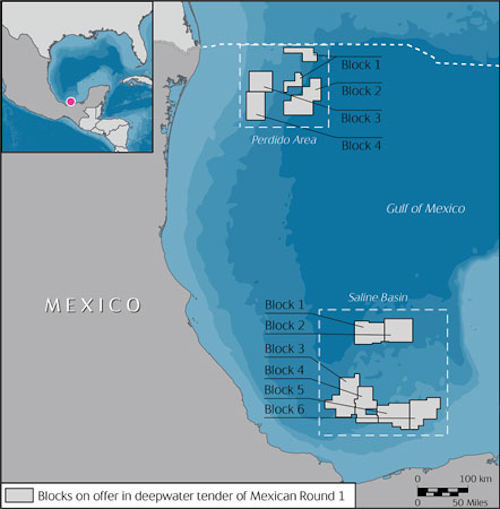 This year's call for bids off eastern Canada drew eight successful applications, according to the Canada-Newfoundland and Labrador Offshore Petroleum Board (C-NLOPB). Four of the parcels awarded were in the undrilled but prospective West Orphan basin, with the other four split between the Flemish Pass and Jeanne d'Arc basins. Newcomers awarded participating interests included Hess, Noble Energy, and Israel's Delek Group. Total value of the various work commitments is around $758 million.
•••
Mexico has awarded its first set of deepwater blocks to go out to international tender. PEMEX is a partner in two of the leases - one is for blocks AE-0092 and AE-0093, containing the company's 485-MMboe Trion discovery, which BHP Billiton Petroleum will operate. This carries a minimum work commitment of $570 million.
In block 3 in the Perdido Fold Belt area, close to Trion and various producing deepwater fields in the US sector, PEMEX will partner with INPEX and operator Chevron.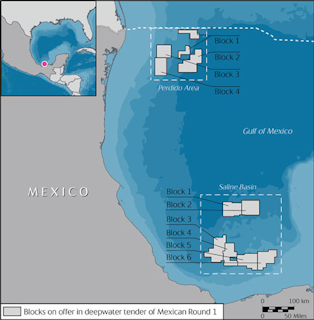 Location of Mexico's first deepwater bid round. (Map courtesy Statoil)
Elsewhere in the Perdido basin, Total will operate ultra-deepwater block 2, where water depths range from 2,300-3,600 m (7,546-11,811 ft) in a 50-50 partnership with ExxonMobil. Total and BP are also partners in blocks 1 and 3 in the Saline basin, with Statoil operating in both cases.
Mexico's oil regulator has reportedly approved Eni's scaled-back work program for three shallow offshore blocks awarded last year. The overall cost is down by $68 million to $177 million, partly because one of this year's planned wells will likely be quicker to drill than previously anticipated.
South America
Centrica is selling its gas interests offshore Trinidad and Tobago to Shell Exploration and Production. These include a stake in the producing NCMA-1 block and operated interests in the undeveloped blocks 22 and NCMA-4. Centrica entered the sector in 2010, but now plans to refocus its offshore E&P activity on northwest Europe.
•••
ExxonMobil has informed Guyana's government of its intention to fasttrack development of the deepwater Liza oil discovery in the Stabroek block. The drillshipStena Carron was due to drill a third well on the structure to help firm up recoverable resources, currently estimated at 800 MMboe-1.4 Bboe recoverable.
•••
Tullow is evaluating results from a drop core survey over block 54 offshore Suriname, which the company operates in partnership with Statoil and Noble Energy. The partners plan to drill the potentially high-impact Araku prospect later this year.
•••
Statoil has completed acquisition of a 66% operated interest from Petrobras in the BM-S-8 offshore license in the presalt Santos basin off Brazil. This contains a large part of the Carcará oil discovery. Statoil has paid Petrobras $1.25 billion, with a similar sum due on completion of various milestones, including unitization of Carcará.
West Africa
The Cairn Energy-led partners in the deepwater SNE oil field discovery offshore Senegal have contracted the drillshipStena DrillMAX for two appraisal wells in order to optimize planning for the development. The program is due to start in the current quarter with the SNE-5 well, which could involve an extended drillstem test, followed immediately afterwards by spudding of SNE-6. There are options in the contract for two more wells.
•••
Seadrill's drillshipWest Saturn was due to spud ExxonMobil's first deepwater well offshore Liberia late last year. The Mesurado-1 well in 2,500 m (8,202 ft) of water in block LB-13 is targeting oil in late Cretaceous sands.
Liberia's government has rejected African Petroleum's requests to extend its production-sharing contracts for offshore blocks LB-08 and LB-09, both of which expired last June. The company had drilled three exploratory wells including the non-commercial Narina-1 discovery, but had been unable to find a partner to help co-finance further activity.
•••
Eco Atlantic Oil & Gas is exiting Ghana after agreeing to sell its interest in the Three Point West Deep Water offshore block to PetroGulf. The company plans to focus exploration exclusively on its concessions offshore Namibia and Guyana.
•••
Sirius Petroleum has contracted COSL Drilling Pan-Pacific to provide a jackup for a multi-well, shallow-water campaign on the Ororo field. The agreement could be expanded to include other offshore assets.
•••
Harvest Natural Resources is considering offers for its interests offshore Gabon, despite having issued tenders for an FPSO for the Dussafu project. The current plan is to start production from the Dussafu PSC, which contains four discovered fields, by July 2018, initially by developing the area surrounding the Ruche well, followed by development of the other fields and drilling of further prospects in the area.
Mediterranean Sea
Italy's Ministry of Economic Development has awarded Australian independent Po Valley Energy a preliminary production concession in the northern Adriatic Sea. This covers the 47-bcf Teodorico gas field that Eni discovered and appraised through five wells in the AR94PY concession. Water depth is 25 m (82 ft), but outside the country's 12-nautical mile exclusion zone. Assuming approval for its planned environmental impact assessment, Po Valley plans to install a platform exporting gas to Eni's Naomi Pandora offshore processing facility.
•••
Greece's Ministry of Energy has authorized conversion of Energean Oil & Gas' exploration license for the 10-MMbbl offshore West Katakolon field to a 25-year exploitation license. Energean plans a $50-million development via extended reach drilling from the shore into the offshore reservoirs, starting in 2018.
•••
Israel's Ministry of National Infrastructure, Energy and Water Resources has reportedly invited bids for 24 offshore blocks under the country's 2016 Offshore Bidding Round, which closed on April 21. Individual blocks are up to 400 sq km (154 sq mi) in size. A study by Beicip-Franlab estimated that Israeli waters could contain undiscovered resources of 2,137 bcm of gas and 6.6 Bbbl of oil.
Black Sea
Black Sea Oil & Gas (BSOG) has commissioned a front-end engineering and design study from Xodus Group for facilities for the Ana and Doina gas discoveries in Romania's XV Midia Shallow block. BSOG plans to install a wellhead platform at Ana in 69.5 m (228 ft) of water; a subsea well on Doina connected to the platform via an infield pipeline; and a 121-km (75-mi) export pipeline from the platform to an onshore gas treatment plant. BSOG aims for a final investment decision this year.
Caspian Sea
Total and SOCAR have agreed to commercial terms for a first-phase development of the high-pressure Absheron gas/condensate field in the Azeri sector. This involves drilling a single well in 450 m (1,476 ft) of water producing around 35,000 boe/d, with results used to further appraise the field for future development phases. ENGIE is the third partner in the project.
•••
The ultra-shallow water Kashagan field offshore Kazakhstan is back in commercial operation following the start of test pumping of oil in late September. From early November output climbed to more than 75,000 b/d, according to the country's Energy Ministry. Production had been suspended since 2013 due to damage to the pipelines caused by the field's sour gas.
Middle East
Saudi Aramco and Rowan Companies have created a joint venture company to own and operate offshore drilling rigs in Saudi Arabia, with operations due to start during 2Q 2017. Aramco will contribute two of its jackups with Rowan providing up to five more by late 2017. The new company will also acquire future new rigs built in-Kingdom.
•••
Wintershall has started offshore drilling operations at the sour gas/condensate Shuwaihat field in western Abu Dhabi, 25 km (15.5 mi) west of Ruwais. Spudding of the offshore well SH-6 followed analysis of results from a previous onshore well. Wintershall also planned a follow-up offshore well, SH-7.
•••
Total has become the first foreign operator to sign a heads of agreement with the National Iranian Oil Co. for an offshore project following the lifting of sanctions against Iran. The French company will operate the South Pars Phase 11 development in the Persian Gulf, in partnership with Petropars and China's CNPC. Assuming a successful conclusion to negotiations in accordance with the new Iranian Petroleum Contract, the program will initially involve construction of 30 wells and two wellhead platforms connected via two subsea pipelines to existing onshore treatment facilities, with offshore compression potentially added under a later phase. The $2-billion project is designed to produce up to 370,000 boe/d of gas/condensate.
East Africa
Eni's board has sanctioned a first-phase development of the ultra-deepwater Coral field in Area 4 of the Rovuma basin offshore Mozambique. The company plans to install a floating liquefied natural gas (FLNG) facility connected to six subsea wells, with a liquefaction capacity of 3.3 MM tons/yr of LNG. Last October, BP agreed to purchase the entire produced volumes. Coral, discovered in May 2012, contains estimated in-place reserves of 16 tcf.
Asia/Pacific
India's Discovered Small Field Round 2016 attracted 134 e-bids for 34 contract areas containing various fields discovered by ONGC and Oil India. Most of the areas offered generated one or two bids, the exception being D18-DSF-2016 offshore Mumbai, which drew applications from five companies, including Enquest Drilling and Hardy Exploration and Production.
•••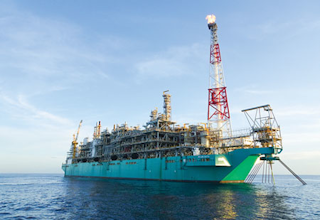 PFLNG SATU. (Photo courtesy Petronas)">
ThePFLNG SATU. (Photo courtesy Petronas)
Petronas has started gas production from the deepwater Kanowit field, 180 km (112 mi) offshore Sarawak through the floating LNG vesselPFLNG SATU. This is moored via an external turret and has a processing capacity of 1.2 MM tons/yr of LNG. Petronas has the option in the future to re-deploy the vessel, which is designed to operate for up to 20 years offshore without drydocking, on other stranded or marginal gas fields offshore Malaysia.
Australasia
INPEX said the 882-km (548-mi) offshore and 8-km (5-mi) onshore sections of the gas export pipeline for the Ichthys LNG project have been welded together. The pipeline is now ready to deliver gas from the offshore Ichthys field in the Browse basin to onshore processing facilities at Bladin Point close to Darwin, Northern Territory.
•••
Mitra Energy subsidiary Jadestone Energy has completed acquisition of a 100% interest in the Stag oilfield in the Carnarvon basin offshore Western Australia from Quadrant Northwest and Santos. The field, in 47 m (154 ft) of water in block WA-15-L, and 60 km (37 mi) offshore, was producing 3,468 b/d although output should rise following completion of two workovers and drilling of planned infill wells. Quadrant will remain as technical operator until October, when Jadestone expects to receive regulatory approvals to take on the role.
•••
Woodside Petroleum has completed a $250-million acquisition of half of BHP Billiton's Scarborough area interests in the Carnarvon basin, which include the Scarborough, Thebe, and Jupiter dry gas fields. Combined reserves are estimated at 8.7 tcf. A further $150-million payment will follow pending a positive investment decision by the partners, possibly based on an FLNG development.
•••
Late last year OMV suspended oil production through the Maari wellhead platform offshore New Zealand after routine inspection identified a 1.4-m (4.6 ft) long crack in one of the facility's horizontal struts, 4 m (13 ft) below the water line. The location is on Level 3 of the platform, the area most exposed to pressures generated by wind and waves. All wells were shut in pending repairs.