Rig repair, refurbishment facility being planned
Bruce Beaubouef
Managing Editor
Louisiana's Port Fourchon is the nerve center of oil and gas exploration and production in the Gulf of Mexico. Since it was created in the 1960s, the port has seen tremendous growth with an expanding client base and an increasingly sophisticated infrastructure.
While the port has not been immune to the downturn, it has maintained its client base, and seen an increase in traffic at the South Lafourche Airport at Galliano. And the Greater Lafourche Port Commission (GLPC) has not only worked with its tenants to keep them in place during the downturn, it is also actively working to develop new deepwater drilling repair and refurbishment capacities.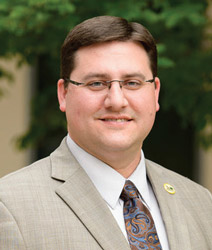 Chett Chiasson">
Chett Chiasson
Offshore magazine recently met with Chett Chiasson, Executive Director of GLPC, to discuss the ways in which the port is reacting to the market downturn; its Fourchon Island project, which involves plans to create a new deepwater drilling rig repair and refurbishment facility; its new communications system; and the importance of emergency prepardeness; and recently announced plans to build an LNG export facility at the port.
•••
Offshore: The market has been going through a downturn in the past couple of years. Can you talk about how this has impacted the Port, and what actions have you taken to adjust to the market?
Chiasson: Being an oil and gas port, our tenants have been severely impacted by the slowdown in the industry. We service both shelf and deepwater developments, but it is deepwater exploration and drilling activities that really take the majority of the services. Our tenants are those companies that service deepwater oil and gas developments. So when drilling is light, then demand for their services is light, and that causes problems for our customers, our tenants. So obviously they've struggled with this.
So back in April 2015, we reduced our basic land rental rate by 20%, and we will continue this through the end of this year. We did that proactively, and we really have done okay with that. Some of our leases fluctuated, but not many. I think we were down five at one time, but then we picked back up. So we might be down two leases. The bottom line is we've kind of stayed at our level of tenants that we were prior.
Offshore: Do you see any signs at the port that the market is improving?
Chiasson: Yes, we see signs that the dock facilities are getting slightly busier. Not great or anything, but it looks better. The traffic has increased, we can tell that. So we see a slight uptick on logistics services needed when it comes to dock facilities. What we have not seen change is the number of vessels being used to service the offshore activities. Vessel utilization is still down but dock utilization is picking up slightly.
Offshore: What trends are you seeing in deepwater development, and how is the port adjusting and working to facilitate those trends?
Chiasson: As drilling and development activities go further offshore, increasingly larger vessels are needed for deepwater and ultra-deepwater operations. In 2015 we produced a master plan that investigated the options for improving vessel access to the port, and we're right in the middle of a Section 203 feasibility study, which has been authorized by the US Army Corps of Engineers, into the possibility of dredging the channel to allow for deeper draft vessels into Port Fourchon.
What we are investigating, and we think we can achieve fairly quickly, is the idea that we can get the majority of the port to 30 ft. We are currently authorized for 24 ft. We do have an advanced maintenance of minus three feet, which gives us 27 ft of water. We want to get the majority of the port to 30 ft.
Outside of that, what we're looking at is a section of Belle Pass which is the entrance into the port from the Gulf. At Belle Pass, we're investigating anywhere from 35 to 50-ft draft. That deeper draft will allow the port to service the deepwater oil and gas industry in general, but most notably the deepwater drilling rigs themselves.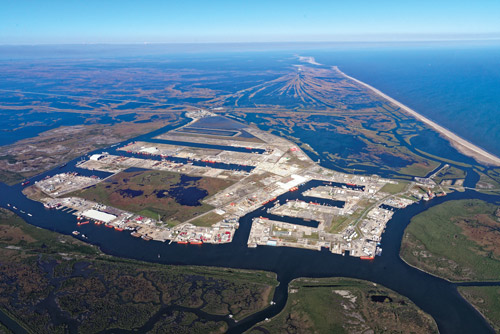 Aerial image of Port Fourchon. (All images courtesy Greater Lafourche Port Commission)">
Aerial image of Port Fourchon. (All images courtesy Greater Lafourche Port Commission)
We would like to be able to offer drilling contractors the option to have their rigs repaired and refurbished here at the port. Currently, the state of Louisiana does not have a port that can handle that type of activity. We do not see this goal as being in direct competition to those ports in Texas or Alabama, that can currently handle the repair and refurbishment of deepwater drilling rigs.
This is where the proposed Fourchon Island project comes in. This development would be the Gulf's first purpose-built, deepwater rig repair and refurbishment facility to service the major maintenance needs of the deepwater oil and gas rigs that Port Fourchon services.
What we want to do is provide drilling rig contractors with another option so they do not have to take their rig out of the Gulf of Mexico to overseas locations if their rig needs to be serviced. We want to keep that activity in the United Sates, in and along the Gulf of Mexico.
Then also, there is a lot of activity taking place with regard to rig repair and refurbishment in the Gulf itself, and of course that is a more expensive option. So what we would like to do is give them a cheaper option, closer to home; and again keep that activity here in the United States.
So the Fourchon Island development would be our deepwater port facility. We anticipate that Fourchon Island would accommodate the deeper draft vessels, and rig repair and refurbishment. The land exists, but we would have to develop it.
Offshore: Can you give us an update on where the US Army Corps study stands?
Chiasson: We're right in the middle of it. We have probably another year and a half left on that study, and that's going to tell us about whether it is economically feasible and environmentally justified to go to deeper drafts. It will tell us where those economics and environmental justifications fit at those 35 through 50-ft increments.
Offshore: So where does the Fourchon Island development project stand?
Chiasson: We have the right of first refusal of the property and we're working with the landowner on an actual lease document. Once we know where we are with the water depth and how deep we can go, then we are going to begin the development process.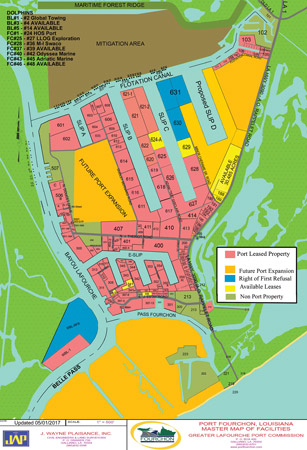 Map of Port Fourchon facilities. ">
Map of Port Fourchon facilities.
Offshore: There have been a number of construction and expansion projects going on that are designed to add slip capacity. Can you update us on that front?
Chiasson: We're currently right now in our slip "C" development, building bulkheads and doing some expansion in there. That's on the bulkhead side, and then we're also in the process of doing some initial dredging for slip "D." And in the next few months we are going to do some hydraulic dredging. This initial hydraulic dredge will create the first 12-15 ft of slip "D." Later in the year or in early 2018, we are going to do the rest of the channel dredging, and that will start the land side development operation. We'll dredge the channel and then we'll use that material to build up the land.
Offshore: The port has recently updated its communications systems, to enhance information sharing between tenants and the port. Can you update us on this front?
Chiasson: We have a state-of-the-art command and control system. It's a platform that allows all of our security systems to be placed upon it, and we can layer those things. We have over 100 cameras in our system. We have Port Vision which is an automatic identification system, so we can know where all the vessels are at any given time. There are a number of different data sources that we can all put together in layers through our command and control system.
This system allows us to monitor what's going on in the port at all times. We have the capability to perform "smart analytics" where it learns what a particular pattern is in that area. Then, once it learns that pattern, it can actually give us an alert whenever something outside of the norm is in that vicinity, so we can check in and make sure everything is okay. If not okay, we can immediately dispatch or contact whoever we need to contact.
Basically now, all of our cameras in the entire port are all connected fiber-optically. We do not have to transmit anything by microwave or by wireless capabilities any longer. In the past, those technologies had led to some problems. With all the buildings and structures being built so quickly, we were increasingly having line-of-sight issues with our wireless communication systems. There were instances where newly constructed buildings impeded our lines of sight, so we had to figure out another way to do it. The fiber optics allows us to be ahead of the curve when it comes to monitoring, and it enables us to have our camera system up and running constantly. With wireless, that monitoring capability could fluctuate in the past when a large vessel came into the port, or a new building was erected.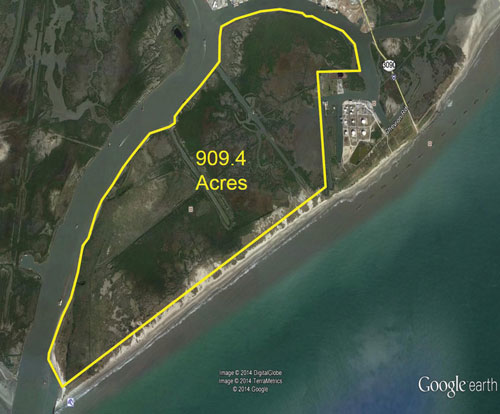 Left: Aerial image of Fourchon Island.">
Left: Aerial image of Fourchon Island.
Offshore: Does the US Coast Guard have access to these systems, or do they rely upon their own systems?
Chiasson: They have access to our system when it is necessary. So we do have interactivity with the US Coast Guard, but we have our own harbor police force and we also have interactivity with the Sheriff's Office, with our local parish government, and we're also connected to FEMA and the US Department of Defense.
Offshore: The GLPC assumed ownership of South Lafourche Airport at Galliano back in 2001. Can you provide any update on that facility?
Chiasson: Since then, more than $35 million has been invested in the facility by the Port Commission, the Federal Aviation Administration (FAA), as well as state aviation authorities. Most of that money has come from FAA and the Port Commission. That was just to develop the runway, the taxiway, lighting, and the instrument landing system.
Since then, we have acquired a number of tenants for the airport. Some are fixed wing, and there is a lot of helicopter traffic, obviously. Chevron is our anchor tenant now, and they have invested about $30-35 million at the airport. They have their own helicopter and transport their employees to and from their offshore facilities. By the way, Chevron is the only operator in the Gulf of Mexico that owns its own helicopters and transports its employees to and from the airport. All the other oil companies contract these services out.
Despite the downturn, we had a record-breaking year in 2016 in terms of the amount of passengers run through the Galliano airport - over 111,000 passengers. Obviously, a big part of that was the Chevron facility coming online. Rotorcraft Leasing Co. also operates out of the Galliano airport, and they are transporting a good number of people as well. We also have several fixed-wing aircraft based at the airport.
Other transportation contractors have their own facilities. Bristow actually operates a search and rescue operation out of the Galliano airport but they have their own heliport, in Galliano but not on airport property.
Also within the port, both PHI, Inc., and ERA Group, Inc., have their own helicopter facilities. These companies have their own facilities but they lease the land from Port Fourchon.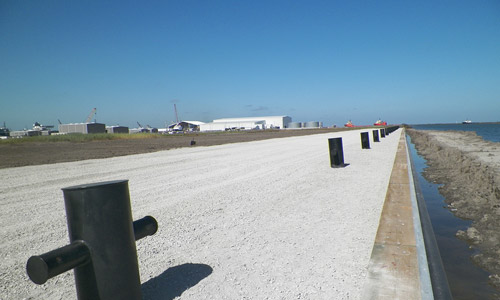 Above: Bulkheads are being added at slip "C."">
Above: Bulkheads are being added at slip "C."
Offshore: The port recently announced plans to develop an LNG export capacity. What factors are driving this, and how do you see this benefiting the port, the local economy and the industry?
Chiasson: This is an $800-million project being developed by Energy World USA, Inc. They had expressed interest in building a small-to-medium scale LNG export facility. We started speaking with them in early 2016, and eventually these discussions turned into a lease on the property.
The proposed facility would produce up to two million tons of LNG per year for export, as well as operate a separate smaller-scale liquefaction plant geared toward providing LNG to fuel the next generation of offshore supply vessels.
One of the main reasons they chose the site is because there is already a good bit of pipeline infrastructure adjacent to where they are planning to develop it, so there is no need for new pipeline infrastructure. All they have to do is tap into the pipeline systems that are immediately adjacent to the location. The existence of these pipeline systems give the port an advantage, in this respect.
The other thing that attracted us to this project is Energy World's business model. Their core business is power generation, and they are hoping to bring in more LNG to enable them to produce that power. What is truly attractive is that they are bringing their own market to the deal - their own power plants will be consuming the LNG.
Offshore: What is the status of this project?
Chiasson: We are now in the preliminary phase of meetings. We have met with the Coast Guard, and we have met with the Federal Energy Regulatory Commission (FERC). There are studies that have to be performed, so there are a number of consulting firms that are currently researching waterway accessibility and other environmental impacts. They will be sending a pre-filing letter to the FERC soon, and that will start the regulatory process.
Offshore: What do you think have been among the main lessons learned when dealing with extreme weather or operational problems, or even market downturns?
Chiasson: One is the value of being prepared. Two is the importance of having great communication. Three is being fair and open about things: treating people fairly, and treating businesses fairly. All of these lessons are important. These lessons help us make sure that we understand what our client's needs are, and they enable us to help them obtain the things they need to achieve their goals.