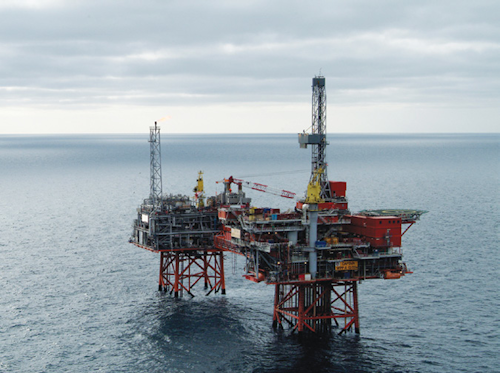 | | | |
| --- | --- | --- |
| | | Jeremy Beckman • London |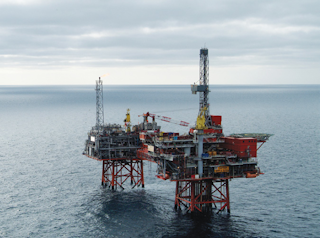 Captain production complex in the Outer Moray Firth. (Photo courtesy Chevron)
Two major operators have submitted plans for incremental developments at their UK North Sea hubs.
Chevron had originally envisaged an extra platform for its Captain enhanced oil recovery (EOR) project in the Outer Moray Firth off northeast Scotland, designed to increase long-term recovery from the heavy-oil Captain field via the application of polymer technology. However, the company has instead chosen to drill up to six long-reach horizontal polymer injection wells within the existing platform area under a Stage 1 EOR program.
Captain, discovered by Texaco in 1997, entered production 20 years later, and was a flagship project for the UK sector in its application of horizontal drilling and downhole pumps. The current production complex comprises a wellhead protector platform and a bridge-linked platform, connected to an FPSO.
Chevron, BP, Shell, and Statoil also contributed to the recent Oil & Gas Authority (OGA) report,Polymer Enhanced Oil Recovery – Industry Lessons Learned, which shared the experiences from polymer EOR research at Captain and at BP's Quad 204 redevelopment west of Shetland, which came onstream early this year. The report highlights the difficulties of applying polymer EOR on subsea developments, projects with large distances between wells, and at facilities reliant on surface water discharge. And although polymer may bring benefits in terms of long-term productivity, the authors advise mitigation planning to counter potential side-effects such as deterioration of injectivity relative to water injection.
Shell scrapped its initial proposal for a conventional FPSO-based development for the Fram gas/condensate field in the UK central North Sea following unexpected reservoir data from a 2012-13 drilling program on the field. It has now applied to develop Fram with two horizontal wells connected via a new subsea manifold and a 15-km (9.3-mi) flowline to the existing Starling manifold, which is in turn linked to the company's Shearwater production platform 33 km (20.5 mi) distant. Drilling should get under way in early 2019, followed by start-up in spring 2020.
Mixed views on UK's offshore future
UK offshore production could start to fall rapidly in the early 2020s, according to a report by Westwood Global Energy Group. Yvonne Telford, Westwood's senior analyst, Northwest Europe Research, estimated the UK's total undeveloped offshore resources at 8.5 Bboe, spread across 496 unsanctioned discoveries. Only 750 MMboe appears to be commercial at an oil price of $60/bbl, she claimed, although technical and commercial innovations could potentially render a further 1.5 Bboe economic.
Telford included the fractured basement Rosebank and Cambo oil discoveries on the Rona Ridge west of Shetland in the 'possibles' category. Siccar Point Energy, which assumed operatorship of Cambo from the field's discoverer Hess, has appointed GE-owned Baker Hughes as its exclusive supplier in the planned appraisal drilling and subsequent early production phases (well services, subsea production equipment and flexible pipes). Siccar Point described the arrangement as "a long-term partnership that…improves execution efficiency and risk mitigation, and incentivizes performance through the creation of shared project goals."
Britain's OGA has a more optimistic take on the sector's future. It estimates the UK has a solid two decades ahead at least of offshore production, based on probable remaining commercial reserves of 5.7 Bboe. Operations could be extended further by maturing the UK's proven but undeveloped resources of 7.4 Bboe, much of which is in mature, developed areas. And there could be a further 6 Bboe of undiscovered resources across the UK continental shelf, the report claimed. Harnessing these resources would depend on the basin attracting additional investment, implementing technology, and company collaboration on new and existing developments, said the OGA's Operations Director Gunther Newcombe.
Hess pulls out of Valhall, pursuing Danish sale
Hess has begun the process of exiting North Sea production after agreeing to sell its Norwegian division to Aker BP for $2 billion. The main assets are Hess Norge's interests in the Valhall and Hod fields in the southern Norwegian North Sea, with proven and probable reserves of 150 MMboe. Former operator BP Norge developed Valhall via six steel platforms at the main field center and two remotely operated unmanned 'flank' platforms north and south of this complex; and Hod via an unmanned wellhead platform 13 km (8 mi) south of Valhall. However, all the original Hod wells are now shut-in, awaiting P&A, and Aker BP currently produces the Hod reservoir through wells drilled from the Valhall South Flank platform.
Aker BP plans in turn to sell a minority interest in the two fields to prospective partners willing to help develop further upside in the area. The company was aiming to submit development proposals by year-end for the Valhall Flank West project (first oil here slated for 2020), and is working on other schemes for the North and South flanks.
Hess is also looking to sell its interests in the Danish sector, where it has a 61.5% operated stake in the South Arne field. Despite numerous incremental projects over the years, production was down to around 11,000 boe/d during the first half of 2017.
Far East yard set for Castberg FPSO hull
Statoil has taken the initial steps toward its second major operated development in the Barents Sea by issuing a letter of intent (LoI) for the Johan Castberg FPSO hull to Sembcorp Marine Rigs and Floaters in Singapore. Pending a final investment decision, Statoil planned to confirm the $490-million contract award this month. No Norwegian contractors submitted alternative bids for the hull, but Statoil stressed that around 50% of the equipment and service contracts to follow in the project phase and around 80% in the operations phase will go to Norwegian companies. The company will also base its operations center for the project in Harstad, northern Norway.