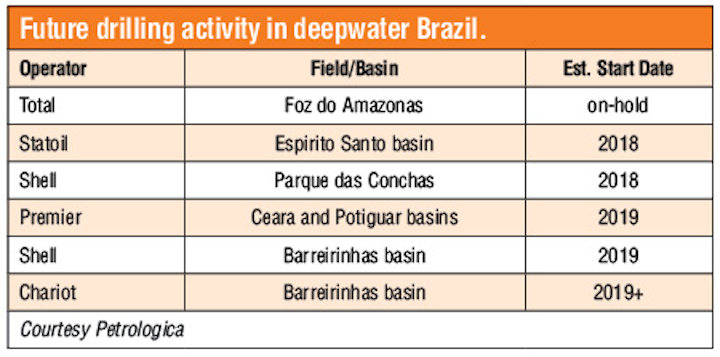 Brazil, Guyana, Mexico look to boost foreign investment
Jo Higgins
Graham Walker
Fawaz Martini
Petrologica
After several slow years for Latin America, a settled oil price has spurred many countries to try and entice operators to invest once again in their resources. Argentina, Brazil, Mexico, and Uruguay are set to open deepwater licensing rounds in 2018, with the Argentinean and Brazilian rounds backed by large-scale seismic surveys. Notably, Argentina's round will mark the country's entry into the ranks of Latin American deepwater countries.
The following details the deepwater prospects of three key nations: Brazil, Guyana, and Mexico. Brazil will be looking to fend off Mexico to retain its crown as the leading Latin American producer, while Guyana is steadily adding barrels around its prospective Liza oil project. Mexico has become a major competitor for investment after opening its waters to international operators in 2015, ending a long-term monopoly by the state-owned PEMEX, and by offering a more liberal regulatory environment than Brazil. However, PEMEX is still integrating international operators into its blocks, with minor delays to projects as they are re-evaluated by investors.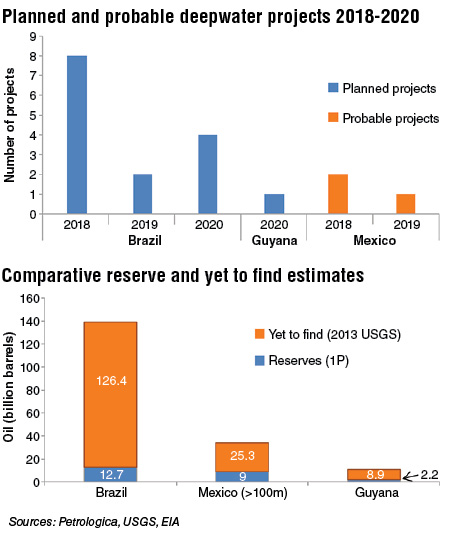 According to the US Geological Survey's latest available estimates from 2013, Brazil has by far the largest potential of the three nations with 126.4 Bbbl of oil estimated to be undiscovered. Much of that potential is held in ultra-deepwater presalt formations. Mexico's potential of 25.3 Bbbl rests on opening the Gulf of Mexico to further exploration. Guyana's potential was estimated at 8.9 Bbbl in 2013, but recent discoveries in the Stabroek block would likely see that estimate revised were it undertaken today.
Brazil
Lack of investment in Brazil has caused a set-back in the country's oil and gas industry over the last three years. The new conservative Temer government is attempting to improve declining activity levels by implementing a long planned and wide-ranging program to modernize the country's hydrocarbons industry. To boost foreign investment, the Brazilian government has ended Petrobras' monopoly over the prolific presalt hydrocarbon resources and fully opened those reserves to IOCs. Some IOCs have already acquired stakes in both presalt and postsalt blocks and they have set their plans for exploration drilling soon.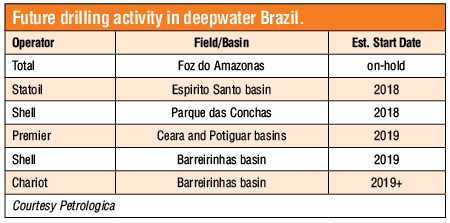 To further lure investors, the Brazilian government has extended the contracts' exploration period to seven years instead of six, it eased local content requirement for future projects, and it also reduced royalties for new frontiers. The country is aiming at 2 MMb/d of additional oil production capacity by 2027, mostly from deepwater areas. Therefore, ANP has set an ambitious plan with eight bidding rounds to be launched within the coming two years, in addition to the most recent and successful 14th bidding round in which 13 deepwater were awarded. Eight of those blocks, lying in the oil-rich presalt Campos basin, were awarded to ExxonMobil and Petrobras. ExxonMobil will operate two of them with 100% stakes, while the other six will be under a 50/50 joint venture between ExxonMobil and Petrobras with the latter as operator. ANP estimates potential in-place reserves in the Campos basin at 13 Bbbl. ExxonMobil has also been awarded 50% and operatorship of two blocks in the Sergipe-Alagoas basin. ANP estimates show 15 Bbbl in-place resources in the Sergipe-Alagoas basin. Murphy and Queiroz Galvão will partner with ExxonMobil in those bocks with 20% and 30%, respectively. CNOOC and Repsol were awarded one deepwater block each in the Espirito Santo basin, while the Australian company Karoon was awarded one deepwater block in the Santos basin.
The ANP has released details of the second and third presalt rounds due to take place on Oct. 27. The second presalt round will put four high potential unitizable areas on offer with 2.2 Bbbl of in-place resources. The companies qualified for this bid round are: Petrobras, ExxonMobil, Shell, Total, Chevron, Statoil, Repsol Sinopec, Galp Energia, Petronas, and the emerging local outfit OuroPreto.
On the same date a third bid round will be launched offering four presalt areas: Pau Brazil with estimated in-place reserves of 4.1 Bbbl, Peroba with 5.3 Bbbl in-place reserves, Alto de Cabo Frio Oeste, and Alto de Cabo Frio Central. The latter two areas are considered as high-risked, a recent analysis and interpretation of the multi-client 3D seismic data received from CGG showed significant potential resources in them. Companies qualified for the third bidding round are: Petrobras, ExxonMobil, BP, Shell, Total, Statoil, Qatar Petroleum, CNOOC, Repsol, Chevron, CNODC, Galp Energia, Ecopetrol, and Petronas.
Three more bidding rounds are scheduled for 2018: one for the equatorial margin, one for the Campos basin, and one for marginal mature fields. Multiple prospects will be released in another three bidding rounds scheduled for 2019. The country expects those nine bidding rounds to result in exploration and production projects pumping $80 billion of new investments into its economy plus $120 billion in tax revenues. ANP also expects those exploration activities to add 10 Bbbl of recoverable reserves and to use 20 rigs.
Guyana
Guyana needs no help in showcasing its potential following ExxonMobil's two world-class finds in Liza and Payara, with an uptick in activity surrounding the Stabroek block since then. Guyana's neighbor, Suriname, has also benefited from the discoveries as the geological plays extend across the border, making the country a potentially lucrative option. Guyana is trying to capitalize on this by holding only the second 'open door licensing round' in its history. The round will remain open for one year with operators allowed to submit proposals for any acreage they choose.
Located in the Stabroek block, the deepwater Liza field was discovered in May 2015. The 2.3-2.8 Bbbl discovery will be developed in phases by operator ExxonMobil. The Liza Phase 1 development includes a subsea production system and an FPSO vessel with the capacity to process up to 120,000 b/d of oil from four subsea drill centers consisting of 17 wells, including eight producers, six water injectors, and three gas injectors. TheNoble Bob Douglas drillship has been contracted to complete the wells on a three-year drilling campaign due to start in April 2018.
Production is expected to begin by 2020 and develop about 450 MMbbl of oil. The fasttracked development plan was submitted in December 2016, and received regulatory approval from the government of Guyana in June 2017.
Phase 1 is expected to cost more than $4.4 billion, which includes a lease capitalization cost of about $1.2 billion for the FPSO facility and $3.2 billion for drilling and subsea infrastructure.
As part of ongoing exploration in the Stabroek block, the Payara-1 well was spud in January 2017 and completed as a discovery with an estimated 1.4 Bbbl of oil in place. The Payara-2 appraisal well was also completed in July 2017 as a discovery, adding an estimated 500 MMbbl to the Payara field and making it ExxonMobil's second world-class discovery in Guyana.
Further wildcats are planned across the Stabroek block through the end of the year on the Turbot, Ranger, and a third currently undetermined prospect.
Mexico
Mexico launched a deepwater licensing round at the end of July, which will offer 30 license-style contracts in the Gulf of Mexico. The blocks on offer include nine in the prolific Perdido foldbelt, 10 in the Mexicana Ridges and Salinas basin areas, and one off the Yucatan platform. The Mexican government has an investment goal of $31.5 billion.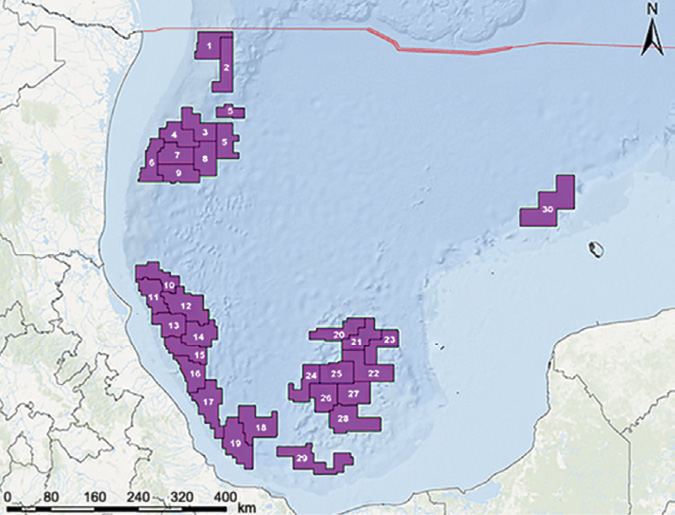 Map of blocks on offer in Mexico's Round 2.4 deepwater licensing round. (Source: Comisión Nacional de Hidrocarburos)
The Perdido and Salinas areas were featured in the previous bidding round in December 2016 and are largely covered by seismic data. The Mexicana Ridges area is making its debut in a public bidding round but as an exploration area for PEMEX, it has near complete seismic data. The 4,000-sq km (1,544-sq mi) block off the Yucatan platform is a frontier play with little data available. Operators had until Nov. 10 to submit their pre-qualification documents for the round with the qualified companies announced on Dec. 20. Local content requirements for the licenses will begin at 3% for the exploration phase and rise to 10% for any commercial developments.
Reports are that Eni is looking to invest. The company's chief geologist, Luca Bertelli, recently suggested the company sees Mexico as "one of the last major opportunities" for deepwater. The company already operates the shallow-water Amoca project with an estimated 1.2 Bbbl of oil reserves, discovered in 2015.