| | | |
| --- | --- | --- |
| | | Jeremy Beckman |
Global deepwater investments could total around $127 billion during 2017-21, according to Westwood Energy's latestWorld Deepwater Market Forecast. Africa and the Americas will likely account for 78% of the forecast expenditure, with Asia experiencing a pickup in deepwater activity post-2017. Westwood forecasts a compound growth rate of 8% in subsea drilling and completion spending, and says lower drilling costs could stimulate further project sanctioning over the next 18 months, assuming oil prices stabilize above $50/bbl.
North/Central America
Eni continues appraisal drilling of various shallow-water discoveries in Mexico's offshore Contractual Area 1, 200 km (124 mi) west of Ciudad del Carmen in the Bay of Campeche. Analysis of the recent Miztón-2 well suggests in-place resources at the Miztón field of 350 MMboe. After temporarily suspending the well, Eni planned delineation drilling on the Tecoalli field in the same concession.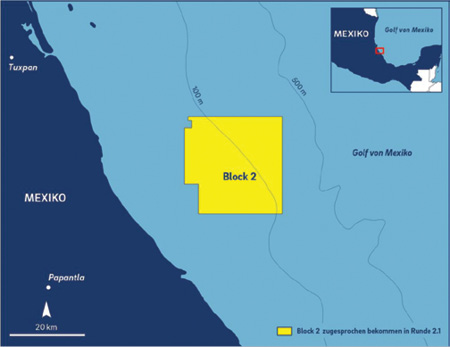 Block 2 offshore Mexico. (Map courtesy DEA)
The company also confirmed it had signed three new E&P licenses for offshore blocks 7, 10 and 14 in the Sureste basin, all awarded in June under Mexico's 2.1 bid round. German company DEA Deutsche Erdoel has ratified terms for block 2 in the Tampico-Misantla basin in the southwestern Gulf of Mexico, where it will partner with operator PEMEX.
•••
ION Geophysical has expanded its 2D seismic survey offshore Panama by around 50% to 9,000 km (5,592 mi). This follows strong client interest in the country's anticipated licensing round, spurred in part by recent gas discoveries in the Caribbean Sea off neighboring Colombia.
South America
ExxonMobil has discovered a fifth oil field on the Stabroek block offshore Guyana. The Turbot-1 well, drilled 50 km (30 mi) southeast of the Liza play-opener in 1,802 m (5,912 ft) of water, encountered a reservoir with 23 m (75 ft) of oil-bearing sandstone.
SBM Offshore has contracted Keppel Shipyard in Singapore to convert a VLCC to a spread-moored FPSO for the Phase 1 Liza development. This will produce up to 120,000 b/d, with capacity to store up to 1.6 MMbbl, in addition to gas treatment and water injection.
Total, mindful of ExxonMobil's successes, has taken an option on farming into 25% of the neighboring Orinduik block from Eco (Atlantic) Oil & Gas. In exchange, Total would co-fund a recent 3D seismic survey over the block and a proportional share of future drilling costs.
•••
Brazil's National Petroleum Agency (ANP) has awarded Petrobras and ExxonMobil 50:50 interests as partners in six offshore blocks in the Campos basin, under the country's 14th bid round. All are in deepwater in the SC-AP3 sector, and were the most hotly contested in the round, Petrobras said, due to their promising geology.
Petrobras has signed a heads of agreement with Statoil, under which the two companies will collaborate to increase oil production and recovery from their jointly owned deepwater mature fields in the Campos basin, with an initial focus on the post-salt area.
Both companies are also progressing other projects in the basin. MODEC's FPSOCidade de Campos Goytacazes has sailed from the BrasFels shipyard to Bananal Bay, ahead of a deployment for Petrobras on the Tartaruga Verde and Tartaruga Mestica fields. Statoil has handed TechnipFMC an EPCIC contract for the rigid and flexible pipelines and associated subsea facilities that will be linked to a new fixed production platform under the Peregrino Phase II project.
•••
Argentina is reportedly considering staging an oil and gas exploration rights bid round next year covering areas off the country's Atlantic coast, which the Energy Ministry believes may contain an extension of the subsalt basin off southern Brazil.
West Africa
KBR has subcontracted CH2M in the UK to provide pre-front-end engineering design (pre-FEED) for BP/Kosmos Energy's deepwater Tortue gas field development off Mauritania and Senegal. CH2M's focus is partly on the near-shore hub facility that will provide breakwater-protected berths for a floating LNG production unit and for exports of LNG by ship.
•••
Total and the National Office of Petroleum of Guinea have agreed to jointly study the exploration potential of deep and ultra-deep areas offshore Guinea Conakry. The 55,000-sq km (21,235-sq mi) area is thought to be an extension of the Mauritania-Senegal basin to the north. After the year-long assessment, Total will have the right to choose three licenses for exploration.
•••
ITLOS (The Special Chamber of the International Tribunal of the Law of the Sea) has drawn up a new maritime boundary between Côte d'Ivoire and Ghana following a protracted dispute. The new median line does not overlap the TEN deepwater fields offshore, and operator Tullow Oil is now free to resume the final phase of development drilling, which it aims to re-start by year-end. The extra wells should allow the TEN FPSO to ramp up to its design capacity of 80,000 b/d.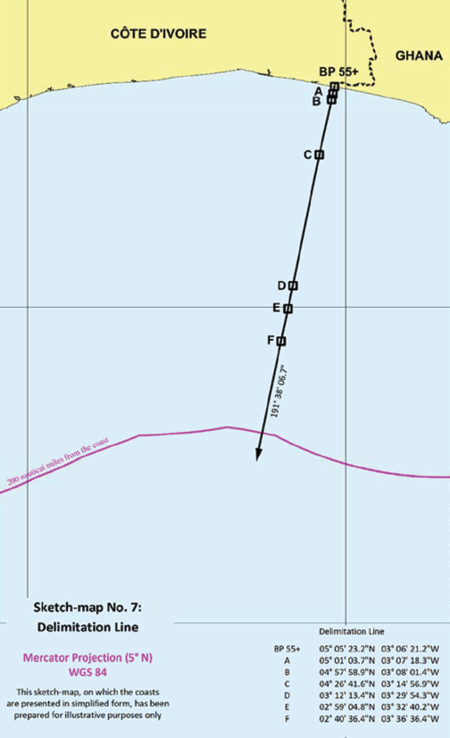 Newly defined maritime boundary between Côte d'Ivoire/Ghana. (Map courtesy Erin Energy)
Erin Energy's Expanded Shallow Water Tano block is also unaffected, and the company is working with Ghana's government to progress a planned 3D seismic survey.
•••
Ophir Energy has awarded the Subsea Integration Alliance of OneSubsea and Subsea 7 an EPCIC contract for the Fortuna FLNG project in block R offshore Equatorial Guinea. This covers the umbilicals, risers, flowlines, and subsea production systems. Ophir plans four wells, three into the Fortuna field and one in the underlying Viscata field, delivering a combined 440 MMcf/d to the FLNG vessel moored in 1,790 m (5,872 ft) of water. Assuming a positive investment decision this year, production should start in 2020.
Hilli Espiseyo, the world's first converted FLNG vessel (an ex-LNG carrier), sailed from Keppel Shipyard in Singapore last month and should reach its destination offshore Cameroon some time in November, according to Golar LNG.
•••
Borr Drilling has a letter of intent from BW Energy to provide the BMC Pacific class jackupNorve for the Dussafu development offshore Gabon. The rig is due to mobilize from Limbe, Cameroon, next month and start the 140- to 160-day program in January: this will entail drilling and completing two subsea wells.
•••
ONGC Videsh has farmed into 30% of Namibian offshore license 0037, covering blocks 2112A, 2012B, and 2113B. Tullow Oil remains operator.
Mediterranean Sea
Rosneft has completed acquisition of a 30% stake in the deepwater Shorouk concession offshore Egypt from Eni. The deal includes a payment of $1.125 billion, plus reimbursement of various investments already made. Shorouk contains the giant Zohr gas field, which is due to start producing by year-end.
Middle East
ADNOC has signed a memorandum of understanding (MoU) with Japanese oil company JOGMEC and Japan's Ministry of Economy, Trade and Industry. This establishes the framework for, among others, an upstream technical co-operation and devising new training programs for ADNOC personnel. ADNOC has signed another agreement with Bergen University to conduct research into EOR techniques to extend the lives of its oil reservoirs in the UAE.
•••
Sharjah-based fabricator Lamprell expects its joint venture in Saudi Arabia with Saudi Aramco, Bahri, and Hyundai Heavy Industries to start operating soon. The partners have committed to build one of the Middle East's largest yards, with 4.1 km (2.5 mi) of quayside and 640,000 sq m (6.89 million sq ft) of workshops. This should be fully operational by 2019. Lamprell will be technical partner in two zones, focused on construction of jackup drilling rigs and maintenance of jackups and commercial vessels.
•••
Lukoil has signed an MoU with National Iranian Oil Co. concerning joint exploration offshore and onshore Iran. This will include basin modeling and analysis of the petroleum systems in the northwest Persian Gulf, the South Caspian basin, and the Abadan Plateau, and the establishment of a joint working group.
Asia/Pacific
ONGC has awarded L&T Hydrocarbon Services a $177-million engineering, procurement, construction, installation, and commissioning contract for the Daman field development offshore western India. Daman is in the southwestern part of the Tapti-Daman block, 160-200 km (99-124 mi) northwest of Mumbai.
OneSubsea has secured an EPC contract from Reliance Industries to supply a subsea production system for the R Cluster project in the KG-D6 block offshore eastern India. The scope includes supply and installation of trees, subsea manifolds, control and tie-in systems, multi-phase meters and intervention tooling. The terms could be extended to additional wells for satellite fields.
•••
Shell and KUFPEC have cancelled their proposed share sale of Shell Integrated Gas Thailand (SIGT) and Thai Energy Co., which together hold a 22.222% interest in the Bongkot gas field in the Gulf of Thailand and adjoining acreage. The two companies plan to support PTTEP in further development of Bongkot, with SIGT also set to participate in a license round for an extension of the Bongkot concession.
•••
Gazprom expects to complete development drilling soon at the Kirinskoye field offshore Sakhalin Island, eastern Russia. This is the country's first field to be developed entirely via subsea production systems. Studies are also under way for a second subsea project on the Yuzhno-Kirinskoye field in the same Sakhalin III concession.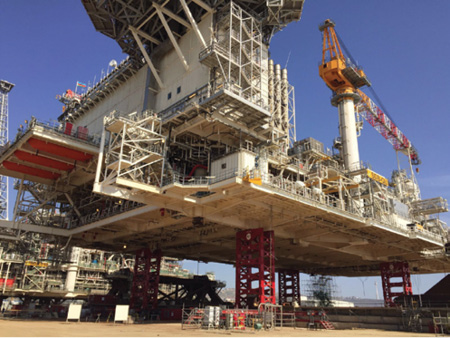 ALE was responsible for load-out and jack-up of the PR and QU jackets and topsides. (Photo courtesy ALE)
Caspian Sea
BP has confirmed the production and risers (PR) platform is now in place for the Shah Deniz 2 project in the Azeri sector. This follows sail-away of the 15,800-metric-ton (17,416-ton) topsides in September from the Azfen yard in Bibi-Heybat, and the subsequent floatover/mating with the jacket, pre-installed in 94 m (308 ft) water depth. The quarters and utilities (QU) platform was installed in June. The project remains on schedule for completion and first gas next year, BP added.
Australia
Chevron has started LNG production at the Wheatstone project in Western Australia. A two-train complex west of Onslow processes gas from the offshore Wheatstone and Iago fields. At peak, the project should supply 8.9 MM metric tons (9.81 MM tons) annually.
Offshore South Australia, Chevron has pulled out of a planned exploration program in the Great Australian Bight, citing commercial issues because of continued lower oil prices. This was not, the company stressed, due to regulatory or environmental concerns, which last year led BP to cancel its planned drilling campaign in the Bight.
•••
Sydney-based gas buyer AGL Energy is reportedly looking at stationing a leased floating storage and regasification unit (FSRU) 65 km (40 mi) south of Melbourne. According to analyst Wood Mackenzie, it could be a far-sighted move, with gas from the Bass Strait fields offshore Victoria in decline, and the prospect of insufficient gas capacity by 2028 in the existing onshore pipeline network from Queensland.